The beauty of women is the stuff of myths, the stuff of legend. The beauty of a woman has caused wars and it has been worshipped. And it is the desire to own it, to control it, that has somehow made the human race devolve into an unrecognisable, repulsive mess of brutality and violence.
The stories you're about to read not only perfectly exemplify this brutality at its worst, but will likely move you to your core. Forced prostitution and sex slavery is a global reality. And it is a reality none of us know enough about or are prepared for.
1. Meena, India
Meena was kidnapped from her village in northern India when she was 11 or 12 years old – she only remembers that is was well before she began to menstruate – by a trafficker and locked up in a 13-girl brothel in the town of Katihar in Bihar. When her virginity was bought by a white-haired customer, she fought and resisted and her slavers showed Meena that they'd have none of it.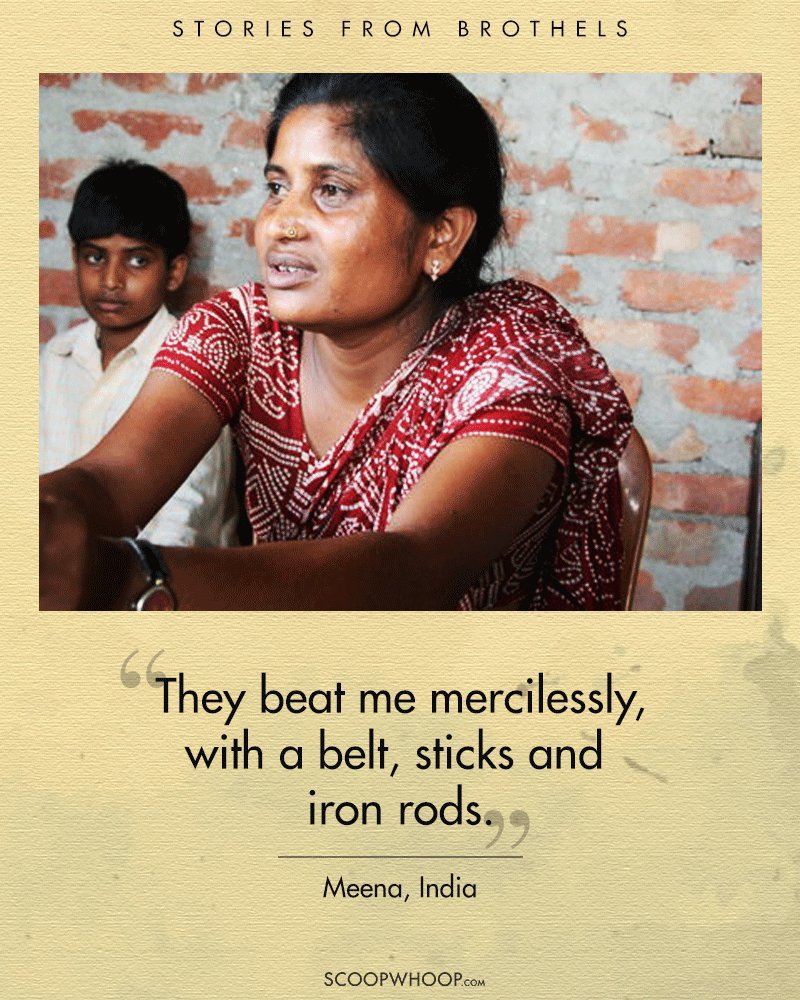 She continued to resist, however, until she was forced to consume alcohol one day and raped after she passed out. When she woke up, Meena accepted her fate. "I thought, 'Now I am ruined,'" she remembers, "so I gave in."
Over the time she spent in their captivity, she gave birth to her perpetrators' daughter and son over the years – both also snatched away from her. Her son put into menial labour at the brothel and daughter being prepared for prostitution.
She has now found hope with a rescue called Apne Aap, but still lives in fear – because the culprits roam the world unscathed.
2. Aisha Parveen, Pakistan
Attacked and abducted at 14 years of age, Aisha Parveen of Pakistan endured six years of constant physical and sexual torture at the hands of her brothel owner. She was beat up and sexually tortured day in and day out.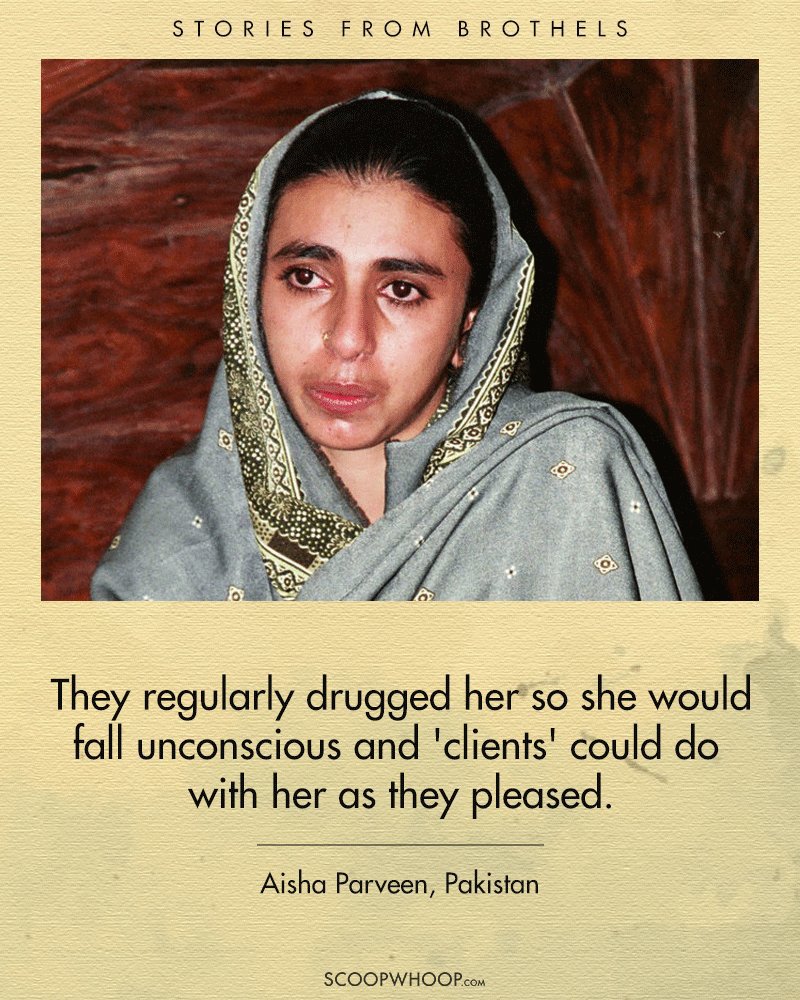 The girls at the brothel where she was kept, were forced to sleep naked so they'd be too embarrassed to attempt escape.
Parveen recalls stories of two other prostitutes at this brothel who were killed because they repeatedly refused to sleep with men.
After being tortured and abused for six years, she ran away with the man who helped her escape. But a Pakistani court did nearly rule in favour of sending her back to her official husband – her pimp – who would most certainly have killed her. Thanks to journalist Nicholas Kristoff's column, though, her cause drew enough attention for her to be able to fight it.
3. Shelia Faye Simpkins, USA
If you were beginning to think of forced prostitution as a South-east Asian phenomenon, think again. Shelia Faye Simpkins in Nashville, USA is proof that it is a global issue. At age 6, she was taught by her alcoholic, drug addict teen mom how to perform oral sex on men. "Like a lollipop," she explained.
She was a scared child and ran away from home at 14, only to land in the arms of a pimp who made her believe he loved her, as he prostituted her.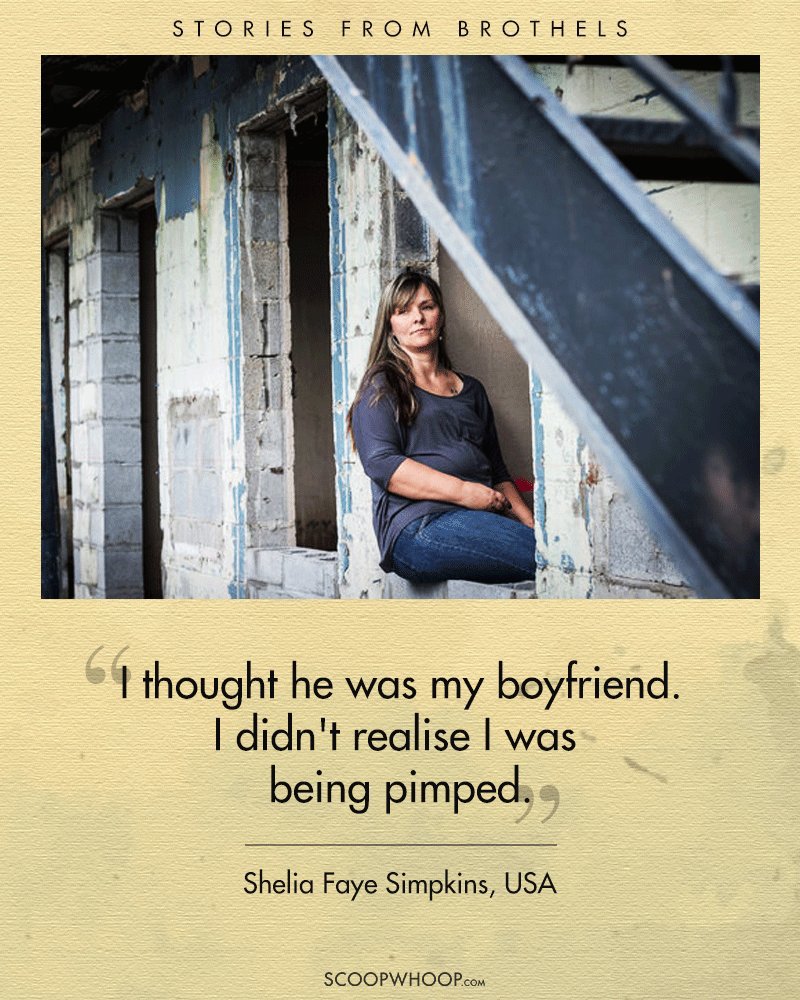 When this man was shot dead, she was taken over by another. She attempted escape several times but was found by her captors and beaten by sticks and iron rods. Beaten at least once a week, Shelia still has scars.
She was finally rescued thanks to an initiative by a priest at Vanderbilt University to help women escape trafficking and prostitution. Now married, and has two kids 4 and 6 years old, she hopes to be the world's best mom.
4. Marinela Badea, Romania
Trafficked from Romania at 17, Marinela Badea was coerced into prostitution in Manchester, England. Being raped by 50 different men a week became common, often by violent, drunken strangers. She was a victim to a heinous father-son trafficking team.
Her passport and phone were stolen when she was kidnapped, and they kept her prisoner and forced her to sleep with men. Before long, she was being transported to England using a fake passport and sent to a brothel masquerading as a massage parlour.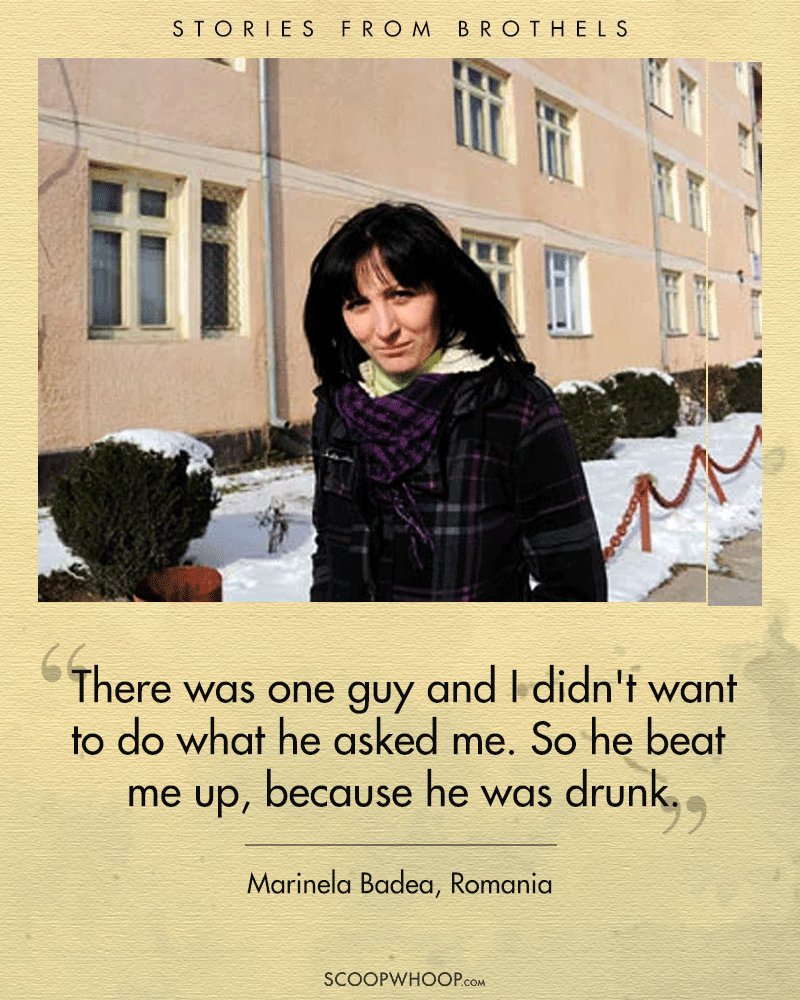 She was given little to no money that came from her 'clients'. It all went in part to the son, and in part to the massage parlour. During her years being exploited so, Marinela met hundreds of Romanian sex slaves like herself.
She finally escaped and found help from the police to bring down the father-son duo. She now lives on in the very country where she faced such horrible abuse, and lives on to help at a safe house for vulnerable women in Sheffield and is training as a hairdresser.
5. Sreypov Chan, Cambodia
Sreypov Chan in Phnom Penh Cambodia was sold to a brothel at 7 years of age by her mother after her father died and grave poverty struck. She was told she'd be working as a housekeeper in another home.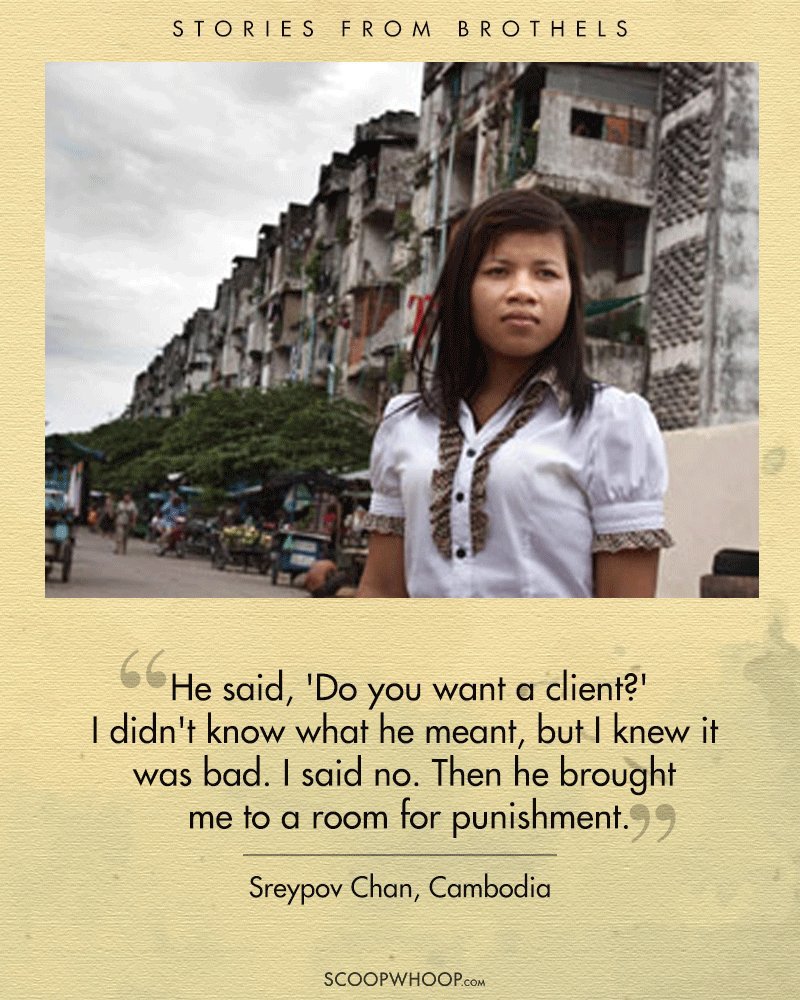 Sreypov was forced to have sex with as many as 20 men in a day, seven days a week for years.
If she refused or didn't meet her quota or tried to escape, she was tortured in unthinkable ways – burned with a hot poker or covered with biting insects or even forced to drink her captor's urine. "I wanted to die," she said.
She managed to flee at age 10 after two other failed attempts at escape and severe punishment that followed it. She now works to rescue women from sexual slavery and is a survivor who, still haunted by the horrors she experienced as a young girl, cannot imagine being with men ever again.
It is a dark and twisted world out there and these shocking stories really make me wonder just how we humans have managed to become the most advanced and yet, most barbaric of races.
Design Credit: Suvojyoti Roy