Heavy rains have brought the city of Mumbai to a standstill. The downpour led to the disruption of the transportation system. Train services were halted, offices and schools had to be shut and people were asked to stay indoors. 
It was the worst monsoon in a decade to hit India's financial capital and from locals to tourists, everyone was affected.
Amidst all this chaos, a French family of five people found themselves stranded in the floods with no one to help. 
But on that day of utmost disorder and confusion, the distressed family saw a glimpse of Indian people's hospitality and the Sikh community's kindness that is going to stay with them for their entire life.
Arie Boleswaski and his wife Sophie were visiting Mumbai with their three daughters and got lost in the rains. Worried and anxious in the foreign land, they went to three hotels in Dadar looking for refuge but to no avail. Finally, a hotel owner directed them to a Gurudwara. As reported by the Hindustan Times, over 750 victims of Mumbai floods had arrived at the Gurudwara seeking shelter and food. 
Upon reaching, the Gurudwara officials gave them a separate room and served dal khichadi for dinner. 
The Boleswaski family was moved to see the condition of people affected by the floods. They slept on the floor and refused any special treatment. Touched by the kindness of people, they described the night spent at the Gurudwara as the best night of their life.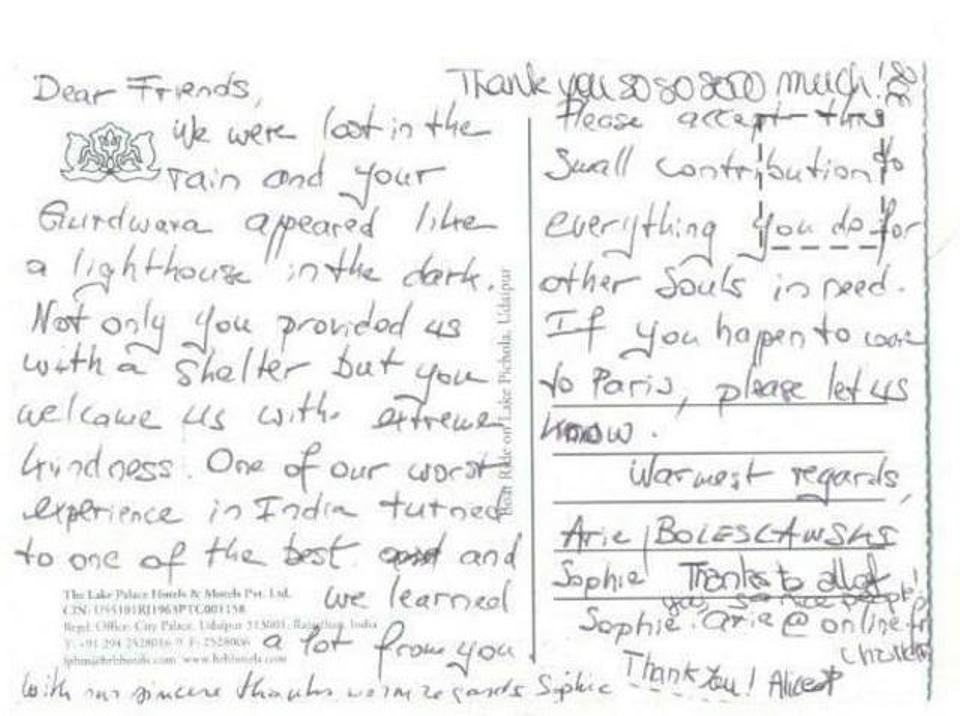 The following morning, the family made a donation towards helping flood affected people and flew back to their hometown, Paris. They also sent a postcard thanking the Gurudwara officials. The postcard read:
"One of our worst experiences in India turned (out) to (be) one of our best and we learnt a lot from you. We were lost in the rain, and your Gurudwara appeared like a lighthouse in the dark. Not only you provided us with a shelter, but you welcomed us with extreme kindness."
Kulwant Singh, vice-president of Dadar Singh Sabha, told HT:
They went about one hotel to another, but couldn't find a suitable place. That's when one of the hotel owners, directed them towards us. Considering their concerns and the fact that they are our guests, we ensured they are not inconvenienced in any way.
It's true that one can always count on the Sikh community during difficult times.