Words like FCUK and FIAT have become such a regular part of common life that that we never actually take a minute to figure out what they mean. Everything has a start though (as embarrassing as it may be), and most of the brands we've come to internalise today have very real full forms.
Here's the full forms of some famous companies!
1. H&M
Hennes means 'hers' in Swedish, and was the name of the original store. Mauritz was the name of a shop acquired by H&M founder Erling Persson, who joined the 2 words together.
2. LG
The company was originally called Goldstar. The 'lucky' was added after a merger with Lucky Chemical and LG Cable in 1995.
3. FCUK
French Connection started using 'FCUK' after getting the idea from faxes between Hong Kong and UK which were headed "FCHK to FCUK".
4. FIAT
The name is an acronym for Fabbrica Italiana Automobili Torino, meaning "Italian automobile factory of Turin," the region in which the car was founded.
5. IBM
The company originated in 1911 as the Computing-Tabulating-Recording Company, and was renamed "International Business Machines" in 1924.
6. Amul
Anand is a place in Gujarat which is also known as the milk capital of India.
7. HTC
HTC is the name of a Taiwanese company that stands for 'Hight Tech Computer'.
8. BMW
BMW stands for Bayerische Motoren Werke, which in turn means 'Bavarian Motor Works'.
9. BPL
Founder TPG Nambiar had worked extensively in the UK, and thereby decided to name his company as he did.
10. DKNY
The company was named after the founder, Donna Karan and the city where it was founded, New York.
Originally established as the Imperial Tobacco Company, it was renamed to the Indian Tobacco Company in 1970.
12. IKEA
I and K are the initials of the founder, Ingvar Kamprad. The E and A come from  Elmtaryd and Agunnaryd, which are the farm and the village where he grew up, respectively.
13. JBL
This audio company was founded by James Bullough Lansing in 1946, and he used his initials as the name of the company.
14. ICICI Bank
This bank was started by the ICICI Indian financial institution, and derives its name from the same.
15. HDFC Bank
HDFC Bank Limited was registered in 1994 and promoted by the Indian housing company Housing Development Finance Corporation, which is where the name comes from. 
16. ESPN
ESPN works as dedicated sports broadcasting TV channel, which explains the name. It was launched on September 1979.
17. LEGO
LEGO is an abbreviation of the words Leg Godt, which means 'play well' in Danish.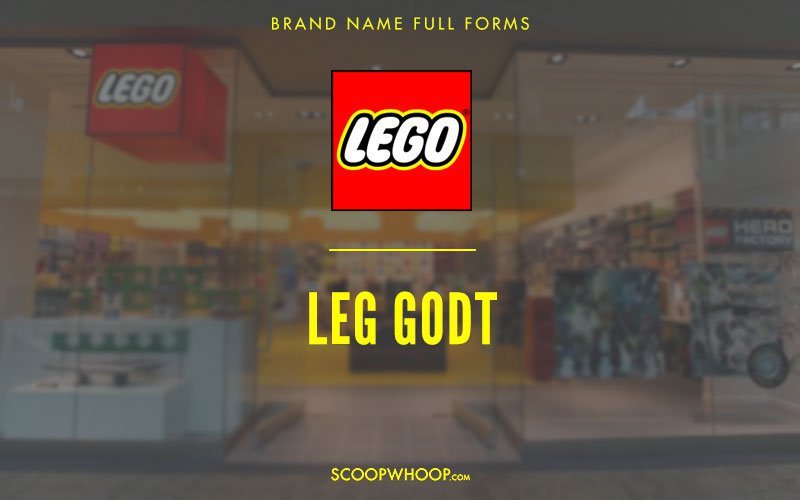 18. MRF Tyres
This rubber product manufacturing company is headquartered in Chennai, which was also known as Madras, and derives its name from the same.
19. CEAT Tyres
CEAT was founded in Italy in 1924, but set up its manufacturing unit in India in 1958, which explains the name.
20. WIPRO
This company was started as Western India Palm Refined Oil Limited, and sold vegetable and refined oils. With their shift to the computer industry in the 70s, they changed their name to Western India Products Limited.
21. Intel
This technology company's name is a combination of the words Integrated Electronics. It also helped that 'intel' is short for 'intelligence'.
22. CNN
CNN is a 24-hour American cable news channel, so the name seems appropriate.
23. NASA
This American agency came into being after President Eisenhower signed the National Aeronautics and Space Act, before which the program was called NACA, or National Advisory Committee for Aeronautics.
24. M&M's
This candy is named after the surnames of the company's founders – Forrest Mars and William Murrie.