Festivals are not just a celebration, but a way of life, it becomes the defining feature of a people, their culture and traditions. In India we see how Holi so completely captures the colour, food, and mythology  of a region.
Such rich, unique and fascinating festivals can be found in almost every corner of the world. We know there are several of you who love to explore, so here we've compiled a list of some of the festivals across the globe that needs to make it to your bucket list.
1. Sapporo Snow Festival, Japan
It takes place over 7 days in February.
The festival features snow statues, buildings or an event from the previous year that were memorable. You can find several ice and snow sculptures, ice slides and even a massive maze made of snow. If that's not enough then there will be lots of delish traditional Japanese dishes also.
2. The Rio de Janeiro Carnival, Brazil
It is celebrated between February and March.
It features the popular carnival parade that comprises floats, revelers and decorations. Usually students practicing Samba participate in this colourful festival. Every year this world famous festival registers a footfall of around 2 million people per day.
3. Chinese New Year, China
It is celebrated from the last day of the last month of the Chinese calendar to the 15th day of the first month.
It marks China's most significant day and the longest holiday where the people take to the streets to celebrate with dragons, fireworks, traditional clothing, flowers and lanterns.
4. Burning Man, Black Rock Desert, USA
It starts on the last Monday of August and ends on the first Monday of September.
This festival celebrates art and its ability to express individuality. Defined as a form of radical self-expression and self-reliance, the event features various artisans, painters, and sculptors who build a massive wooden effigy before the latter is burnt.
5. Harbin Ice and Snow Festival, China
It starts typically on 5th January, and spreads over 1 month.
This festival features some of the most beautiful ice and snow sculptures that are adorned with lights and lasers. Furthermore, it consists of several interesting activities like winter swimming, ice-lantern exhibition, and skiing.
6. White Nights Festival, Russia
It starts in May and ends in July.
The festival is an international arts festival that marks the season of the midnight sun. It comprises of a beautiful mixture of classical ballet, opera, musical performances by Russian dancers, singers, musicians, actors and even popular international guest stars.
7. Day of the Dead, Mexico
It takes place from 31st October to 2nd November.
During this festival, family and friends get together to remember and pray for their loved ones. It has unusual traditions like providing sugar skulls, marigolds and the favourite foods and drinks of the deceased as gifts while visiting their graves.
8. Running of The Bulls, Spain
It occurs from 6th July to 14th July.
In an unusual and dangerous form of celebration, people run ahead of a dozen bulls who are let loose on the course. Needless to say every year at least 200 people get hurt. But what comes out as a definite winner is the thrill quotient. 
9. Tuna Throwing Festival, Australia
It takes place typically during the end of January.
This festival honours Port Lincoln who was known for his farming and tuna fishing. It features the World Championship Tuna Toss competition where men and women compete to throw the tuna the farthest. There are also tuna themed parades and slippery pole competitions.
10. Up Helly Aa Fire Festival, Scotland
It takes on the last Tuesday in January every year.
This festival marks the end of Yule (Christmas in Scotland) season by following various marches and visitations that finally ends in a torch-lit procession and the burning of a galley. Furthermore, it also comprises performing arts and dance sessions that make the festival even more fascinating.
11. Carnival of Venice, Italy
It occurs from February till March.
A 900-year old tradition, this carnival allows people to express their true self. People wear masks and do what they want without the feeling of guilt. The otherwise beautiful Venice turns vibrant as jugglers, bands and a series of boats on canals dominate every public space.
12. Pingxi Lantern Festival, Taiwan
It takes place between February and March.
During this festival, the whole Pingxi district of Taipei is beautifully decorated. The festival is celebrated to keep away any evil forces and diseases. People release lanterns that contains messages and pictures from the owner, marking the town safe and secure.
13. La Tomatina, Spain
It takes place on the last Wednesday in August.
If there's a festival that clearly marks fun, entertainment and energy then this is the one. Celebrated by throwing tomatoes at each other, the event has no connection with any ancient tradition.
14. Oktoberfest, Germany
It runs from the third Saturday in September and to the first weekend in October.
This 16-day festival is another example of pure fun. It deals with everything beer and has now gained immense popularity even around the world.
15. Songkran Water Festival, Thailand
It starts on 13th April and ends on 15th April
This festival generally marks the hottest days of Thailand, and people celebrate by throwing water on each other using water guns, balloons, hoses, and just about anything. Furthermore, they also smear each other's faces by chalk and menthol believing them to be signs of good luck.
16. Winter Scareaway Festival, Hungary
It typically occurs either in February or early March.
This 6-day festival marks the annual celebration of Croats who live in Hungary. These people wear traditional masks, and involve in folk music, masquerading, dancing and parading.
17. Gay Pride Parade, Netherlands
It takes place on the first weekend of August.
This citywide gay festival attracts various hundreds and thousands of people from not just the Netherlands, but even across the world. The most prominent attraction of the event is the canal parade where the boats are seen touring the city, carrying gay activists in them.
18. Albuquerque International Balloon Fiesta, USA
It takes place in early October every year.
This 9-day festival is the world's largest hot air balloon festival. When 750 balloons are released together, the sky is transformed into the most colourful and elegant tapestry. 
19. Floating Lanterns Festival, Hawaii
It takes place on 25th May, which marks Honolulu's Memorial Day.
This festival stands for honouring the loved ones and great hope and love towards the future. Featuring music and ceremonial lighting of the 'Light of Harmony', the lanterns floating on water is the primary attraction of the event.
20. The International Highline Meeting Festival, Italy
It takes place annually on early September.
This extreme sporting festival features people slackening on tight ropes running across the Italian Alps. What makes the event even better is that a kitchen, a bar and even private jamming sessions are also available.
21. Battle of the Oranges, Italy
It takes place from 15th February to 17th February.
The largest food fight in Italy, this festival involves people from two different organized groups throwing oranges at each other. Although the origins of this tradition is unclear this festival is fast gaining popularity across the world.
22. Grease Festival, Spain
It occurs on 6th September of every year.
This festivals sees hundreds and thousands of people dramatize the stealing of the famous statue of 'Virgen de la Piedad,' which was discovered 500 years ago. And that's not all! After the reenactment is over you can enjoy a party with live music.
23. Cooper Hill's Cheese Rolling Festival, England
It takes place generally on late May.
Earlier confined only to Gloucester in England this festival has now spread across the world with its popularity. It involves several men chasing after a wheel of cheese down the Cooper Hill.
24. Winter Light Festival, Japan
It occurs normally from mid November to mid March.
This festival takes place at Nabana No Sato, a flower-based park and is one of Japan's finest light festivals. Along with lights, it also features a hot spring, a string of popular restaurants and the famous tunnel of light that looks absolutely breathtaking.
25. Rouketopolemos Rocket War, Greece
It takes place at midnight right before Easter Sunday.
This festival consists of a 'rocket war' between two rival church congregations that throw homemade rockets across the city until the rockets hit the bell on the other side. The rockets are made with explosive gunpowder and grooved platforms.
26. Ágitagueda Art Festival, Portugal
It takes place every year in July.
People hang colourful umbrellas over the promenades across the streets of Agueda. Although started only 3 years before the festival has widely gained popularity and people try to give a new tinge to the event every year, so it doesn't become repetitive.
27. Jaipur Elephant Festival, India
It takes place on the day of Holi, which typically takes place in March.
Elephants are a sign of royalty as per Rajasthani tradition, thereby the people treat them likewise. This festival features elephants adorned in cloths, jewelry and other vibrant colours. However, now even camels and horses are included in this festival, these animals are decked as well.
28. Monkey Buffet Festival, Thailand
It takes place from 28th November to 29th November.
This festival features people donating fruits, vegertables, cookies and candies to 3000 monkeys that belong from the Lopburi province. People from around the world come to visit Thailand to be a part of this festival.
29. North Carolina Merfest Mermaid And Merman Festival, USA
It takes place in early January every year.
In this festival people celebrate to look like real mermaid and mermen, just like their Disney dreams. Men and women go to the event and dress up in fish scales, tails, and other mermaid stuff whose cost goes up to $4,000.
30. Baby Jumping Fiesta, Spain
It takes place usually in May or June every year.
This is a strange festival that sees men dressed in red and yellow, portraying devil spirits jumping over babies that are born in the previous 13 months. The men carry a whip in their hands while the infants lie on the mattress beneath. The event marks the cleansing of sin from the newborn's body, helping him or her to follow a true path and also stay free from sicknesses.
31. Kukeri Festival, Bulgaria
It takes place around New Year.
This festival sees Bulgarian men conduct traditional rituals to scare away evil spirits. These men completely cover themselves up in costumes and wear wooden animal masks. This festival signifies bringing good fortune, health and happiness.
32. Song and Dance Festival, Latvia
It is usually held in July every year.
This festival is the biggest amateur choral event in the world. It features art and folk craft, orchestra concerts, photography, and even a festive parade. These days modern popular songs are also incorporated in the festival, making it an experience you can't afford to miss.
33. Sinulog, Phillipinnes
It takes place on every third Sunday.
This is an annual religious and cultural festival that stretches for at least 9 hours. It is a beautiful street dance parade that feature dancers portraying a storyline with mythical, folkloric, and historical themes in it.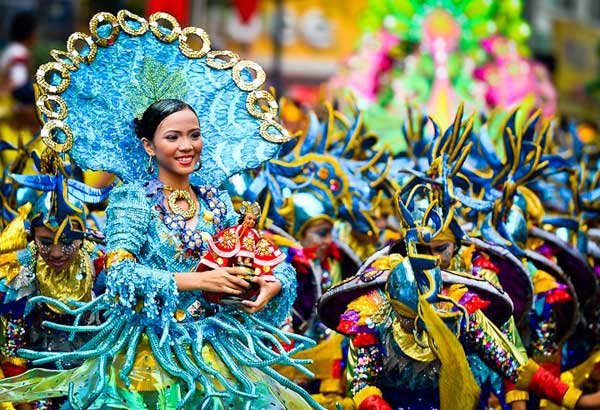 34. Boryeong Mud Festival, South Korea
This festival features people playing in Boryeong Mud flats, which is the main ingredient in a line of beauty products by a South Korean company. The company promotes the utility of the mud flat through this event. The festival is accompanied by live music and other interesting competitions too.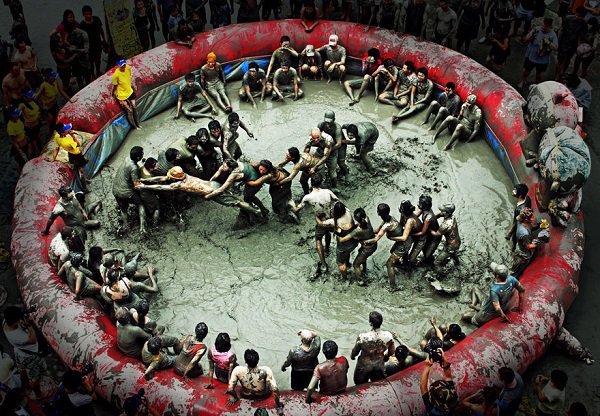 35. Wanderlust Yoga Festival, Hawaii
It takes place between late February to early March.
This is where you need to head to get the groove of that perfect Yogi lifestyle and proper meditation. This festival celebrates the power of yoga accompanied by live music, food, speakers and other cool stuff.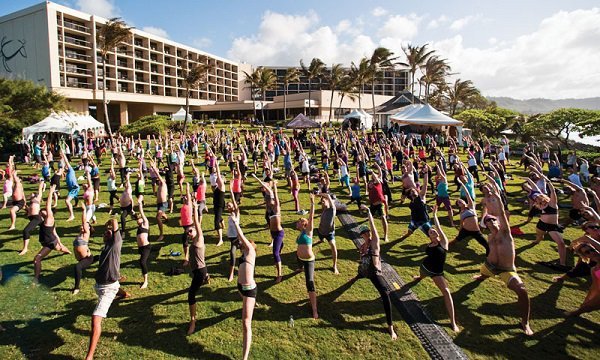 If you're planning to hit the road soon then don't forget to check out these festivals.