The world has now been talking about rape and sexual abuse more than ever but instead of ensuring women's safety, time and again our politicians have exhibited their lack of understanding and insensitivity towards this issue. 
We had earlier compiled a list of incidents when politicians trivialised rape and made misogynist comments. Not much has changed since then. Here are 16 more incidents when people in prominent positions, including political leaders, made outrageous remarks on rape. 
1. When talking about the Chandigarh stalking case, BJP's Ramveer Bhatti said that girls are more likely to be stalked if they go out during odd hours.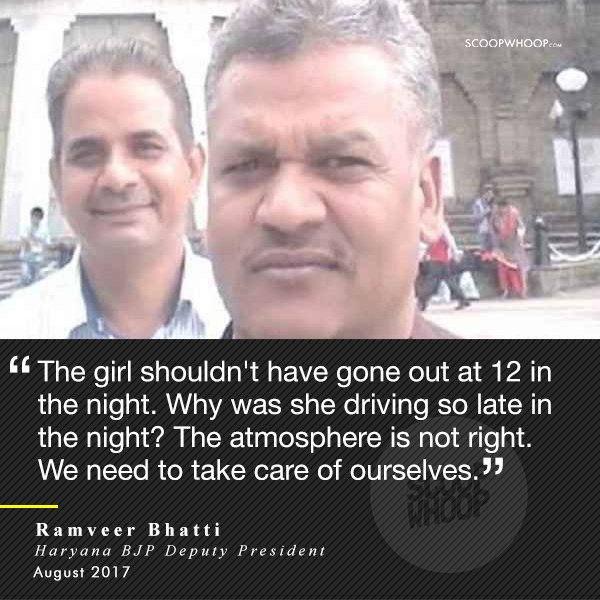 2. Karnakatak Home Minister made a revolting comment about rape while replying to a question about the gang rape of a 22-year old BPO employee by the driver and cleaner of a van in Bangalore.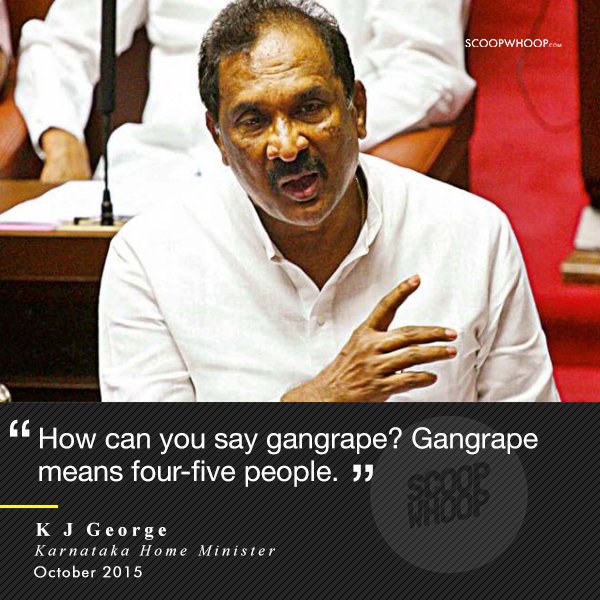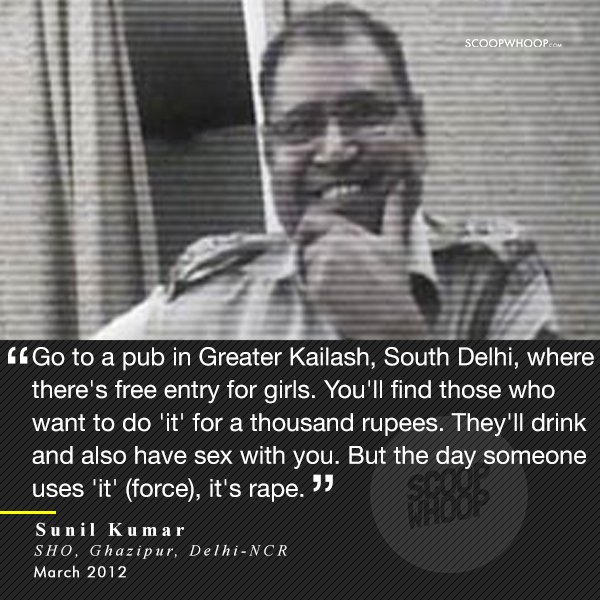 4. When RSS Chief Mohan Bhagwat stirred controversy by saying that rapes take place in urban Indian and not in rural India.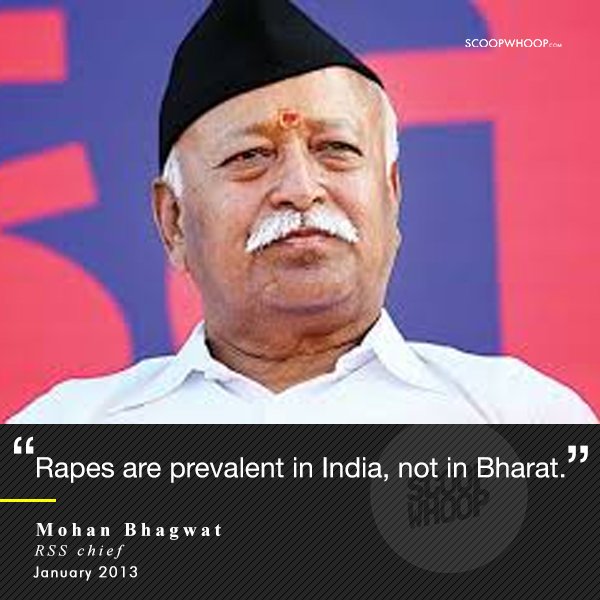 5. When Thua khap panchayat leader Jitender Chhatar put all the blame on Chowmein and fast food for being the reason for rape.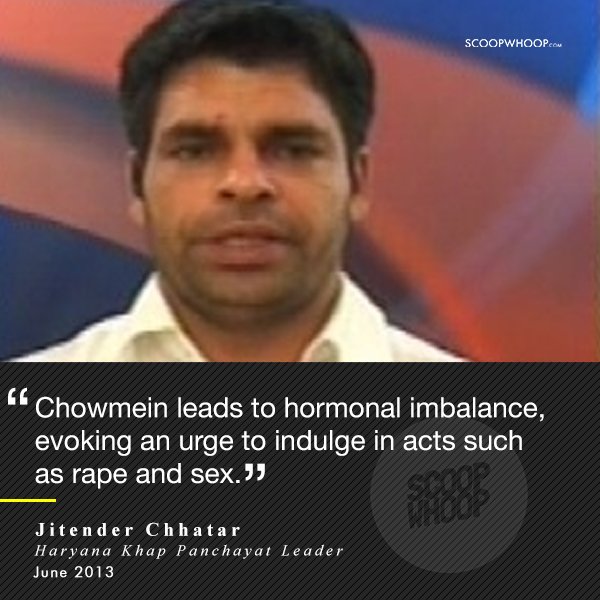 6. When the TMC MLA, while addressing the rise of crimes against women, demonstrated outrageous apathy by stating that rapes will continue to happen.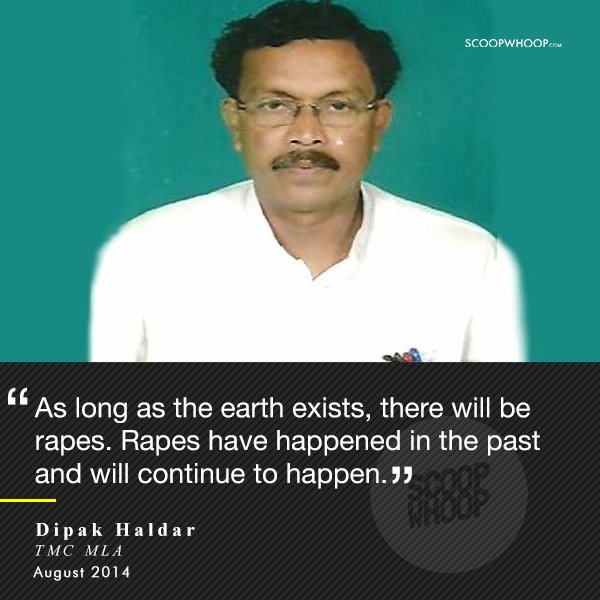 7. BJP leader and current Finance Minister Arun Jaitley had his foot in the mouth when he made this remark on rape while addressing a conference of state tourism ministers.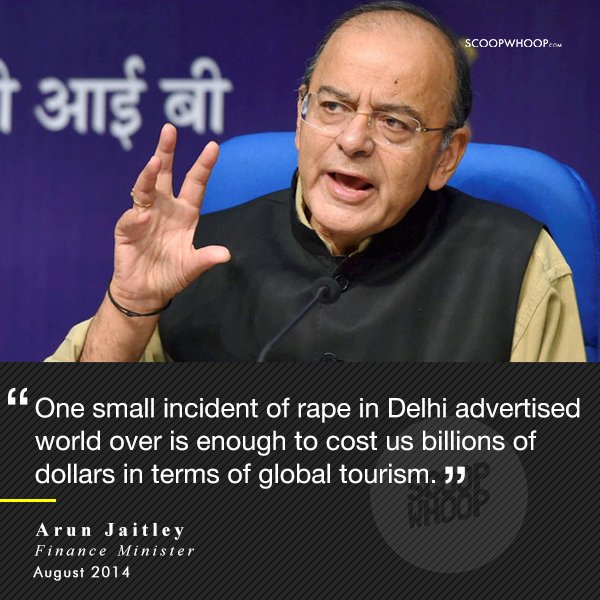 8. Maharashtra State Women's Commission member Asha Mirje made a shockingly repulsive statement when she held Nirbhaya responsible for her rape.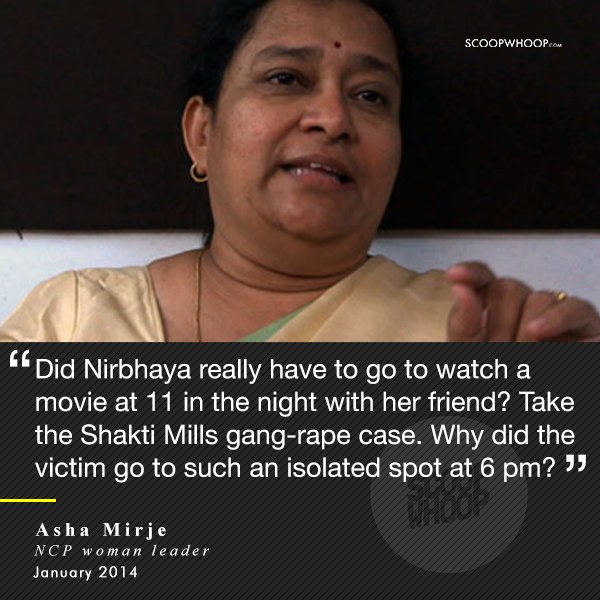 9. When the lawyer who represented 3 of the Delhi gang-rape accused made this disgusting remark during an interview with Newslaundry.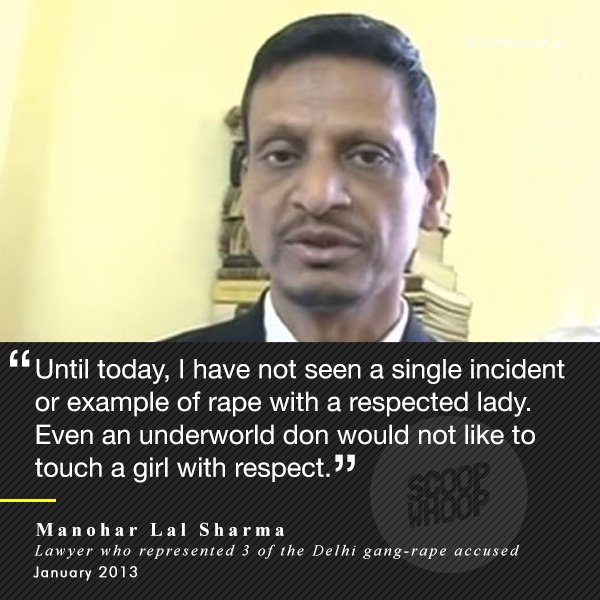 10. Former Chief Minister of UP Mulayam Singh Yadav faced flak for his insensitive remark that gang-rapes are practically not possible.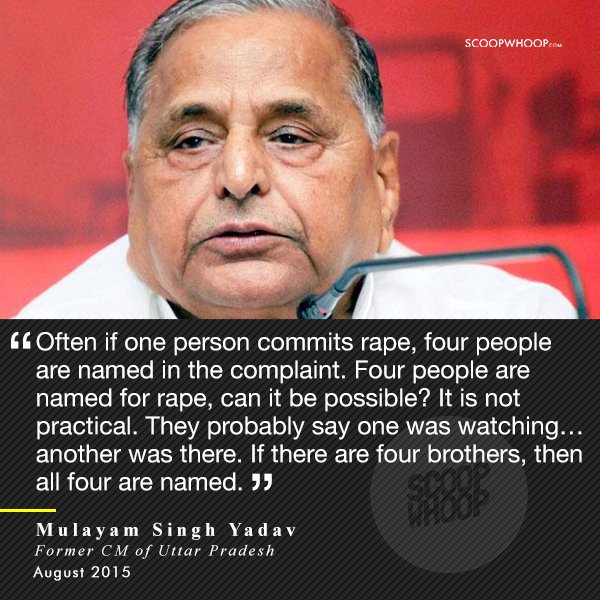 11. When the present Chief Minister of Haryana advised girls to dress decently so as not to lure boys.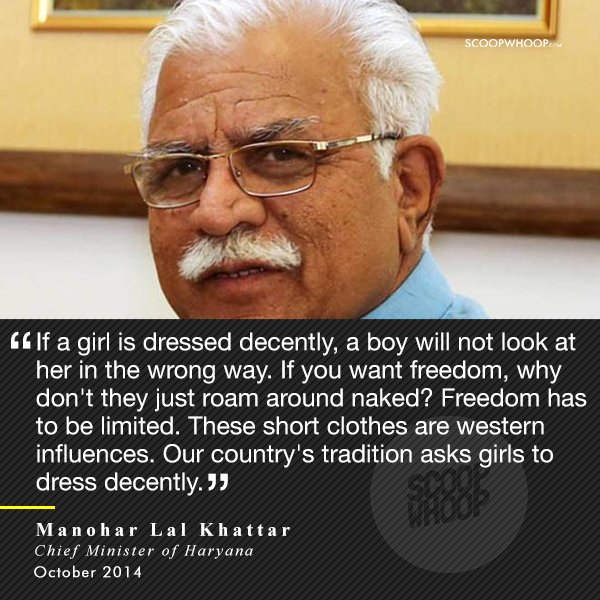 12. When BJP MP Ramesh Bais normalised the rape of grown-up girls and women.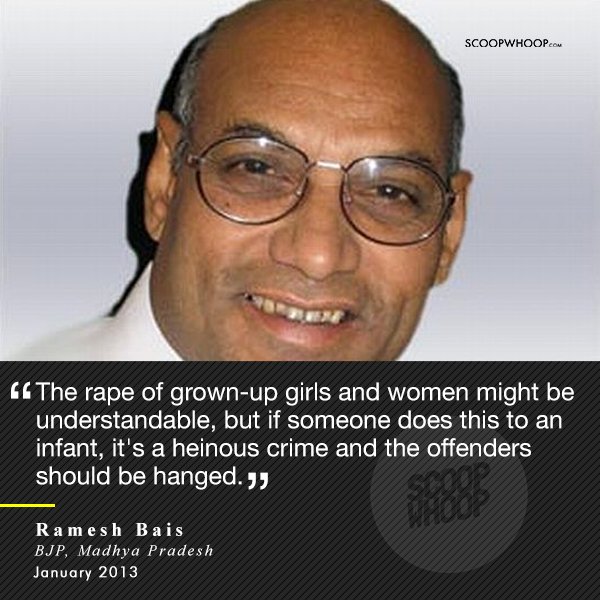 13. Former Karnataka Deputy Chief Minister K.S. Eshwarappa made a highly controversial statement while interacting with media and told a woman journalist that what can opposition parties can if "someone drags and rapes" her?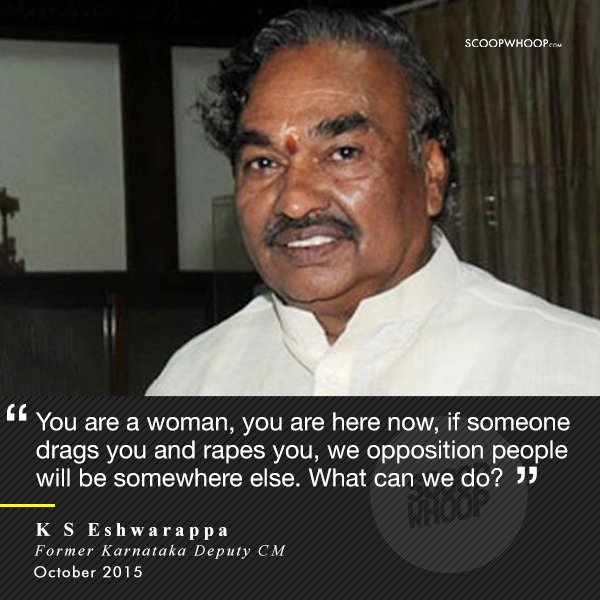 14. BJP leader from Madhya Pradesh Kailash Vijayvargiya cited an example from Ramayana and made a cringe-worthy comment that rape cases will happen if a woman crosses her limits just the way Sita was abducted by Ravana.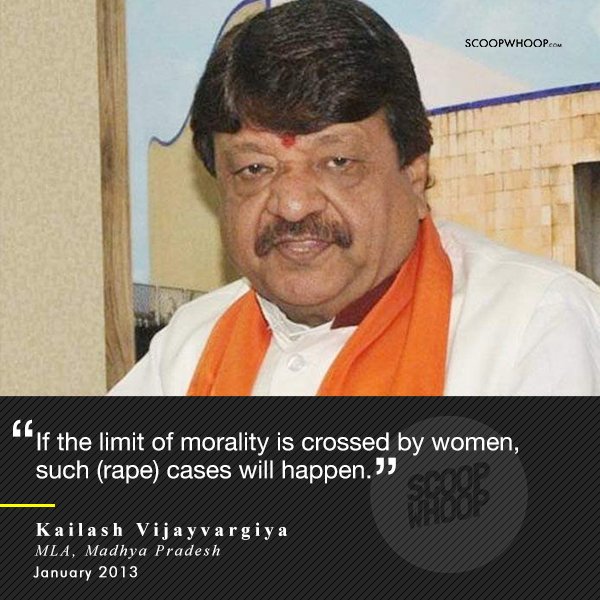 15. When Chhattisgarh Home Minister Ramsevak Paikra, while talking to a news channel about the rise in rape incidents, triggered an uproar by saying that rapes happen "by mistake".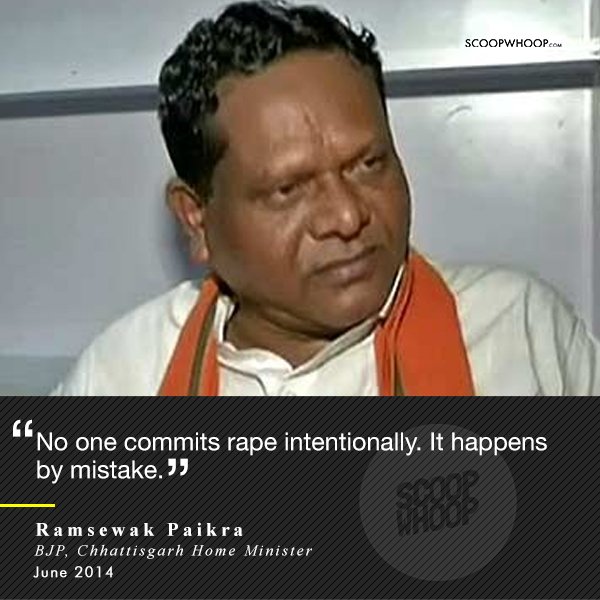 16. Congress leader Satyadev Katare angered everyone at a rally in Bhind district when he made this appaling remark.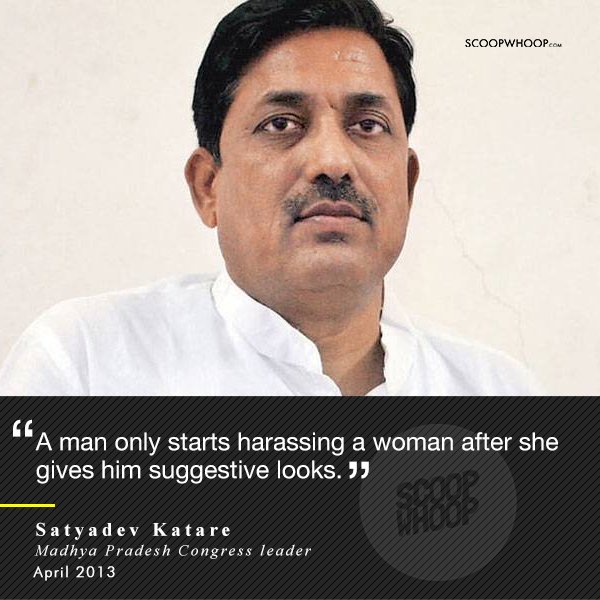 Design credits: Ashish Kumar