People help people. For what is humanity without compassion?
This was proved yet again by a man called Kannan Sundararajan.
Kannan was running in the Bengaluru marathon last week and had just hit the 20km mark when he was informed by a fellow participant about an accident on the Domlur flyover. A certified CPR administrator, Kannan jumped into action immediately, rushing to the site of the accident where he found a group huddled around the victim.
22-year old Kiran Yadav was screaming in excruciating pain. A tempo had run over his right leg when he was thrown off his bike, completely shattering his bones.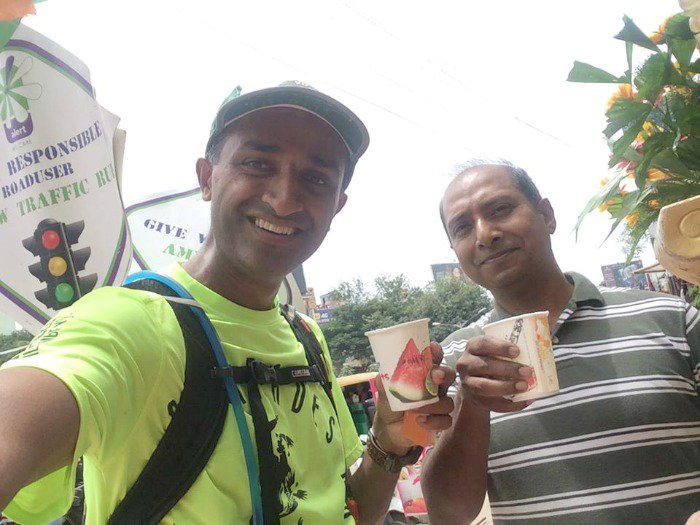 Hear the rest of the story in Kannan's own words from his Facebook post.
"After reaching the crowd what I saw was shocking. There was a young man sitting in the median crying out in pain. There was a pool of blood next to his right leg on the median. He was seriously injured," wrote Kannan.
Without wasting any precious time, Kannan got down to business. He took a quick look at the situation and assessed the damage before tackling it.
"In the first sight I could tell that the right First-aid was missing. I loudly said to the crowd that I was a trained first responder and requested them to first clear that place. Also requested one more fellow runner who came to help to support the victims head, asked the man to lie down and I made an attempt to keep his leg elevated to control the bleeding. I also made an attempt to apply pressure on the towel to control the bleeding and also lift his leg – that's when I found that his leg was completely shattered and I could feel the shattered bones moving inside and his feet was dangling awkwardly."
This move made Kiran shout out in agony. Kannan temporarily gave up any attempts to provide him relief.
But when the ambulance arrived, Kannan was extremely disappointed to see the shameful condition of the medical services in our country.
"The ambulance had only the driver and there was no paramedic or any other trained personal to attend an emergency situation like this. There was no first-aid kit, no gloves (my hand, hip pouch and my running shorts were socking blood) or any material to support and to stabilise the victim. It would be a dishonour if we had to call this vehicle an ambulance."
Kannan took personal responsibility of accompanying Kiran all the way to the hospital. It took 30 minutes to reach. Soon, Kiran's parents arrived. Once the situation was under control, Kannan left and got back on the track. He completed the marathon within the time limit that very day.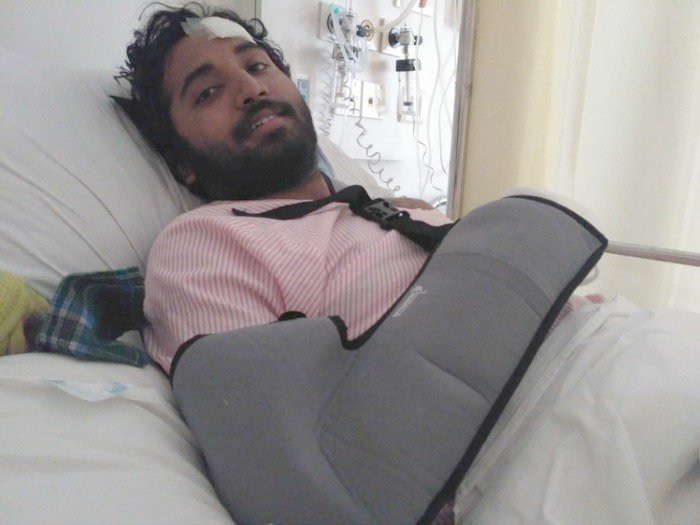 But this is not where the humanitarian stopped. He initiated a discussion with the marathon organisers about the incident and eventually ended up setting a fundraiser called Ketto in a bid to cover the expenses of Kiran's medical treatment.
Kannan is an advocate for road safety already. But the fact that the marathon might have played an active part in causing chaos and prompting the accident took Kannan's guilt and concern for the shaken victim and his family further.
"Since yesterday, I've sent around 100+ personal emails, sent many tweets and SMS messages, and also made several phone calls to my friends to provide support to Kiran," said Kannan.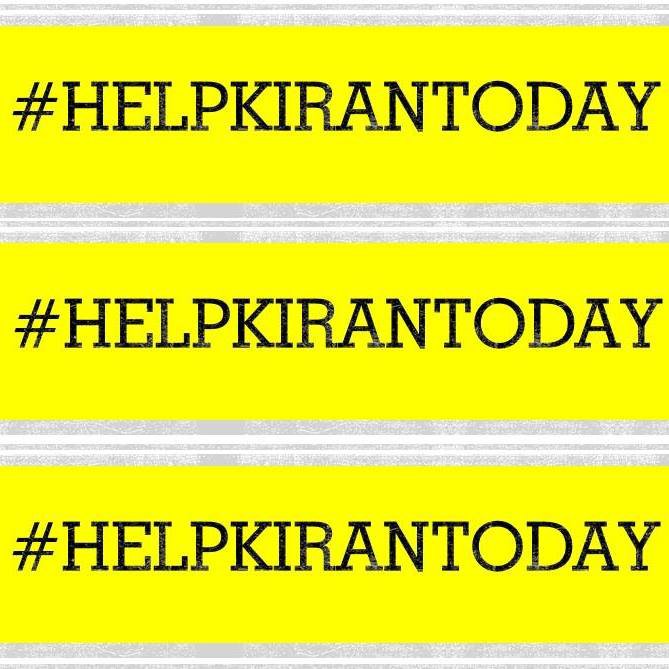 Kannan raised a total of Rs. 5.5 lakhs, thanks to the widespread contribution from his network. The race director of the Bengaluru Marathon donated Rs. 1 lakh for the same.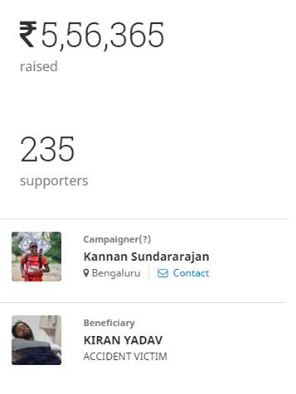 Kannan has been actively updating well-wishers about Kiran's recovery process. This message was shared by him on the Ketto page yesterday: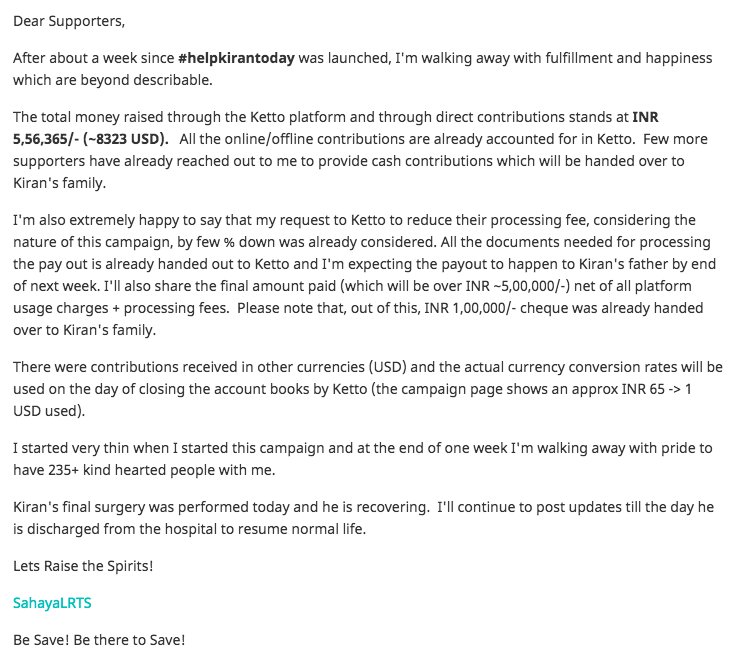 #helpkirantoday turned out to be a great success. All thanks to the relentless and heartfelt efforts of Kannan Sundararajan. What he selflessly did for Kiran and his loved ones is an example to be cherished and remembered. 
These are the greats of India who make us truly proud. Here's wishing Kiran great health and happiness in the future!