While you're surrounded by parental, peer and performance pressure, these 22 individuals reminisce their own result from days gone by – how they fared, how they failed, and how they achieved. And they give you good reason to believe that the marks you scored – or didn't – will not define your career or life choices. So, take a deep breath, and listen to what they have to say. 
Because our life is not the results of our board exams; but the sum total of the situations we get dealt, how we handle them and what we learn from our mistakes. 
As Albert Einstein said, the only source of knowledge is experience. 
1. Tamannaah Bhatia 
Bollywood Actor 
"I literally had just 20 days to study 10 subjects for my 12th Board exams because I had been shooting for a Telugu film, Kalidasa prior to that. I had studied very hard in that small amount of time; I gave it my all. I fainted after giving my Psychology paper because I hadn't slept in 10 days. Two days after my Board results, I bagged the film 'Happy Days' which is what brought me to where I am in my career today. And I didn't further educate myself because I realised I didn't need studies for what I was doing."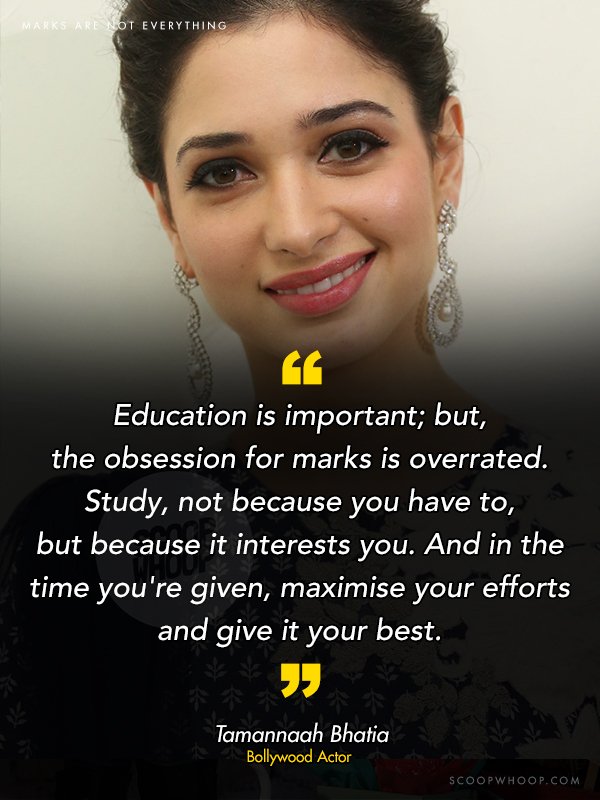 2. Arjun Kanungo 
Singer, Composer, Actor, and Entrepreneur 
Marks: 50.4% 
"My mom was a bit disappointed. But I went to start my career as a stock and share exchange manager while I was also experimenting a bit with design and animation that led to me pursuing architecture. I eventually ended up in music. I am currently making music and performing for millions of people."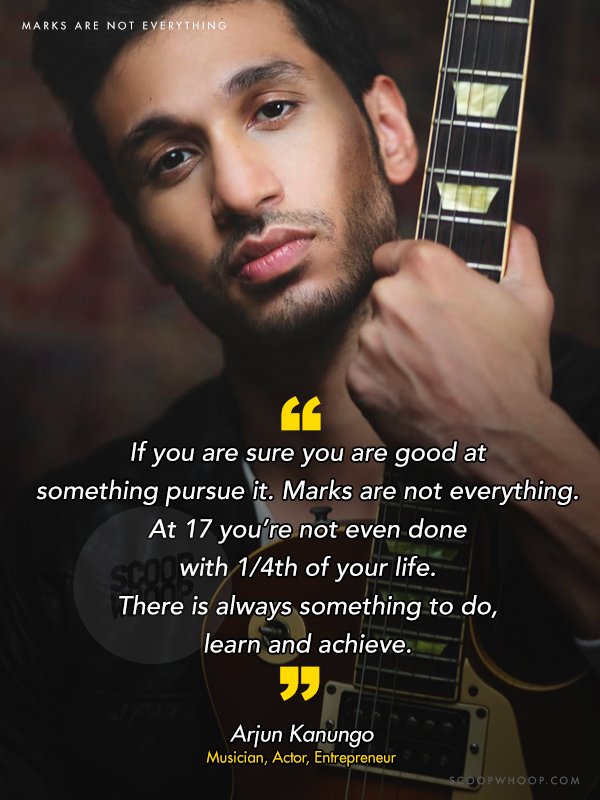 3. Nikhil Chinapa 
DJ, VJ, Music Promoter, Festival Director, VH1 Supersonic & Submerge Music
Marks: Failed & had to re-take 12th exams
"Because I spent a large part of my 12th in training as a rifle shooter and thereafter, being selected for my National shooting team, I returned to school 3 months before the Board exams. My parents were supportive, no doubt. But, I was annoyed and momentarily saddened as I'd never failed an exam in my life. However, I joined AISEC and began hosting events across Bangalore for fun. There were no EmCees in Bangalore back then and I made up the rules as I went along. I joined a theatre company as a stage manager, graduating to a sound engineer, joined a radio station and began hosting and programming my own radio shows. Every smidgen of it has contributed to the work I went on to do at MTV and now do as a music festival director. The thing was (in all honesty) – I was just having fun."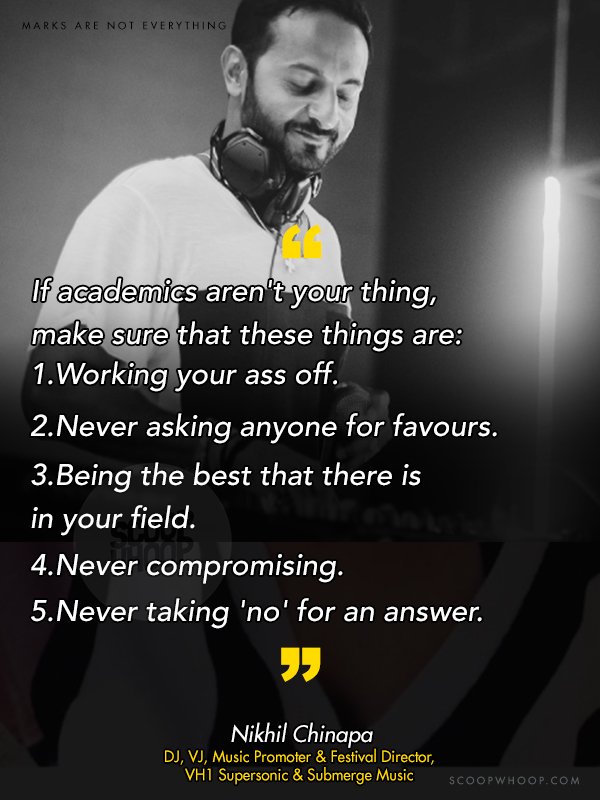 4. Yasmin Karachiwala 
Celebrity Fitness Trainer 
Marks: 75%
"My parents were happy and I felt positive about the result I had gotten. Post that I majored in Economics Honours from St. Xaviers' College. But, thereafter, I went on to do fitness which was actually a hobby of mine. I didn't think at the time that I was going to study it or become who I am today. It's something that I stumbled upon.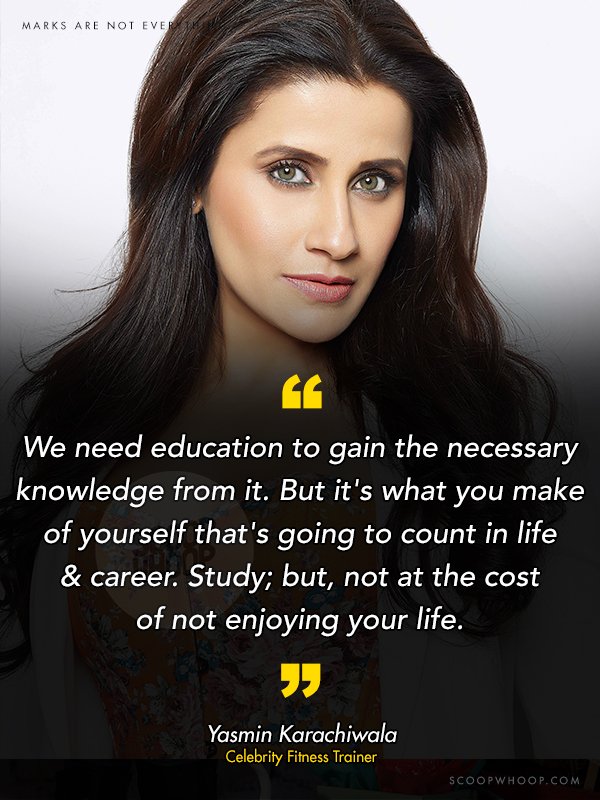 5. Just Sul 
Instagram Star 
Marks: 90% (approx) 
"While my parents were happy, it was the people around that kept filling poison in their ears; especially because they could not understand why, after having gotten a great result, I wanted to deviate. I still work my 9-to-5 job as a mechanical and electric engineer. I've also started my own mineral water factory. But, it's the social media that has given me a new lease. What started as a part-time hobby might just become a full-time career."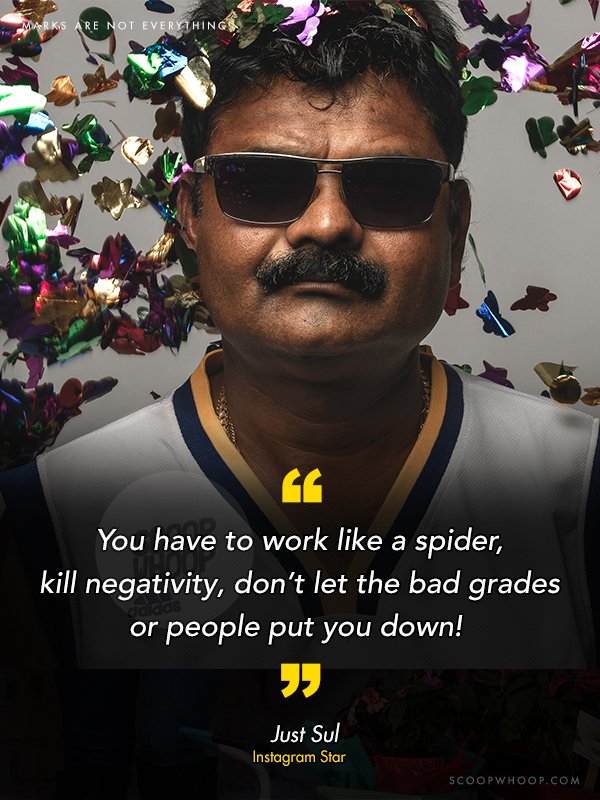 6. Anika Dhawan Gupta 
Founder, Rani Pink & Bageecha Banaras 
"My parents always motivated us to follow our dreams. Marks were not the be all and end all. They always wanted to be all-rounders. I did my undergrad in DU and then started working in an export house. I moved on to work with a wedding designer and then started off on my own."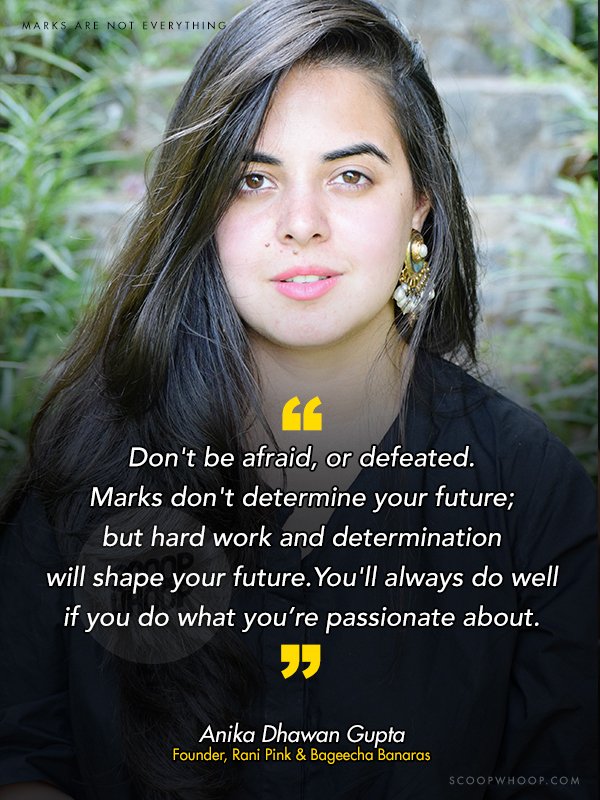 7. Priyank Sukhija 
MD & CEO of First Fiddle Restaurants Pvt. Ltd
Marks: 74% 
"Considering my previous record of struggling with studies, my score came as surprising to them as it was above their expectations any day. I joined a college for higher studies but that did not seem to be my cup of tea. My interests were far varied and diverse to put me in a class. That was when I began my journey as a restauranteur. Lazeez Affaire was the first venture that I opened after dropping out of college."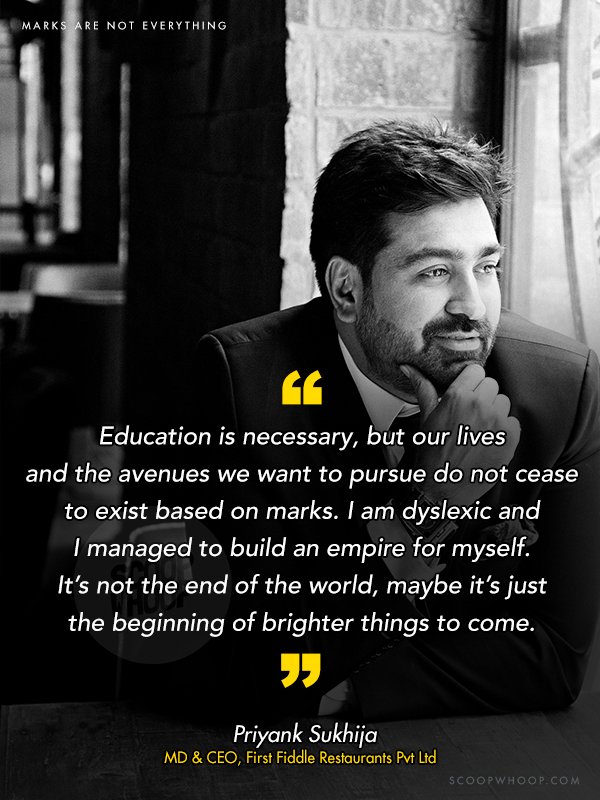 8. Abhinav Mishra 
Designer and Creative Director, Abhinav Mishra 
Marks: 60% 
"My parents were very encouraging because they knew I had a passion for design and decor and all things creative. I was always interested in art and design and was always more creatively inclined. This led me to study fashion at Wigan & Leigh College, in Lucknow."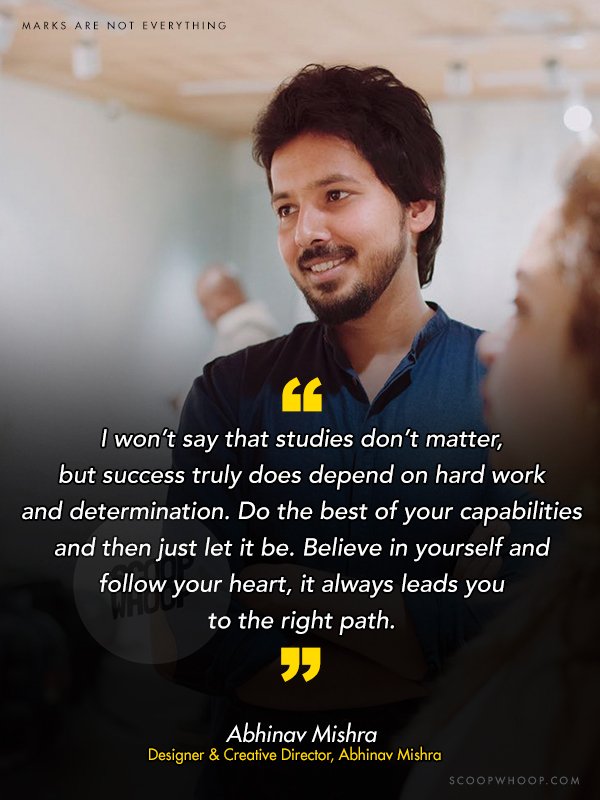 9. Karan Marwah 
Food Blogger, FOODelhi & Core Team Member, WedWise 
Marks: 85% 
"When the DU cut-offs came out I sensed some disappointment from my parents' end. There was exactly one (yes, only one) college where I stood a chance for admission into Economics Honours. When we were undergoing a counselling session, the speaker made it a point to highlight that if you don't score in your nineties, you won't end up in a 'nice' college. My 3 years in college made me realise how unimportant our CBSE marks are, or as a matter of fact, any marks in our lives. Content creation, writing & blogging excited me."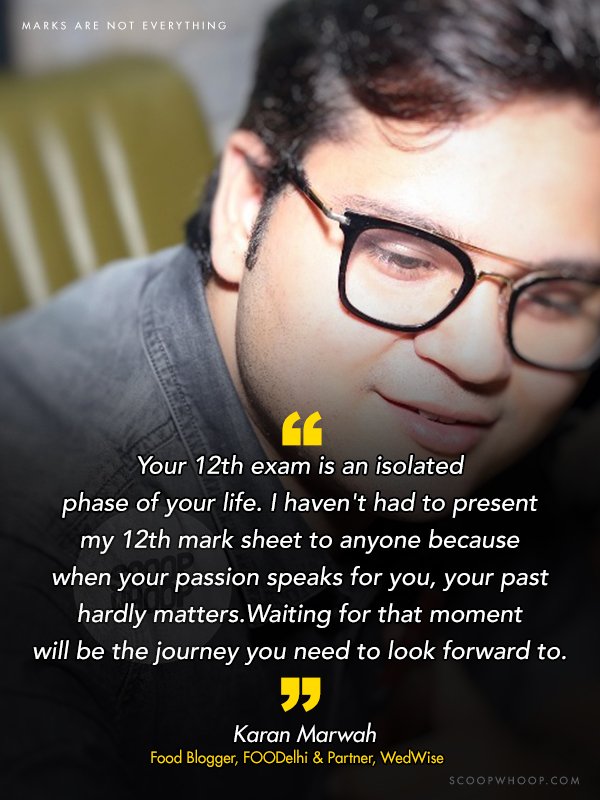 10. Shirin Mann Sangha 
Founder, Needledust 
Marks: 84% 
I dropped math and sciences in 12th and graduated in Arts. But, when I graduated from DU, I didn't even touch the 60% cut-off that most journalism schools in India wanted. I was denied admission. It broke me. During that time I published a book, that was circulated in a small region."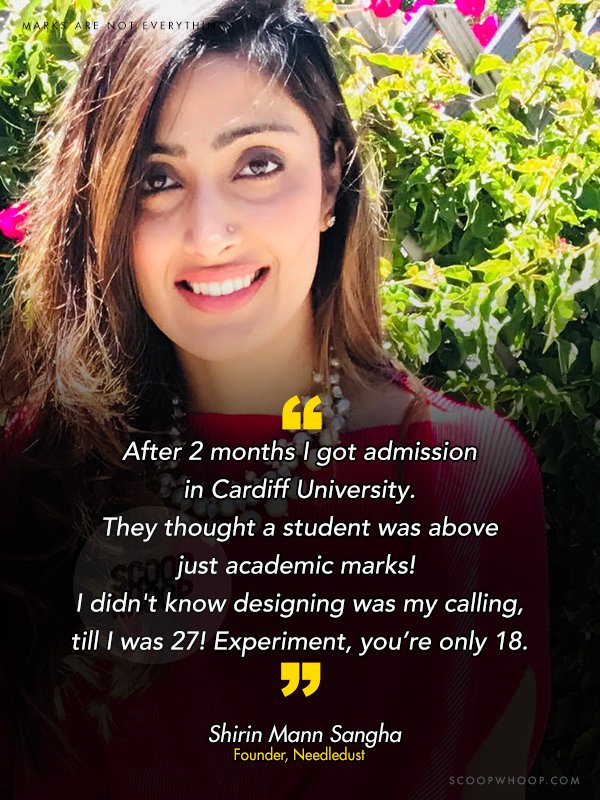 11. Arjun Sagar Gupta 
Founder, The Piano Man & The Piano Man Events & Artists Management
"Mom wasn't happy since my brother was a topper. When I saw my English score was 68, I lost all faith in the scoring system and was mostly unaffected. I got into Venkateshwara College, DU, as a backup while awaiting a response from Engineering colleges. Then, I did some music and engineering work, until I settled into the food business."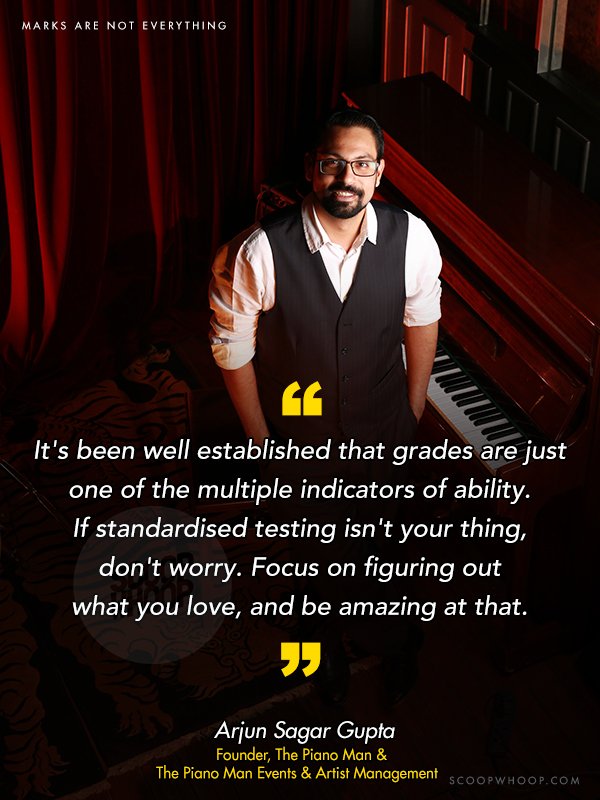 12. Sharvi Yadav 
Musician 
Marks: 93% 
"My parents were extremely happy. I went on to do B-Comm Honours because every person studying commerce did that. I didn't know better. They said it would land me a job. Despite it all, my love and passion for music remained strong. I joined my music group, wrote my own songs, performed at gigs. Then The Stage happened and I won! I started out on my own with no help or guidance from the industry. No one 'landed me a movie' I landed myself my first big break with Veere Di Wedding."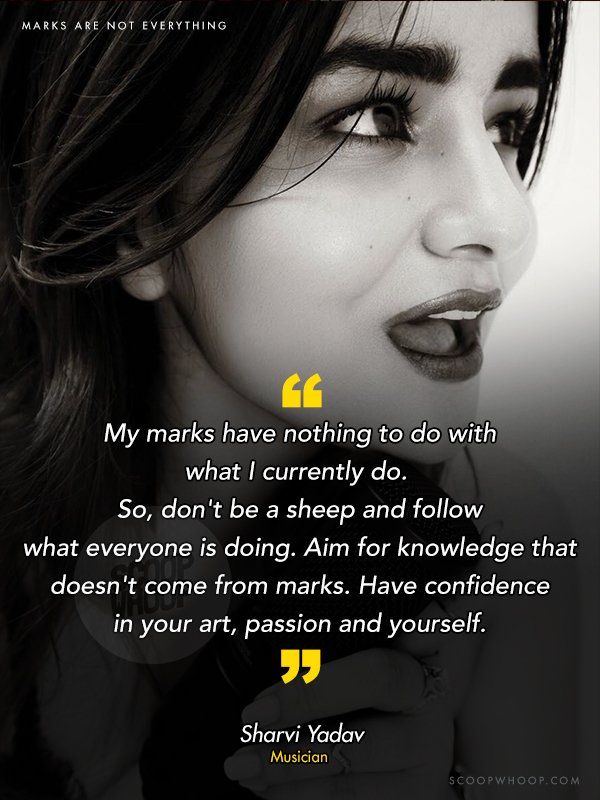 13. Sahil Gupta 
Co-owner, TabulaBeach 
Marks: 90.6% 
"My parents told me to relax for sometime. I totally agreed with them and invested my time in some co-curricular activities like theatre, acting, and dancing. I did my post graduation in Economics honours from Sri Venkateswara College. It was the biggest mistake of my life."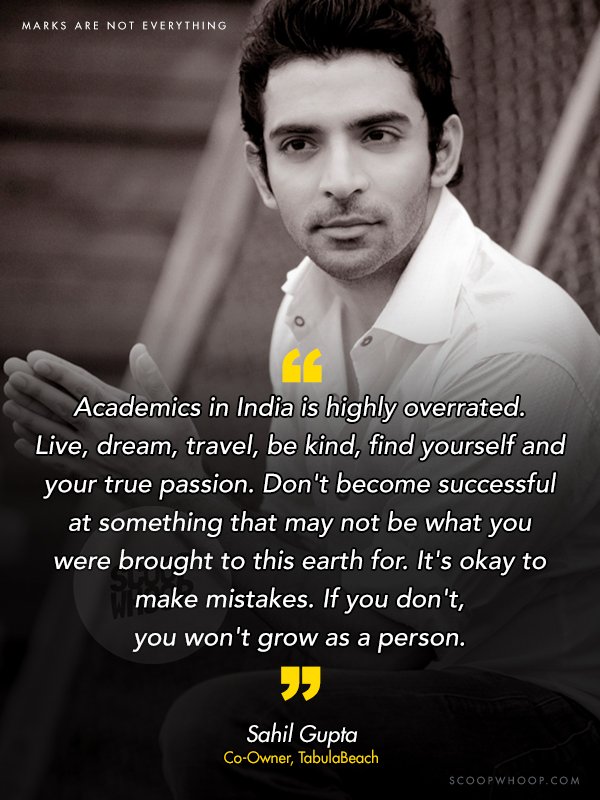 14. Shamsul Wahid 
Executive Chef, Smokehouse Deli & Social 
Marks: 75% 
"My parents did not react much. They are big believers in live and let live. After that, I tried my hand at different job roles, but I soon realized cooking is what makes me happy. I love the sheer creativity of conceptualizing a new dish and the satisfaction I get when I taste new flavour combinations, and when I see people enjoying what I make."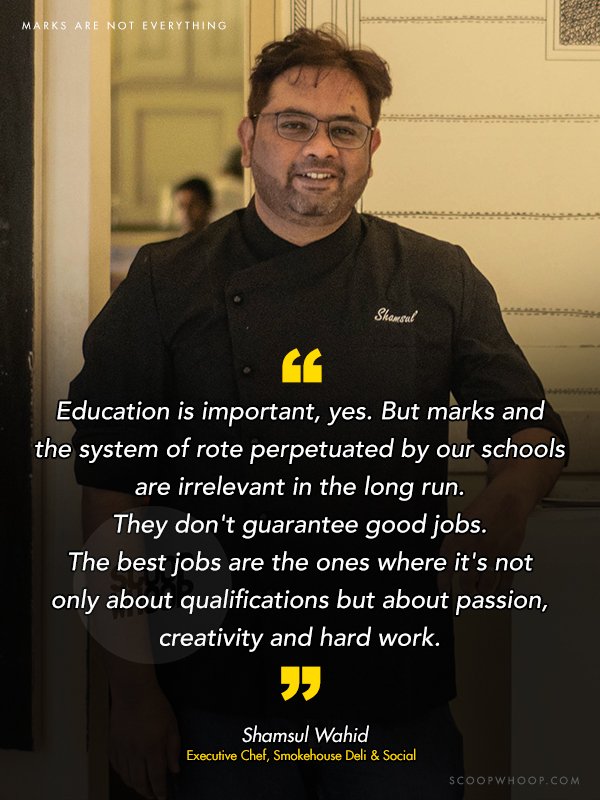 15. Ruchira Hoon 
Food consultant, Writer and Partner at the Piano Man Bakery
Marks: 71% Comp. 
"My folks were freaked out, especially my dad. He couldn't get over himself. So I was slightly deflated. I was always in two minds – I loved writing and cooking so it was going to be either way for me. I realised I was actually a pretty good journalist and then I became one! It was only about a decade into that career did I switch to food. And boy that's been wonderful, too."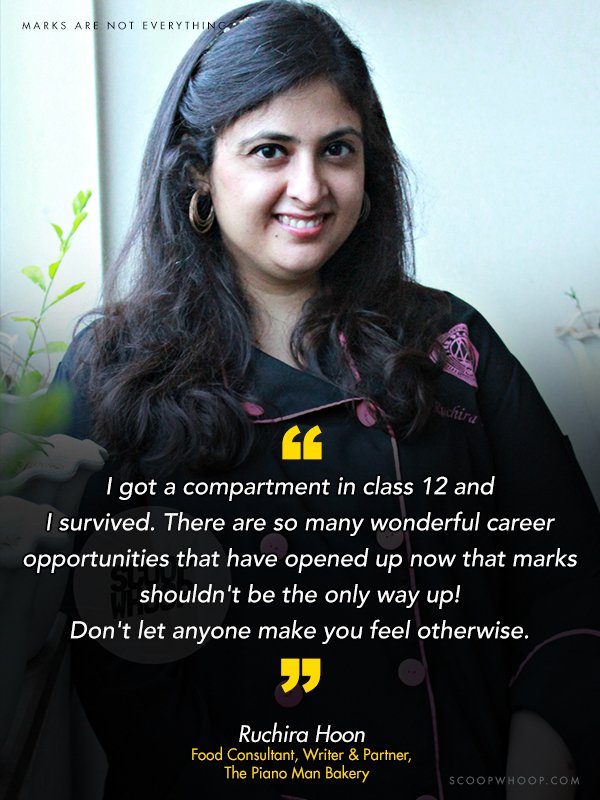 16. Sandeep Gonsalves 
Co-Founder & Director, SS Homme 
"My parents were very understanding, but, I'm sure they were hoping I did better. I did my Masters in Business Management after. I worked at a bunch of MNCs before starting out on my own in 2012."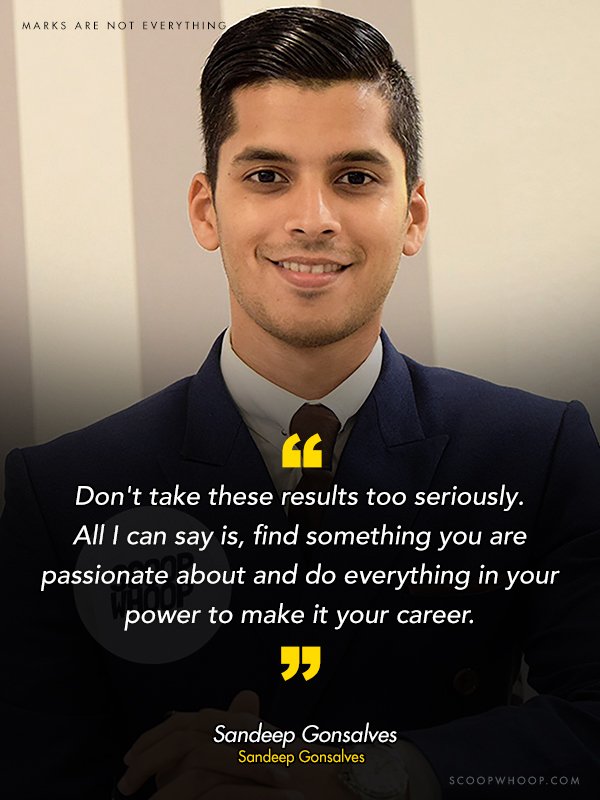 17. Anahita Dhondy 
Chef Partner, Sodabottleopenerwala Cyber Hub, Gurgaon 
Marks: 91% 
"Sure, my parents were happy. But, it wasn't marks that mattered to them as long as I did what I liked. So, I went on to pursue Culinary Arts from IIHM Aurangabad."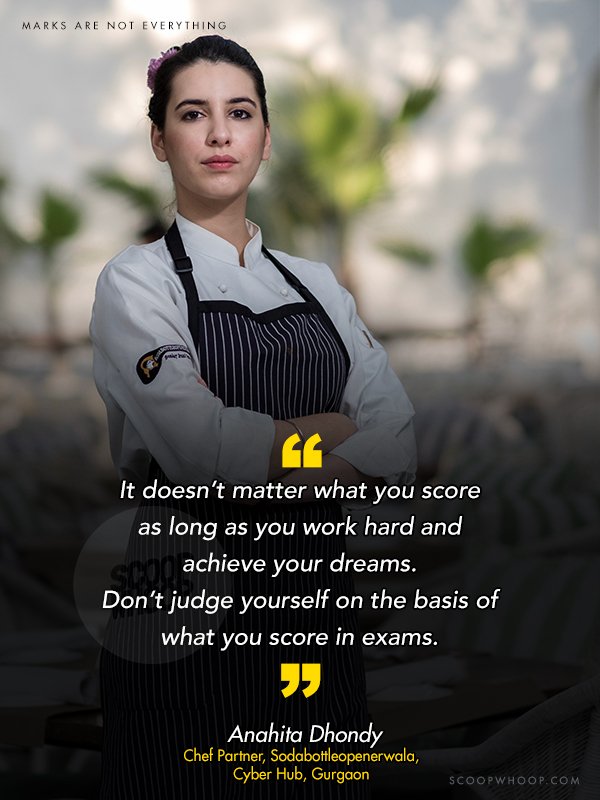 18. Jashoda Madhavji 
Celebrity & PR Manager & Founder, DNH Media 
Marks: 71% 
"It was neither a day of revelry or sobriety. Grades aren't really a topic of discussion in my household. At home, it was always hard work, commitment, and discipline that topped the list and not mark sheets. I didn't qualify for Xaviers College so I opted for commerce in HR College. I was simultaneously pursuing dramatics from Trinity College of London. I dabbled in event management and then moved to celebrity management and then finally public relations. I juggled two part-time jobs whilst I was in college – worked in a Montessori as a teacher and with my grandfather at Hamilton Studios."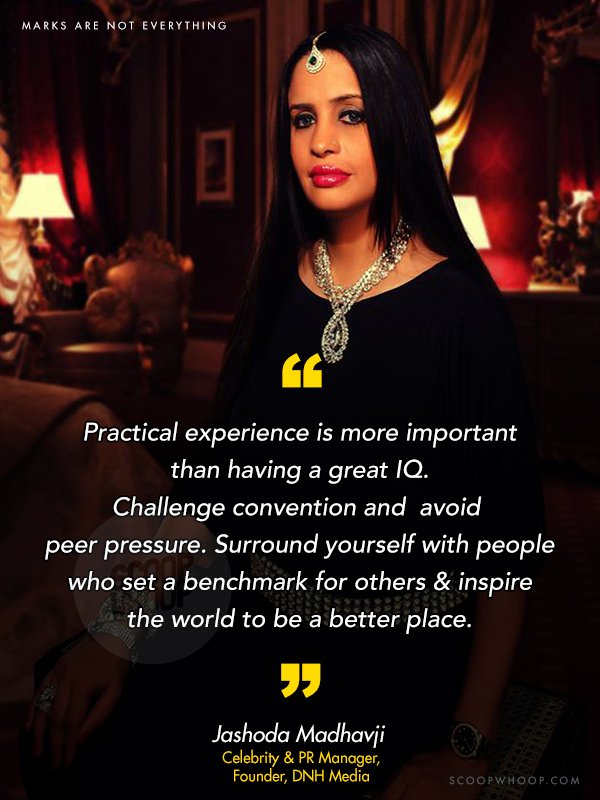 19. Nitin Tewari 
Founder, BarTrender, Bar & Beverage Consultant 
Marks: 76% 
"To be honest, I was always an average student so their expectations matched my results. And while I was born in an era of engineers and doctors, my parents supported me in taking up a career completely unknown to them. I studied at IHM Chandigarh, and made a career in bartending. Today, I run my own company, BarTender under which I've opened around 12 cocktail bars across the world."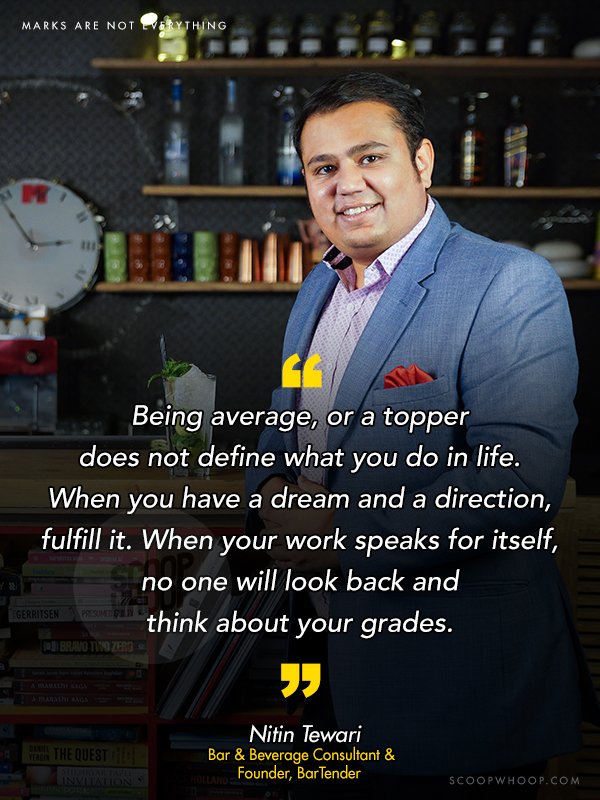 20. Vandana Verma 
Content Head, Nicobar 
Marks: 87% 
I think I've been lucky to have parents who've always been fine no matter what I did. I went on to get an undergraduate and masters degree in cultural studies and journalism, before working with a magazine, writing about nightlife at first, and then food and drink. Eventually, I started working with lifestyle brand Nicobar."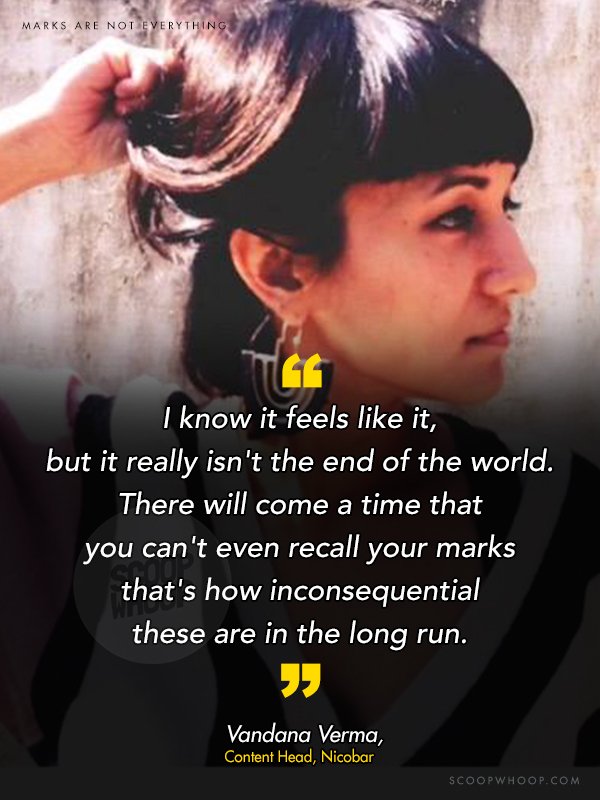 21. Nanaki Singh 
Co-Founder, Project Co 
"While my parents were happy, they wanted me to focus on extra-curricular activities. It was during this time that I also realised the importance of life other than just studies and there was a lot more to that! At the time, I managed to get a course of my choice – Political Science in LSR – but, little did I know that what I do today would not be connected to what I studied! I really enjoy my line of work and the fact that I get to work alongside my mother and do something different is what I love."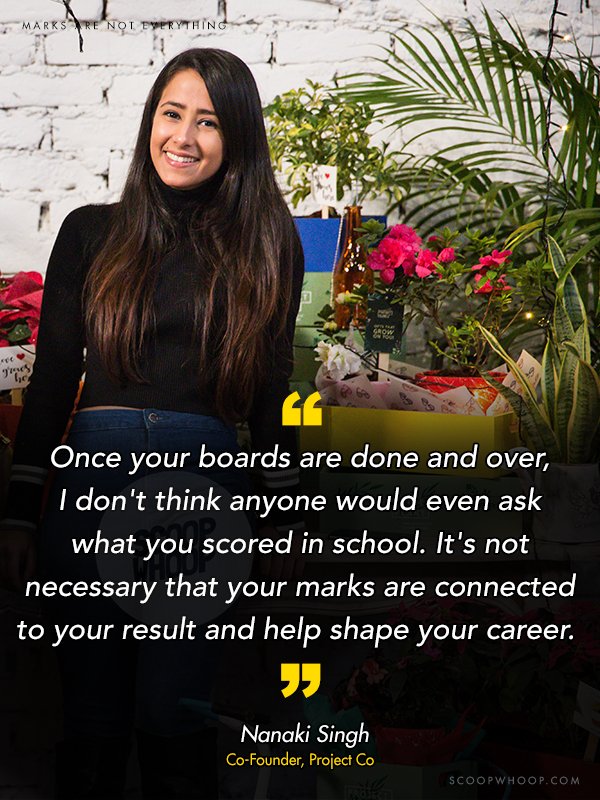 Creatives by Saransh Singh