Minimalist decor seems to be the latest trend on the block. The lesser the stuff, the neater it looks, and the easier it is to manage.
Here are some ideas that will make you want to rework your room to get rid of the mess:
1. If you have the luxury of a big window in your room, just give it a frame by adding fairy lights. 
Add two potted plants on each side of the bed. With just these two elements, your room will look fresher than ever.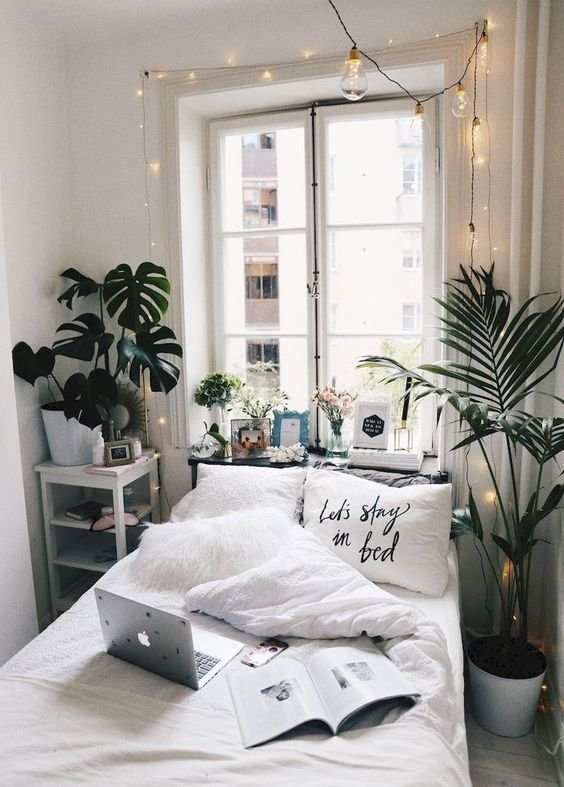 2. If you don't have a window you can use for decor, add the fairy lights around your bed. 
Add some simple frames to the setup and you'll be good to go.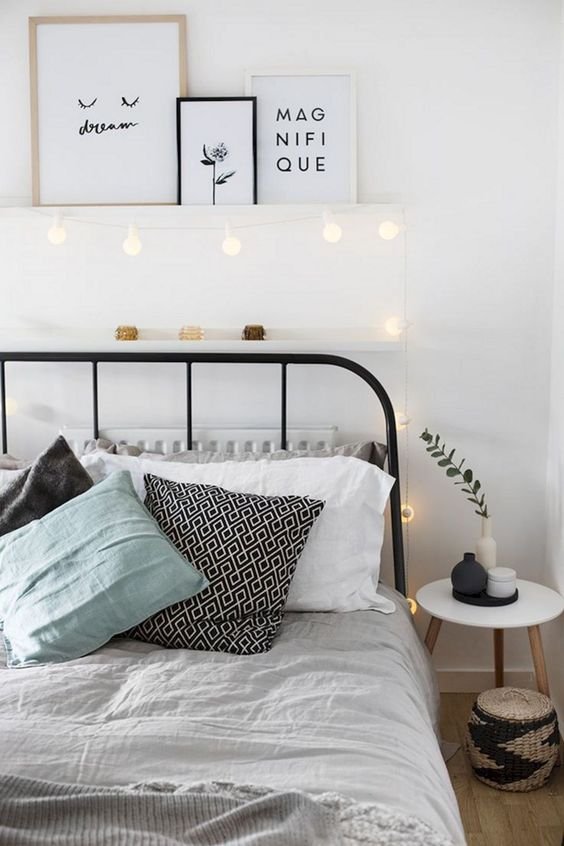 3. Ditch the wardrobe for a simple hanging stand. 
You'll be able to manage your clothes way better this way. Add some plants to your room and purchase a simple mirror that can go directly next to your open wardrobe. It'll make your life much easy and your room, beautiful.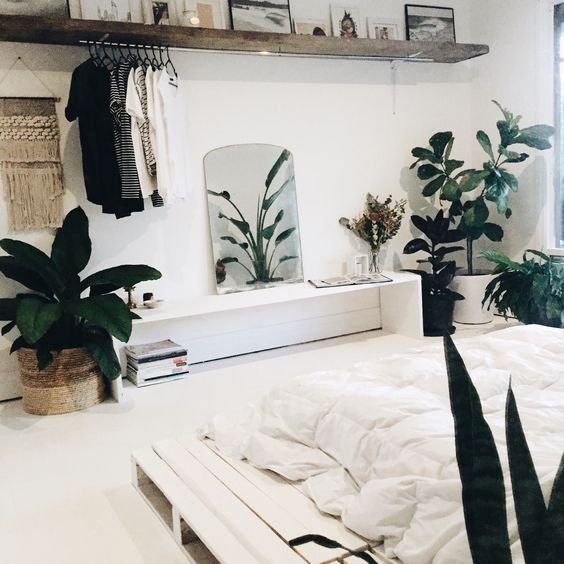 4. If you're looking for something exceptionally simple, just add one potted plant and one mirror to your room. 
A laundry bag made of cane will also add aesthetics and will be useful.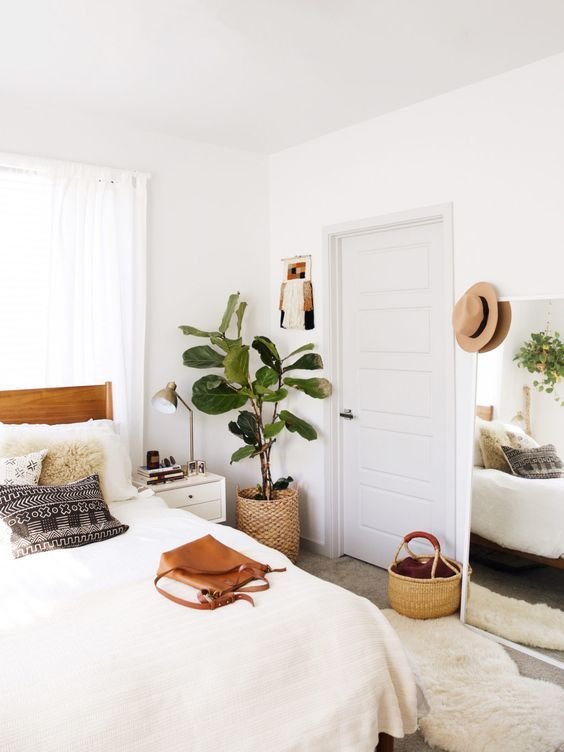 5. You could buy bed sheets and pillows in dark colours to give your room a warm tone. 
With a couple of pillows and a bed sheet, you can actually make your room look simple and pretty.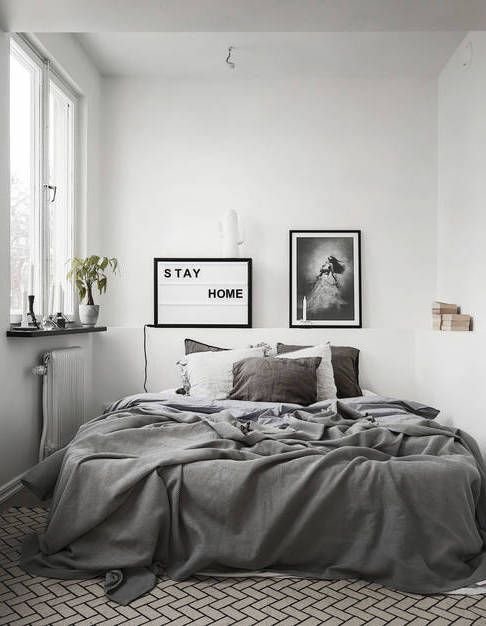 6. Get yourself a book stand like this one and get a big frame for your wall. 
The lamp can be the simple one that hangs from the ceiling. This way, you'll have a reading corner right in your bed. This setup is a blessing for those who love reading.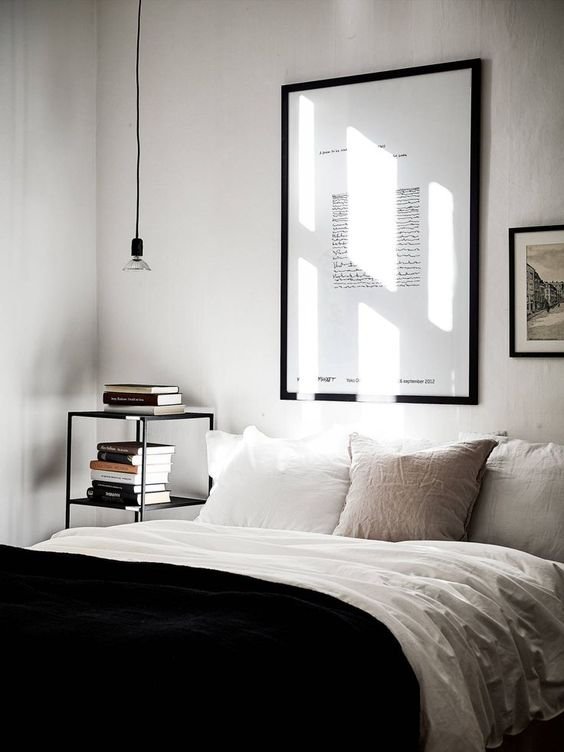 7. If you have too many pretty photos that deserve to go on the wall, you can still dress up your room to look neat. 
Look at the arrangement here. It concentrates on keeping all the frames to one corner and it looks rather neat. Just concentrate on corners and symmetry.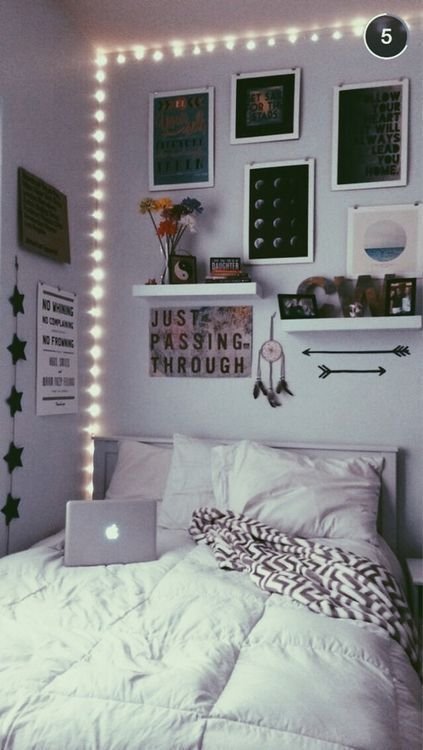 8. A carpet can really change the way your room looks. Add to that a simple wall hanging over the bed and you'll have the perfect minimalist set up. 
Keep a simple mirror in your room and add a nice potted plant for freshness.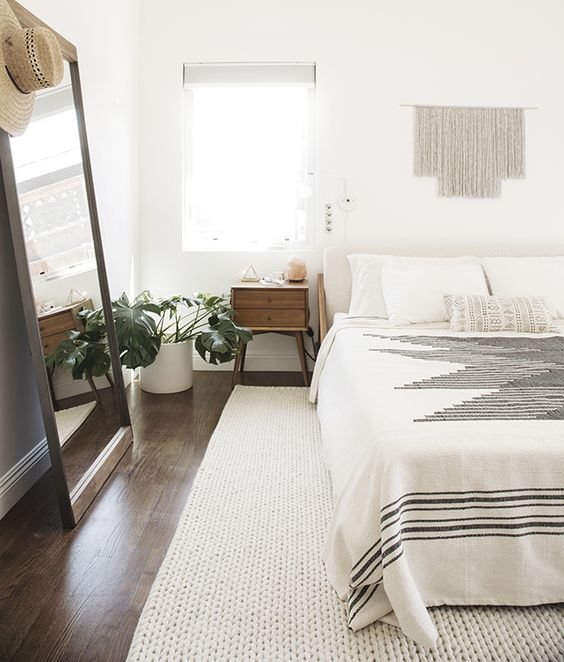 9. You can totally avoid buying a bed if you can come up with a set up like this!
With a hanging bulb which you can use as a lamp and books stacked under the side table, this set up is absolutely hassle free. Personalize your room by adding a poster that you connect with.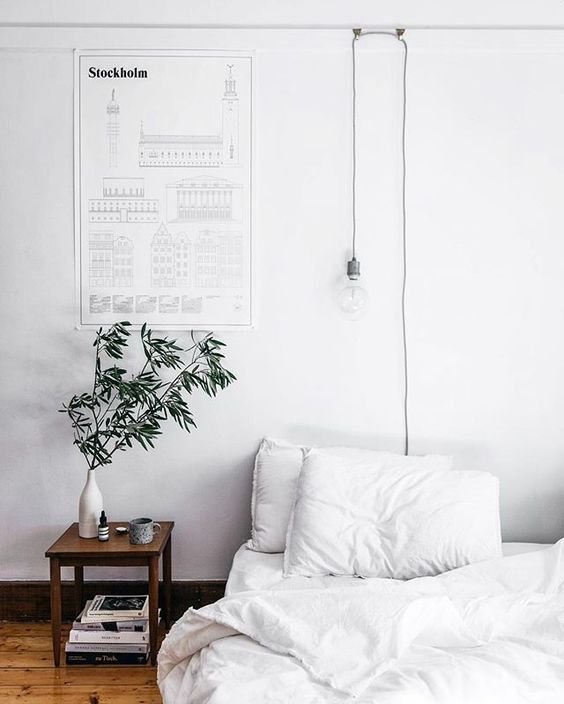 10. Having a wall mirror in your room will give the illusion that your room is bigger than it seems. 
Moreover, it is a great room accessory which will add to the whole set up. Keep a simple side table, minimalist sheets and a plant.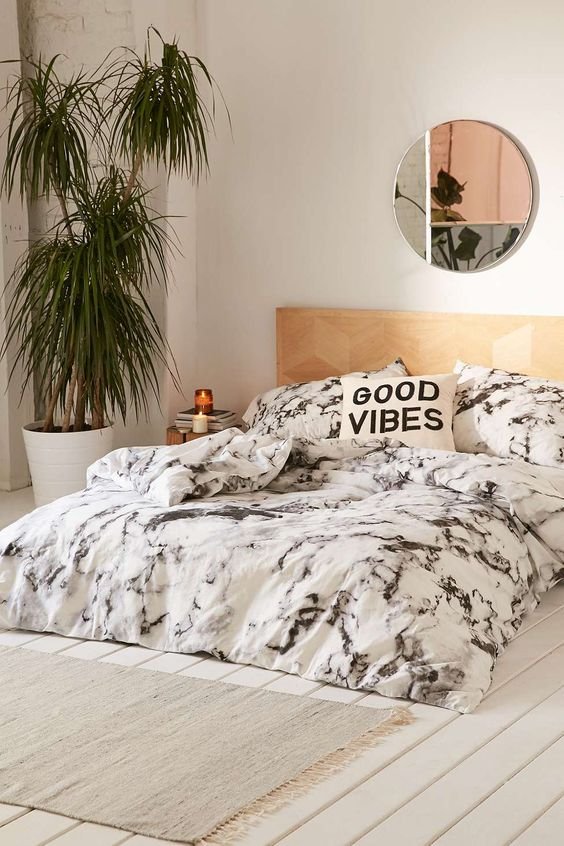 11. Fairy lights can light up any room. However, with a minimalist decor, make sure your fairy lights cove the corner and that the bulbs are stuck on the wall. 
Just stick your favourite photos to the wall instead of spending money on framing.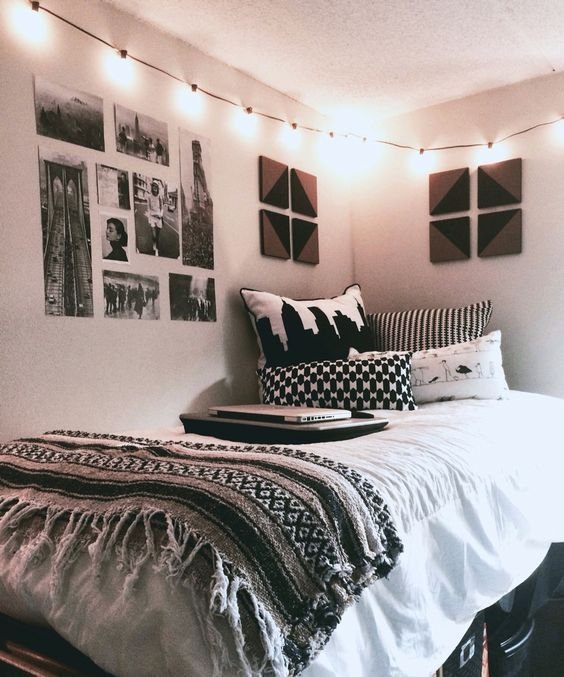 12. With this set up, make sure you can keep your bed in the middle of the room. 
On the side, you can keep simple side tables, like these. A lamp on the ceiling will help you brighten the place.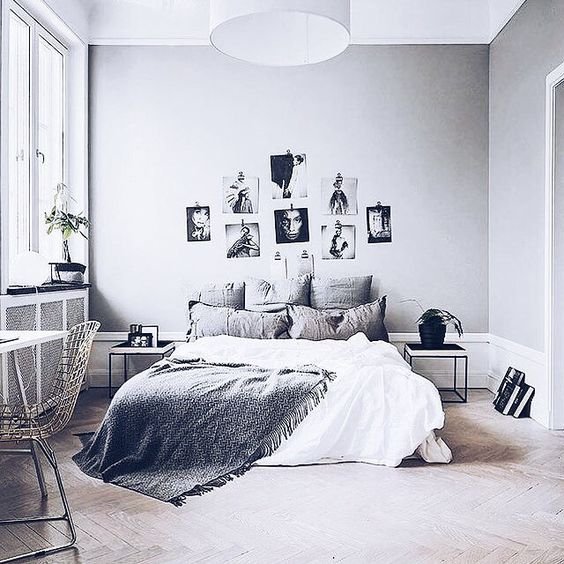 13. You can actually make an open wardrobe for yourself. All you need is a tree branch and rope for suspension. 
Add in a tiny mat, a small side table and very importantly, a laundry bucket to keep things clean.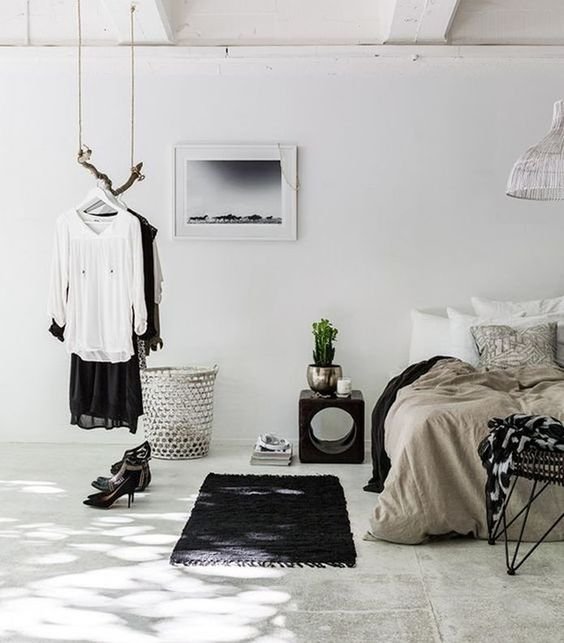 14. Tassels are the new thing in town and also an easy DIY accessory for your room. 
They work as an excellent wall hanging. Add about 3 photographs you love and keep your bed to the corner for a neat look.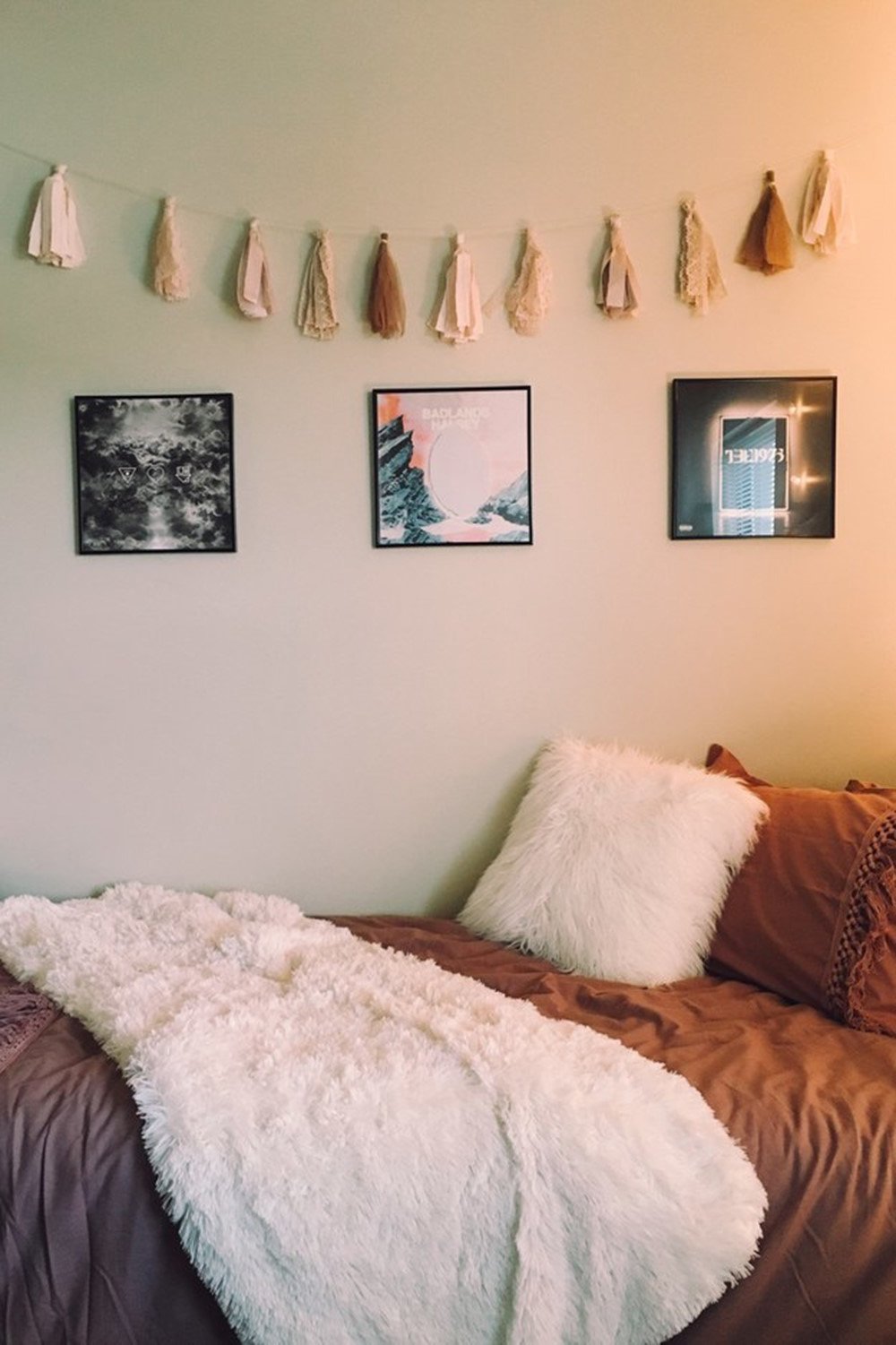 15. If you have a tiny and cosy room, keeping it minimal in terms of decor only makes more sense. 
Fairy lights, simple mirror and a cute side table are all the things you need to make a home out of your room.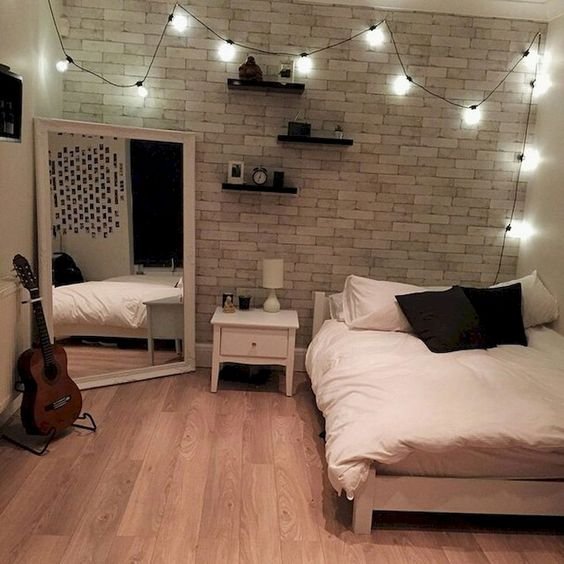 See, minimal rooms are so easy to set up! 
Remember, less is the new more.