Humans are wonderful. Most of them. But every now and then, we come across people that reveal just how twisted and deranged they are in how cruel they can be to another living being. Not just any living being, but the kind that cannot defend itself verbally OR physically – animals.
No one can deny that our country, nay, the world is constantly growing increasingly more cruel to animals.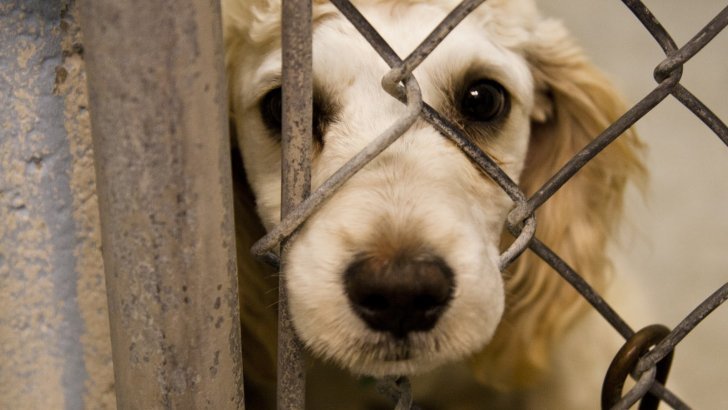 There have been several instances of city-dwellers actively keeping people from feeding stray dogs, and/or being unnecessarily violent towards the animal. And while this is pretty shocking in itself, it is far from the worst of it.
Here are some people who have committed acts of heinous cruelty towards animals in recent times and who we believe are the scum of the earth.
1. The Delhi pup-murderer
The infamous puppy-killer that brutally slaughtered the young canines in Green Park metro station in Delhi, was recently caught, but the terror of the heartless act shook us all to the core without a doubt. In a similar incident in London, a man was recently found to beat, choke and stab puppies that he bought with the specific purpose of torturing them.
2. The young men that set a dog on fire
While Delhi was still recovering from the puppy serial killer, yet another video of horrifying cruelty to dogs was found only a few days ago. Some youths in Mexico tied firecrackers around a dog, set it alight and filmed the entire thing. What's more, they enjoyed it. This is what humanity has come to.
3. The Bengaluru woman who killed eight puppies
More fury was ignited over animal cruelty when another such infuriating incident surfaced in Bengaluru less than a month back. A woman flung Ammu's 15-day-old puppies against boulders with such brute force that none of the eight young ones survived. The woman said she did it to 'teach her a lesson' for having had her babies in a drain under her house gate.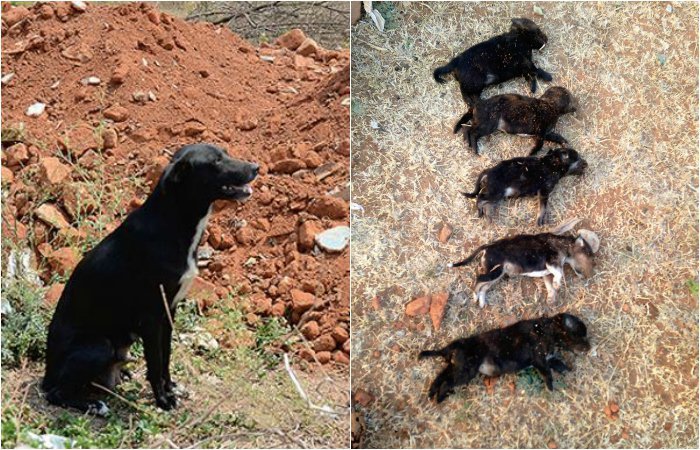 4. The residents of this Chandigarh society for cruelty against a stray dog
In January this year, a case for animal cruelty was filed against residents of the Kendriya Vihar Society in Chandigarh where the accused mercilessly beat up a stray dog, bundled him in a sack and then dumped him on the road. The dog's alleged crime was that he would chase children (who, when interviewed, called him friendly and harmless), litter and defecate and bark unnecessarily.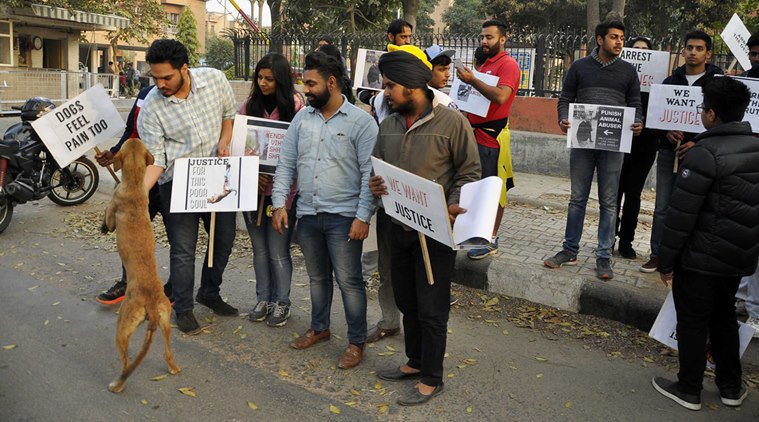 5. The poachers that shot a Rhino dead soon after Will and Kate's visit
The Guardian reported that poachers shot dead and de-horned a male rhino in India's Kaziranga national park less than 10 hours after the Duke and Duchess of Cambridge enjoyed a jeep safari there during a visit to highlight conservation. While the forest guards chased and exchanged fire with the culprits, they managed to escape under the cover of darkness. This is the extent of destruction that animal cruelty and ignorance together can lead to in India.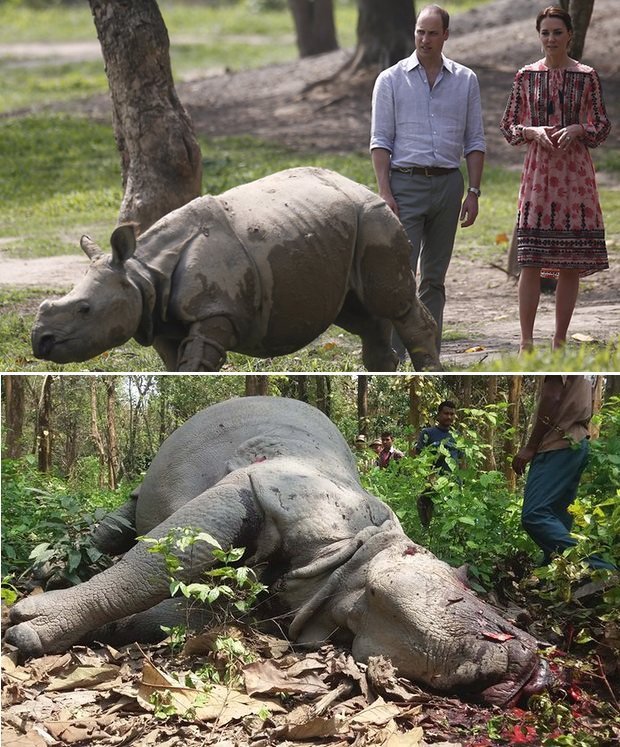 6. The man that threw a pet dog down the stairs for amusement
In yet another, lesser known but sickening incident, a British 22-year old and his companion chose to torture a terrified domesticated dog by hurling her down a flight of stairs, pile-driving her head first into the ground and stomping on her head and chest. What's more, the two lowlifes filmed the excruciating process for their entertainment. Thankfully, it was the footage that brought them to justice finally.
7. This man in Florida who bit a dog and tried to choke it
A man in Florida, USA too was only a few days back convicted of biting a small pet dog on the face and choking it so hard its eye popped out. Reportedly he was drunk when he started to tease the shih tzu and turned horribly violent when it defended itself. So violent that his actions, quite rightly, brought him year in prison.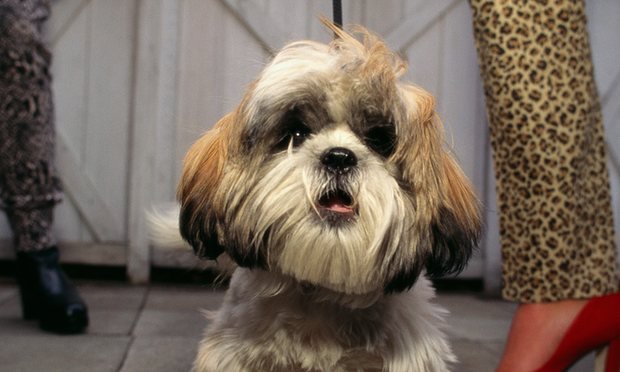 8. The thugs who rode and beat this young horse to death
Only a few days ago, a young horse was ridden to exhaustion and later beaten to death in broad daylight in Ireland. The year old horse was found with a broken leg and his teeth kicked in. Brutally murdered, this tragedy raised several concerns about growing animal cruelty as well as heartbreak and disgust.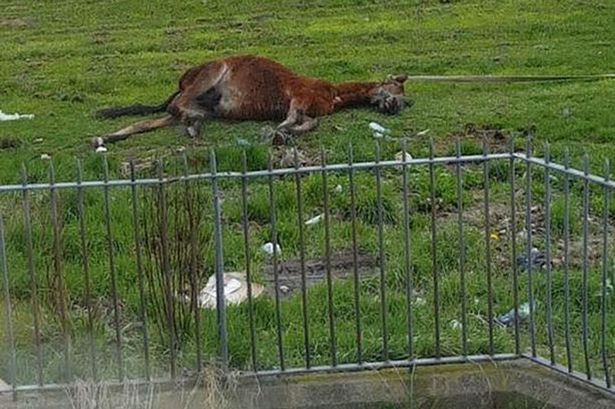 This is not just a problem in our country. All over the world, humans seem to view animals as play-things of some kind – inflicting unimaginable pain and torture on them. And it is only by raising awareness in this matter that we can help the innocent, helpless animals.
Cruelty to animals is a punishable crime.
Under Section 11 of the Prevention of Cruelty to Animals (PCA) Act, 1960 and Section 428 and Section 429 of the Indian Penal Code (IPC), 1860. Imprisonment can be of a maximum period of five years or fine or both under the Indian Penal Code, if found guilty.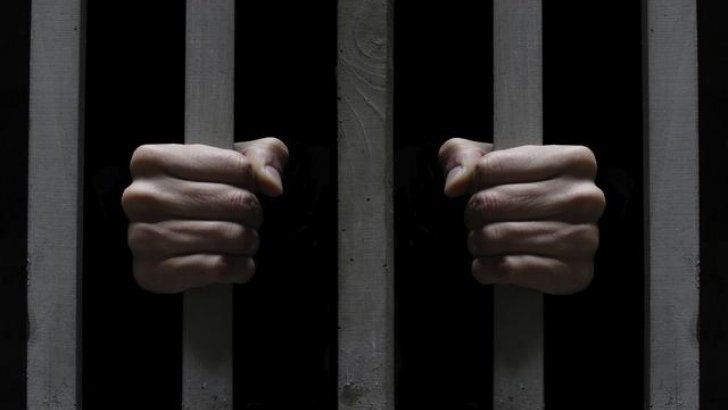 If you are in Delhi, and find yourself a witness to such heinous crimes, don't waste another minute before bringing the culprits to justice. Here's is all you need to know.
1. If the animal is hurt or killed, keep it in your custody.
2. Dial 100 to inform the police NGO to the police and insist on an FIR. If the crime is serious, police can arrest the guilty party without a warrant.
3. For a cruelty case, as opposed to a smuggling or illegal breeding case, call the Delhi Society For Prevention Of Cruelty Of Animals.
4. Take the animal to a government veterinary hospital.
5. Contact PETA India, People For Animals, Friendicoes or other such NGOs for assistance.
Here's hoping that together we can fight the mindless cruelty that some humans have been inflicting on innocent animals. Together we can make sure their suffering did not go to waste.