For all the cheap rides that car-pooling provides, sharing a confined space with a stranger isn't an idea that I find particularly appealing. Yet, a few days ago, I was in one. So, when the cab picked up another passenger, I could do nothing but sit in silence. Yes, that's awkwardness you feel, right there. Luckily, the driver tuned in the radio to an oldies music station. 
The volume wasn't as high as I would have liked, but the sound of Asha Bhosle's voice to R. D. Burman's psychedelic beats in 'Dum Maro Dum' were enough to lull me into a temporary comfort. The cherry on the cake was when my fellow passenger asked the driver to turn the volume up.
I guess I was surprised to find out that he was closet seventies fan like me. After all, if you tell someone that you often binge on 70s music, you get funny looks. 
Personally, I have nothing against the music of today, but the 70s truly was the Golden Age, as they call it. It was not only the time of legends like Burman, Mukesh, Manna Dey, Lata Mangeshkar, Asha Bhosle, Salil Choudhary and Yesudas, but also one when music itself had been elevated to an extraordinary position.   
Like this poignant gem of a song, Aanewala Pal by Kishore Kumar, that is easily one of the best works from the time:
If it isn't the excellent cadence of Kishore Da's voice, it's going to be the lyrics that will make you fall in love with this song, which is both hopeful and ominous at the same time. The message, too, is extremely simple: Live in the present. Make the most of your time, because it never stays with you.
Music in the 70s was about fulfilling a purpose. 
Each song read as if a carefully crafted, meticulously mastered and perfectly executed symphony, teaching us the lessons of life through another tongue. Be it talking about the fleeting nature of life, or serenading the love of your life, 70s music had a vision. What's more, each artist, musician, lyricist, and composer expressed it in his or her own way. 
If we're talking about classics, Gori Tera Gaon Bada Pyaara by K.J. Yesudas deserves a special mention. 
From the soft crooning in the first seconds to the trilling of the flute towards the end, this song is like a painter working on a rustic masterpiece. It creates the image of rural India: a small village removed from the noise of the city and seeped in serenity.
70s music created excellent aesthetics, like lyricists telling stories through their words.
Marking her territory and taking the world by storm was Asha Bhosle in the song Dum Maaro Dum, a cult favorite even today. 
Did you know that this song was originally supposed to be sung by Lata Mangeshkar and Usha Uthup? Changes in the setup resulted in Asha Bhosle getting it, and we dare say she nailed it. But it wasn't just Asha's melodic voice that made this number a cult favorite. The essence of it is captured by Pancham Da's eccentricity and penchant for experimentation. 
70s music was a collaborative, collective effort. It took more work than it seems to provide the people an excellent musical marvel. 
It wasn't just the singer behind the mic, but the composer who created captivating melodies, the lyricist who brought the words to life, and even the studio crew who worked hard to perfect each tune. It was a time where people grew up trying to get clear reception on their radios to listen to their favorite singers, and musical education was a privilege that only a few received. Success wasn't as instant as it is now on social media, and reaching people through only your voice took years of perseverance. That's why the 70s will always be the best era for Indian music: they were a result of not only the singer's blood, sweat and tears but of all the people who worked on an album together.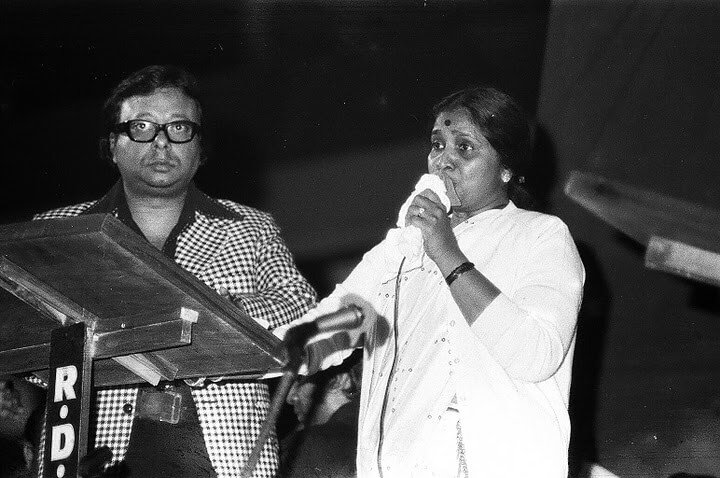 That's not to say that Bollywood music has degraded since the 70s, but it does seem to have lost the vision that its founding fathers immortalized. While contemporary songs are good for when you're stuck in traffic or incredibly bored, they're not pieces that you would visit after thirty years, or recommend to your children. Granted, there are numerous artists who have carried forward the legacy of the 70s brilliantly, those songs are few and far between. 
There can only be one Golden Age in Bollywood Music, and it was the 70s. 
Today, rare is the breed of people who listen to it regularly. Even more difficult is finding most of the songs in qualities that don't make our ears bleed from the cringe-worthy sounds. Fortunately, websites like Saregama are nothing less than heaven for us 70s music nerds. With their extensive music library, master playlists and high-quality audio files available at incredibly affordable rates, it's no wonder that we band together repeatedly to relish the sound of Burman's expertise time and again. 
Featured Image Source: Maddy's Ramblings/Blogspot