For over a decade (until 2013), Forbes Magazine has teased us with a tongue-in-cheek list of the richest people in fiction! Since it's first appearance in the fateful year of 2001, this 'elite' list has featured a mix of fictional characters taken from literary, animated and cinematic worlds. Here are 15 of the richest fictional characters that'll make you feel really, really poor. 
1.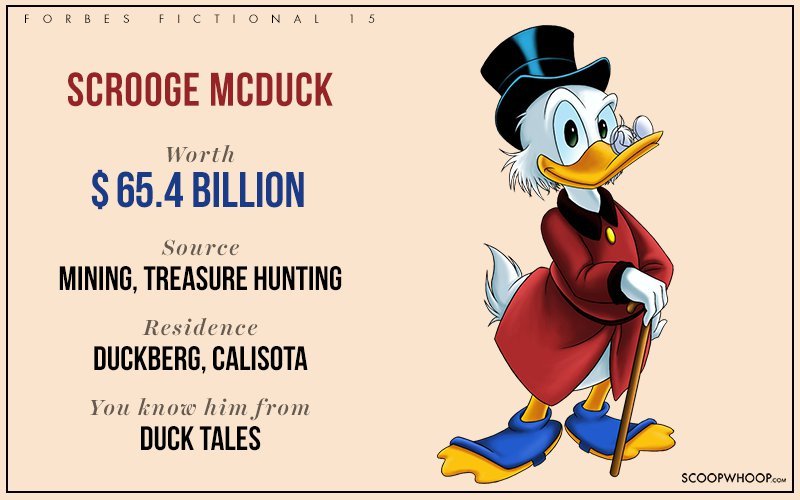 Topping the charts is Scrooge McDuck, the billionaire who has consecrated $65.4 billion fortune in gold coins, in which he leisurely takes a dip!
2.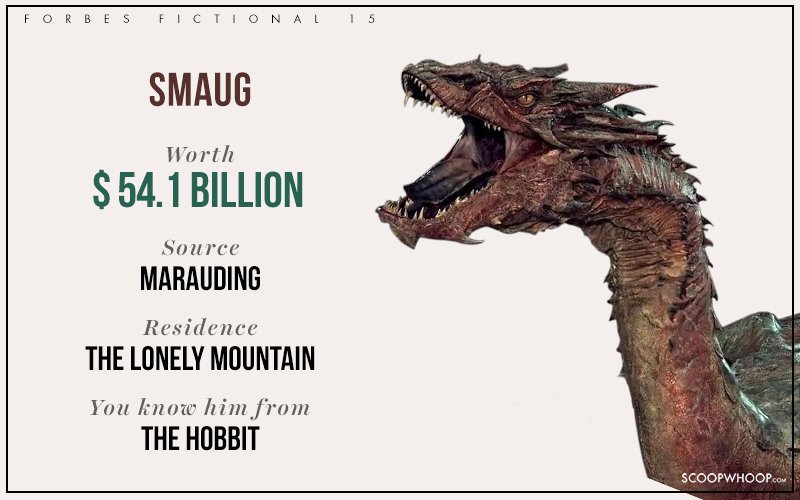 The reclusive red-golden dragon has amassed more wealth than you could ever think of! After aeons of lonely existence, Smaug now spends most of his time at the Chateau Marmont!
3.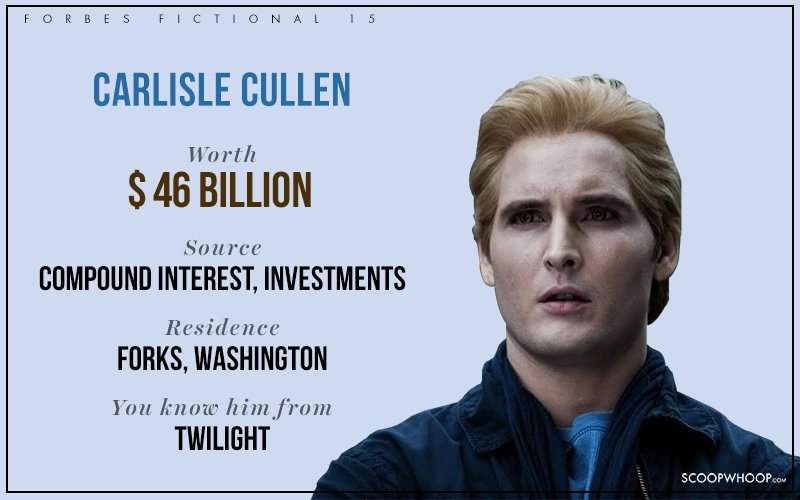 Carlisle Cullen owes most of his wealth not to his preposterous blood sucking habits but to his investments and the interest compounded on them. He's number 3 in the elite list.
4.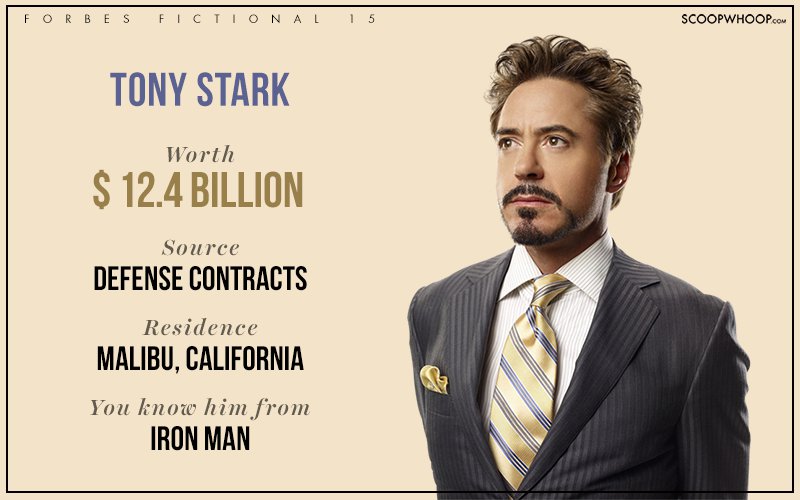 Is there something Iron Man can't do? From earning two master's degrees by the age of 19 to creating the marvellous combat armor, this man is worth $12.4 billion on the Forbes list.
5.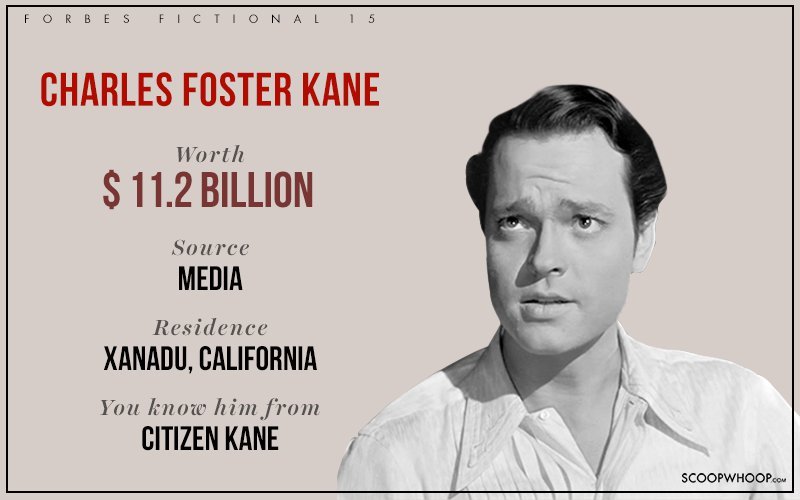 Kane was born into a poverty stricken family but had his lucky break when his family received gold mine in lieu of payment. This changed the life of the American media mogul and he makes it to this list as the 5th richest man.
6.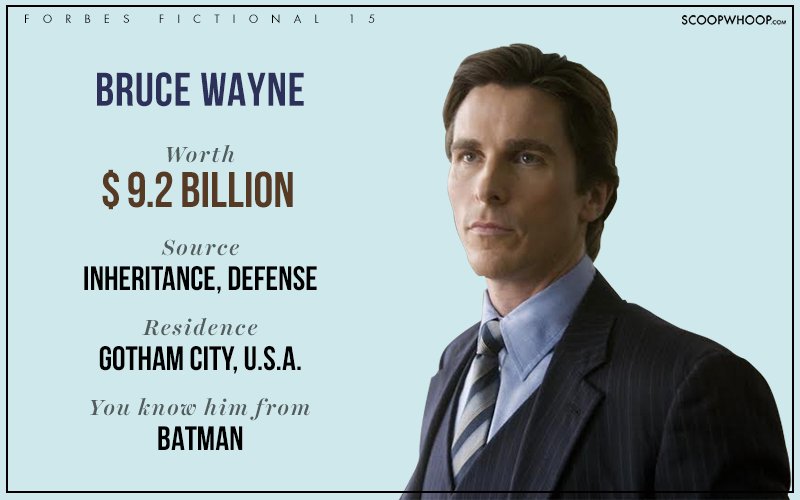 Gotham's billionaire and saviour is known for buying things that 'aren't for sale'. Born with a silver spoon, Bruce Wayne has to be on the list, doesn't he?
7.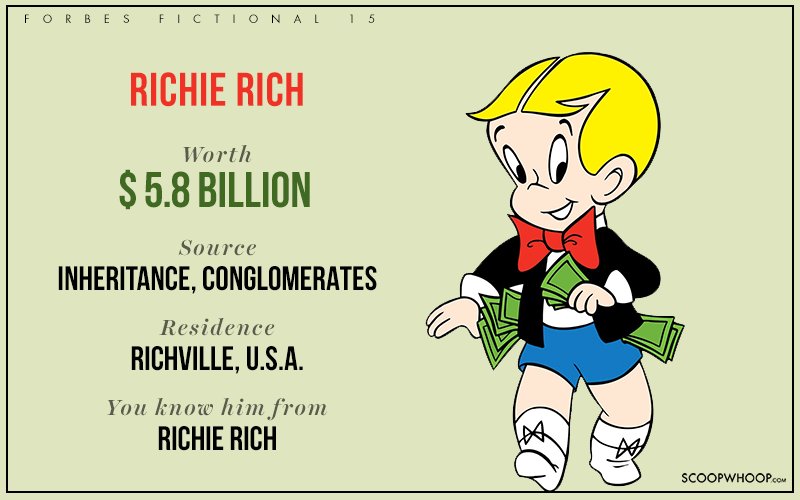 The poor little rich kid and the only child of industrialist Richard Rich, loves to splurge. More recently, he has even donated to philanthropic causes.
8.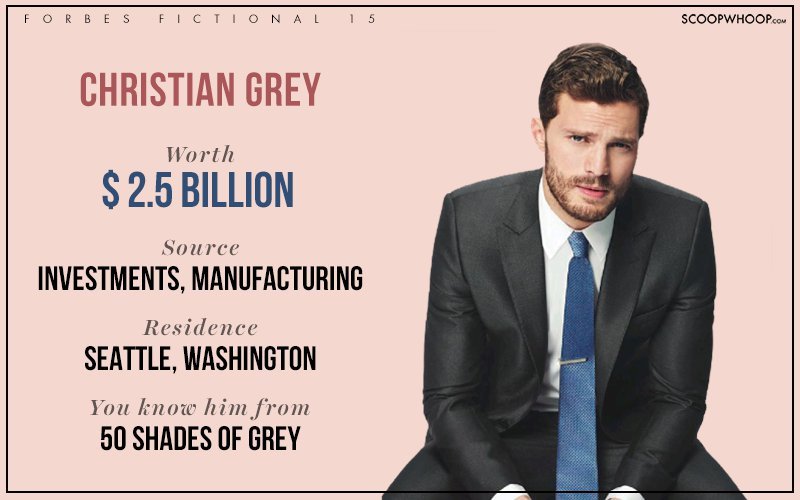 The BDSM enthusiast is doing pretty well for himself after he was paid a hundred thousand dollars to please the woman for whom he did landscape gardening. With the money he received, he ploughed it into a business that blossomed quite like his sexual life.
9.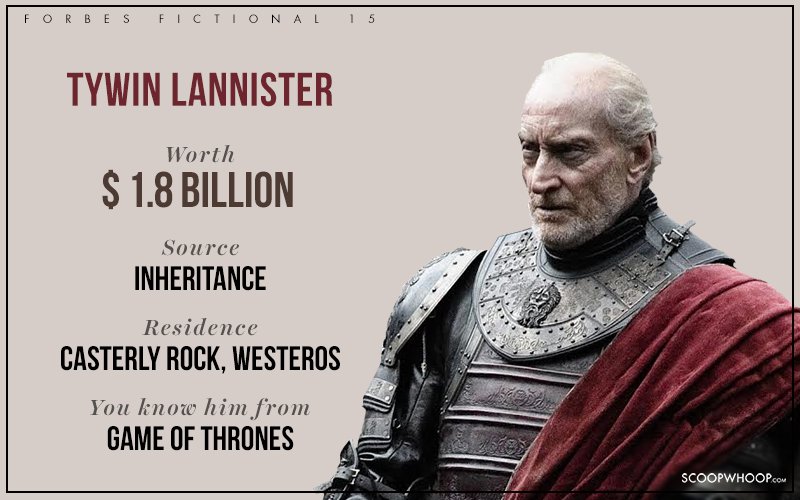 Tywin, before he was shot by an arrow while answering nature's call, had amassed huge amounts of wealth which is the reason why the Lannisters were always known to 'pay their debts'.
10.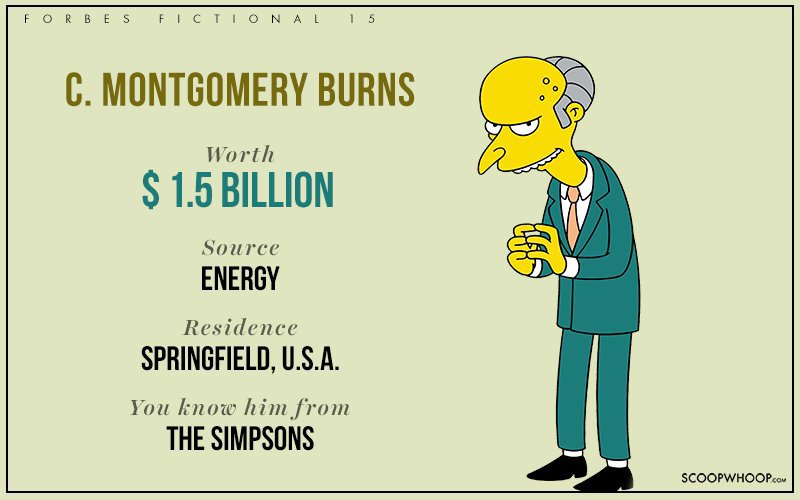 Mr. Burns, a Yale graduate and WWII veteran was even chosen to carry a Trillion Dollar Note to Europe as USA's contribution to the economic reconstruction. He is number 10 on this fictional list.
11.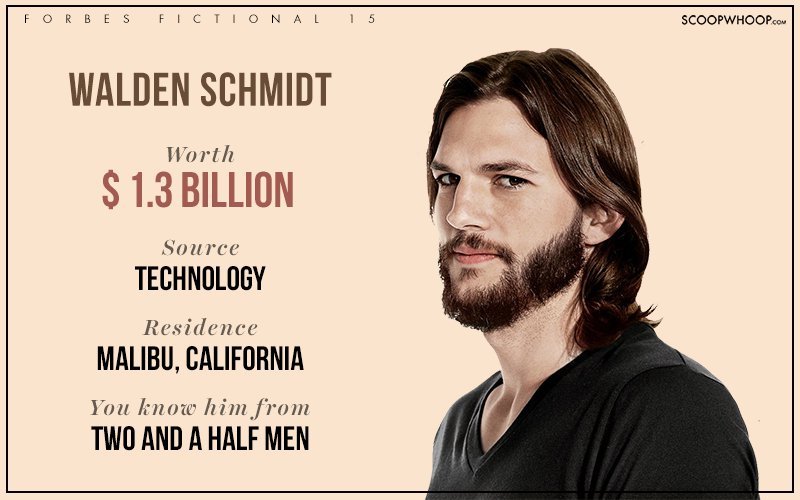 Walden Schmidt was introduced after Charlie Sheen's departure from the show. The suicidal divorcee made billions through a quick sale of his Internet start-up.
12.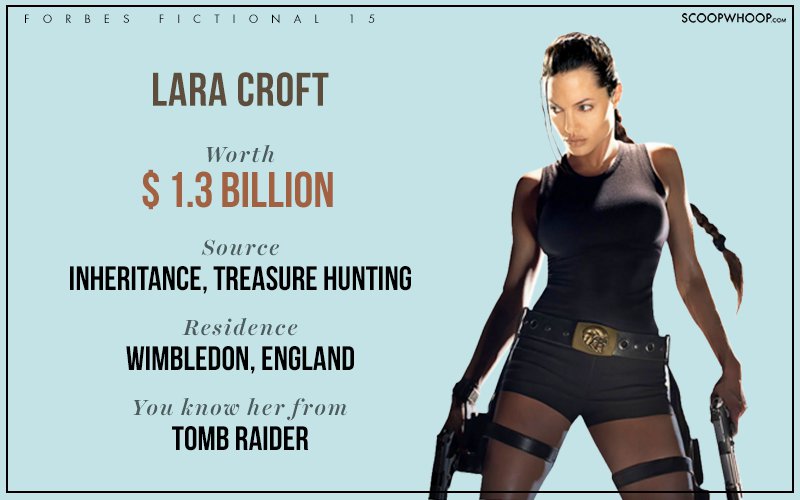 She's rich and enjoys her leisure time in far flung Himalayas and Central America. I mean why won't she? Born to an aristocratic family, this kick-ass archaeologist knows how to live life, queen size!
13.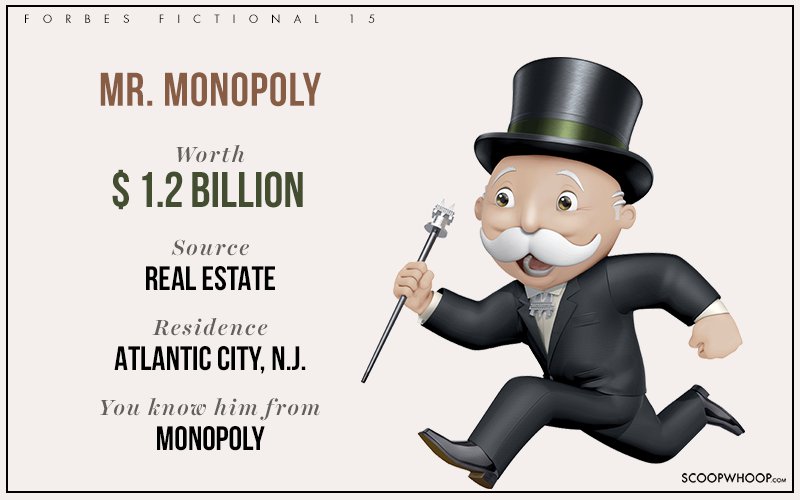 Mr. Monopoly, also known as Rich Uncle Pennybags has been the face of the game since 1936. The source of his wealth is Real Estate and he has pumped enough wealth into the housing sector of some of the world's biggest cities.
14.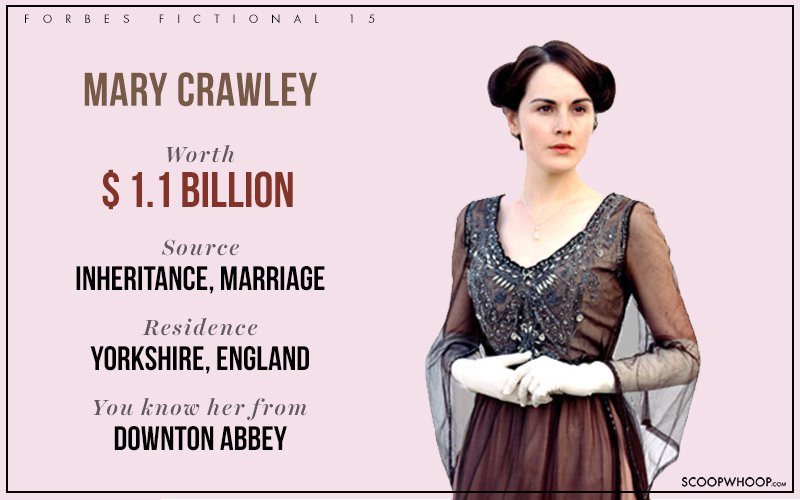 Maintaining Downton Estate requires big moolah and Mary Crawley is the right heir to it. She makes it to this list as the 14th richest.
15.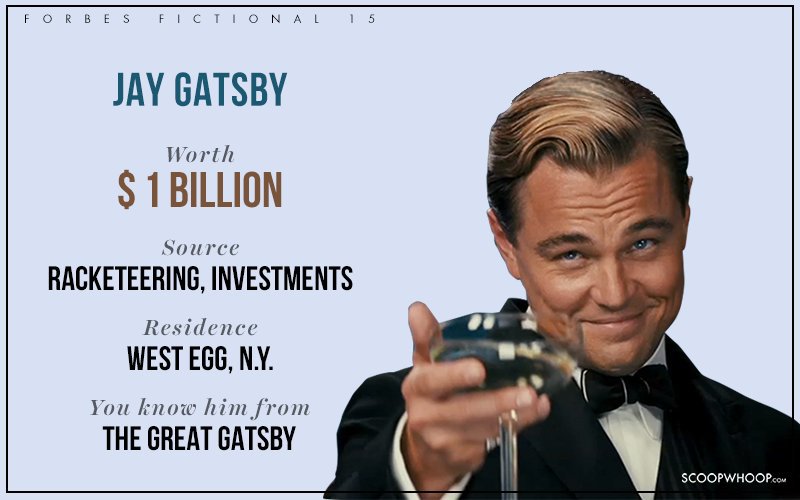 His journey from a janitor to an enterprising bootlegger helped him buy a 22 bedroom house on Long Island and a custom-made Rolls Royce. He quietly makes his way into this list as the 15th richest person.
I feel poor.