Rajinikanth is well known for his superhuman abilities as also his humility and simplicity, he is admired, worshipped even, by many. For a mega star like Rajinikanth to respect someone to the level of accepting him as his adopted father, as is rumoured; the latter must be quite an exceptional man.
Meet P. Kalyanasundaram.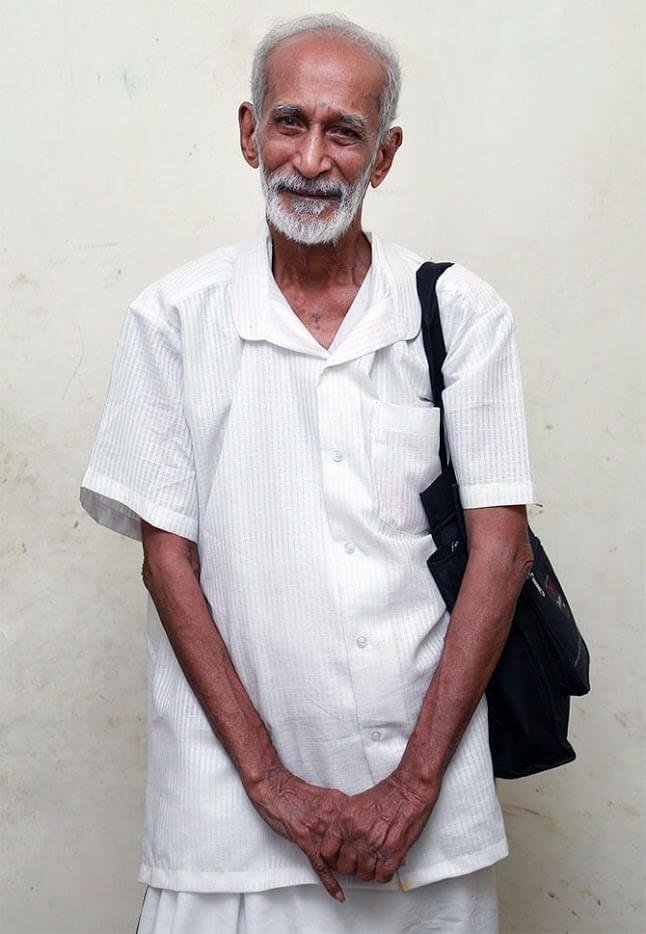 You would never guess that Tamil mega star and movie icon Rajinikanth has apparently adopted him as his father, what with his simple and unassuming appearance – rubber chappals on his feet, a jhola bag slung over one shoulder, simple cotton shirt and a white veshti tied up above the knees. But this appearance hides a generous heart which you rarely come across in a lifetime.
The 73-year-old former librarian, has been donating all his earnings to help the poor for the past 30 years. For someone who slept on pavements and roadsides to experience the discomfort a homeless person can face, Kalyanasundaram is no stranger to struggle and impoverishment.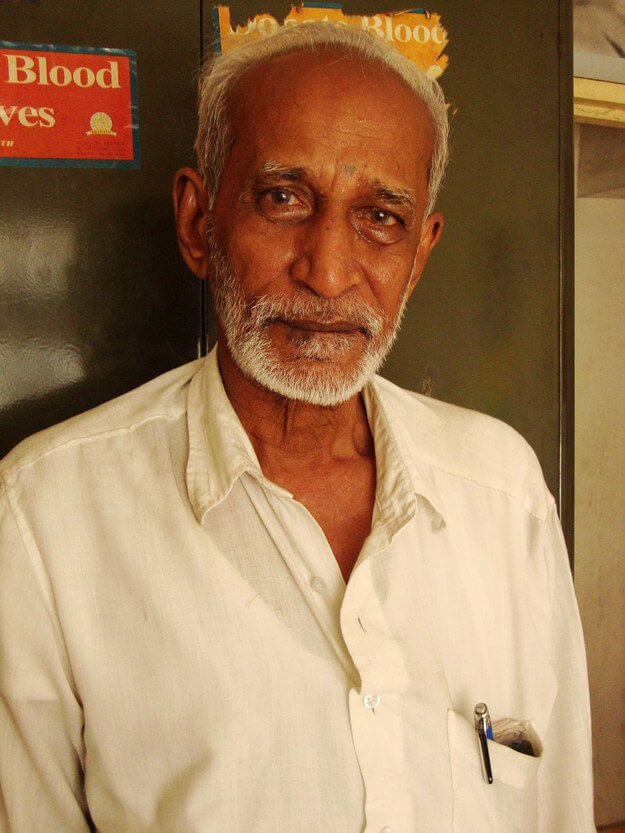 Born and brought up in Melakaruvelangulam village, of Nangunari taluk in Tirunelveli district, in Tamil Nadu, Kalyanasundaram knows what it's like to live without basic essentials. 
"There were only 30 houses then. No roads, no buses, no school, no electricity, not even a petty shop. I studied in the light of a kerosene lamp or by candlelight till I was about ten years old," 
Kalyanasundaram told The Hindu. He had lost his father at the tender age of one.
After completing school, he went on to St. Xavier's College, Tirunelveli to pursue a B.A degree in Tamil. Being the only student wishing to study Tamil, the college administration persuaded him to take up a different subject. An adamant Kalyanasundaram insisted on Tamil and in doing so impressed Thygaraja Chettiar, the founder of MTT Hindu College. He admitted him into the course he wanted and even bore his study expenses. 
"Those days I can never forget, especially the Chettiar's munificence," 
He was in Madras University studying library science when he heard Nehru on the radio asking people to contribute to the National Defence Fund for the Indo-China War. What he did, was his first step towards helping countless people, he immediately rushed to Chief Minister Kamaraj and gave him his gold chain. 
This gesture propelled him into limelight due to numerous news reports of his donation. Kalyanasundaram thought that an article in Ananda Vikatan, a popular Tamil magazine, would encourage more people to pitch in but when he met the editor S. Balasubramanian, his gesture was dismissed as a publicity stunt. Undaunted, he threw himself into social work. In Madras University, he started the International Children's Welfare Organisation to help slum children.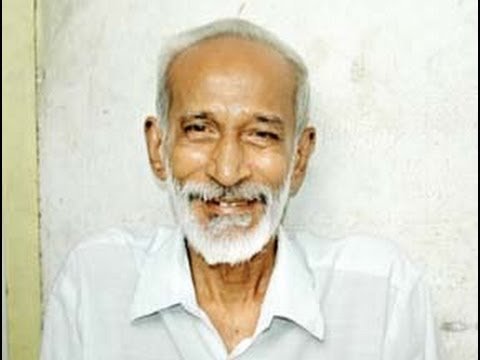 Kalyanasundaram joined Kumarkarupa Arts College in Tuticorin as a librarian and worked there for 35 years. The majority of his salary went into social work. Proceeds from the sale of his ancestral property, one lakh rupees received as salary arrears; all went into helping orphans.
After 45 years of helping orphans and impoverished children, Kalyansundaram decided to broaden his mission by starting Paalam. Paalam was meant to be a bridge between donors and beneficiaries. Kalayanasundaram poured his retirement fund into Paalam and it proved its mettle when people needed help the most, during earthquakes and cyclones all over India. They also help out by providing higher education to poor children, medical assistance to those in need, blood donation camps are organised and blood samples are reached to hospitals, the unemployed, elderly, sick and handicapped are rehabilitated and free counselling is available.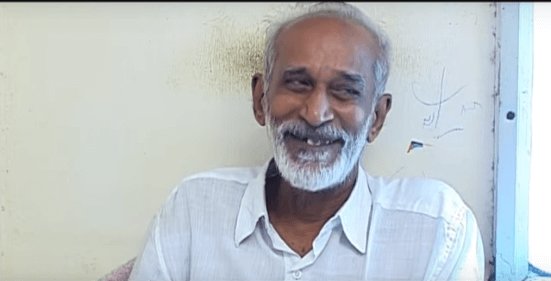 "We work on the principle of gaining everybody's support. That is the reason why membership costs just a rupee a month (life membership is Rs.100). We take about anything used or unused – old newspapers, clothes and utensils – and reach these to people in need,"
says the philanthropist.
Devoted to his mission in life, to help as many as he can, Kalyanasundaram doesn't have time for himself. He never married and now works odd jobs to support himself and his scarce needs.
"I am able to manage doing odd jobs in a hotel or a laundry. I simply do not wish to own anything. In fact, one of my happiest moments was when, after being chosen as the `Man of the Millennium' by an American organisation, I donated the entire amount of Rs. 30 crores I received towards charity. Everything is, therefore, a state of mind. Finally, what do we take with us when we leave planet earth?"
he beams a big toothy smile.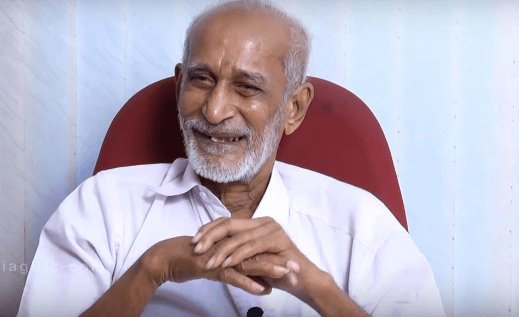 Kalyanasundaram had his own personal challenges to overcome. In college, like all self-conscious youngsters, he was ashamed of his shrill, almost-feminine sounding voice to the point that he contemplated suicide. He met Thamizhvaanan, a writer of self-improvement books, who turned out to be his saviour. Thamizhvaanan gave him some advice he would never forget, reports iseeindia,
"Don't bother about how you speak. Strive to make others speak good about you." 
Kalyanasundaram's efforts have finally been recognised and the United Nations Organization honoured him as one of the 'Outstanding People of the 20th Century'. He also received the 'Man of the Millennium' award from an American organisation who rewarded him with 30 crores, which again was promptly put to use in social service.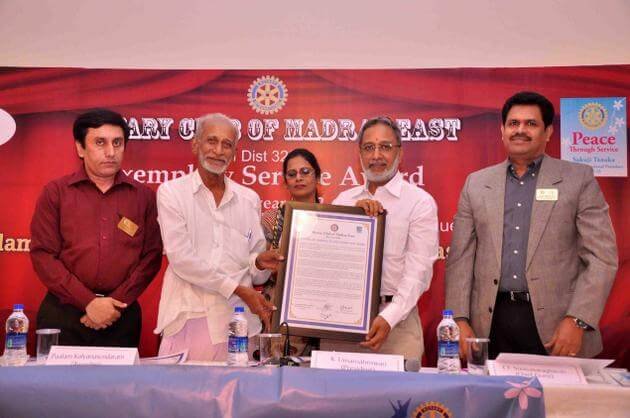 Anyone would admire and respect such a man, even Rajinikanth. Though the superstar insists that Kalyanasundaram stay with him at his house, the latter with his serene smile refrains.
"We cannot sustain ourselves, unless we contribute to the society in someway or the other. I strongly feel if even one person does his bit towards social good, there will be some change." – P. Kalyanasundaram
Watch Part 1 of this 3 part documentary on P. Kalyanasundaram here:
This anonymous Good Samaritan inspires us to be more than we are.