In association with
SPACES Home & Beyond by Welspun
What do you think should be the most important thing about your home? Good lighting? Open spaces? Round the clock electricity and water supply? Yes, that's all very good and convenient, but would you pay any mind to them if your home didn't speak of you? When it comes to your home, the only thing that matters is whether you look forward to coming back to it after a long and tiring day or not. Here's where Home Decor comes in: to strike that delicate balance between art and comfort to give you just the perfect abode. 
If you're among those who are always after the said balance, you may have heard of the Kala Ghoda festival. With its roots in Mumbai, the Kala Ghoda Festival is a grand celebration of the art and culture of India. If you were at this alluring kaleidoscope of music, dance, literature, and culture this year, you may have seen the distinct presence of Home Decor in many of the displays. Since our homes are the very places where we dream, , keeping in mind their theme, "Home with a Heart", took inspiration from everyday home elements and turned them into a captivating phantasmagoria of displays, all using SPACES fabrics. So, here are some of their most amazing installations: 
Of course, if you're stepping into a creative wonderland, you need a "Gate Arch" worthy of extending such a welcome.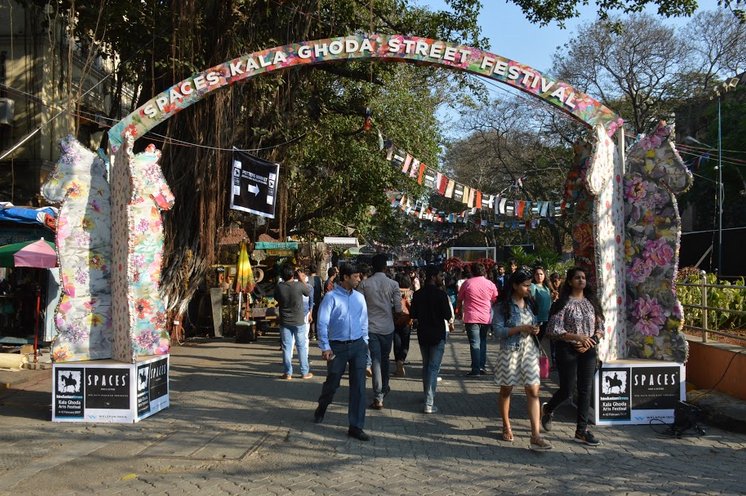 Who wouldn't be excited about exploring new avenues when the welcome is as creative and grand? Made entirely from SPACES fabrics, these patterned horse-shaped panels are only the precursor to what awaits inside. 
Case in point, this eclectic mix of colours and yarn, aptly titled "WishLoom".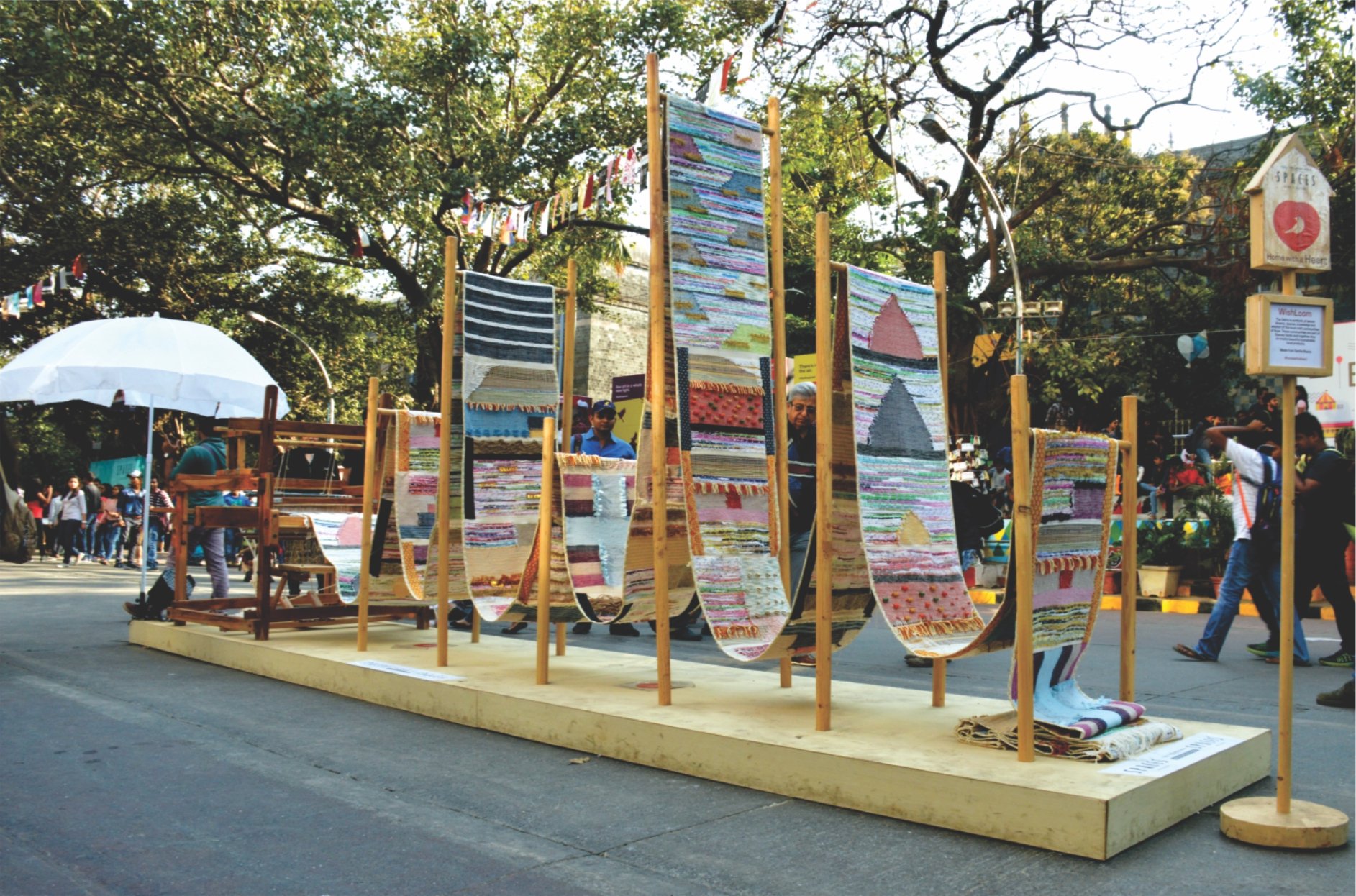 Symbolizing wishful thinking that often manifests itself in dreams, this amazing textile art installation was completely handwoven by the adept Spun women of Anjar. The message behind it is simple: Why should our lives be barren when our dreams are so full of vibrant hues? 
It's a bird! It's a plane! No… it's a "Celebration of Dreams."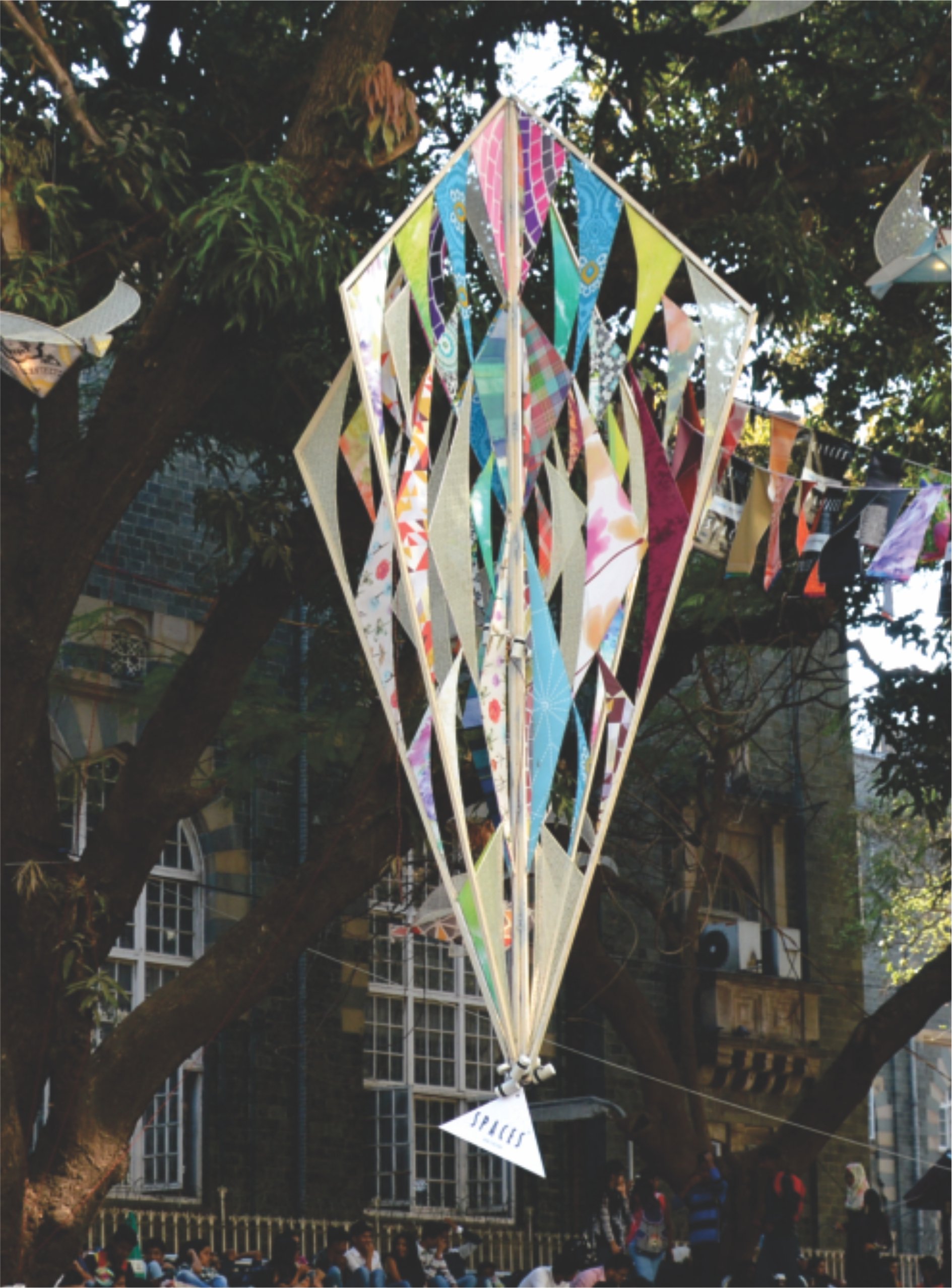 The unique aspect of this alluring light installation is its clever use of kites. Since they travel in the limitless sky, kites are a representation of mankind's ability to dream as big as possible. It doesn't matter what these cutouts look like to you; they all come together to make up a beautiful story. 
Going to another room, or stepping through a looking glass?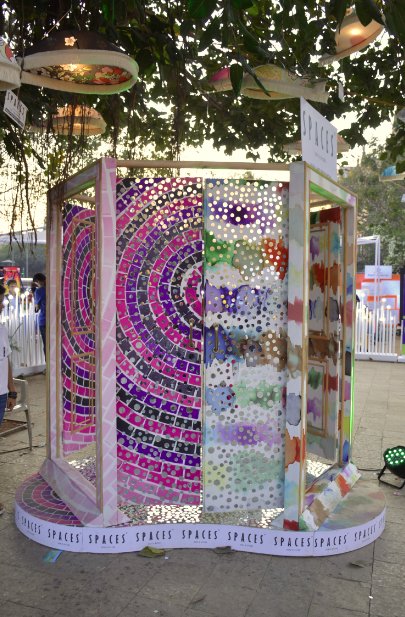 Titled "Doors to Dreamscapes", this installation is as whimsical as it is trippy. Every door in our house leads to a room where we keep a small part of ourselves. Now, imagine if each door in your house opened into a different wonderland? 
Looking for some more inspiration? Step into the "House of Muse."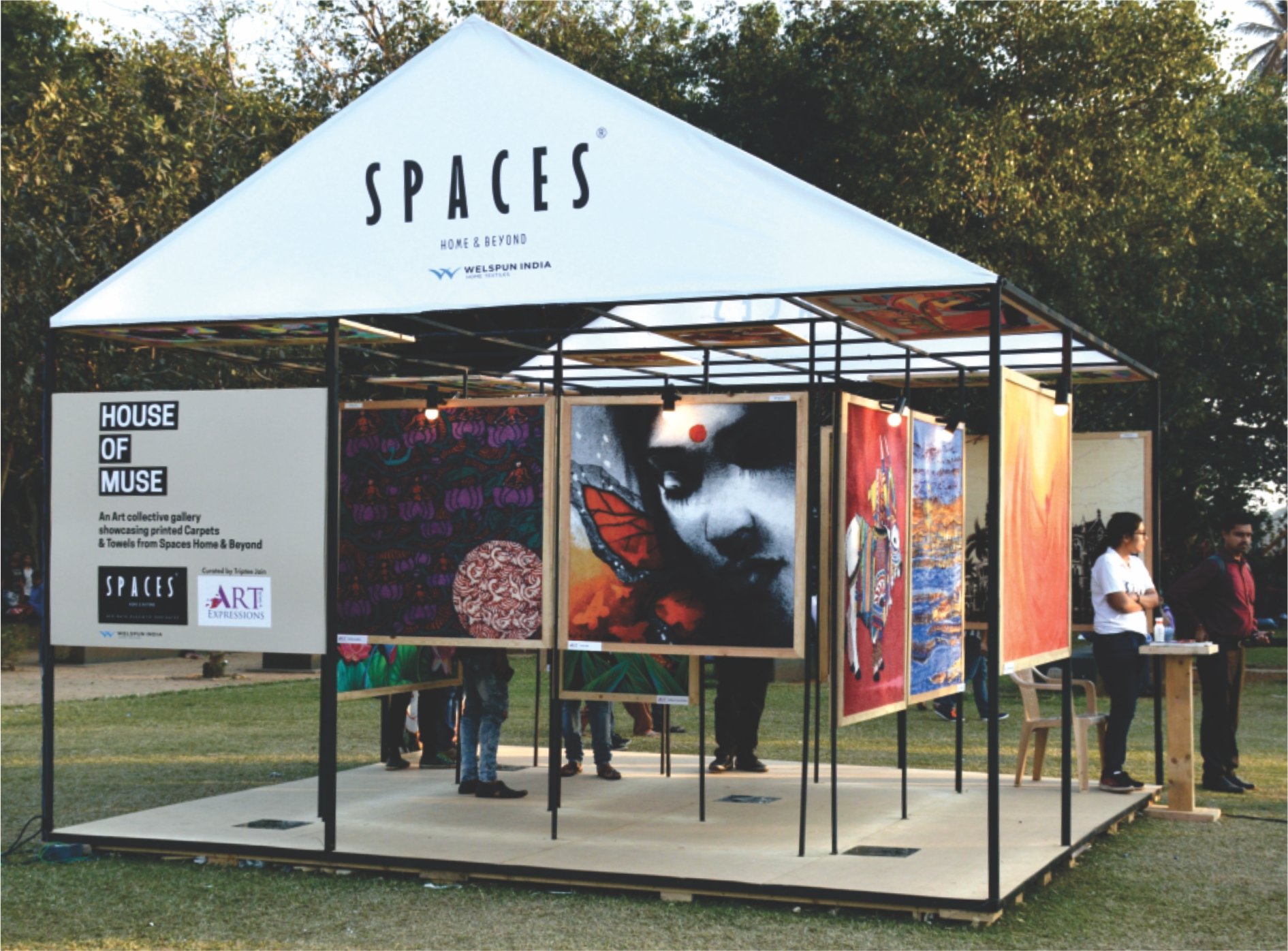 Those who have an affinity for themed houses will find a special something in this installation. An art collective from various artists depicting their interpretations of dreams and homes, every piece in this collection is worthy of its own shrine. 
So, you're more the 'I-need-a-special-corner-to-myself' type? Don't worry; the "SPACES Lounge" has you covered.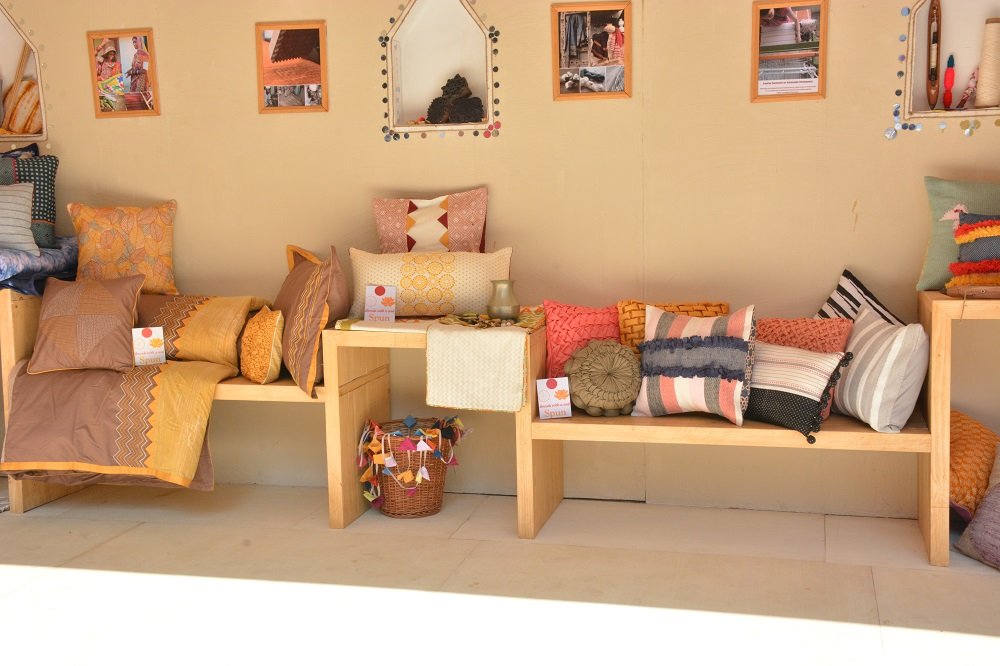 If you're a creature of habit who has marked an area of the house as their own or use one spot as a creative impetus, you will find Welspun's "SPACES Lounge" especially helpful. Furnished with handcrafted pieces from SPUN & bed-bath collection from SPACES Home & Beyond, as well as captivating works from local communities, you can easily imagine yourself in this corner, sipping on a cup of tea and pondering on the questions of life here. 
And oh, if you've got kids, "Flying Home" might just be the thing for you.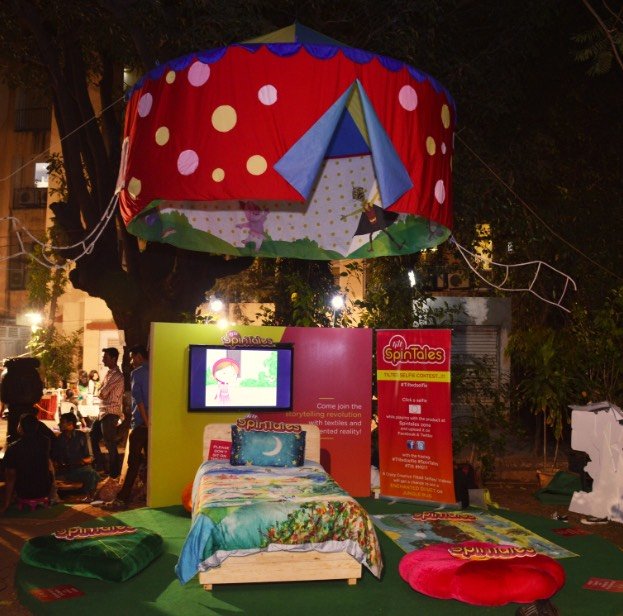 As kids, our rooms were our first classrooms, playgrounds, laboratories and concert halls. Under the shelter of those four walls, we aimed to be the next Sherlock Holmes, or follow in the footsteps of Bach. Perfect to place just above your kids' play area, this suspended textile installation will fuel your child's imagination. 
Everything that I ever wanted for my house? Check!