Now homeboy here is a hardcore foodie. That's a fact and my ever growing waistline can vouch for it. But hey, that doesn't mean I would eat just anything! I like to switch it up a little every now and then by trying thoda hatke food items. I mean, who likes having the same ol' moong dal every day? (here's looking at you mom). If you too are tired of the boring food recipes, fret not! Homeboy has got you covered with some teekha tadkas and refreshing twists to common recipes that will make them taste 100x better! Read on, and I guarantee y'all will be thanking me in the comments below: 
1. Aloo ka paratha ain't got nothing on these heavenly Cheesy Pizza Parathas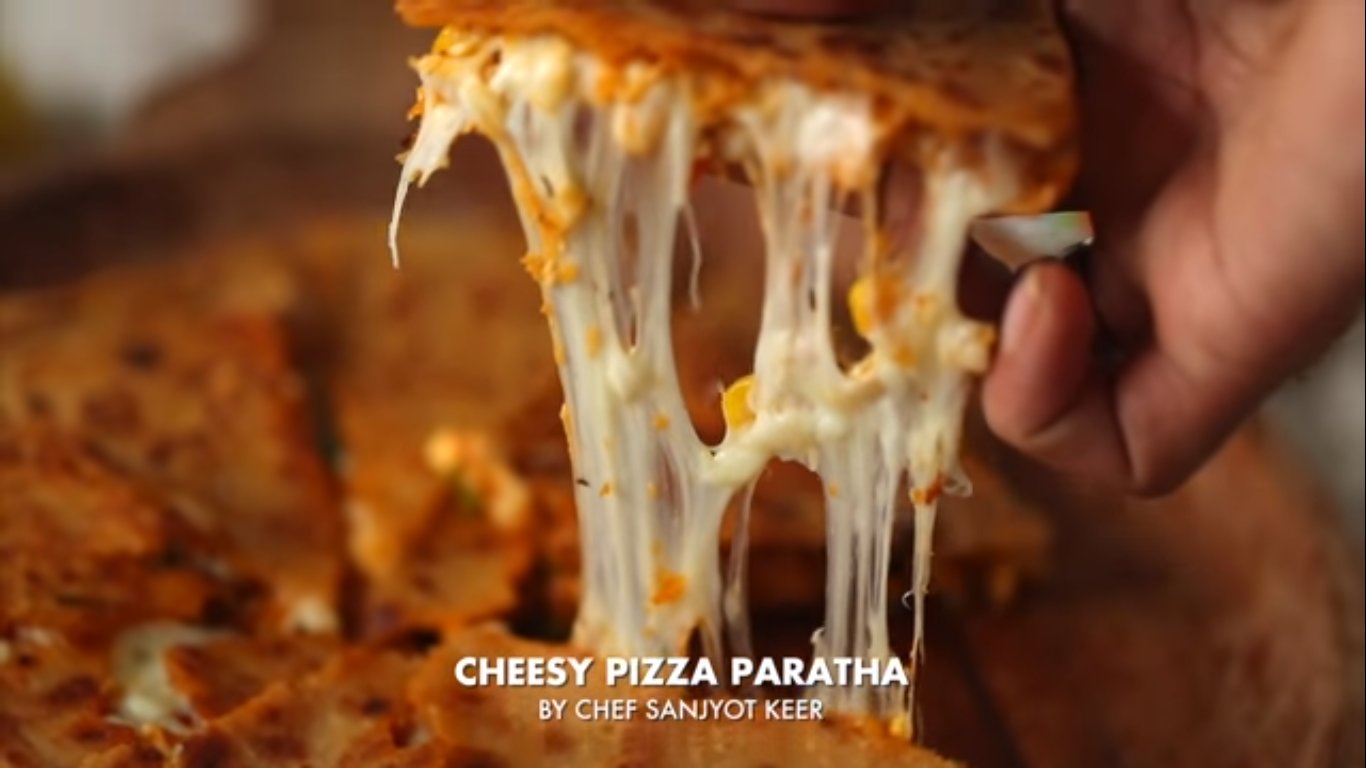 I mean, just look at it! Doesn't it look heavenly? The epic fusion of two foods that all foodies love to death- pizza and paranthas, tastes just as delicious as it sounds. Here's hoiw you can cook it: 
– Take a bowl and add 1/2 cup bell peppers, 1/4 cup onions, 1/2 cup sweet corn, 1 tbsp olives, 1/2 cup paneer, 1/2 cup mozzarella cheese, 1tsp red chili flakes and mix them together
– Add salt to taste
– Add 6 tbsp of Veeba's Pasta and Pizza sauce in the bowl. Mix it together
– Take a wheat dough ball and sprinkle some flour on it
– Roll the dough and flatten it with a rolling pin
– Add the pizza filling on it and cover it with another piece of flattened dough
– Put it in a pre-heated pan and cook it till it becomes soft
– Cut it with a pizza cutter and serve hot and fresh.
There you have it. The steamy and delicious cheesy pizza parathas are ready to be relished!
2. Paneer Papdi Pizza…mmm…salivating already!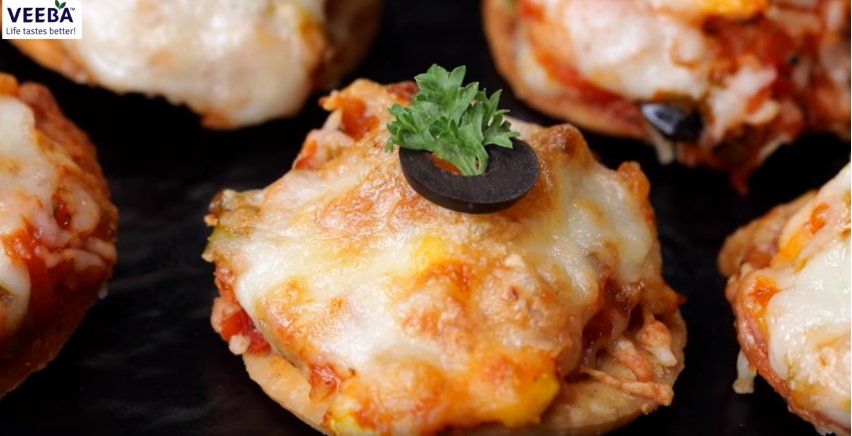 This recipe combines two things that millennials love the most, pizza and papdi. Needless to say, this dish has the best of both worlds and tastes twice as awesome! Here's the recipe: 
-Add finely chopped capsicum, chopped olives, sweet corn, chopped onions and Veeba pizza-pasta sauce in a bowl and mix well. Your pizza topping mixture is ready!
-Take papris and add pizza topping mixture on them. Top it all with some grated cheese and sliced olives.
-Place it in a preheated oven (3-5 mins) at 180 degrees.
And there you have it! Drool-worthy papdi pizza served in all its grandeur!
3. The delicious and tempting Popeye Toastie. Mmmmm.mnmmnmnn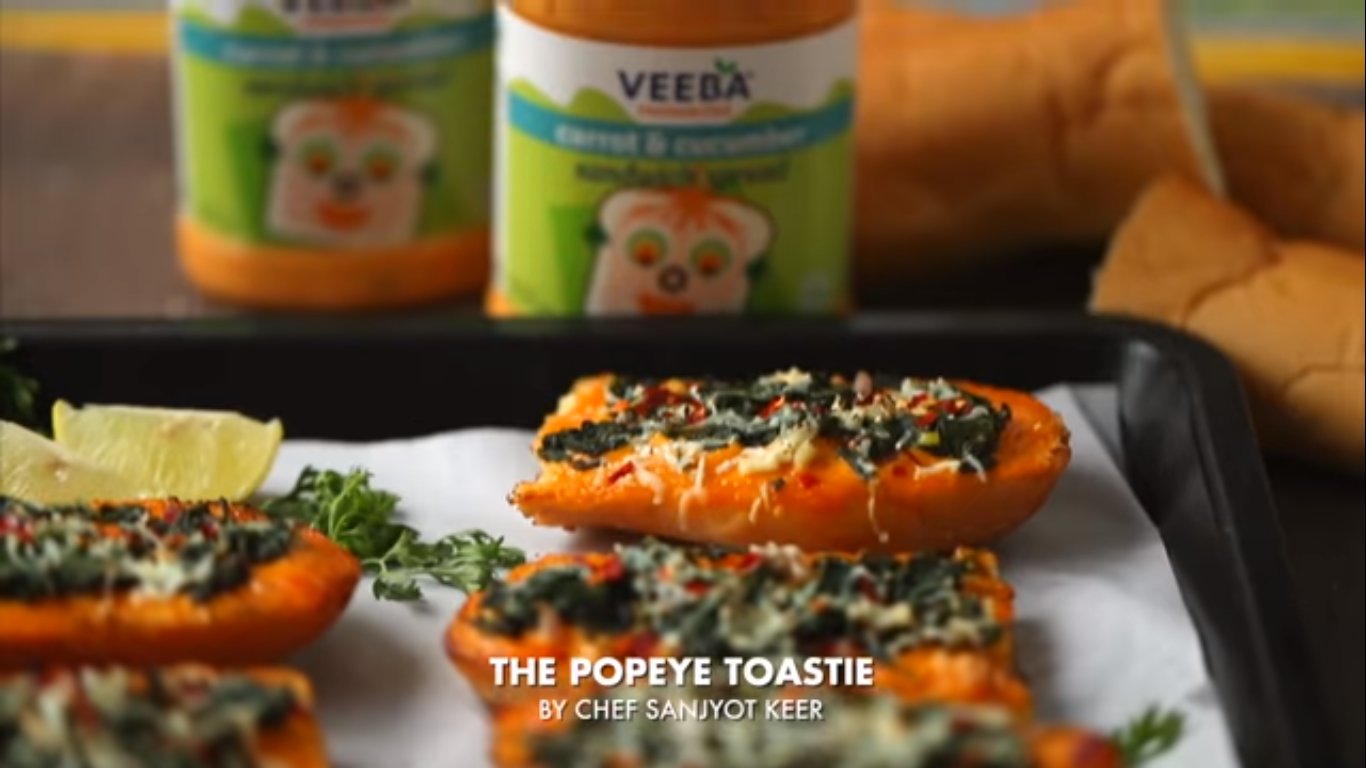 Not that I needed another reason to love toasts but this recipe gives me one (in fact, many)! I mean, the toast has delicious toppings and no true-blue foodie can miss out on it. Here's the recipe: 
– Take a pan and add 1 tbsp oil, 1 tbsp garlic, 1/4 cup onions and sauté them
– Add 1 cup spinach and salt to taste
– Add 1/4 tbsp black pepper powder and 1tsp lemon juice
– Take a hot dog bun and slice it into four halves, horizontally and vertically
– Take Veeba's cucumber and carrot sandwich spread and spread it evenly across the buns
– Add the spinach topping on the buns
– Add some grated cheese on top
– Bake at 200 degrees for 5-7 minutes. Serve piping hot. 
There you have it! The drool-worthy Popeye Toastie. Time to kiss the old school toasts goodbye!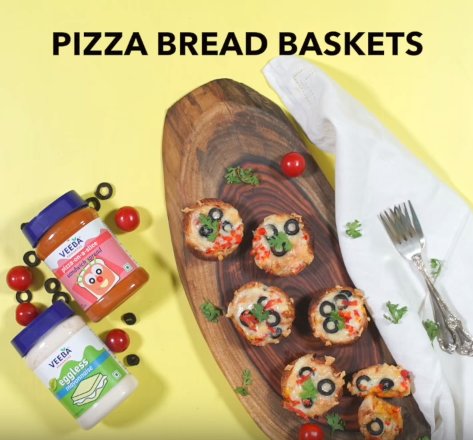 -Clean your muffin tray and slice pieces of bread in the shape of a circle
– Place the bread slices on the muffin tray and bake them at 180 degrees
– In a bowl, mix sweet corn, onion and bell pepper and add Veeba pizza on slice sandwich spread to it
-Now add Veeba eggless mayonnaise to the bowl and mix it well
-Bake in the oven till they are golden.  Take them out of the oven and try to hold yourself back from taking a bite! I guarantee you won't be able to!
Now, these were some helluva recipes! Clearly, the good folks at Veeba have done a good job making our favorite comfort foods taste even better! So if you're feeling hungry right now (which I'm sure you are, having read about these delicious recipes), go cook yourself a meal. Oh, and don't forget to Make it with Veeba, *wink*. Check out more recipes here. 
Y'all can thank me in the comments below.