Even though it has been 20 years, the battle scars are still afresh. 
In the months of May-July in 1999, India lost sons, fathers and brothers at the battlefield in Kargil. These young men served their country in the true sense of the word and honoured their motherland by protecting it with all their strength. 
For them, their duty for their country was always on the top of their priority list. They considered it an honour to sacrifice their lives for their country and we consider it our honour that these brave men fought for us. Their loved ones, their families will always remember the loss they suffered but it's not something they regret. Instead, they are proud of their sons to have participated in protecting India's honour.
On the occasion of Kargil Vijay Diwas, here are some anecdotes from the martyrs' families that reflect their pride in sending their loved ones to the battlefield:
1. Captain Vikram Batra
For his contributions during the Kargil War, Captain Vikram Batra was posthumously awarded with the Param Vir Chakra. He was also referred to as Sher Shah for his fearless attitude. He displayed unparalleled courage at the hour of need. He had plans of marrying his girlfriend, Dimple Cheema, once he came back from war. 
In an interview to The Quint, Dimple expressed her undying love for the man who has shaped her life.  
"Not a single day in the past 17 years, have I felt detached from you. It feels as if you are away on a posting. I feel so proud when people talk about your accomplishments. But along with that there is some regret in the corner of my heart. You should have been here, sharing, listening to the stories of your brave deeds, of how you are inspiration to the youth of today. I know in my heart that we are going to meet again, it's just a matter of time."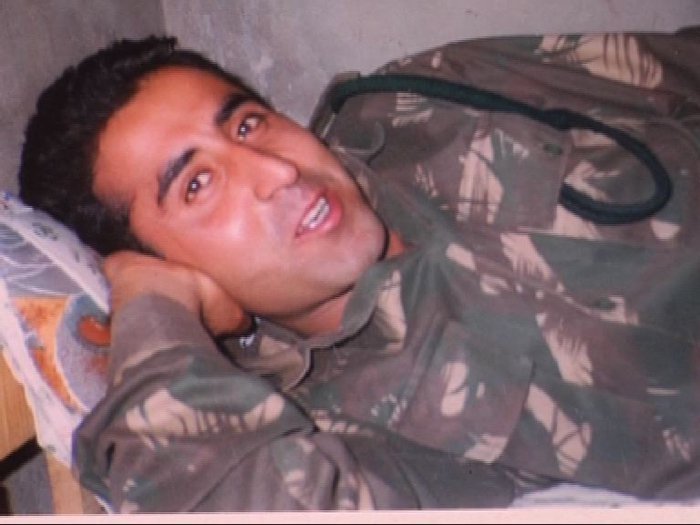 2. Captain Anuj Nayyar
Captain Anuj Nayyar was only 24 when he laid down his life, fighting for our nation. It was the success of his mission that led to the capturing of Tiger Hill that ultimately made the enemy forces withdraw from the battle. He was posthumously awarded the Mahavir Chakra. 
His father, Professor Nayyar, shared this anecdote about his son with the Deccan Herald, a few years ago.
"When Anuj was in Std X, he met with a severe accident where the muscles of his leg were torn completely from the knee to the toe. As a 16-year old, he went through 22 stitches without anesthesia. He told me that 'pain lies in the brain not in the leg."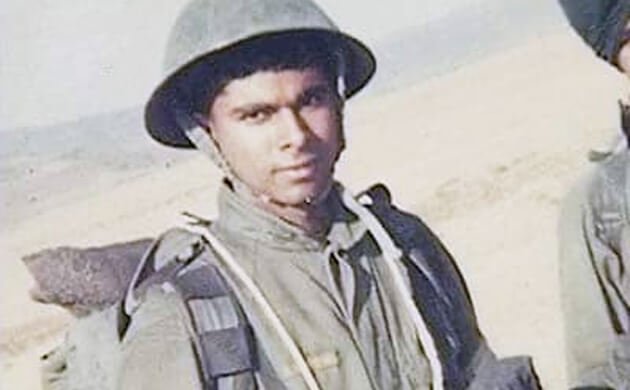 3. Captain Vijayant Thapar
Captain Vijayant Thapar sacrificed his life for his motherland at the young age of 22. He carried the family legacy of three generations of serving the country and did them proud. In 2016, his father, Colonnel (retired) Vijendra Thapar climbed 16,000 feet to fulfill his last wish to sit on the mountain rock where his son was martyred, fearlessly fighting against the Pakistani infiltrators. 
His father is proud of his son and believes that his son will be an inspiration to many.
"Young men like Vijayant did what the nation expected of them – their duty. Actually, the war at Kargil brought the best in the Indian nation – those like Capt. Vijayant, who fought bravely and fell honourably to redeem India's sanctity and the countrymen who showered their love and their support for the brave hearts. We, of course, feel proud of what he has done, but losing a young son is painful and we go through it every day of our life."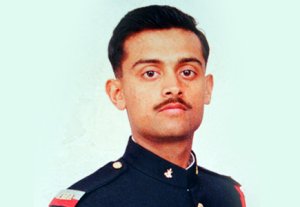 4. Major Padmapani Acharya
When the news of Major Acharya's martyrdom came in, his wife was pregnant with their daughter. He had last spoken to his parents on June 21, which was his birthday. Little did they know that this was the last time they were hearing their son's voice. Major Padmapani Acharya of Rajputana Rifles was posthumously honoured with the Maha Vir Chakra. 
Vimala Acharya, his mother, fondly recalls her son:
"As a mother, I am definitely sad and hurt but as a patriot, I am proud of my son. He lives forever. He made me promise that I would not cry when he left for the front."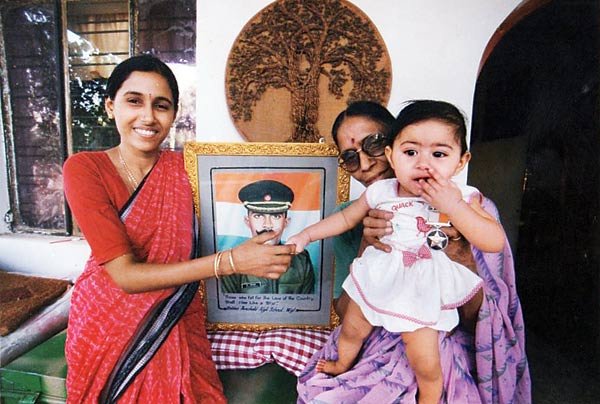 5. Lance Naik Nirmal Singh
All she has left is her husband's army uniform. Lance Naik Nirmal Singh's wife, Jaswinder Kaur had been married for only 5 years when her husband sacrificed his life atop Tiger Hill. Their son was just 3 at the time. 
Jaswinder Kaur still draws hope from her late husband's uniform.
''It (his uniform) was his honour and is now my constant companion. I wash it and iron it regularly and hold it whenever I look for some direction. A true soldier's uniform is like a lighthouse for me. I've treaded on the path of bringing up my son to be a true soldier's son."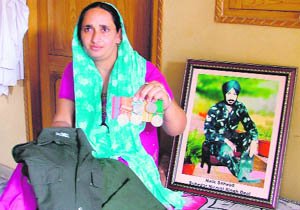 6. Major Mariappan Saravanan
Major Mariappan Saravanan died defending the peaks of Batalik in the Kargil war. His body was caught in the snow in no man's land for over a month. Every time the Indian soldiers tried to recover his body, the Pakistanis would open fire and every move they made to capture the body, the Indian soldiers opened fire. His body was finally recovered 41 days after his death. 
His mother, Amithavalli Mariappan, recalls the last time she met her son.
"He came home before the Kargil war. He had to attend a friend's marriage and stayed with us for one-and-a-half months. The last time he called was to tell us his unit was shifting. He never told us he was going to Kargil, we thought it was one of the regular postings."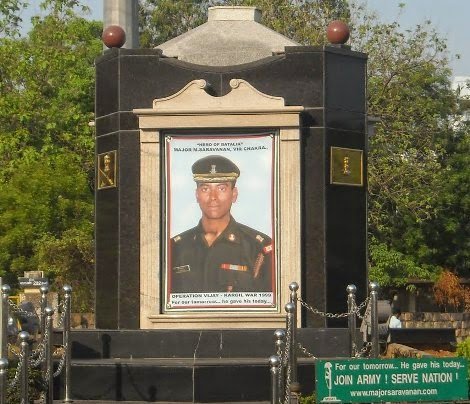 7. Major Rajesh Singh Adhikari
Major Adhikari had just been married for 10 months when he was sent to Kargil to serve his country and he took great pride in the opportunity. One of the last letters he wrote to his wife said that he wasn't sure if he was going to come back. His wife, Kiran, was pregnant at the time and wrote back to him but this was the letter that the soldier thought of reading once he had successfully completed his duty. 
He never got a chance to read his wife's words that said:
"It doesn't matter if I deliver a baby girl or a boy, if you come back I shall be happy and if you don't I shall be proud to be a martyr's wife, but one thing I would want to promise you via this letter that I shall not just show them Kargil but will also ensure they too become a soldier like you."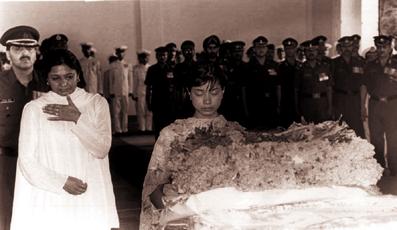 Jai Hind!