Jai Singh, dressed in his police uniform and carrying the baton, writes 'ल' on the white board.
"'ल' से..," he demands, turning to his grown-up students who speak up on cue:
लस्सी (Lassi)
लालटेन (Lalten)
लड़ाई (Ladai)
Of the three, it's the last word that his 13 students will perhaps use most often. Singh nods in approval.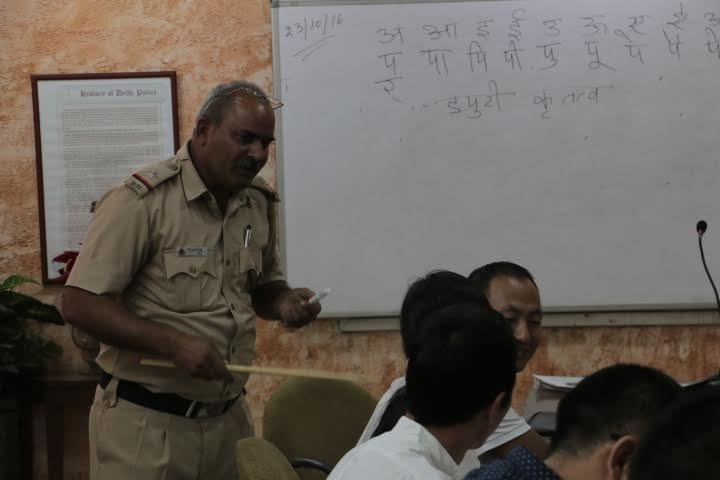 He is pleased with their increasing knowledge of Hindi. Only two months ago, his students – all hailing from North-Eastern states – were as clueless about Hindi words as the art of bargaining in Delhi's bazaars. 
But had the problem been just about shelling out more for the same clothes as compared to their Hindi-speaking counterparts, the students wouldn't have taken lessons to learn it.
The 13 men and women students are all police officers. In fact, they are the first batch of recruits in the Delhi Police from the eight north-eastern states in 16 years. 
They were pretty kicked about serving in the national capital when they landed in Delhi in November. But their excitement proved to be short-lived, as once their training got over, they realised that to be a cop in Delhi, the knowledge of Hindi is essential.
"Most FIRs and complaints have to be written in Hindi. I felt particularly worried about being tricked into writing something incorrect that would land me in trouble later," sub-inspector K Birjit told ScoopWhoop.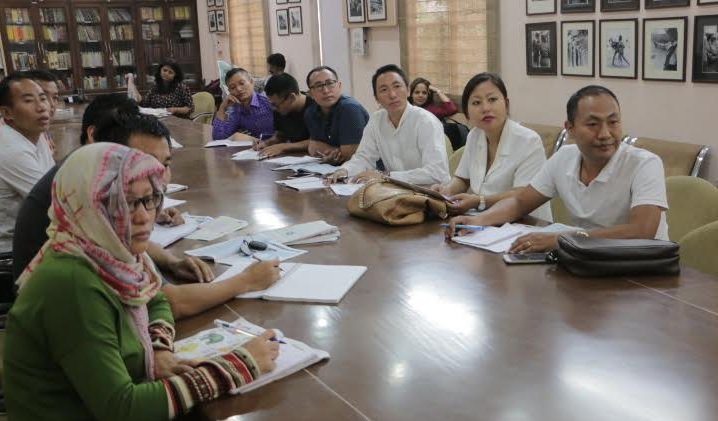 The officers approached joint commissioner Robin Hibu, who heads the Delhi Police special unit for northeast, for help. Hibu tasked Jai Singh, an assistant sub-inspector from Haryana who has been in the force for 32 years, with the job of making the officers fluent enough for duty.
Since August 7, Singh and all the 13 officers have been sacrificing their Sundays, assembling 11 am sharp at the police library in Motibagh, for a two-hour class.
Singh writes 'स' on the board and turns to the class.
ससुराल (Sasural)
सरकार (Sarkar)
सहानुभूति (Sahanubhuti)
Singh approves. He goes on to explain why sympathy in their job is important. 
"You do not have be 'ka' se kathor (tough) all the time. You must show 'sa' se sahabubhuti (sympathy) in equal measure," he tells them in Hindi.

It's then time for a tea break. Singh fishes out from his bag a set of test papers that the officers wrote a week ago, and begins to pore over them. It's then that it's evident to me that everyone in the class is armed with a Hindi textbook meant for Class 3. But it turns out, it's a sign of how far they've progressed. 
"I began from the nursery level. But they have come a long way and learning fast," Singh says. He shows the answer sheets in which his students have written complete sentences and spelled roman numbers in Hindi.
Sub-inspector Kamei Johnson is happy with Singh's assessment, but can't stop himself from expressing how difficult he thinks Hindi is. 
"It has more alphabets than English. Many words are tough to pronounce," he says.
But Johnson also says he is glad that thanks to the classes, officers are also getting a crash course in Delhi's culture and cuisine as well. For instance, K Birjit was fascinated by the word 'tadka'. Next, he learnt how to prepare it and now regularly tempers his food with ghee and cumin seeds. Yaondi Paohow took a fancy to 'tarbooz' (water melon) and sampled it recently for the first time.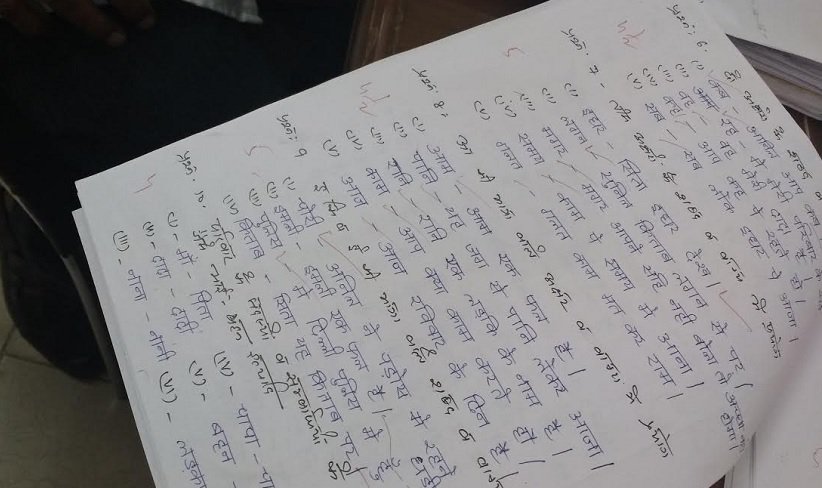 Singh hasn't set a end date for the "course". He'll go on as long as the officers want him to, though his immediate goal is to ensure that everyone is able to register error-free complaints. 
Suddenly, he decides that this week, he'll give them the most difficult home-work so far – a letter to the commissioner. The officers respond with mild protests. Someone giggles and suggests a punishment for failing to do the home assignment. 
Singh, who is a rank below the officers, stands up with a hint of smile on his face, and says softly, "You might not get this opportunity again. Learn all you can here. The job of a police officer is highly demanding. There is no time to rest, let alone learning a new language."
All images courtesy: Swati Goel Sharma