Whether you're celebrating a victory or you're not in the mood to prepare dinner, pizza is what comes to everyone's rescue. And rightly so, since in times of crisis, all we need is a box of cheese burst pizza and everything else falls into place. Don't believe me? Here's one crazy incident that will make you fall in love with pizza all over again.
A CCTV camera captured some footage of two men fighting alongside a footpath when a waiter came from inside and stopped the brawl with the help of...wait...for...it...a PIZZA.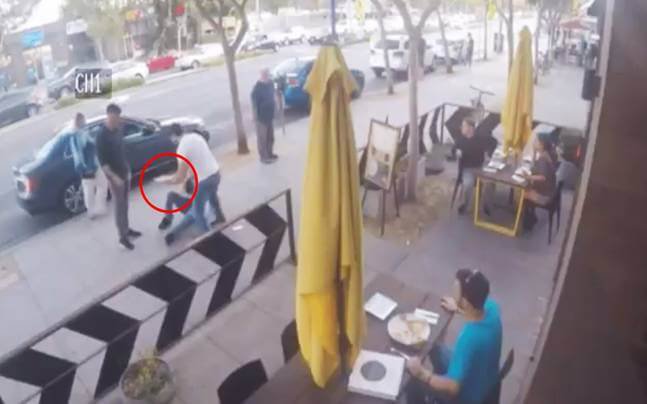 @_Psycho_dad_ there is no way humanity deserves pizza man, he is too pure for this world

— FleetAdmiral Grandad (@PunishedSnek) October 22, 2016
@_Psycho_dad_ If I fight PizzaMan will another Pizza Man appear to give us all a slice? Can we abuse recursive PizzaMen to end world hunger?

— Van Wicked (@DukeOFprunes_) October 21, 2016
@_Psycho_dad_ @rob_bieber ah I get it. Make Pizza not war.

— Erich Nolan Bertussi (@ENBertussi) October 21, 2016
@_Psycho_dad_ @junglefruits Now that's a super power.

— Peter Blair (@illchangethis) October 21, 2016
I have to say, these two got pretty emotional.
@_Psycho_dad_ @ShrenikGopani Let's go fight outside @JoeysPizza.

— Deeshank Doshi (@DeeshankDoshi) October 21, 2016
@DeeshankDoshi I will not take advantage of our heros! @JoeysPizza

— Shrenik Gopani (@ShrenikGopani) October 21, 2016
Watch the entire video below:
Pizza Man. He's the hero that we deserve and the one that we need. pic.twitter.com/xstQsJgHfJ

— Tio Jin (@_Psycho_dad_) October 20, 2016
All's well that ends with pizza.
Source: GIPHY