Another reason to come down to Bengal, apart from Durga Puja in all its pomp and mirth, is the delicious food which accompanies the festival. Glorious food, leads to happy stomachs and happy people and you'll have the chance to dig into some seriously authentic, traditional Bengali food without regretting the extra kilos you pile on.
Shashti
With Durga Puja just mustering force and starting, the people are already out on the streets pandal-hopping into the wee hours of the night. 
Kathi Roll
As such, the hungry pandal hopper will be seen lingering around roll stalls which dish out rolls swiftly and deftly. Easy, quick and filling, the soft Kathi roll with the crispy, flaky paratha enveloping spicy kebabs, sliced onions and capsicum, tangy lime juice makes for the perfect meal when you're out walking around.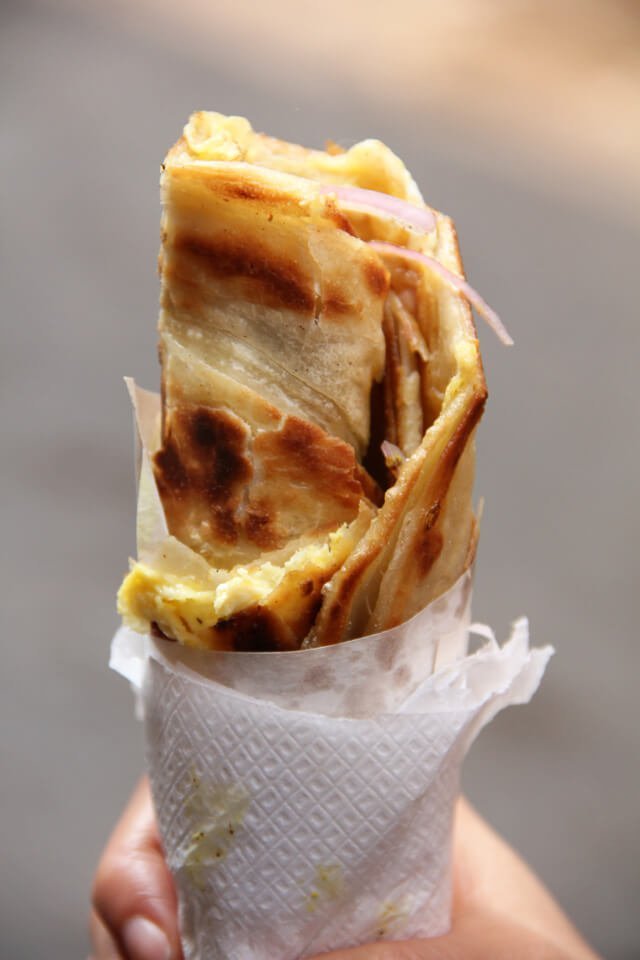 Mutton Biriyani
Pandal hopping means lots of walking around, but the sight of hot mutton biriyani lifts the spirits of even the most weary. Aromatic basmati rice with tender mutton pieces, the surprise crispy skinned alu and boiled egg. Eat up and you're raring to go again.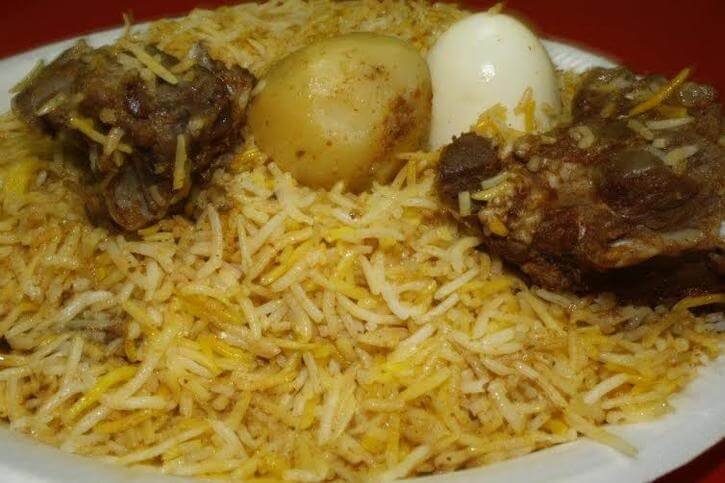 Saptami
Now that pujo has started in earnest, the Bengali delicacies start cooking in houses. This rich fare for Saptami, will make you drool. 
Luchi Alur Dom
Hot, crispy luchis fresh out of the fryer are paired with spicy, masala-coated whole potatoes.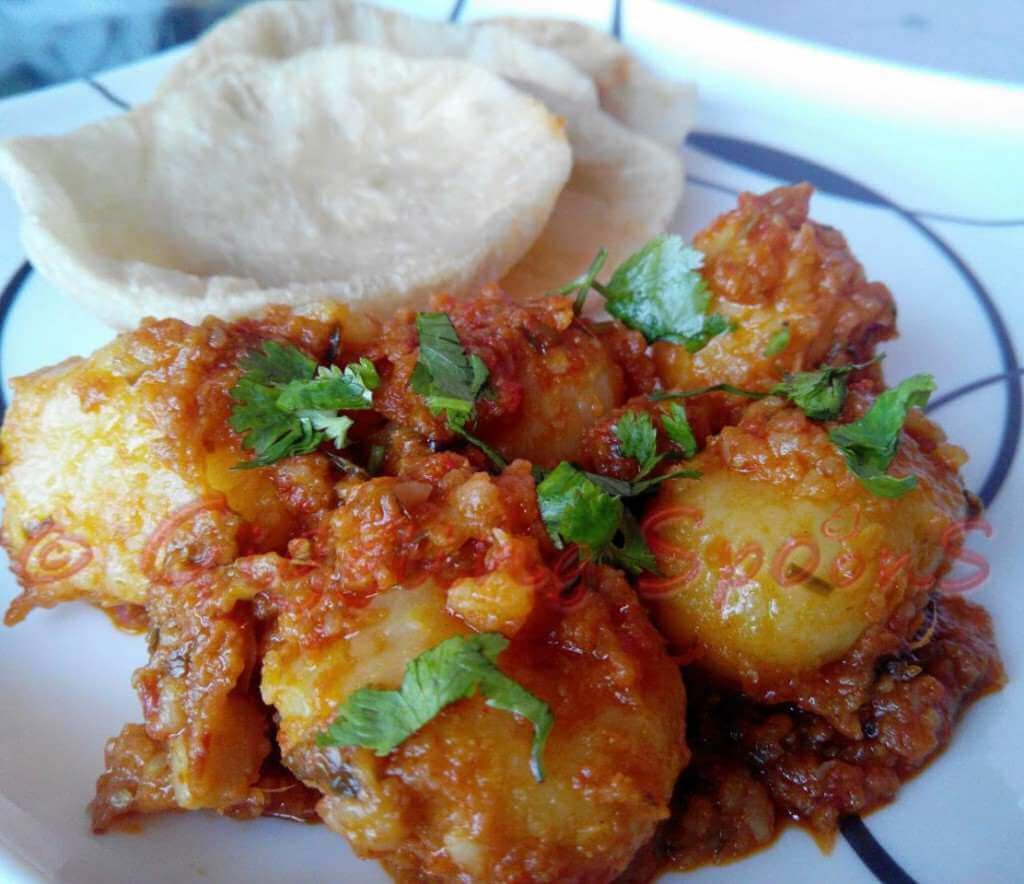 Cholar Dal
Cholar Dal is meticulously prepared in addition to alur dom to go with the luchis. Bengali cholar dal tends to be slightly sweet, rich and creamy with bits of coconut mixed in.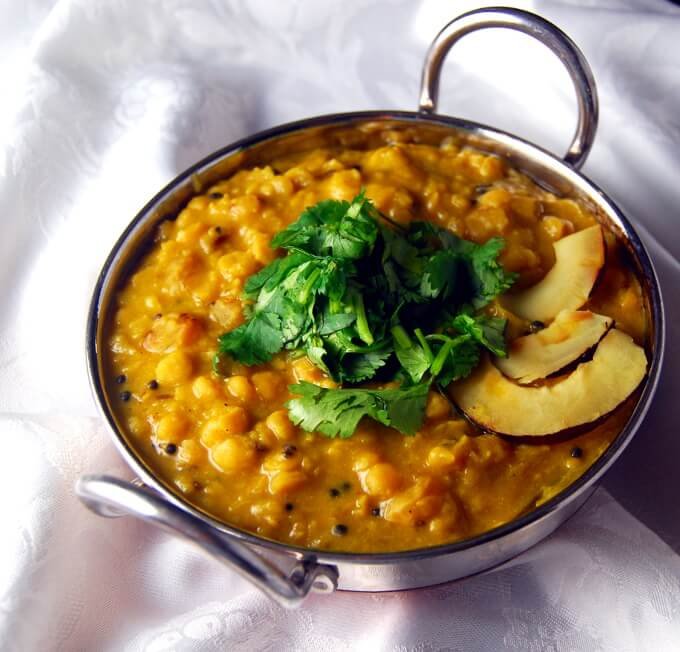 Begun Bhaja
The humble eggplant is sliced and coated in rice flour, and then tossed in mustard oil to be fried. Mustard oil lends the Begun Bhaja its distinct flavour after which it is rubbed with chilli powder. The bhaja is soft and fleshy on the inside and has a crispy cover. Perfect when scooped up with some luchi.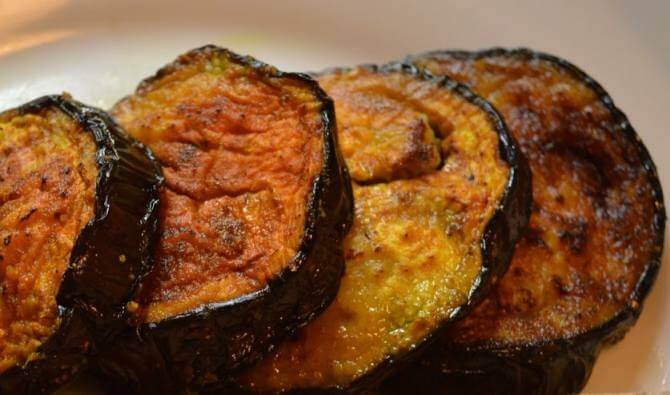 Pathishapta
These sweetmeats are divine and every bite will leave you craving for more. These are made with rice flour pancakes which are then stuffed with sweet cocunut filling, khoya and gooey date palm jaggery which ooze out of the moist pancakes.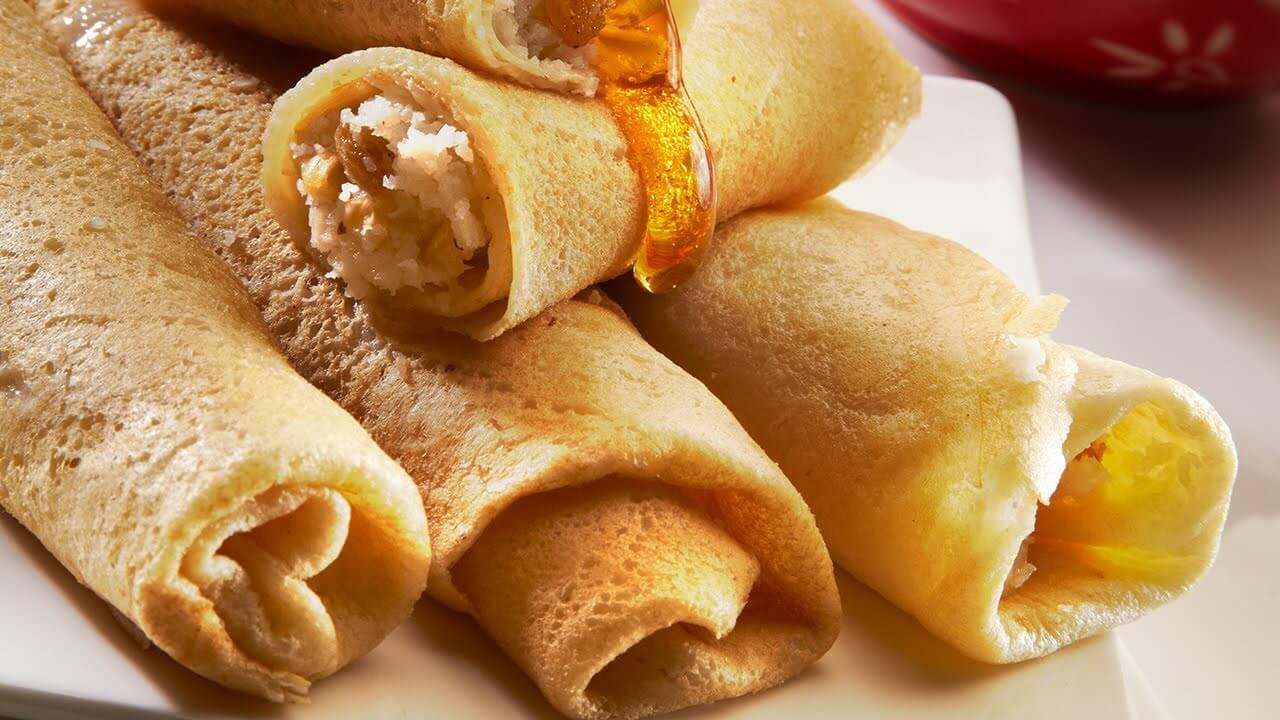 Ashtami
The menu for Ashtami is strictly vegetarian and people of a neighbourhood traipse towards long tables laid out for a huge community lunch called bhog or prasad. Large buckets are filled with khichuri, torkari, chatni and sweets. Freshly washed plates made of leaves are laid out and soon piping hot khichuri is being ladled on to plates as you burn your fingers in a hurry to get it into your mouth. 
Khichuri
Traditionally moong dal khichuri is served in the bhog. The moong dal is first roasted to lend flavour to the khichuri and then whole spices like cinnamon, bay leaves, cloves and ardamom are added along with cauliflower, peas and potatoes. The result is this rich, warm, lentil-rice preparation.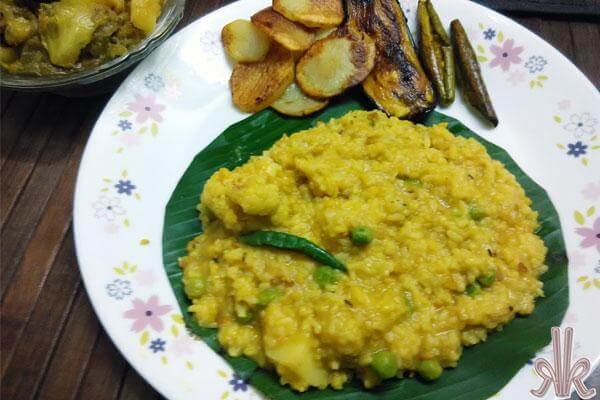 Labra
Khichuri is mixed with labra, a vegetable preparation using potatoes, pumpkin, brinjal, cauliflower and panch-phoron which tastes and goes remarkably well with khichuri.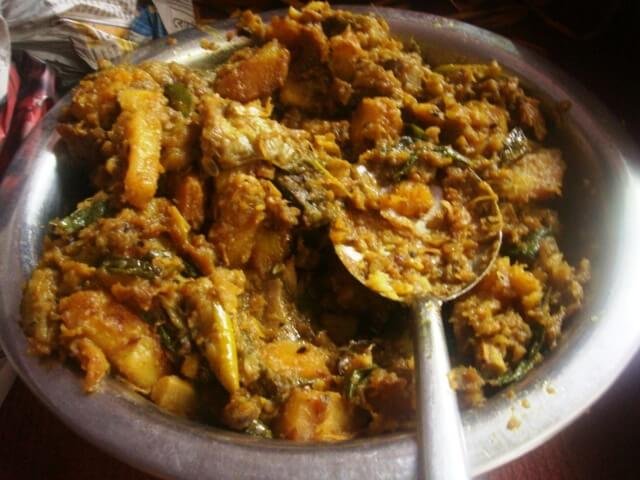 Begun Bhaja
Begun Bhaja (Brinjal fritters) lends some crispiness to the khichuri, with its crispy outer coating which is broken to reveal the white fleshy inside.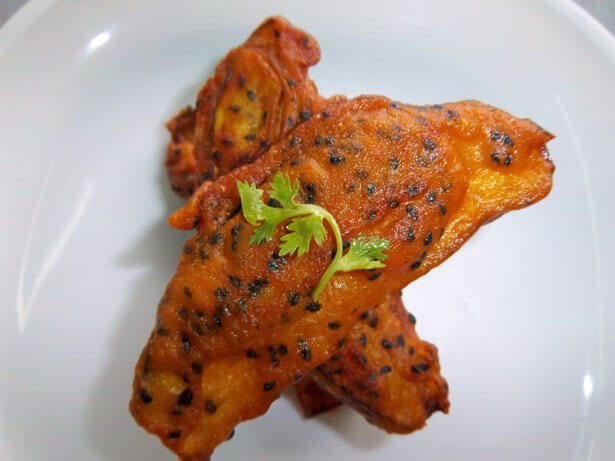 Chutney 
This chutney is dolloped on to the plate towards the end of the meal. Made using mango leather and ripe tomatoes, the chutney has a sweet flavour and is scooped up with fingers and savoured.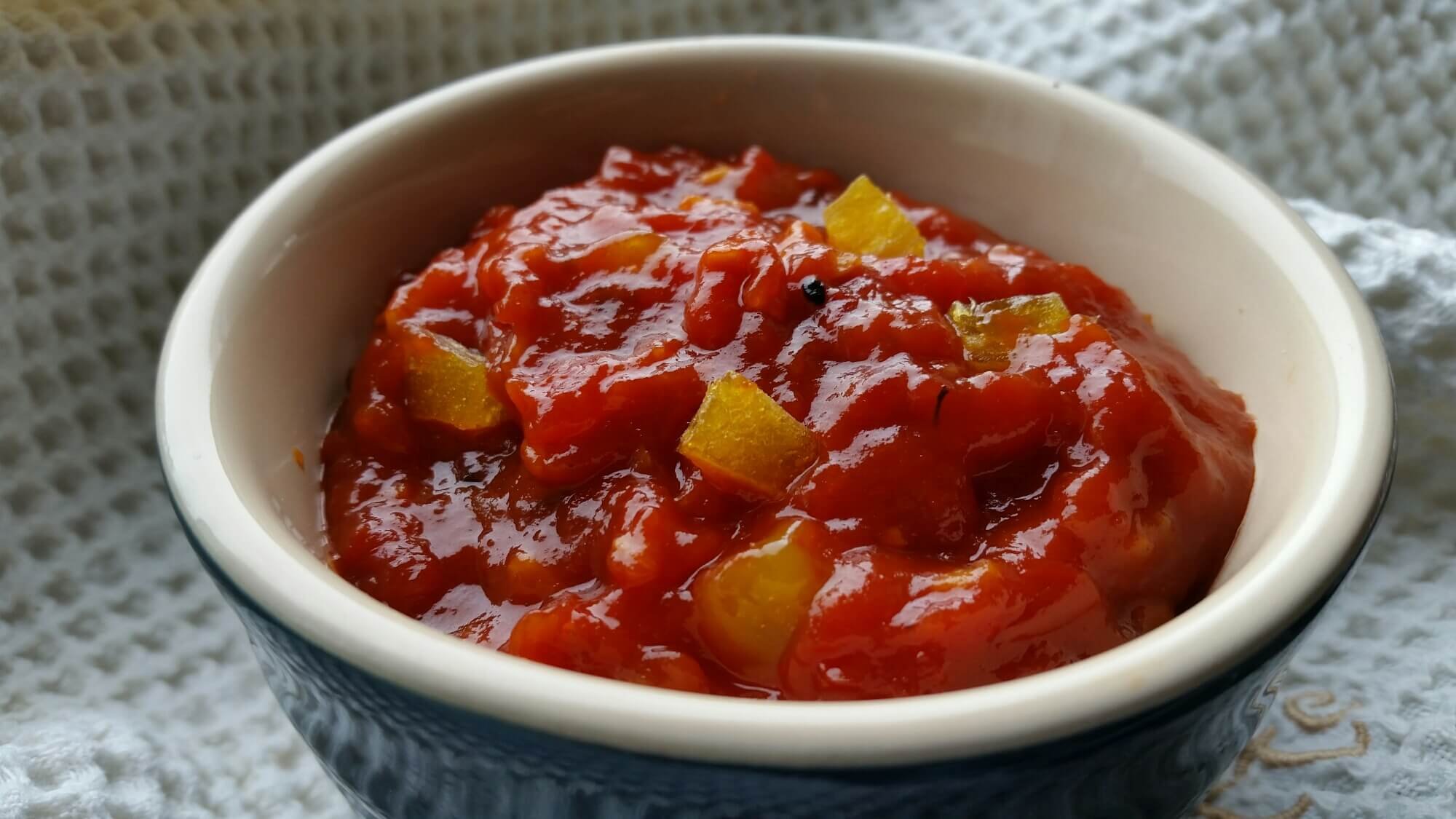 Rossogolla
A huge rossogolla in all its syrupy glory is plopped onto your plate as you struggle to keep up with all the food. After a huge meal, you still have a tiny bit of space left to stuff in this sugary, legendary sweet.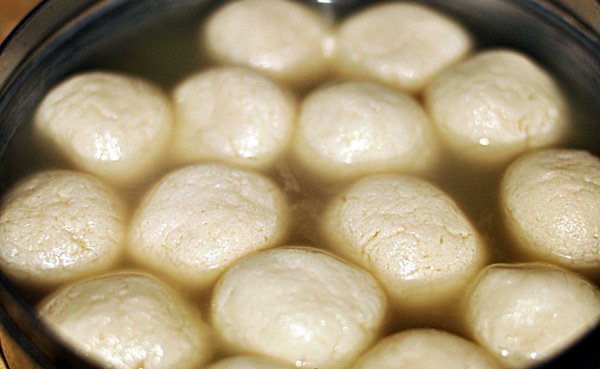 Navami 
The day before Dashami is all about long adda sessions in the para and lazy afternoons waiting for lunch, as tempting smells waft from the kitchen making our stomachs grumble in response. A heavy fulfilling meal is soon served consisting of:
Kosha Mangsho
Tender mutton pieces cooked in spicy, rich gravy paired with hot steaming bhaat (rice) will leave you licking your fingers.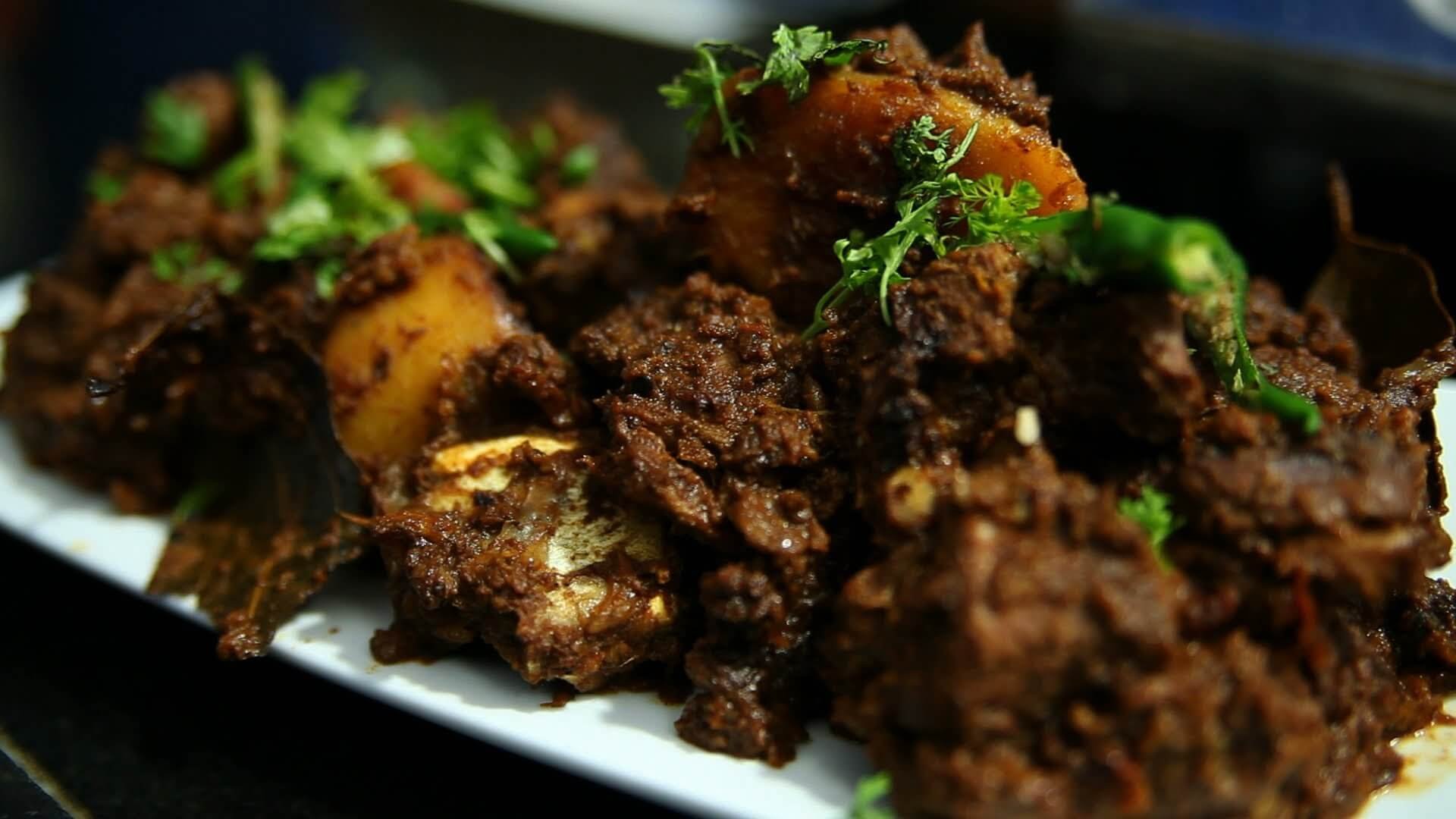 Jhuri Aloo Bhaja 
Bengalis love their aloo bhaja and it lends the meal an enjoyable crunchy element. Thinly grated potatoes are fried till they're golden brown.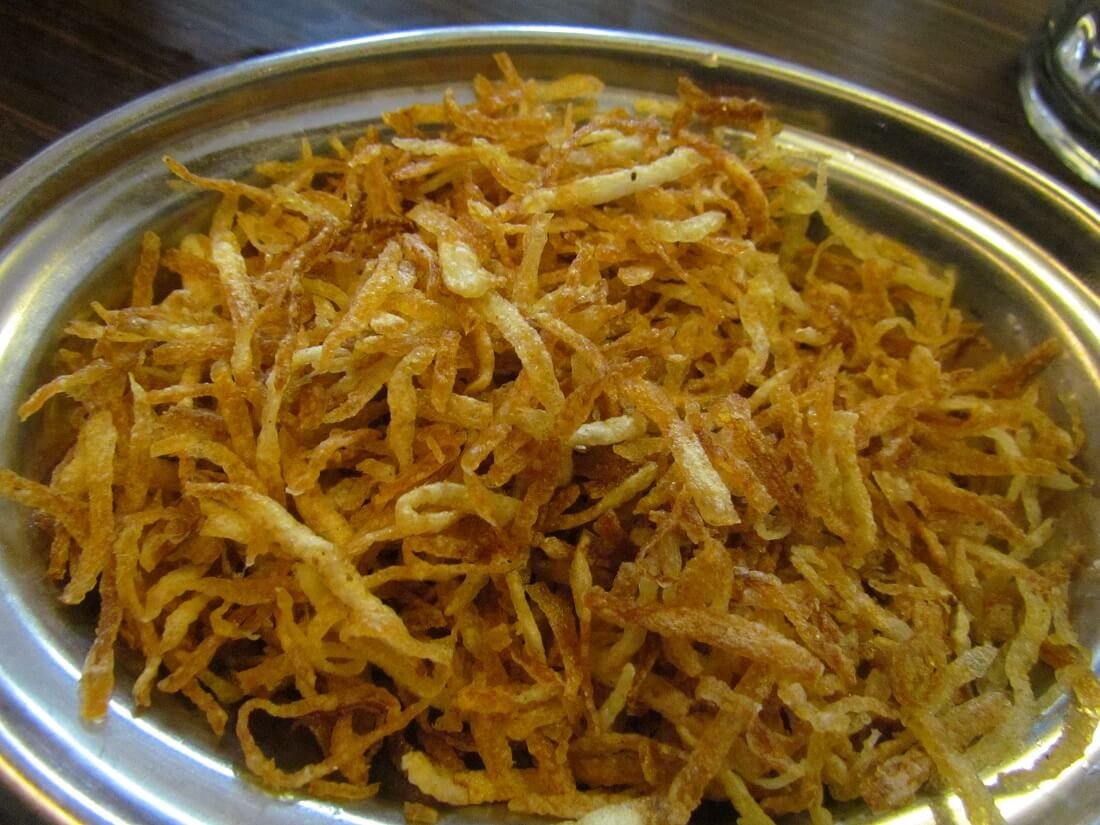 Shukto
Prepared during special occasions, this vegetarian dish is beautifully made using mustard seed which lends the dish a unique flavour. Vegetables like bitter gourd, eggplant, white radish, Hyacinth beans, potatoes are added with dried red chillies for a touch of spice.