Guys, the line up for Bacardi NH7 Weekender, Meghalaya edition has been announced and it seems like this year, everything is going to be lit, to say the least. Here are some awesome artists that you should look forward to if you are going to attend this music festival, that is being held from 1st to 3rd November. 
1. Karnivool
For those who don't know, Karnivool is a widely acclaimed progressive metal band from Australia who have established themselves as vital forces in progressive modern music. This will be the band's third time in India and their first in Meghalaya with Bacardi NH7 Weekender so get ready to dance to their energetic and electrifying tunes that will transport you to a whole new world. Here's a glimpse of their work. 
2. Intervals
This is another progressive metal band from Canada that currently features Aaron Marshall with a host of other guest musicians. They combine progressive rock and instrumental rock to create soul-soothing, unique soundtracks, for you to groove on. If you still have doubts about them, here's a sample piece of their work. 

3. Shubha Mudgal 
This year, Hindustani classical vocalist, Shubha Mudgal is going to grace the stage with her melodious voice with a group of accomplished musicians and composers with whom she has been working in collaboration with for a long time. She has also been awarded the Padmashri in 2000 for her work on music education. Of course, she has done stage performances earlier but, this is going to be her first appearance on Bacardi NH7 Weekender in Meghalaya so expect some soul-stirring tunes to take over your senses. Check out her compositions. 
4.  Soulmate
If you are into blues music, Soulmate is just the band you are looking for. This band from Shillong, Meghalaya are popularly known as legends of rock and roll and the blues scene in Shillong. Tipriti, is one of their finest female singers and Wallang is one of the most respected blues guitarist of India so you expect nothing but the best. Here's a glimpse of their work. 
5.  Benny Dayal and Funktuation
Funktuation is a band that combines Funk, Soul, R&B, Disco and Pop to give you some peppy dance numbers that you can enjoy. This mellifluous funk band has been creating a buzz in the Indie music scene since 2011 and with Benny Dayal's vocal skills, they play Bollywood hits with a funk-twist that will make you want to sway to their tunes and hear them some more. They will definitely have something unique to offer so get excited already. Check them out. 
6. When Chai Met Toast 
This four-piece, neo-folk band from Cochin made their debut in 2017 with their album 'The Joy of Little Things.' They are relatively new but their YouTube channel is going strong with over 3 million collective views. They are known for their foot-tapping energy and unique brand of infectious happy music, which transcends age, genre and even language. Check it out.
7. Lifafa
If you like peppy, upbeat music, you'll definitely love listening to Suryakant Sawhney aka Lifafa, who creates electronic dance music. The dreamy crooning, Bollywood samples, and experimental quality to his music is unlike anything you've heard before. His live gigs are always an intriguing, enjoyable experience because, this talented guy can make anyone sway to his beats. Never heard of him before? Check him out. 
8. Marty Friedman
Okay, Marty is an American guitarist, who was previously a lead guitarist for a heavy metal band named Megadeth which was quite popular during the 1990s. He also played alongside Jason Becker until 1989 and has released 13 solo albums since then. He is known for his impactful and game-changing contribution to heavy metal and guitar in general. And, if you are a heavy metal fan, you may want to listen to his compositions. 

9. Tesseract
Tesseract is a progressive metal band, all the way from Milton Keynes, England. One, Altered State, Polaris, and Sonder are some of their successful albums that they have released in the past few years. They include mid-range distorted guitar tones and melodic clean passages that are heavily influenced by ambient music. But mind you, they don't play by the rule books, they play what they feel fits the groove to add a mystery to their music. Here's a glimpse of their work. 
10. BLOT!
In case you're wondering, BLOT stands for Basic Love Of Things. It is a live electronic music project that was started by a group of youngsters in Delhi. They started with minimalistic tunes but now they've moved on to warmer and more emotive tunes, which is a mixture of techno and deeper side of modern house. The music they make lies in between techno, melodic house and accessible electronica which is soothing to the ears. Check them out. 
These are some mega performances that you should look forward to. Here's the complete list of artists playing at the Meghalaya edition. Which ones are you looking forward to?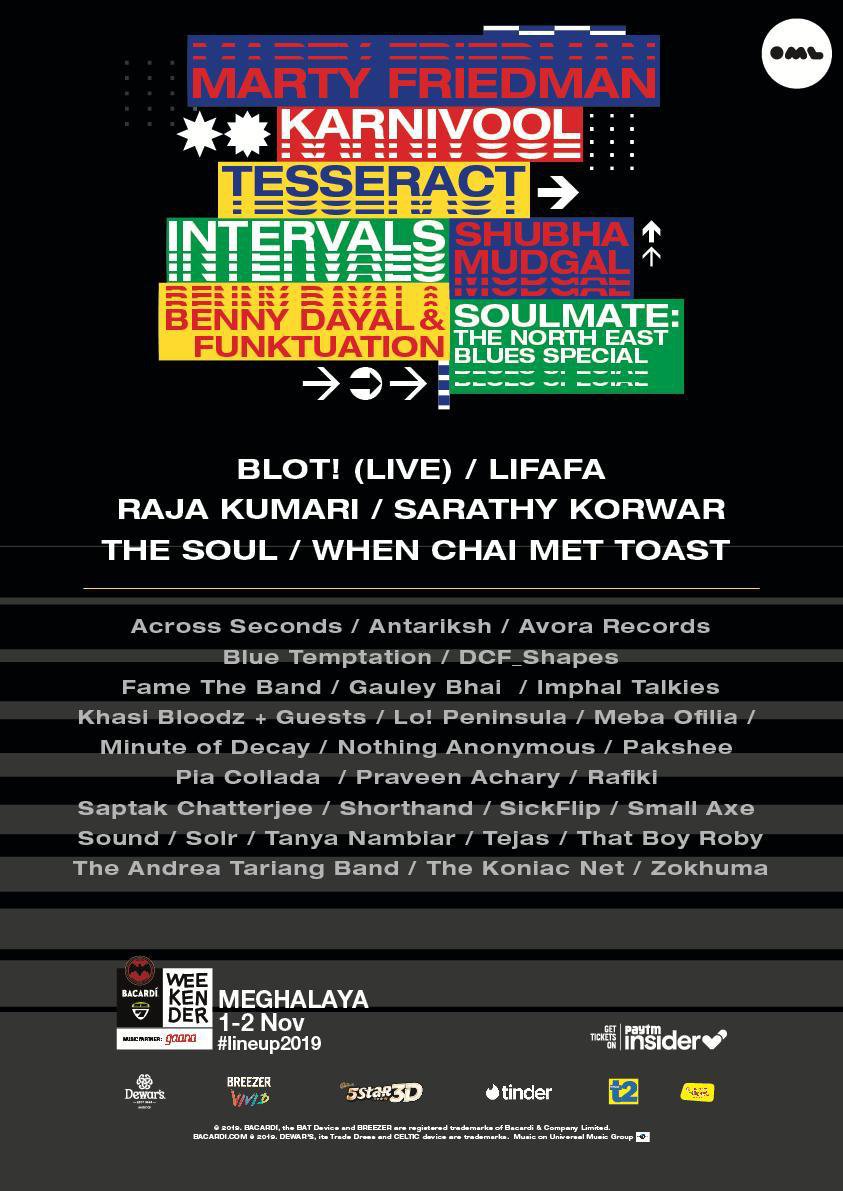 Click here to book your tickets for this once-in-a-lifetime music festival.