The date had been changed at least 10 times. My Whatsapp was flooded with random babble on a group chat called 'Banno Teri…' since a week. Eventually, I had to put it on mute.
The day had finally arrived. Thanks to the incessant (and gradually annoying) updates, I was reminded of the upcoming event every breathing second.
I slogged all day and managed to get out of office on time, just to get stuck in peak-hour traffic. I got a bunch of calls on the way, people inquiring about my whereabouts. I told them I'd be there in 10 ("I swear I'm right round the corner! Hellooo, I can't fly!").
30 minutes later, I parked my car hurriedly in front of the house and dashed upstairs. I could hear the music. It got louder with every double step I took.
I burst in through the door, announcing my arrival with a bang in an attempt to match the mad energy engulfing the terrace.
"You're late! Find a spot! Quiiiick" was the first greeting I received. Not that I expected a nicer one.
My childhood friend was getting married and that evening marked the first ever dance practice.
Hence began the 'dancing drama'. The pre-wedding mania. An excuse to party twice a week with your closest circle. The late nights and hungover mornings.
Along with the dancing, these sessions are about the chilling, the laughing, the drinking, the trolling and the fun. It's a chance for everyone to get together and kick-start the celebrations.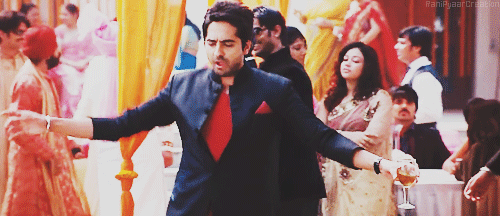 The vibe at a dance practice is electric. The wolf whistles and awws every time the bride-and-groom-to-be steal a quick kiss. The choreographer trying to get everyone's attention. The quick trips to the bar and the drunk dancing. The hilarious coordination fails. The song replays. The performance reruns. The chaos. The chatter. The awesomeness.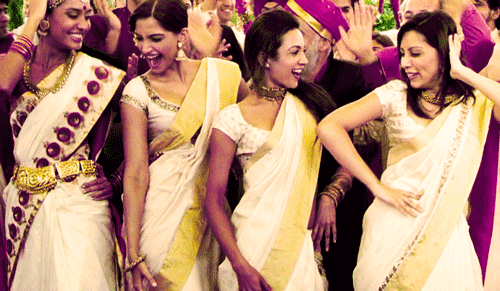 There are many groups and sub-groups lined up for Dance Day a.k.a. 'sangeet'. The boys. The girls. The boys and the girls. The couples. The bride and the groom. The solo. The parents. 
Which means songs. Lots and lots of them. An extensive list that is every Bollywood dreamer's delight. Because it's a shaadi! Desi is the only way to be.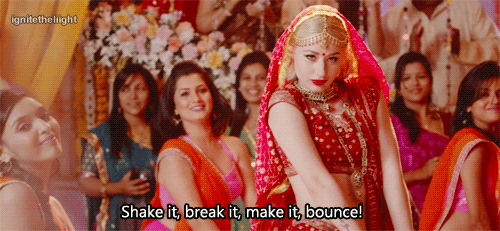 So, here's a list of the hottest tracks trending this wedding season to make your job a little easier. Check them out.
1. Kala Chashma
This hot remix is undoubtedly the most 'fire' song for the sexy brides out there! Don't forget to carry your own chashma.
5. Dilli Wali Girlfriend

>