In the second incident of violence in Saharanpur within a fortnight, one person was on Friday killed and at least 15 others, including a police officer, were injured as members of two castes clashed over loud music being played during a procession. 
Around 20-25 youths of upper caste Thakur community from Shabbirpur village were on their way to Simlana village under Badgaon police station to take part in a function to garland the statue of Rajput warrior-king Maharana Pratap, when the Dalit locals objected to the loud music being played by them.
UP: 1 dead, 25 houses torched, vehicles vandalized after clashes broke out between two communities in Saharanpur (05/05/2017) pic.twitter.com/7N1UDmZPil

— ANI UP (@ANINewsUP) May 6, 2017
A police report sent to the state headquarters in Lucknow said the Dalits objected to the "raucous" celebration, triggering an exchange of words. It soon snowballed into a full-blown clash with both the groups throwing stones and bricks at each other, it added. The Dalits asked the processionists to turn off the music blaring out of loudspeakers as they passed by a Ravidas temple.
A police team, which rushed to the spot, managed to pacify the Thakur youths and asked them to return to their village, but they soon returned with more people and indulged in brickbatting and arson, torching 15 to 20 Dalit houses as well as vehicles including those of the police.
As many as 16 persons, including a police officer, were injured in the resulting clashes. Of them, Sumit Rajput (35) later succumbed to his injuries. Fire tenders were rushed to the village, the report said, adding that the Inspector General of Police, Meerut, theDeputy Inspector General of Police, Saharanpur, besides the local District Magistrate and the Senior Superintendent of Police were camping in the village to monitor the situation.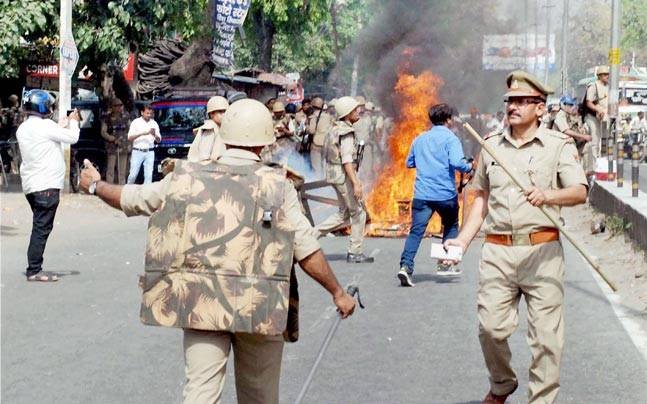 On April 20, communal clashes had broken out in the district during a Dalit procession to celebrate BR Ambedkar's birth centenary.
Around a dozen people were injured in the clashes that erupted after members of another community objected to the procession. BJP MP from Saharanpur Raghav Lakhanpal was among those booked in connection with the incident. Meanwhile, Uttar Pradesh Chief Minister Yogi Adityanath said, "I can say with confidence that everyone in the state will be safe. There will be no discrimination and the rule of law is the priority of the state government."