As many 125 Hindu pilgrims from India arrived in Lahore today to celebrate Maha Shivratri.
Saddiqul Farooq, Chairman of the Evacuee Trust Property Board (ETPB),which looks after the temples and gurdwaras across Pakistan, and Pakistan Gurdwara Parbhandik Committee officials greeted the pilgrims at Wagah Border. "125 Hindu pilgrims today arrived here from Wagah Border," Amir Hashmi, spokesperson of the ETPB, told PTI.
The pilgrims will stay at Gurdwara Dera Sahib, Lahore Fort before they leave for the historic Katas Raj temple in Punjab province's Chakwal distrcit, some 250 kilometres from here, on Monday to take part in the festivities.
Maha Shivratri is on March 7.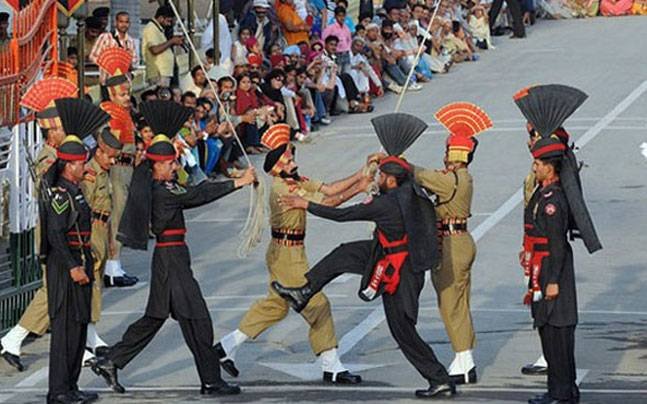 While talking to reporters, the visiting Hindu pilgrims' leader Sateesh Kumar said the authorities here extended full cooperation to them. "We are impressed by the love of Pakistanis for us," Kumar said, adding that there should be cordial relations between both the neighbouring countries as their people wanted peace and prosperity in the region.
The pilgrims also chanted Pak-India friendship slogans at the Wagah Border.
Farooq said on the special order of Prime Minister Nawaz Sharif, the ETPB has ensured security, transport, boarding and medical facilities to the visiting Hindus. "We will make sure that the visiting yatrees (pilgrims) enjoy their time here," Farooq said. He said the government would also ensure that the pilgrims would not face any visa related issues in the future.
Farooq said a special tour of old city of Lahore has been arranged for the visiting Hindus on their request.
Maha Shivratri is celebrated on the 6th night of the dark Phalgun (February or March) every year. It is believed that Lord Shiva was married to Parvati on this day.