When you think of the word countries, what does usually come to your mind? A world map? Large swathes of land that make up the planet? You're almost correct to think of that, but did you know there are a lot of countries that you don't generally see on maps? Yes, most of these countries are not recognized by other countries and international organisations, and were mainly established as tongue-in-cheek nations, but many of them have their own national anthems, and even issue stamps, currency, and passports. Here's a look at some of these countries.   
1. Aerican Empire
The Aerican Empire, or Aerica, was founded in 1987 by Canadian psychiatrist Eric Lis and his friends when they were children. Their territory, though large, is disconnected. They own a square kilometre of land in Australia, some land in Canada, a colony on Mars, the entire northern hemisphere of Pluto, and an imaginary planet.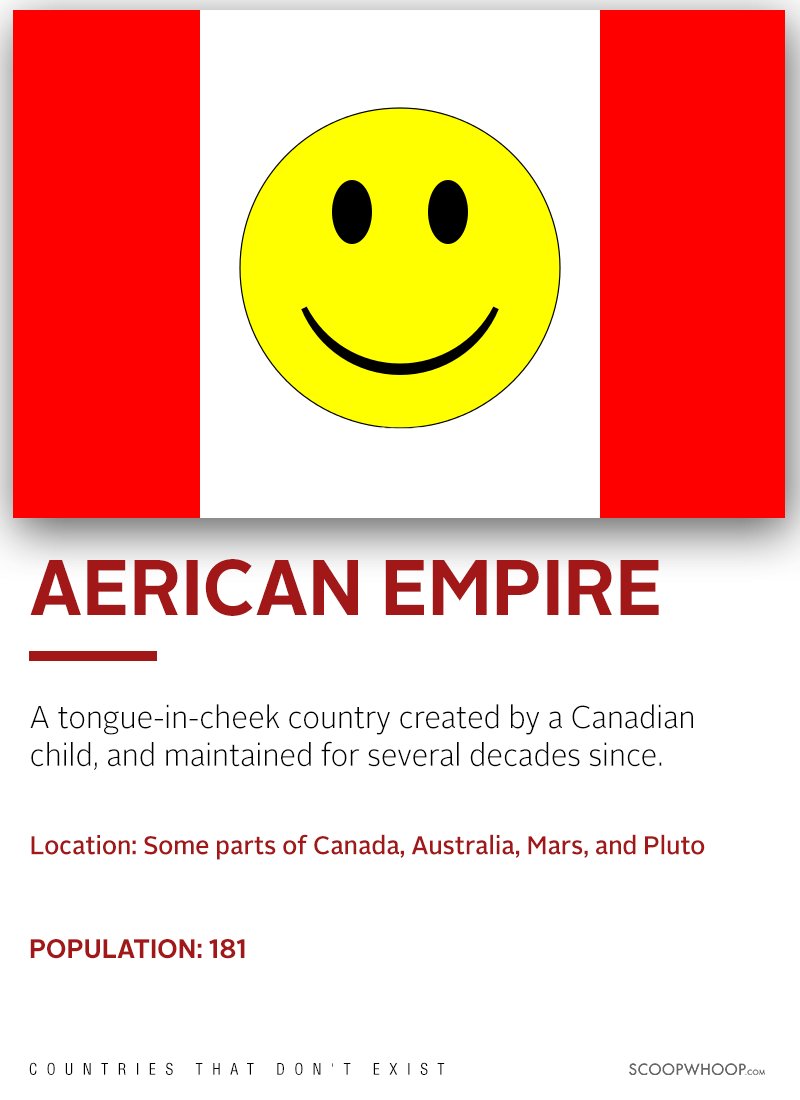 2. Austenasia
This country was founded by a student Jonathan Austen and his father Terry Austen. They sent a letter declaring independence to their local Member of Parliament. Terry was named the Emperor and Jonathan was named the Prime Minister of Austenesia. The only countries to recognise Austenesia are other micronations, Vikesland and the Herbatrean Federation.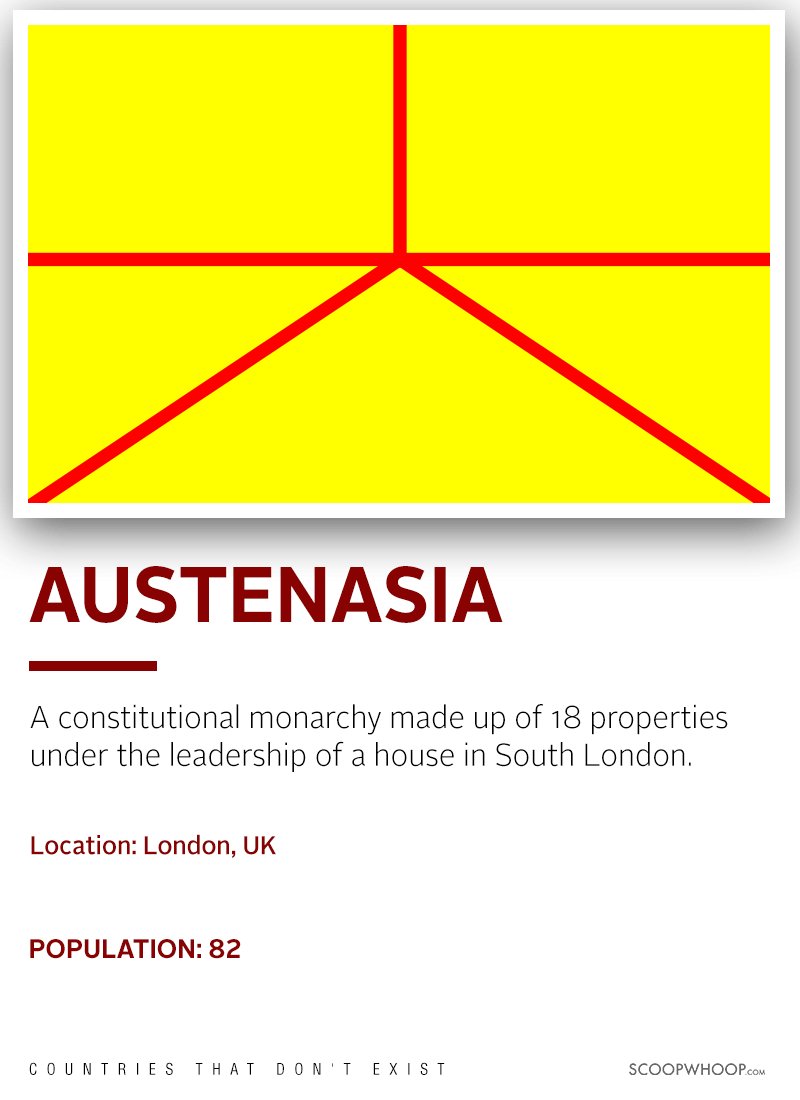 3. Elgaland-Vargaland
Elgaland-Vargaland is an art project by Swedish Artists Carl Michael von Hausswolff and Leif Elggren. They define their country as being the borders of other countries. They even have their own national anthem, and issue passports and stamps on request.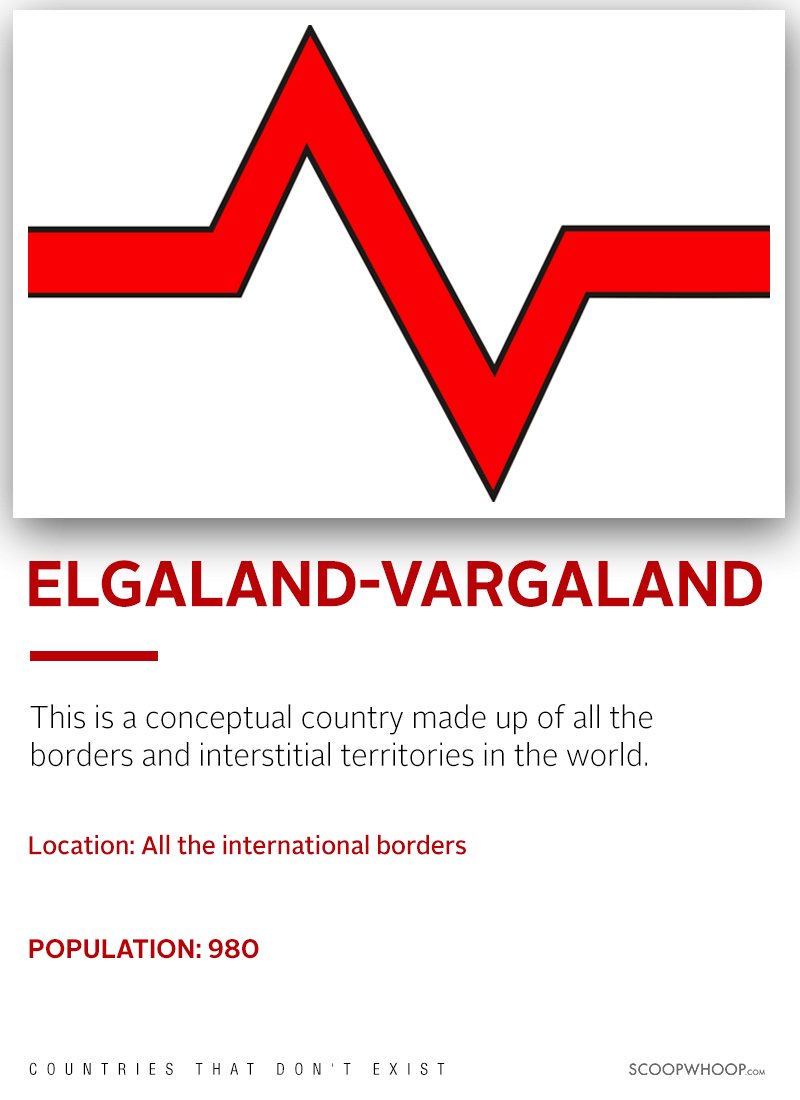 4. Forvik
Forvik was created in 2008 by Cunningsburgh resident Stuart Hill. Hill has even instituted various forms of citizenship and residents get voting rights with a plot of land, and in return pay an annual tax. He has also invited well-established companies to negotiate oil exploration rights.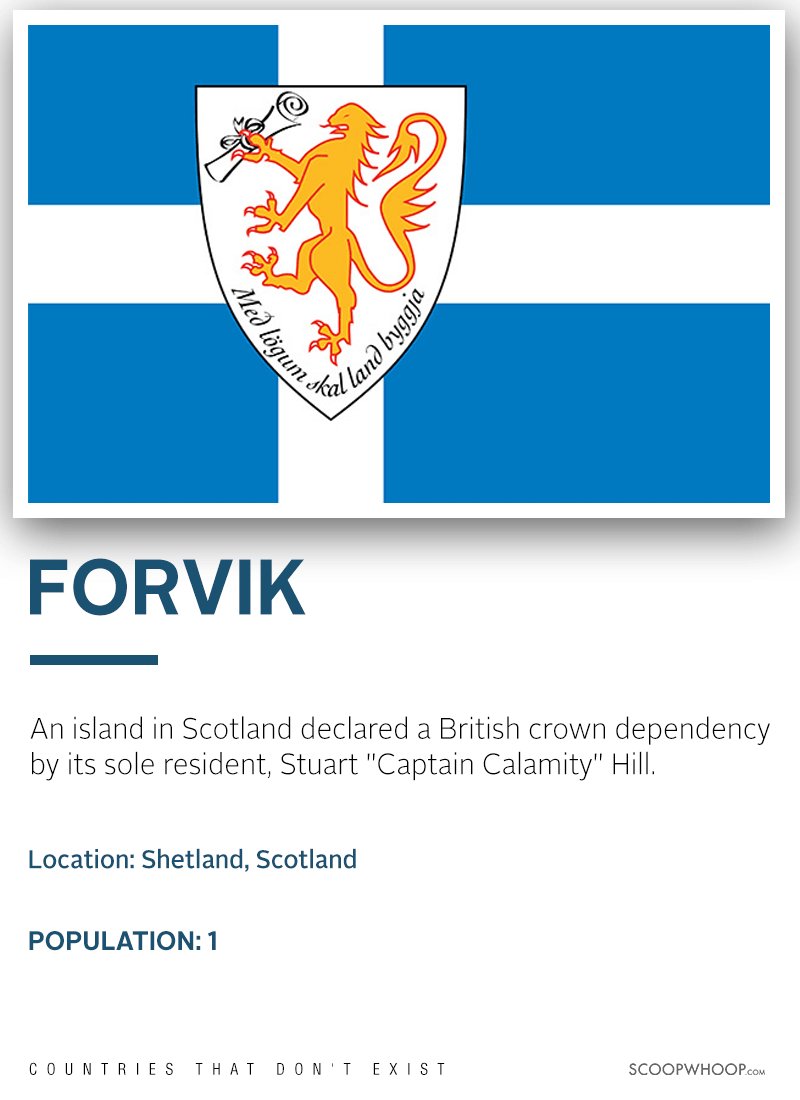 5. Freetown Christiania
In 1971, residents of the borough of Christianshavn in the Danish capital Copenhagen declared themselves an autonomous neighbourhood. Christiania has been a source of controversy since its inception in 1971, mainly due to the thriving cannabis trade there. The community has seen a lot of conflicts and police raids.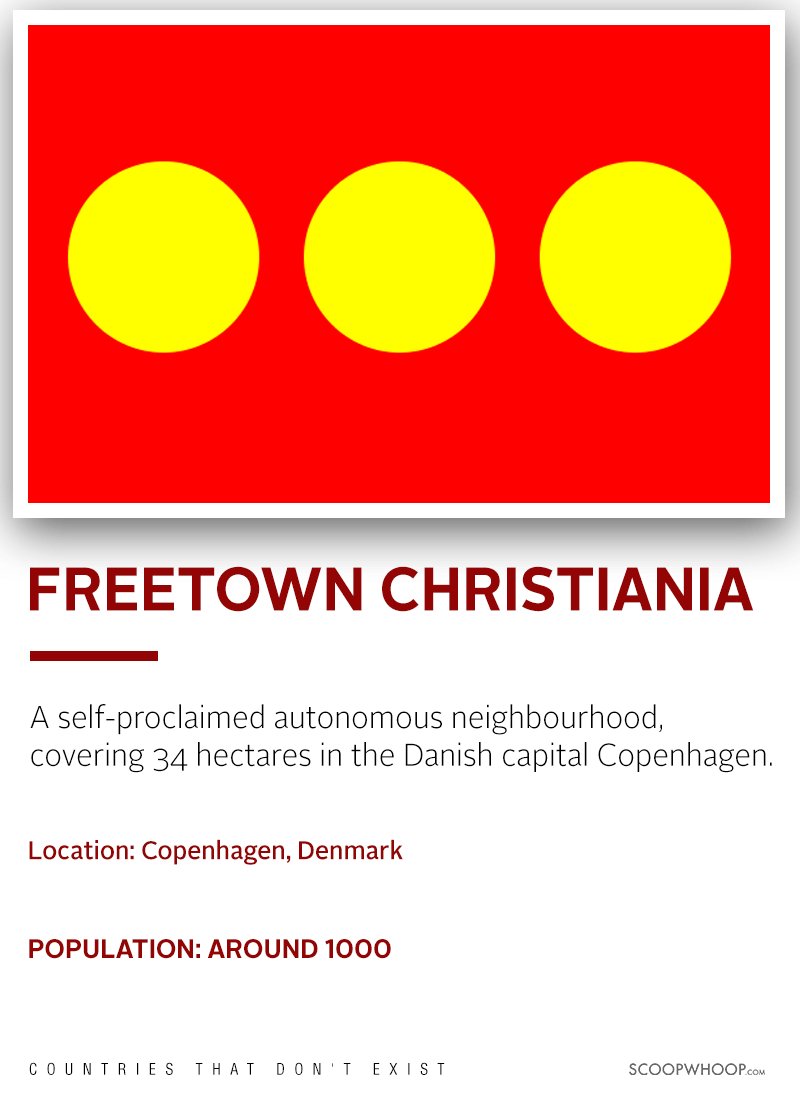 6. Gay and Lesbian Kingdom of the Coral Sea Islands
After the Australian government refused to recognise same-sex marriages, gay rights activist declared an independent nation founded on Australia's external overseas Territory of the Coral Sea Islands in 2004 as an expression of queer nationalism.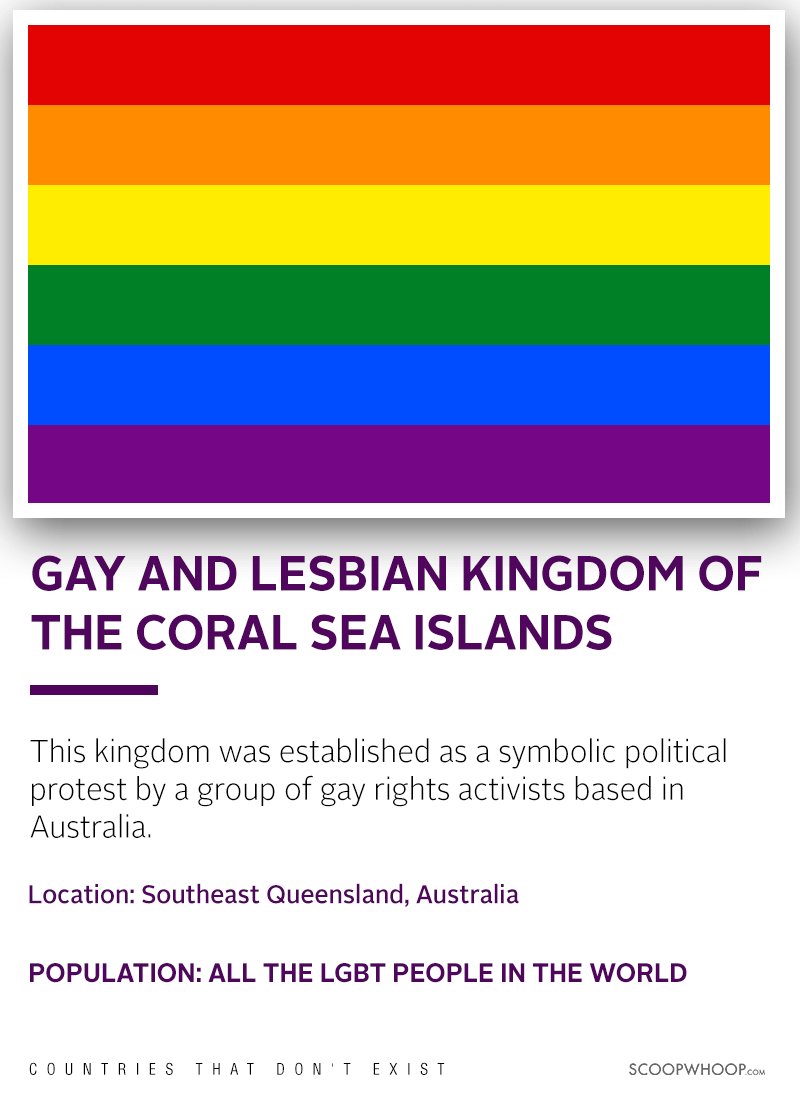 7. Glacier Republic
Some Greenpeace activists established this nation to raise awareness about the damage that mining corporations were causing to the glaciers in Chile, which has 82% of South America's glaciers, but no laws to protect them. They found some loopholes in the border laws between Argentina and Chile and those enabled them to legally create the republic.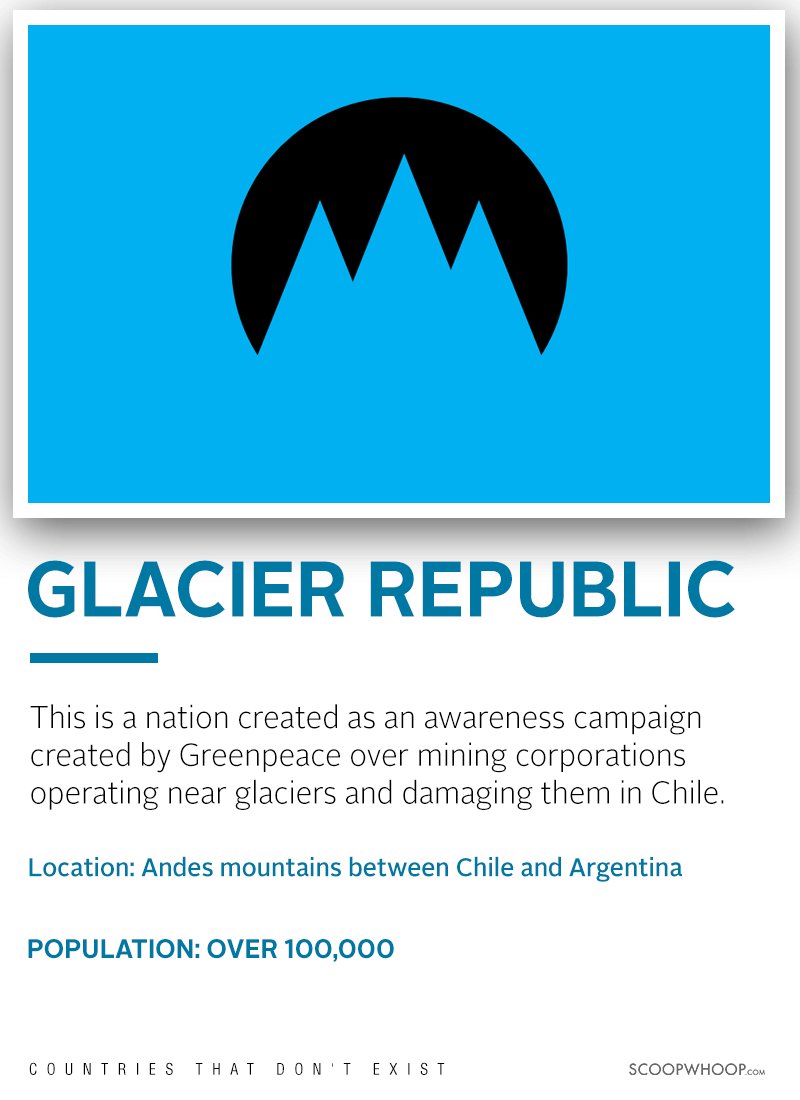 8. Grand Duchy of Flandrensis
Inspired by the medieval County of Flanders, Belgian citizen Niels Vermeersch founded this country in 2008 claiming some parts of Antarctica as its territories. He wrote letters to the United Nations, the European Union and to the nations who signed the Antarctic Treaty to inform them of his claim. To no one's surprise, none of those ever wrote back to him.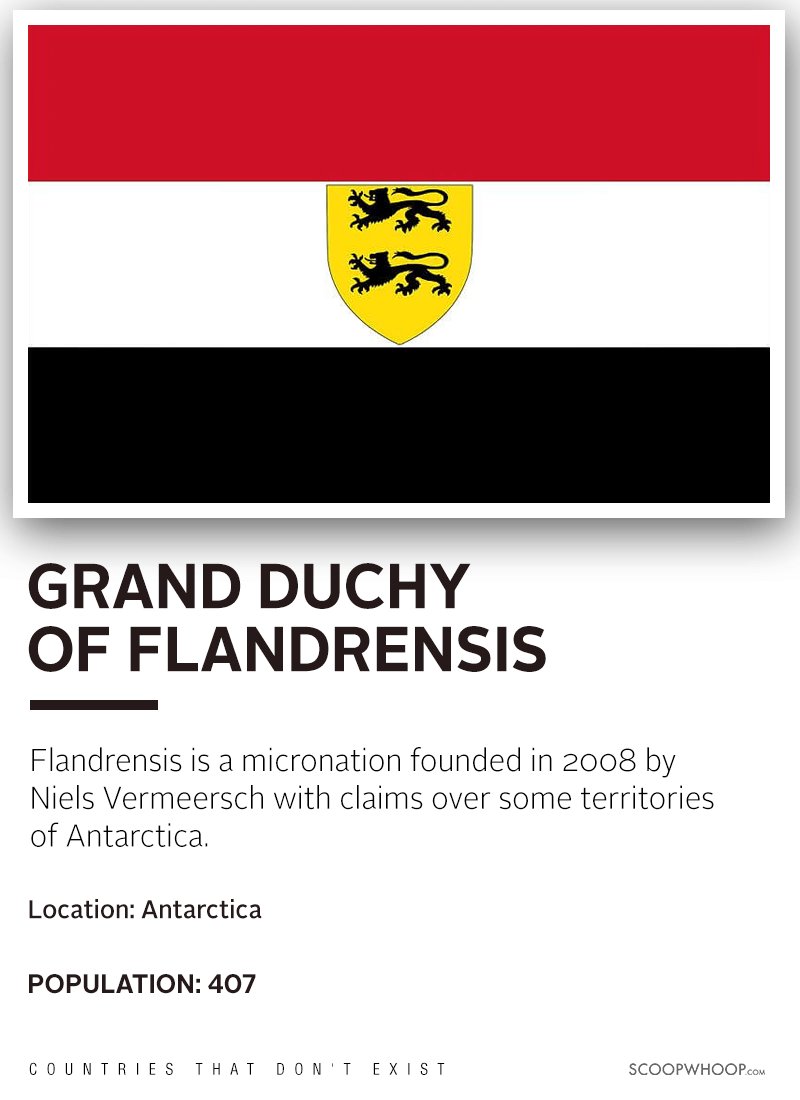 9. Grand Duchy of the Lagoan Isles
The Baffins Farm in Portsmouth, where the Baffins Pond is located has documents of ownership dating back to 1194. Louis Robert Harold Stephens, a school teacher noticed that the pond islands were not specifically mentioned in the documents.  He subsequently announced his claim to the islands, and also issued a series of banknotes.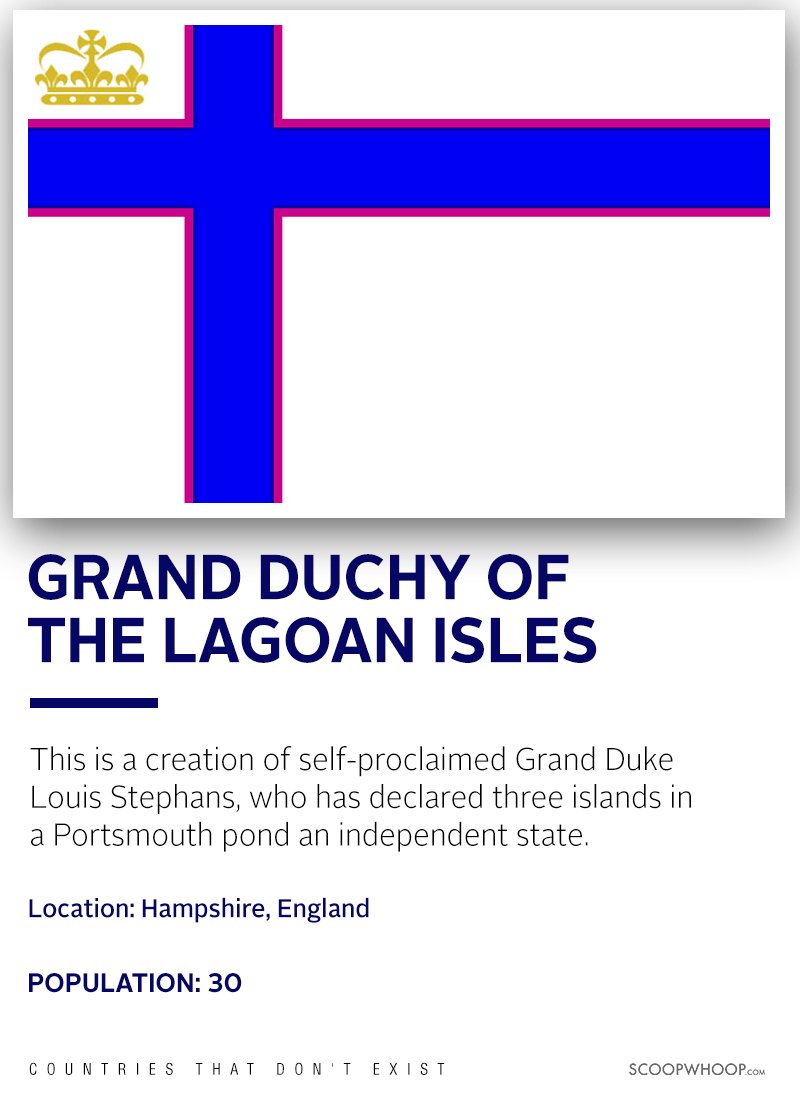 10. Hutt River
Leonard Casley had a dispute with the government of Western Australia over what the wheat production quotas. The Casley Family was not allowed to sell all of their produce. Initially, the five families who owned farms at Hutt River banded together to fight the government. When that failed Casley and his associates resorted to International Law, and seceded from the Commonwealth of Australia.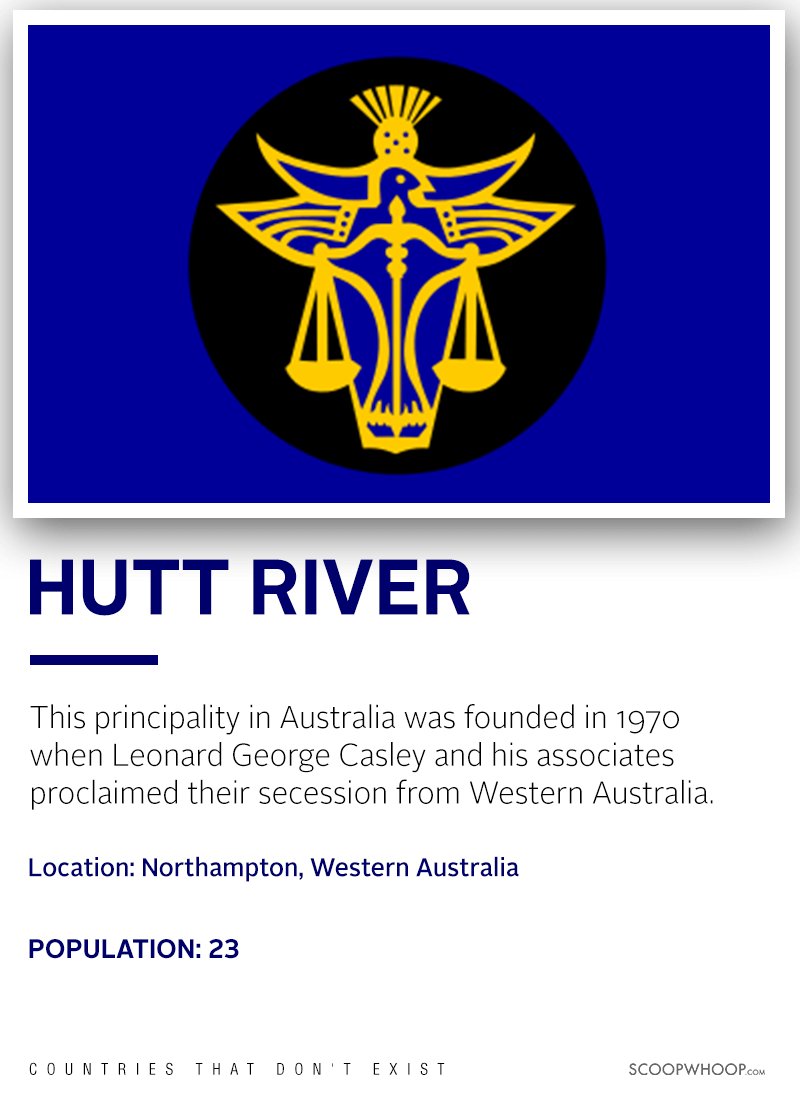 11. Kingdom of Elleore
A group of Copenhagen school teachers purchased the island of Elleore for use as a summer camp. They then proclaimed the island's tongue-in-cheek "independence" as a Kingdom. They have evolved numerous traditions unique to the kingdom, and also use the "Elleore Standard Time", which is 12 minutes behind regular Danish time.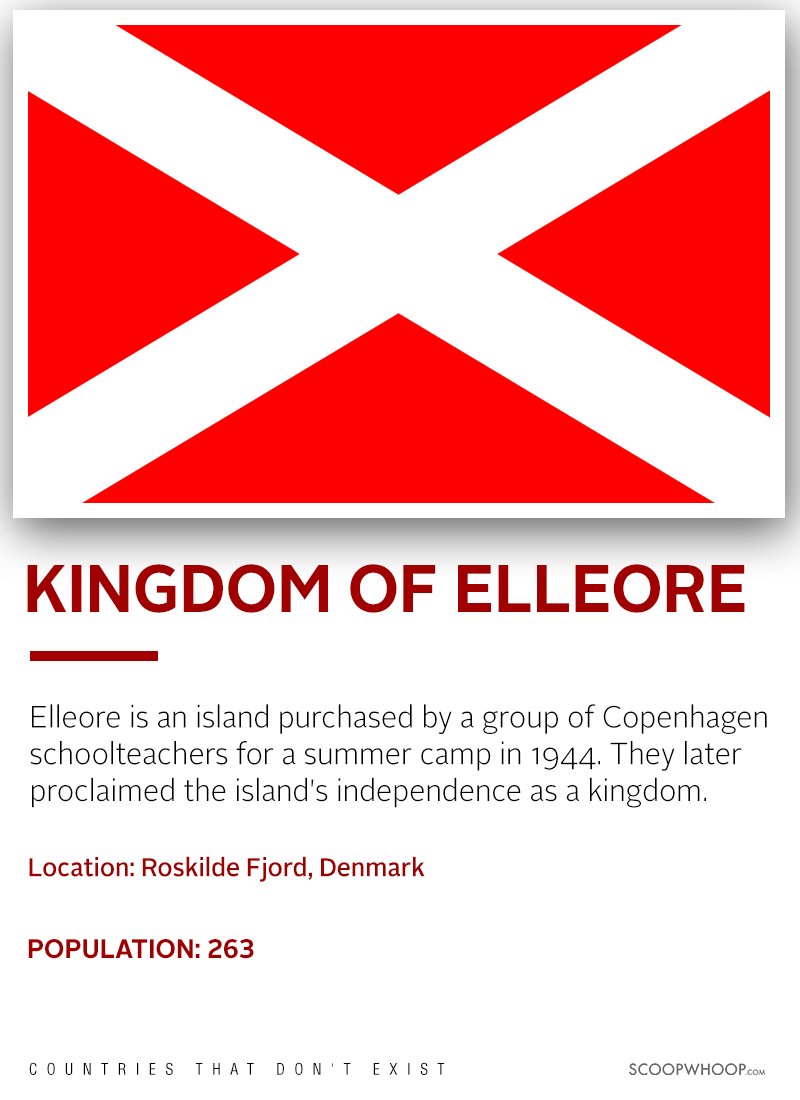 12. Kugelmugel
Artist Edwin Lipburger was denied permits for building a ball-shaped house. So he proclaimed it as a republic of its own. He didn't pay taxes to the Austrian government and printed his own stamps, for which he received a prison sentence only to be pardoned by the Austrian President. The word "Kugel" means "sphere" in German; the word "Mugel" is an Austrian-German expression for "mogul".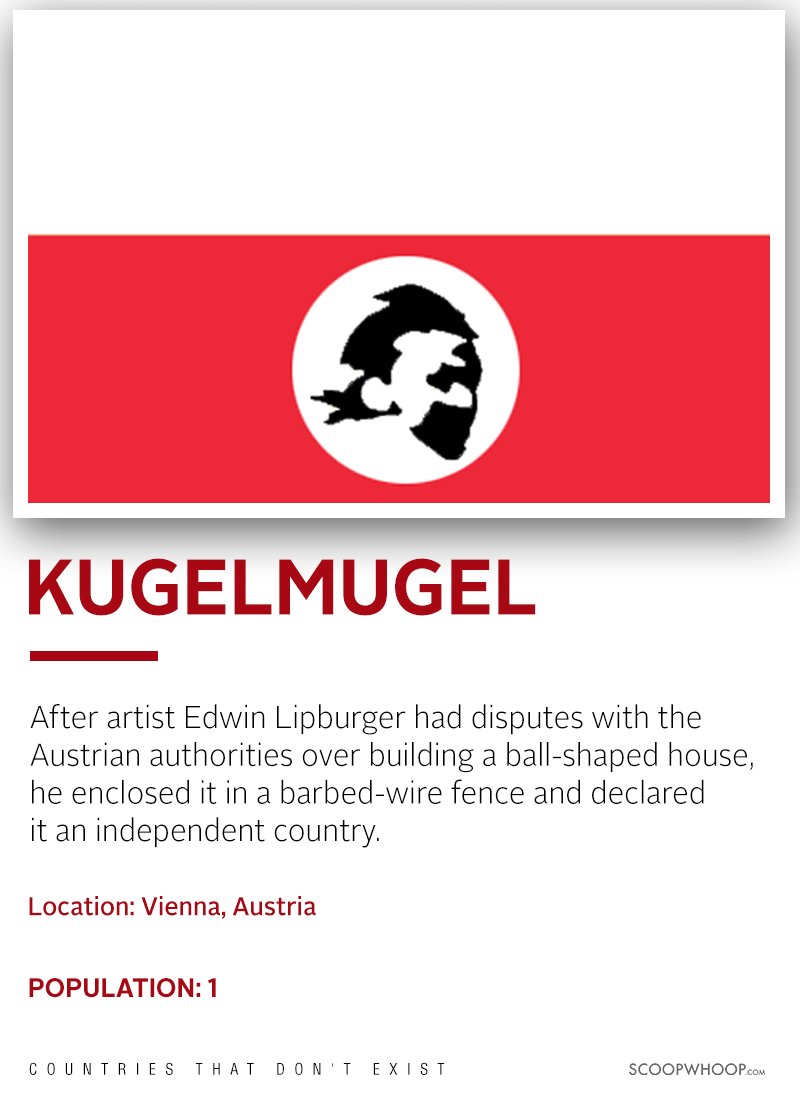 13. Murrawarri
The people of Murrawarri wanted to know that how Queen Elizabeth II of England, as the constitutional monarch of Australia, could govern Australia. They wrote her a letter asking the same. Whether it was through a treaty they signed, or a war they lost? They gave her 21 days to respond, and when she didn't, declared themselves to be an independent state.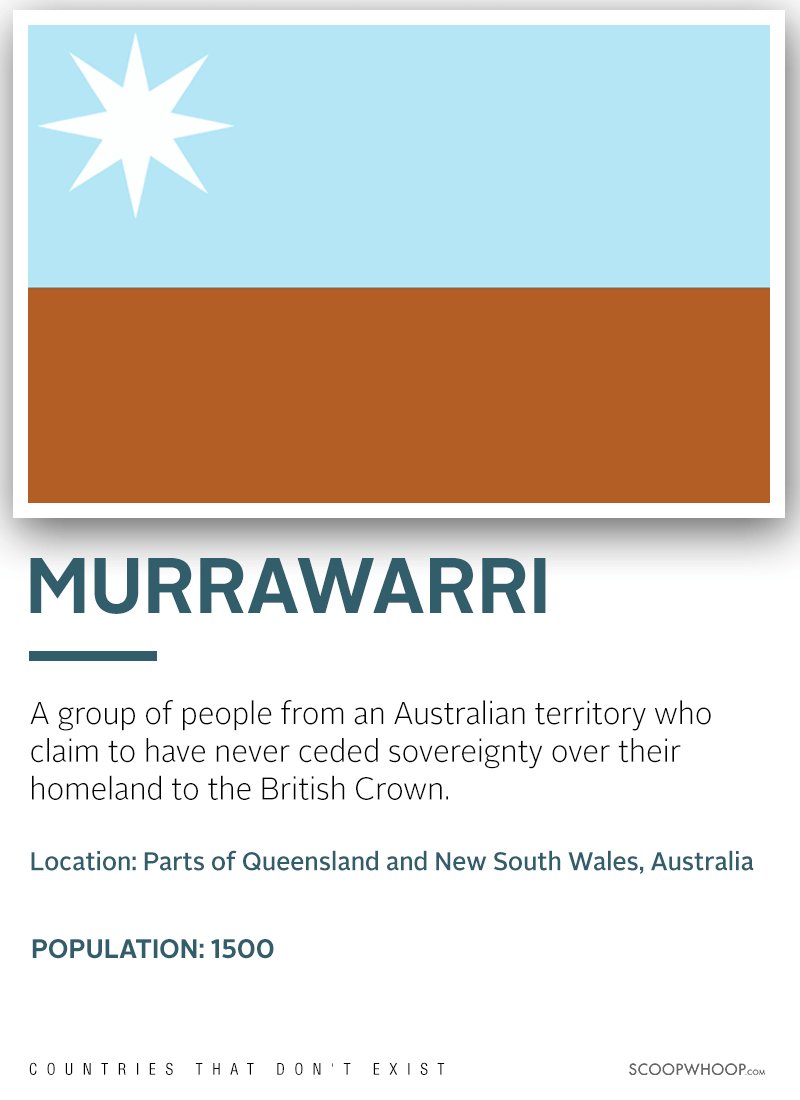 14. Reunion
The students of the Law School of the Pontifical Catholic University of Rio de Janeiro established this empire as a political and constitutional simulation. Although it doesn't aim to be recognized by any other country, the empire mints its own coins, prints its passports, and produces flags for its citizens. It claims its main objective is a deep political interaction amongst its citizens.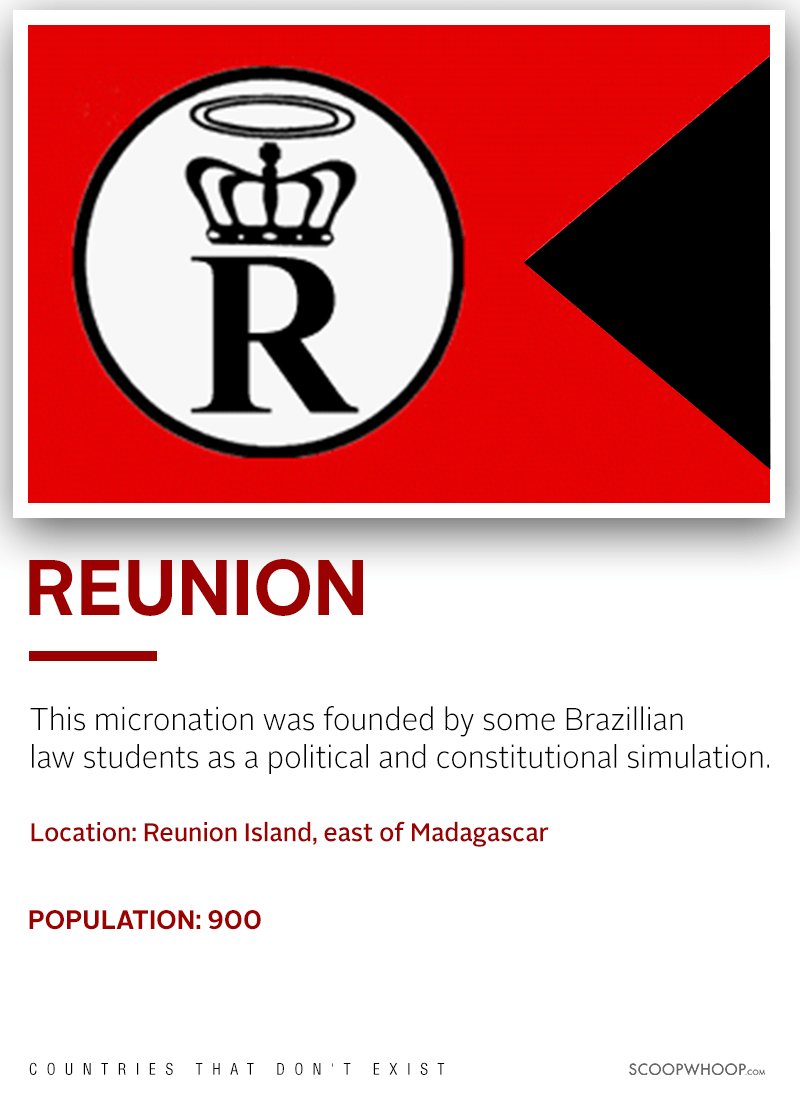 15. Sealand
Sealand is an unrecognized micronation that claims Roughs Tower in the North Sea as its territory. The Roughs Tower was built as an anti-aircraft defensive gun platform during the World War II. Paddy Roy Bates, whose family has occupied the tower since 1967, claimed that it is an independent sovereign state, and even wrote a constitution for it.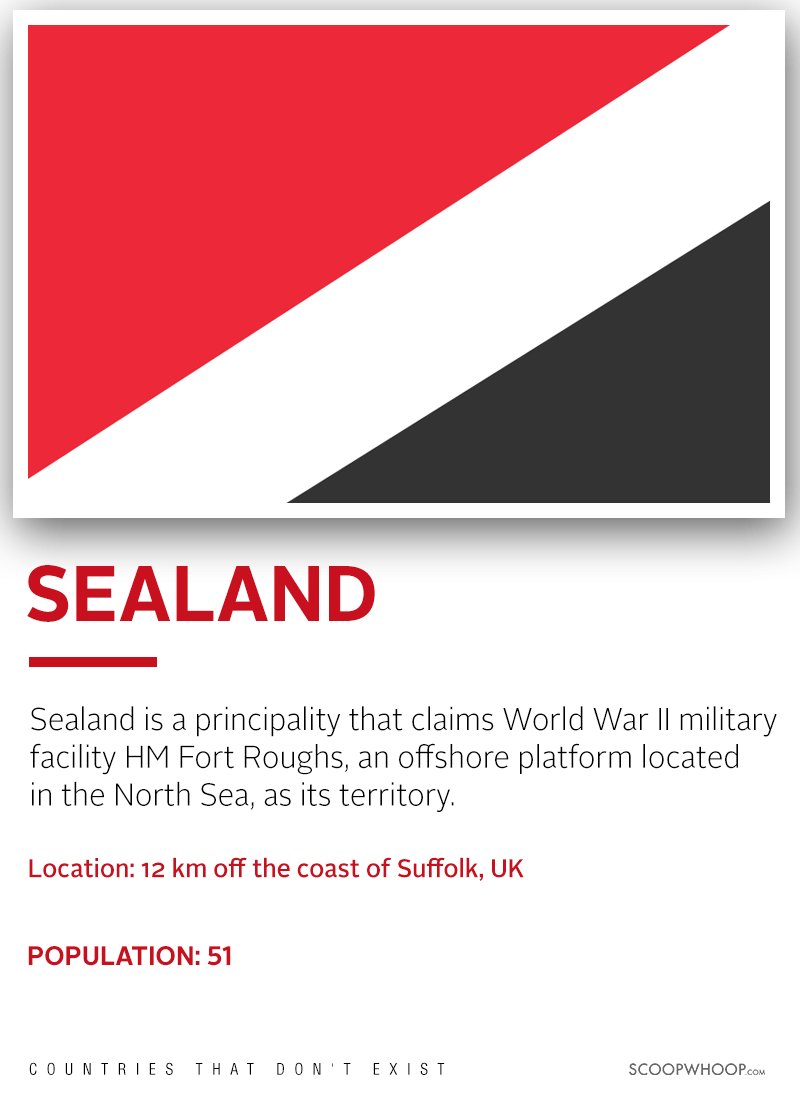 It's that time of the month again when I realize that my rent is too high. Maybe, I'll declare my apartment a republic! Free from all the taxes! 
Design Credits – Nishant Patel