Seems like cheating has become an integral part of the Indian examination system. To get through the rigorous Indian Army physical tests, some youngsters in Agra apparently tried the short route to success—doping on steroids.
According to a report in the Times of India, of the 7,000 candidates who appeared for the test on Friday, close to 1,500 were promptly banned for using fraudulent means and indulging in other malpractices on the first day of the recruitment drive, which will continue till February 20.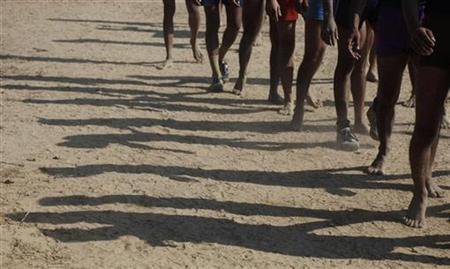 Performance enhancing drugs, including steroids and opium and large quantities of painkillers, cough syrups and pain-relieving gels were seized during the frisking that precedes registration of candidates.
Not just that, the candidates had also brought with them fake rubber stamps of gazetted officers at the Army recruitment camp.
 Col Srikant Narayan, director (recruiting) for Army Recruitment Officer (ARO) Agra told TOI, 
"The fake stamps were apparently meant for attesting documents that a candidate is usually supposed to bring with him for verification of his domicile, qualifications and so on." 
With the drug menace becoming a big issue, the Army is being extra careful to check the entry of drug addicts in the defence forces. The practice of conducting dope tests started in Punjab, which is prone to drug abuse and is reportedly used as a route for cross-border drug smuggling. 
On the same lines, the Indian Army is now conducting on-the-spot drug tests for candidates at its recruitment camps all over the country.
(Feature image source: Reuters)