Venkadarath Saritha, a 30-year-old native of Telangana district has become the first woman driver to drive DTC buses on the roads of Delhi.
"I am thankful to the DTC for giving me a chance. It is a big opportunity for me. A government job is a huge thing in my family," Saritha told The Indian Express .
A government job really meant a lot to her. After her father's death, Saritha, youngest of the five daughters in her family, started driving auto rickshaws and minibuses to earn a living.
"I started driving an auto-rickshaw in my mid-20s. It was in 2011 that I first drove a bus, [and] it was more of a minibus in Hyderabad. It gave me the confidence to earn a livelihood with dignity," Saritha said.
Four years ago, she learnt of the all-women Sakha cabs run by Azad Foundation in Delhi. It gave her a chance at improving her situation.
"I approached them and they gave me training. At the foundation, I even got to drive a BMW," Saritha said.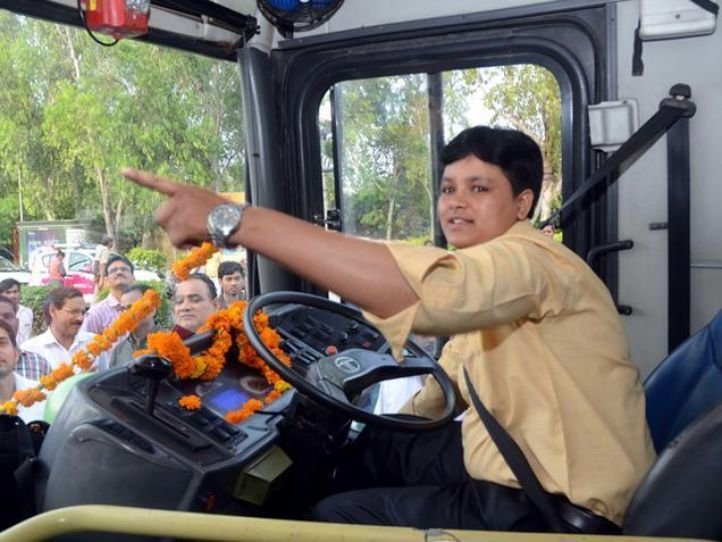 Saritha has been appointed at the Sarojini Nagar bus depot and will be put mainly in the day shifts.
According to the DTC officials, the government had published a newspaper advertisement inviting applications from women drivers to drive DTC buses in Delhi. Among the five women applicants who attempted to get the job, Saritha was the only one to clear all medical tests. She was later trained for 28 days by the government.
"This is a very encouraging step and just a beginning to explore more avenues that involve women in new fields," Delhi Transport Minister Gopal Rai said.
While sharing her story of hard work, courage and determination, Saritha said that she believes all women are equally capable of matching the potential of their male counterparts.
"I will never overtake or drive rashly. I will park the bus only in designated space and not pay heed to those who try to wave down the bus on the middle of the road. I will not indulge in over-speeding. It does not matter if I get a bit late," she told Indian Express.
So, next time you travel by a bus on central Delhi's 615 route, don't be surprised if you spot Saritha at the wheel.