Despite the Supreme Court ordering a 20-feet cap on human pyramids for "dahi handi" celebrations during Janmashtami, many mandals in Maharashtra have openly broken the law by forming pyramids at a height of 49 feet.
Even as the SC has been banned minors from participating in the "dahi handi" celebrations in Maharashtra, most groups appeared to have brazenly revolted the decision. 
This open defiance has not augured well for two kids, who have been seriously injured after falling from a sixth tier of the pyramid in Thane. Their condition remains critical as they suffer severe head injuries as a result of the fall, reports The Times Of India.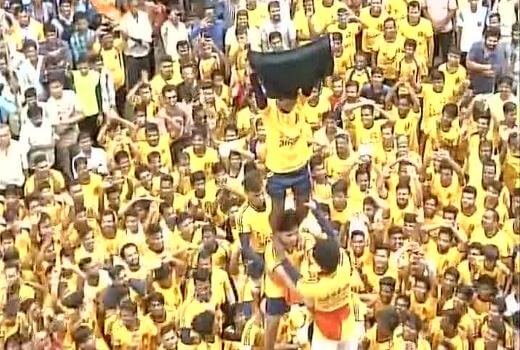 Thousands of youth clad in colourful robes joined the 'Dahi Handi' celebrations across Maharashtra to mark Krishna Janmashtami today, with some of the 'mandals' allegedly flouting the 20-feet ceiling for human pyramids mandated by the Supreme Court. 
A sporting tradition that blends devotion with fun, frolic and adventure, 'dahi handi' recaptures the fondness of Krishna as a child for butter with scores of youth joining shoulder-to-shoulder to build a human pyramid, through which the aspiring winner scales to hit the curd-filled earthen pot strung over head.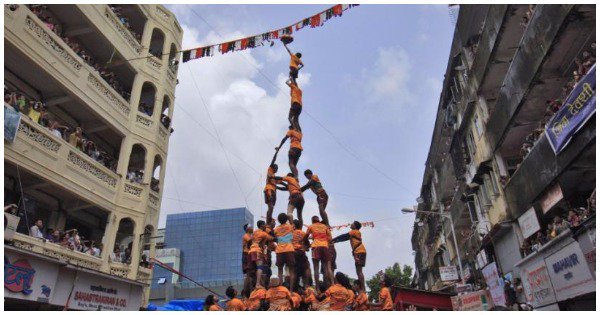 The apex court had yesterday made it clear that no human pyramid could cross 20 feet in height, concerned over casualties and injuries suffered by 'Govindas', as participants are known, in previous years. 
Cases had been registered against 16 Govinda mandals in Thane, adjoining Mumbai for allegedly flouting court guidelines, a senior police official said. A Thane report said a "Dahi Handi" was allegedly strung up at 49 feet, more than double the height allowed by the Supreme Court, whose organiser was said to be associated with Raj Thackeray-led MNS. MNS along with Shiv Sena has expressed reservations over the court order.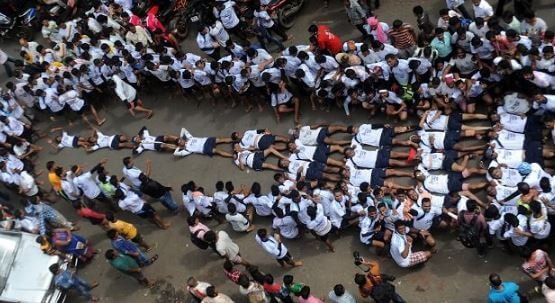 Barring minor injuries to 15 participants, no untoward incident had been reported in Mumbai till evening, where no violation of the apex court norm had been reported, police said.
At Dadar in Mumbai, some Dahi Handi mandal members lay on the ground and created a 'sleeping pyramid' exceeding the 20-feet norm. While another mandal used a ladder to break the pot and also displayed a black flag, apparently to protest against the SC ruling on the festival.
 With over 3,300 mandals (organising units) arranging 'dahi handi' events across Mumbai and adjoining areas, police video-recorded the competitions to ascertain if there had been violation of the Supreme Court order. 
Police had already issued notices to organisers informing them of the court order and that they would record every human pyramid. Police said they would go through the video footages and, if any violation of norms is found, action will be taken against the organisers. 
(With inputs from PTI)