38 days to go for the World Cup and the final list of the 15 men defending India's championship fortress is out:
1. Virat Kohli (Delhi/Royal Challengers Bangalore) – Vice-captain
2. Shikhar Dhawan (Delhi/Sunrisers Hyderabad)
3. Rohit Sharma (Mumbai/Mumbai Indians)
4. Ajinkya Rahane (Mumbai/Rajasthan Royals)
5. Suresh Raina (Uttar Pradesh/CSK)
6. Ambati Rayudu (Baroda/MI) Wicketkeeper
7. MS Dhoni (Jharkhand/Chennai Super Kings) – Captain
8. Ravindra Jadeja (Saurashtra/CSK)
9. Axar Patel (Gujarat/Kings XI Punjab)
10. Stuart Binny (Karnataka/RR) Fast Bowler
11. Bhuvneshwar Kumar (Uttar Pradesh/Sunrisers)
12. Mohammed Shami (Bengal/Delhi Daredevils)
13. Ishant Sharma (Delhi/Sunrisers)
14. Umesh Yadav (Vidarbha/Kolkata Knight Riders) Fast Bowler
15. R Ashwin (Tamil Nadu/CSK)
So, if you put yourself in the selectors' shoes for choosing 15 individuals for the grandest stage of all, the World Cup, it is quite an ask. Because, these are not just individuals, these are larger than life figures with the sentiments of a billion attached.
Looking at the final list, a cricket fan won't be mistaken if he/she finds the list incomplete. The elephant in the room is staring right at your face with no Yuvraj Singh or Virender Sehwag or Zaheer Khan.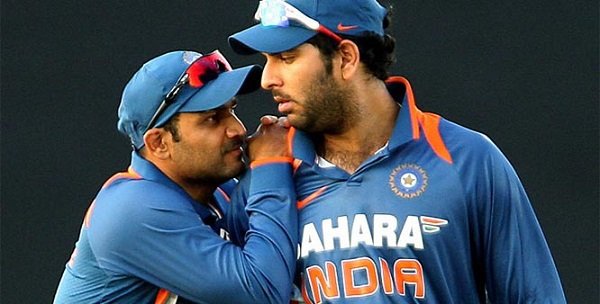 Yuvraj Singh – Yeah he is no longer a Jonty Rhodes in the field and his fight against cancer has lifted more people up than his fight with the bat and ball. But hey come on, this guy was the man of the series in 2011 when India won the World Cup!
Three centuries back to back in Ranji was just a gimmick. He is in-form, so why did we hold him back?
The media, too, went berserk with stories like this doing the rounds.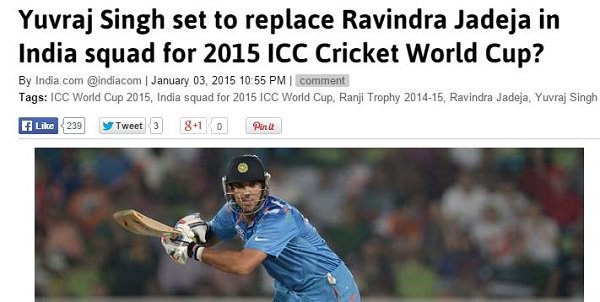 Virender Sehwag – With the likes of 20-year-old Akshar Patel making it, Sehwag at 36 is way above the average age benchmark.
Even his century in the Ranji a week back doesn't prove anything at all, right? It seems all these players were trying doubly hard to score a century in the Ranjis to be noticed for the World Cup final list. Well, too bad?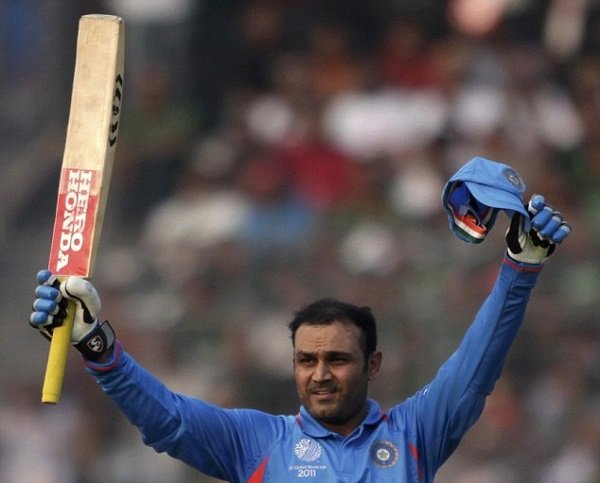 Zaheer Khan – He had been India's most successful bowler abroad. It is unfortunate that Zaheer's shoulder injury played spoilsport.
Zaheer, you will be missed.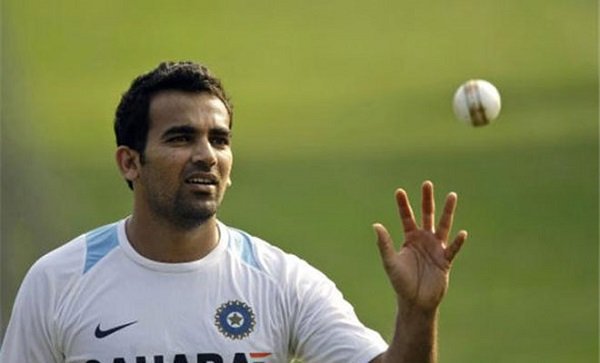 If you look at the Indian squad, there are only four players who have played the World Cup. Is that a blessing or a curse? We will know only as the tournament unfolds.
And let's not forget Harbhajan Singh and Gautam Gambhir.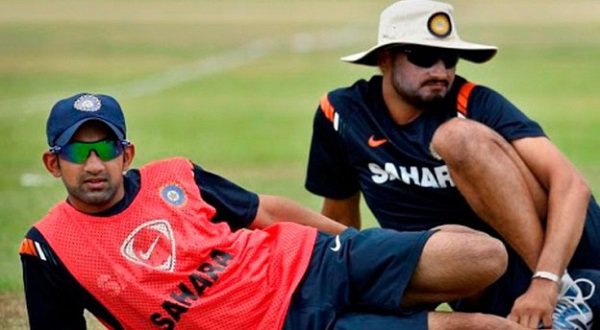 They clearly don't qualify, because it seems yeh hai youngistan meri jaan.