Expanding its rescue efforts, government on Monday said in the Lok Sabha that over 2500 Indians have been evacuated from quake-hit Nepal so far and free visas are being given to foreigners stranded there and who want to come to India.
1600 more Indians are expected to be evacuated today, with four more rescue flights to be sent to Nepal as announced at an official press conference on Monday evening. A helpline was also announced as operational for any information on kin in quake affected areas in Nepal and within India. The helpline is 011-1078 .
Members of the Lower House also decided to donate a month's salary for the relief work in Nepal with a proposal by Parliamentary Affairs Minister M Venkaiah Naidu being quickly accepted by the Opposition.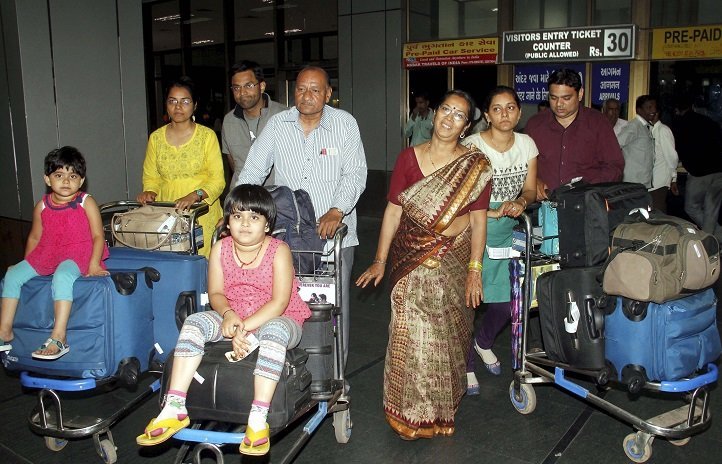 Responding to an impromptu debate on the devastating earthquake in Lok Sabha, Home Minister Rajnath Singh said the earthquake toll in India has reached 72 with 56 deaths reported in Bihar, 12 in UP, three in West Bengal and one in Rajasthan .
Giving details of India's mammoth rescue and relief exercise in the neighbouring country, Singh said 10 NDRF teams are already in Kathmandu and six more on their way. An engineering task force and 18 medical units have also been rushed.
"One Unmanned Aerial Vehicle is also on the way," he said, adding that an inter-ministerial team headed by a top Home Ministry official was being sent along with 250 high frequency wireless sets to coordinate rescue and relief work.
Calling it a "very big tragedy", Singh said India stands by Nepal and those affected in India in this hour of crisis.He also thanked the governments of Bihar, UP and Uttarakhand for setting up relief camps at the border with Nepal and plying buses to evacuate people.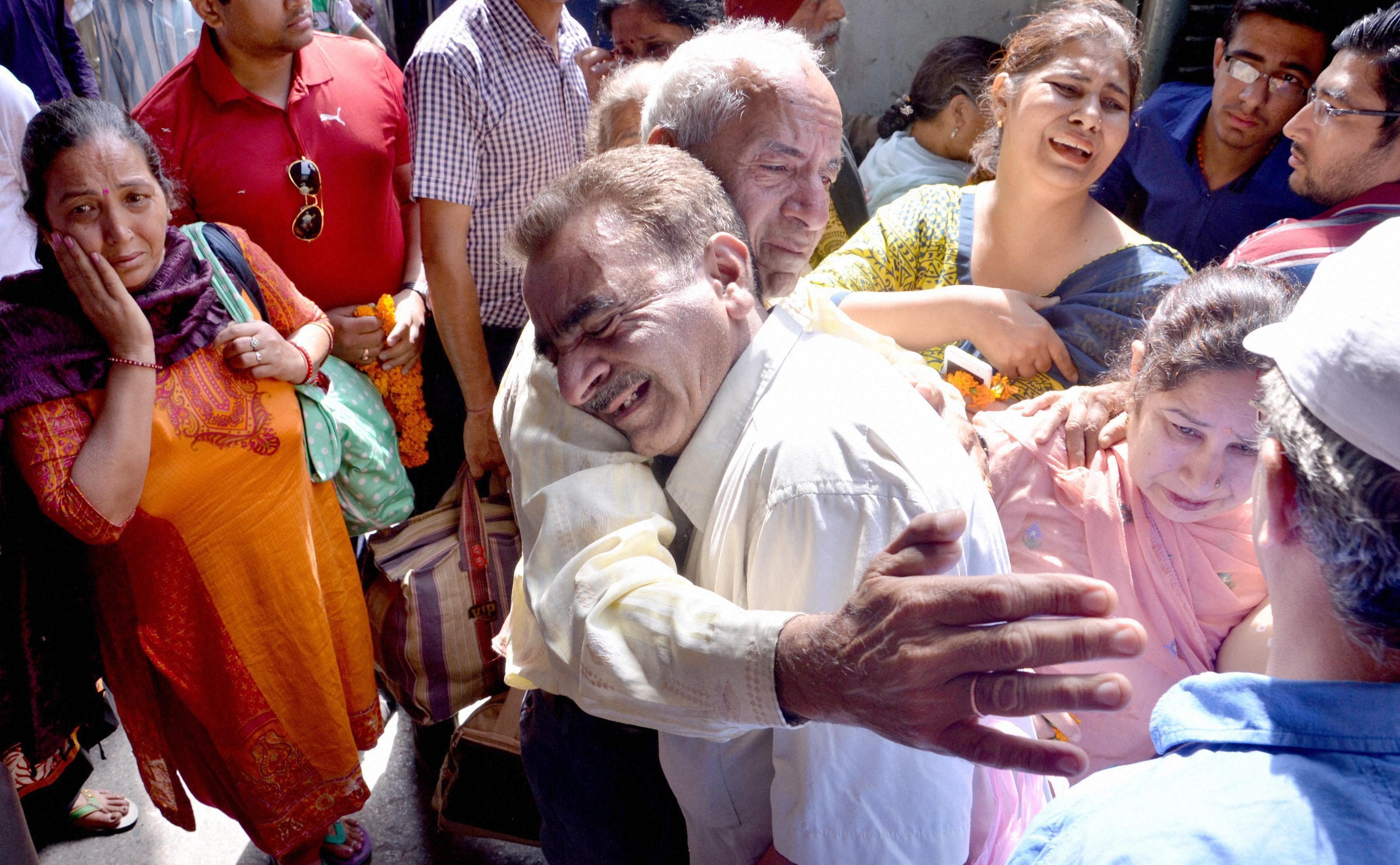 Communication experts have also been rushed to Nepal to restore the broken communication system in the country.
"We are also helping foreigners. We have decided to give free visas to those willing to come to India. Immigration facilities have been set up in this regard," he said.
India has already sent 22 tonnes of food, two tonnes of medical supplies, 50 tonnes of water besides large numbers of blankets and other relief material.
With many members praising Prime Minister Narendra Modi for his prompt response following the quake, Singh also lauded him and conceded that he learnt about the tragedy from the Prime Minister himself. "As Home Minister, I should have been aware but it is he who informed me."
Minister of External Affairs, Sushma Swaraj was constantly tweeting about India's rescue operations and routing help to people who sought help on Twitter.
LO for evacuation of Indians @ Airport Ravi Sharma 009779818700724 Ranveer Bharti 009779851107010 Negi 009779851107020 Jha 0097709818832398

— Sushma Swaraj (@SushmaSwaraj) April 26, 2015
LO for Indian Community Shri Arun Jain (Counsellor) 009779851107005 Ms Sumati Rao 009779851107006

— Sushma Swaraj (@SushmaSwaraj) April 26, 2015
Earlier, as soon as the House met for the day, Speaker Sumitra Mahajan expressed grief over deaths of people in Nepal and India due to the earthquake. The House also stood in silence briefly as a mark of respect for the departed.
The debate also saw several members underlining the need to strengthen the disaster response mechanism, especially in the states, to tide over such a crisis.
Bhartruhari Mahtab (BJD) and Yogi Adityanath (BJP) also wondered about the damage caused by the quake in Tibet and urged the government to find out the details.
Adityanath said the quake was an outcome of the wanton destruction of environment in the Himalayas, especially in Tibet through which China is now planning an underground rail linkage to Nepal.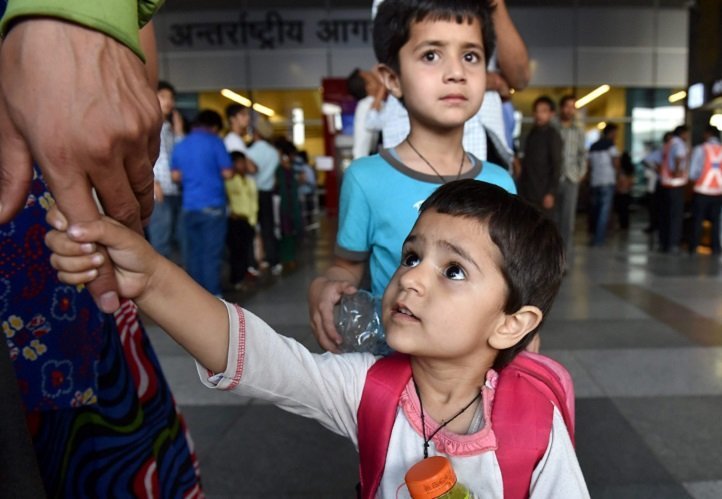 Source : PTI
He also wondered if the society is moving in the wrong direction in this era of technology and inviting the nature's fury. He urged the Centre to tone up disaster management machinery in states, noting that many states have still not set up such a mechanism.
Saugata Roy (TMC) demanded that modern technology should be harnessed to predict such natural disasters and wondered what would be the damage in cities like Delhi and Kolkata if such a quake hit them.
Vinayak Raut (Shiv Sena), Jai Prakash Narayan Yadav (RJD), Mulayam Singh Yadav (SP), Chirag Paswan (LJP) Mohd Salim (CPI-M), P Ravindra Babu (TDP), Arun Kumar (RLSP), Kaushalendra Kumar (JD-U), Prem Singh Chandumajra (SAD) and M Rajmohan Reddy (YSR Congress) were among those who spoke.
Mala Rajya Laxmi Shah (BJP), who is of Nepalese origin, expressed concern over the death and devastation in the Himalayan nation and said she has been unable to reach her brother living there.