Congress MLAs spent the night in the Punjab Assembly seeking a debate on the no-confidence motion against the ruling SAD-BJP combine, which was defeated by voice vote, and have refused to vacate the House till the government gives an assurance that a discussion will be allowed on it. 
Heated exchange of words took place this morning between security personnel and Congress legislators, including Amarinder Raja Warring and Sukhjinder Randhawa, after police did not allow other MLAs to enter into the Assembly complex. 
Congress MLA Bharat Bhushan Ashu said about 23 legislators are still inside the Assembly after the no-confidence motion moved by Congress on Monday was defeated. 
After the House was adjourned by the Speaker on Monday, Congress MLAs continued to stay in the House and several legislators spent the night there. 
Earlier, electricity was switched off but it was later turned on by the staff of the House and the MLAs received refreshments from their supporting staff during the night. 
The House is not sitting on Tuesday on account of Id-ul-Zuha and the proceedings will resume on Wednesday.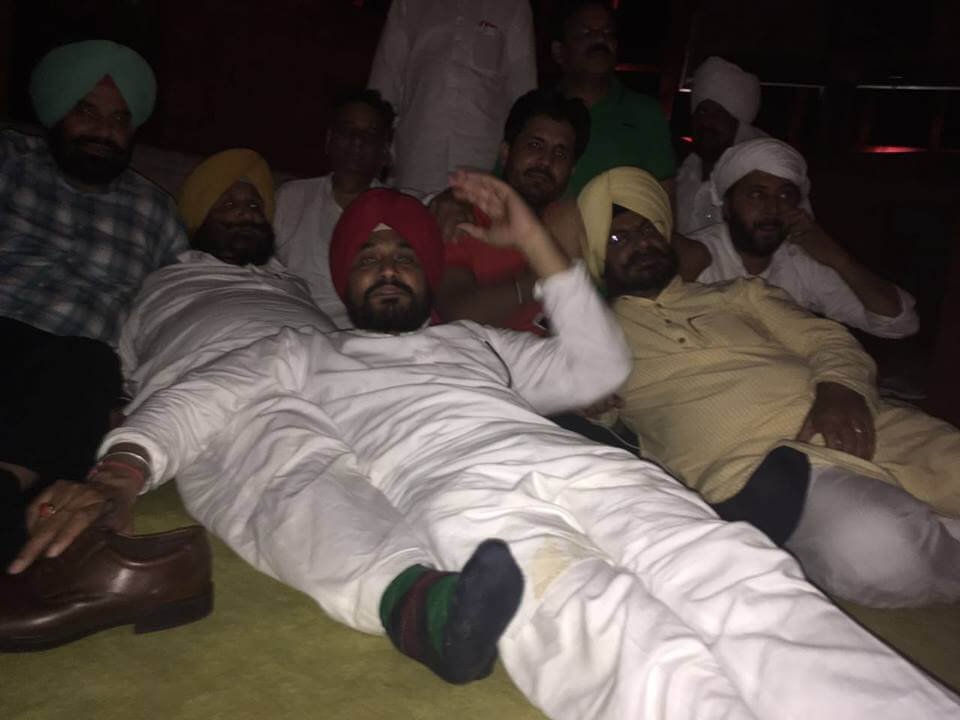 "We will continue to stay here in the Assembly till our demand for allowing debate on the no-confidence motion is permitted," Ashu said, adding, "Police is stopping our MLAs from entering the House." 
Senior leader Ambika Soni, Rajinder Kaur Bhattal, Lal Singh and Raj Kumar Verka were among the MLAs not allowed to enter the House and they were sitting outside the Assembly. Bhattal said not allowing Congress MLAs to enter the House was a "murder of democracy". 
Barricades were put up by security personnel on the road leading to the Assembly in order to stop the entry of MLAs. Congress MLAs also burnt an effigy of Punjab government. 
Punjab Congress chief Amarinder Singh had extended his support to the party MLAs and said it was "totally undemocratic" on part of the Speaker not to allow the discussion on such a serious and sensitive issue facing the state. 
Talking to reporters outside the Assembly complex, Soni said opposition has the right to move no-confidence motion, especially when the situation of Punjab has "worsened" on various fronts. "Every day farmers are committing suicide and there are other burning issues and if Congress legislators are not allowed to speak, then it is undemocratic," she said. 
The no-confidence motion, admitted on September 8, was moved on several grounds, including "failure of the state government to protect the interests of Punjab on the SYL canal issue, deteriorating law and order situation in the state, emergence of mafia groups, rampant corruption, deteriorating fiscal position of the state and failure in apprehending the culprits behind the Bargari sacrilege case". 
(Feature image source: Facebook | Punjab Congress)