The flood situation in Assam turned critical on Monday with seven people losing their lives in a day, affecting over 12.55 lakh people across 20 districts in the state.
According to a report by the Assam State Disaster Management Authority (ASDMA), seven people were killed in various flood-related incidents in Goalpara, Golaghat, Jorhat and Lakhimpur districts.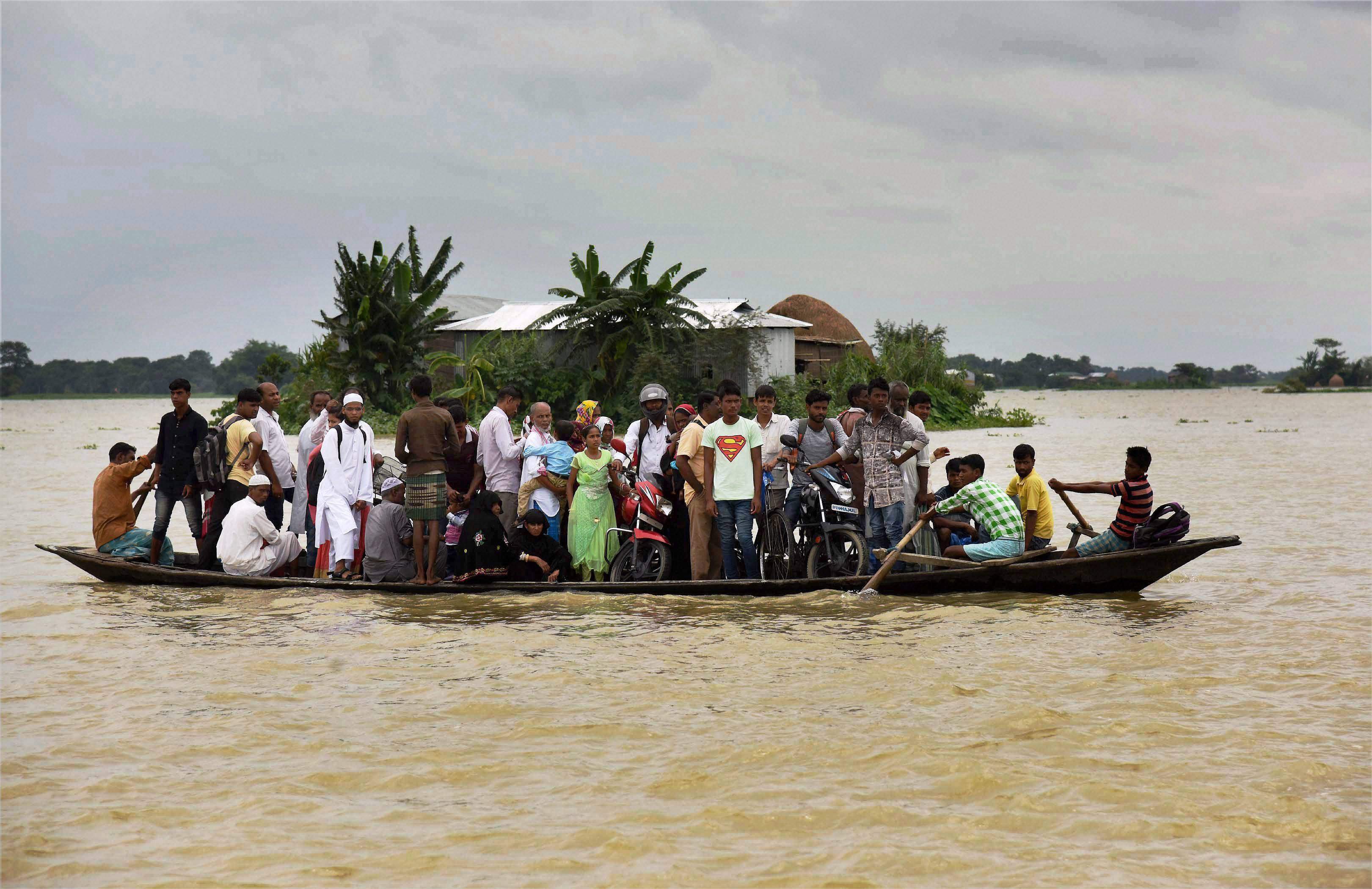 Casualties
With this, the total number of people losing their lives in this year's flood-related cases has gone up to 33, including seven in Guwahati. In the worst-affected Lakhimpur, three persons were killed in the last 24 hours in drowning and landslide cases.
At Nowboicha area, Kanak Gogoi (50) drowned, while a couple Krishna Bahadur Dorji (55) and Sulemaya Dorji (45) were killed in landslide in the Narayanpur area.
In Jorhat district, two kids – Binod Bhuyan (4) and Munu Bhuyan (6) – died due to drowning in Teok area, ASDMA said.
Bijoy Bhuyan (54) also died due to drowning at Bokakhat in Golaghat, while another minor Sagar Das (12) drowned at Matia in Goalpara.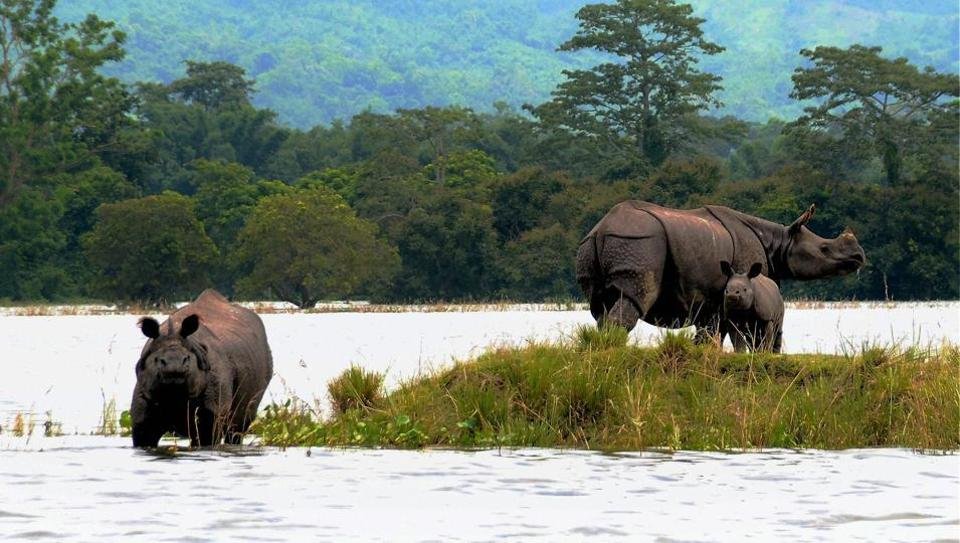 Affected areas
The ASDMA said more than 12.55 lakh people are suffering at present in Lakhimpur, Darrang, Jorhat, Golaghat, Cachar, Dhemaji, Biswanath, Karimganj, Sonitpur, Majuli, Barpeta, Nagaon, Nalbari, Sivasagar, Morigaon, Chirang, Dibrugarh, Dhubri, Kokrajhar and South Salmara districts.
Till Sunday, 4.87 lakh people were affected in the latest wave of floods in the state. 
Kaziranga National Park
Most of Kaziranga National Park is under water, leaving some animals dead and some moving to nearby highlands. Some animals were killed by speeding vehicles on the National Highway 37, which passes through the Park. At least six hog deer have died, reports Indian Express.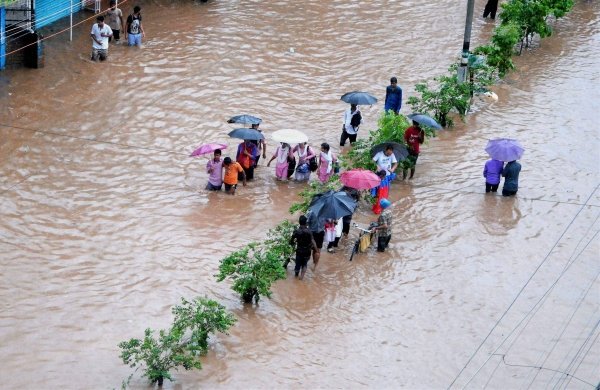 Forest guards have started patrolling in boats, specially during night, with the help of other agencies like Assam Police and Special Task Force to save the animals from poachers.
The ASDMA said 2,053 villages are under water at present and more than 1.05 lakh hectares of crop areas have been damaged. Across the state, 4,48,803 animals and poultry have been affected by flood waters.
Lakhimpur, the worst affected district
The worst-affected is Lakhimpur, where over 2.92 lakh people have been affected by the deluge, followed by South Salmara with more than 2.5 lakh sufferers.
In Guwahati also, water logging and landslide incidents have been reported, but there is no casualty.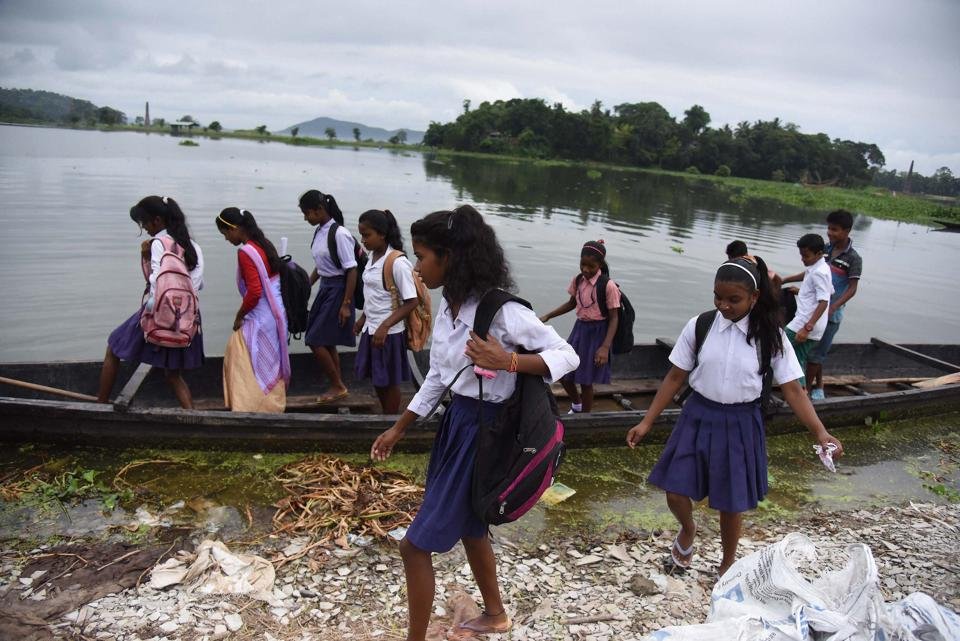 Government's action
Authorities are running 148 relief camps and distribution centres in 11 districts, where 18,295 persons are currently taking shelter. Government has distributed 2,523.70 quintals of rice, 461.11 quintals of dal and 130.34 quintals of salt among the flood victims, the ASDMA said.
Due to impact of the floods, many roads, embankments and bridges have been damaged in several districts, including Kokrajhar, Lakhimpur, Dibrugarh, Majuli, Biswanath, Barpeta, Dhemaji, Golaghat, Sivasagar, Karimganj, South Salmara and Nalbari.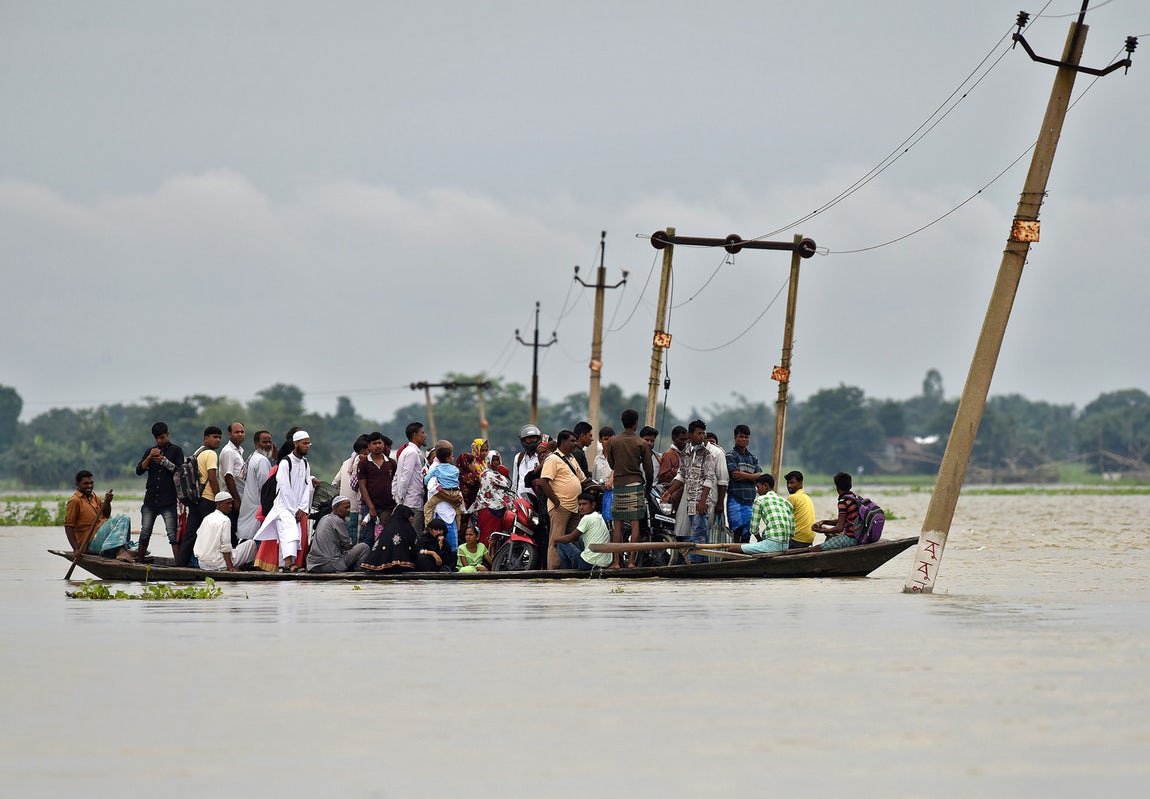 Brahmaputra flowing above danger mark
Currently, the Brahmaputra is flowing above the danger mark at Nimatighat in Jorhat, Tezpur in Sonitpur, along with Dibrugarh, Goalpara and Dhubri towns.
Other rivers like Subansiri at Badatighat in Lakhimpur, Dikhow at Sivasagar town, Dhansiri at Numaligarh in Golaghat, Jia Bharali at NT Road Crossing in Sonitpur, Puthimari at NH Road Crossing in Kamrup, Beki at Road Bridge in Barpeta, Barak at Badarpurghat in Karimganj and Kushiyara at Karimganj town are flowing above the danger mark.
(Feature image source: PTI)
(With inputs from PTI)