(A little note for Ashish Shakya, Rohan Joshi, Tanmay Bhatt and Gursimran Khamba: We sincerely hope that by the time you arrive for the fourth episode, you are not covered in bruises.) In their third episode , All India Bakchod chose to mock Narendra Modi (and the BJP), the laws of India and police brutality. They actually showed a video of a policeman who wore a cricket helmet on duty. It is precisely the kind of thing you need to see to believe.Yes, AIB noticed it all and being residents of Mumbai they 'wisely' steered clear of mocking the Shiv Sena,who didn't win even a single seat in the recently concluded Bihar elections. As Gursimran Khamba mentioned — he prefers that the ink remain within the pen.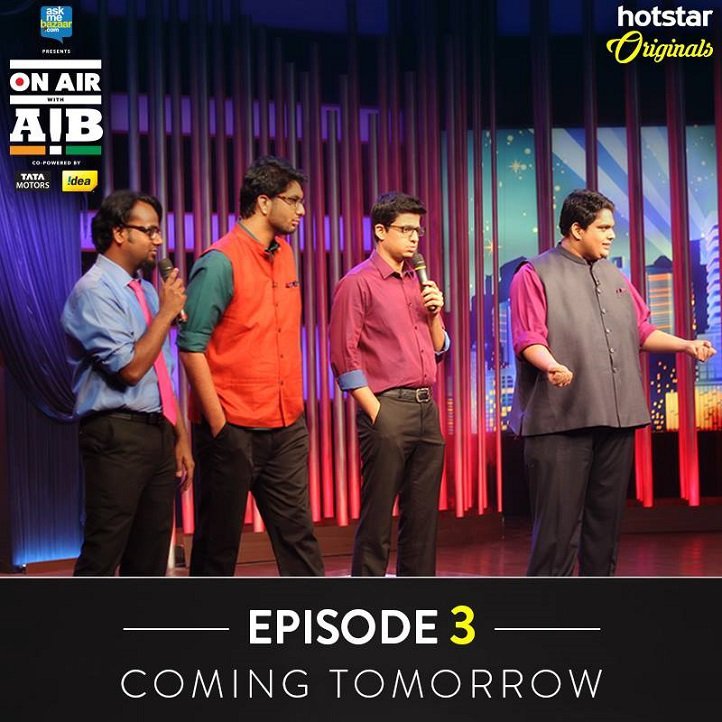 Ashish Shakya started the show by borrowing one of Shah Rukh Khan's immortal lines and conveniently used it to mock the BJP."Bade bade states main, bade bade losses hotey rehte hain."And then, the Facebook page of AIB , the Arnab Goswami madness and election coverage (outrage) all followed. Their boldest step, however, was taking on the cops and pointing out how over the years police have insensitively not thought twice before giving the lathi charge to protesters and youngsters alike. This time, they concentrated on how unfair the laws of India can seem at times. For example, if you ever get hit by a cop — you could end up dead, injured or get a concussion but justice is much, much harder to get. Their jokes were hilarious (as usual) and ironical too but somehow they still lack the AIB touch of old. While they compared Facebook page of AIB of Bihar….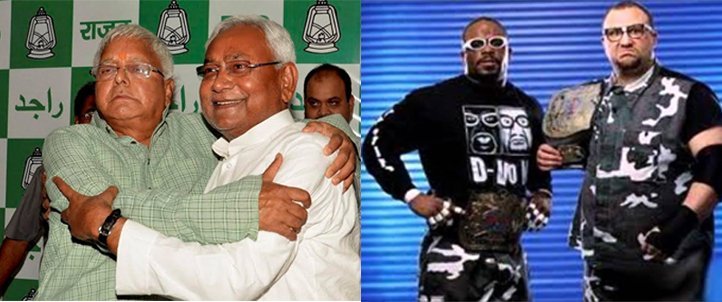 they also mocked Modi's meeting with LK Advani, on the latter's Birthday, which also happened to coincide with the day the Bihar verdict was declared.
However, the mockery isn't anywhere close to AIB Roast standards. This isn't even close to the kind of trolling they are truly capable of. You will get an idea of what I am trying to say when the episode reaches the " Can You Not " segment.
One couldn't help but wonder why Rohan Joshi stopped in his tracks when he was comparing Prem Ratan Dhan Payo and Game Of Thrones ? His exact quotes were
" Prem Ratan Dhan Payo is a movie about loving your family, Game Of Thrones is about… "He went quiet suddenly but in your head you could practically hear him say "f**king your family," and picture the Lannister twins. Secondly, they told their viewers to stop spreading rumours about Neil Nitin Mukhesh's 'role' in Game Of Thrones , but as funny and logical their reasons were… they also forgot that they too played their part in spreading them. Remember the picture below? It was released by them on the same day this rumour went viral on social media .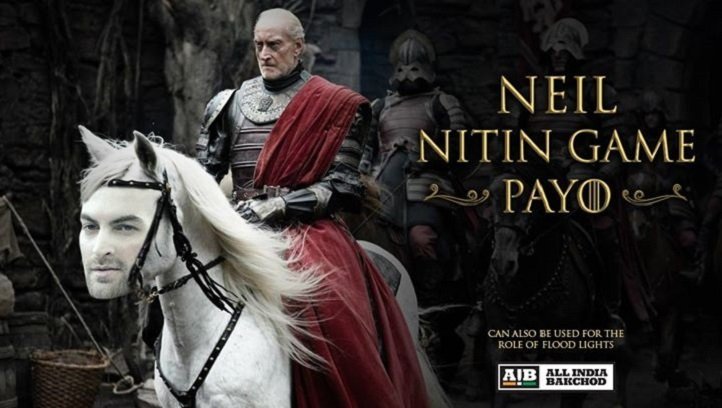 Previously, in the review of the first episode of the series, ScoopWhoop had mentioned: "they are probably still exploring the limits of what they can and cannot do. And in that promise, lie a few more sarcastic laughs", and that still holds true.Yes, their venture is still a work in progress. Nevertheless, if you are ever presented with an option to watch with Bigg Boss or On Air With AIB, the latter one should always be your pick.(You can watch the entire episode for free on h : Facebook page of AIB ).