Man-of-the-match awards are often straight forward, despite what the presenters would have you believe. 'It was tough choice today with X doing so well, along with Y and Z but in the end, the award goes to ABC,' they'll exclaim at the top of their voices. The occasions were the decision is truly hard to make are few and far between.
The morbidly named 'Eliminator' in IPL that saw Sunrisers Hyderabad 'eliminate' Kolkata Knight Riders by a handsome 23-run margin was one such occasion.
The award ultimately went to Moises Henriques, who made 31 runs off 21 balls and picked up the crucial wickets of Yusuf Pathan and Suryakumar Yadav. Fair enough, good performance.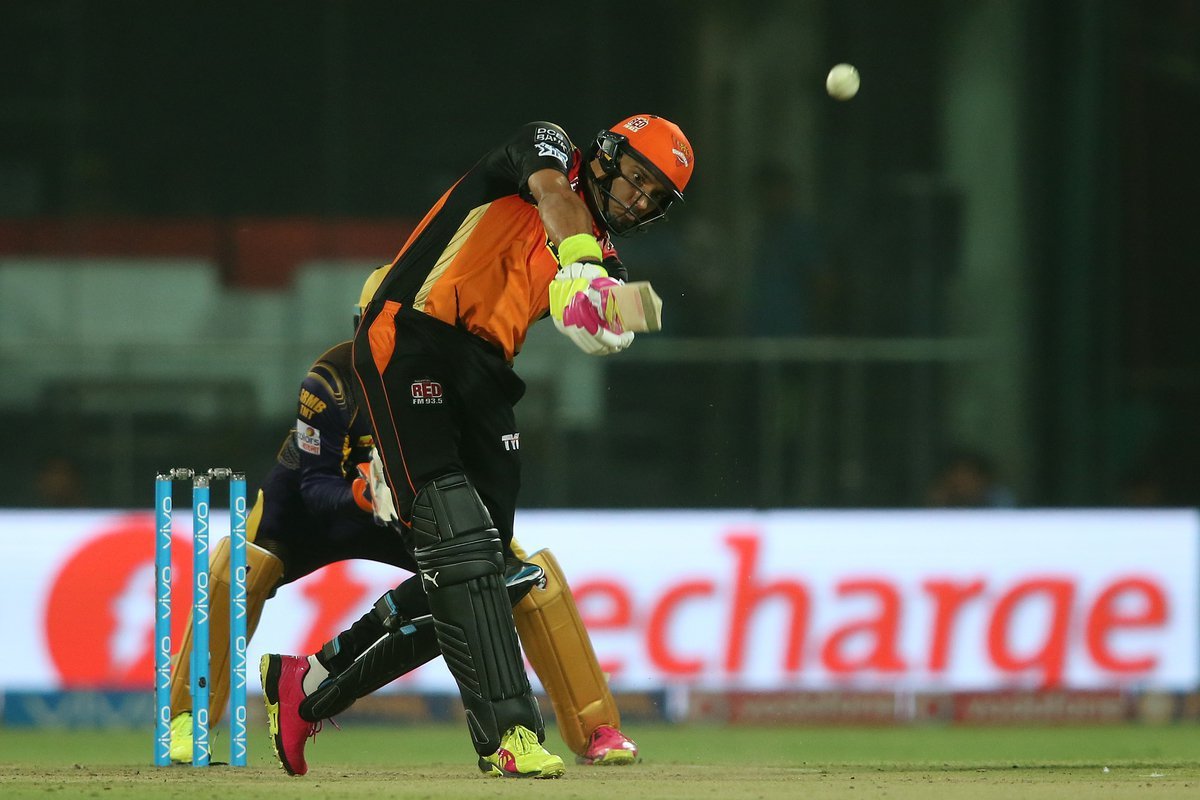 But was it the most influential performance of the match? That had to be Yuvraj Singh, the man who knows a big occasion like the back of his hand. (Yes, yes that 21-ball 11 in the 2014 World T20 final still hurts. But the number of times he has stepped up in crunch situations for India far outweigh the occasions that he did not.)
Consider this: SRH, known for their top-heavy batting lineup, were 71/3 at the halfway stage, with their top 3 back in the pavilion. This was a recipe for potential disaster — a low-score batting first, in a tournament where the chasing teams have won 38 of the 58 matches played so far!
In that context, Yuvraj Singh's scintillating innings of 44 runs in 30 balls was worth its weight in gold. Six of his eight boundaries were majestic shots — the front foot pull, on-drive after dancing down the track, sweeping between two deep fielders among them. And when Yuvi hits a six, it's almost always magical. This time it was a shimmy down the track to the mighty impressive Kuldeep Yadav and it sailed over long on.
He ran Deepak Hooda out. He, almost inexplicably survived a run-out chance — look at this image below. How he survived that chance will give Robin Uthappa — who hit Yuvraj's boot with the throw — a sleepless night.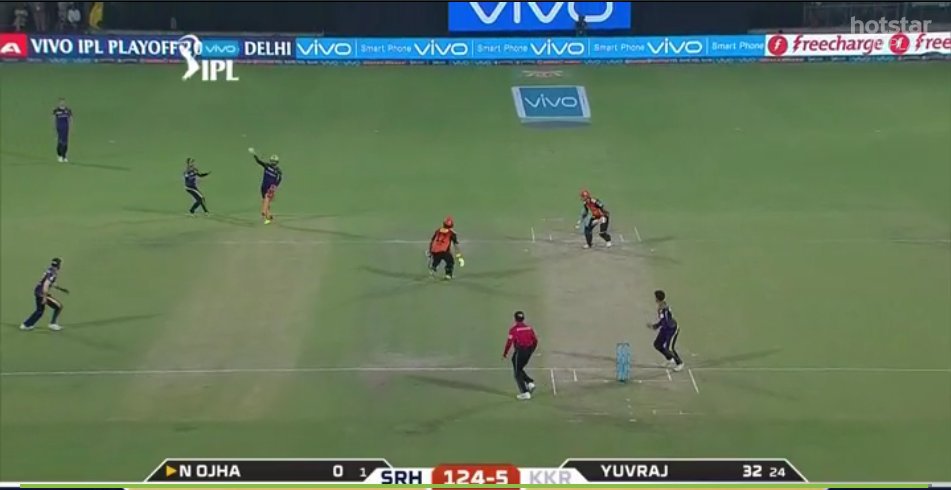 But when he got going, Yuvraj was an absolute delight to watch. As he always is.
And he didn't stop there. Yuvraj was fielding at point – not a sight cricket fans are used to these days. It was the 7th over and KKR were cruising at 53/1. Gautam Gambhir set off for a single after nudging it to point, Yuvraj flies in, collects the ball one hand and with just one stump to aim at, effects a brilliant direct-hit. Colin Munro was caught well short. 
Remember his second international match in Nairobi when he made 84 crucial runs against World Champions Australia and followed it up with a direct-hit of finisher extraordinaire Michael Bevan?
Yes sir, this was vintage Yuvraj Singh!
Yuvraj Singh has great ability in hitting the stumps directly I still remember his first match vs Aus in 2000 Champions Trophy..

— Broken Cricket (@BrokenCricket) May 25, 2016
More often than not, the players involved in a match have a better handle on when a game turns from one team to another. So let's hear it from Gautam Gambhir, KKR's captain:
I thought it was a very good wicket to bat on, 160 was chaseable. I thought Colin's run-out was a turning point. And we lacked partnerships. Someone needed to play a Yuvi kind of cameo, it was an unbelievable innings, changed the momentum in their favour. And if one of our batters continued like that, we could have won the game.
Well, there you have it. From the horse's mouth.
Not to take anything away from the rest of the Sunrisers team — especially yorker-machines Bhuvneshwar Kumar and Mustafizur Rahman and some brilliant catching in the outfield — but the most influential performance for the Men in Orange came from Yuvraj Singh.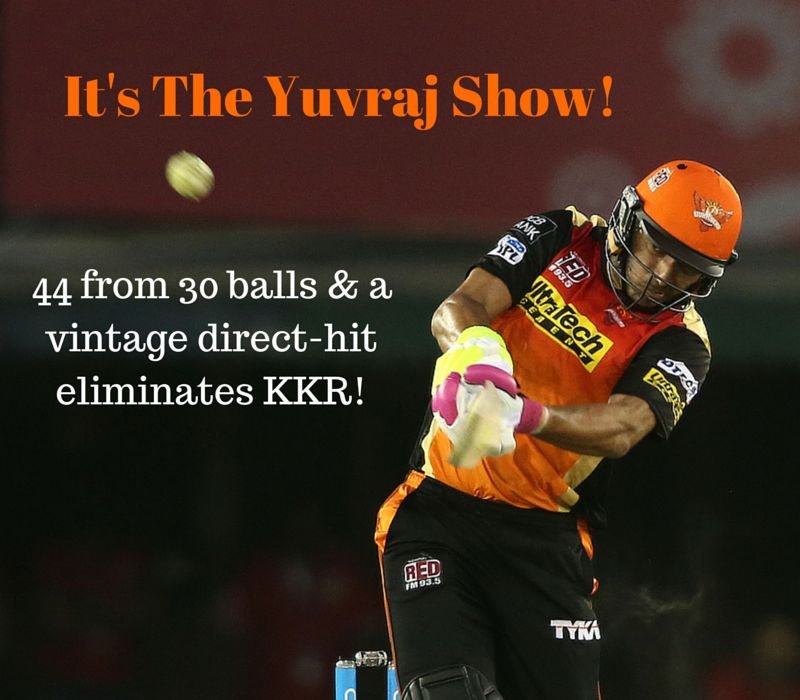 Sunrisers live to fight another day. Kolkata Knight Riders, with their cheer-leaders in tears, are out of the tournament. 
And Yuvraj Singh is still a star on his day.
Bonus viewing: That Yuvraj Singh swagger