Highlight
In a midnight swoop, police arrested five students of the Film and Television Institute of India (FTII) in Pune, charging them with rioting and other offences in connection with the gherao of director Prashant Pathrabe.
The students who were on strike for the last 69 days against appointment of Bharatiya Janta Party member and TV actor Gajendra Chauhan as the institute chairman, had gheraoed Pathrabe on Monday, August 17, evening challenging his decision to go ahead with the assessment of the incomplete diploma film projects of the 2008 batch.
The director had remained confined in his office cabin for over six hours. Those arrested included the FTII Students' Association (FSA) representative, Vikas Urs.
"FIRs have been filed against 15 students out of which five have been arrested," DCP T Tushar Doshi told PTI. The accused students have been charged under various sections of IPC including 143, 147, 149, 323, 353, 506 etc. dealing with offences some of them non-bailable related to unlawful assembly, criminal intimidation and rioting. The FIR filed on a complaint by Pathrabe stated that the accused obstructed and wrongfully restrained him after office hours and mentally harassed him questioning about the assessment work.
The students are also charged with vandalising the director's office and damaging glass panes, computer and table. The students have termed Pathrabe's decision to conduct the assessment of incomplete film projects as unjust, unfair and unjustified without approval of the academic council of FTII and aimed at weakening the current protest.
The Information and Broadcasting ministry has refused to hold further dialogue with the agitating students after failure of the July 3 talks in Delhi where the demand for removal of Chauhan was cold-shouldered by the officials, asking them to return to classes being boycotted since June 12.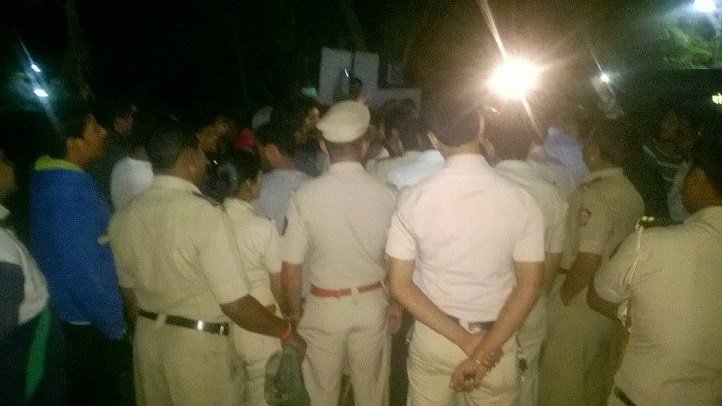 Expressing shock over police crackdown, Delhi Chief Minister Arvind Kejriwal on Wednesday, August 19, offered to provide space to agitating students for their classes. The Delhi government is even ready to convert the temporary arrangement into a full-fledged institute.
Kejriwal and many icons from Bollywood condemned the arrest of the FTII students :
Am shocked to hear whats gng on at FTII. An internationally reputed institute being systematically destroyed by govt's wrong decisions(1/3)

— Arvind Kejriwal (@ArvindKejriwal) August 19, 2015
My offer to FTII students- Del govt can provide u temp space in Del. Run ur classes here till central govt agrees(2/3)

— Arvind Kejriwal (@ArvindKejriwal) August 19, 2015
If finally, central govt doesn't agree, we'll convert this place into full fledged institute n students can continue studying here only(3/3)

— Arvind Kejriwal (@ArvindKejriwal) August 19, 2015
There was a time #FTII was considered one of the best film schools in Asia and produced some brilliant talent. What happened?

— Shekhar Kapur (@shekharkapur) August 18, 2015
Its shocking that the government can not find the right person with the right vision for FTII- they'd rather let it develop into this mess!

— Rajat Kapoor (@mrrajatkapoor) August 18, 2015
Never seen a govt. fall so low, so quick. Family-packs of lies being sold as achievements, while freedom is crushed daily. #JaiHind #JaiHind

— VISHAL DADLANI (@VishalDadlani) August 18, 2015
"The police coming in was very bad. I think it shouldn't be allowed at all. I don't think students should be put in lock-ups. They should be sent back promptly. They are not criminals, they are students. That is not the way to handle the issue. Unless, of course, the students threatened someone or have beaten up someone belonging to the administration. I would like the administration to extend a hand to the students. You can't sit on a high horse. Unless if you want to close down the institution which they have every power to do. Which would be a great loss although we have many film institutions in the country today. I think FTII has a special place because it is a tried and tested system in cinema and television," said film director Shyam Benegal in an interview with The Indian Express .
In a video taken by The Indian Express Online Pathrabe shook his head when he was asked if the students harassed him or humiliated him.
A three-member team, headed by the Director General of Registrar of Newspapers for India SM Khan, has been constituted by the Information and Broadcasting Ministry to assess the ground situation in FTII. The team comprising of Khan and two other officers will visit FTII where students are agitating over the appointment of actor Gajendra Chauhan as its chairman.
"The team headed by Khan and comprising two more I&B; Ministry officials will visit Pune tomorrow and give its report on the situation there," said official sources.
(With inputs from PTI)