In a nearly 6000-word letter published on Thursday, CEO Mark Zuckerberg laid out Facebook's global ambitions and explained how Facebook could save the world.
The post on his Facebook page, titled "Building Global Community," said the social network with some 1.8 billion members should play a role in improving people's lives.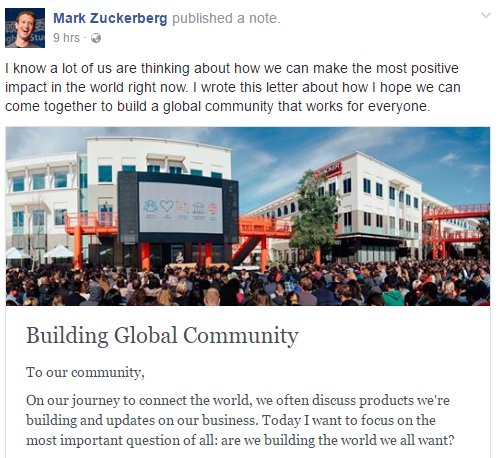 The 32-year-old executive touched on dozens of global problems like fake news, terrorism and more in his letter before addressing how Facebook can solve them and what kind of world he thinks Facebook can help create.
"Our greatest challenges also need global responses — like ending terrorism, fighting climate change, and preventing pandemics. Progress now requires humanity coming together not just as cities or nations, but also as a global community," he wrote.
Zuckerberg said that Facebook could move far beyond its roots as a network for friends and families to communicate, suggesting that it can play a role in five areas, all of which he referred to as "communities," ranging from strengthening traditional institutions, to providing help during and after crises, to boosting civic engagement.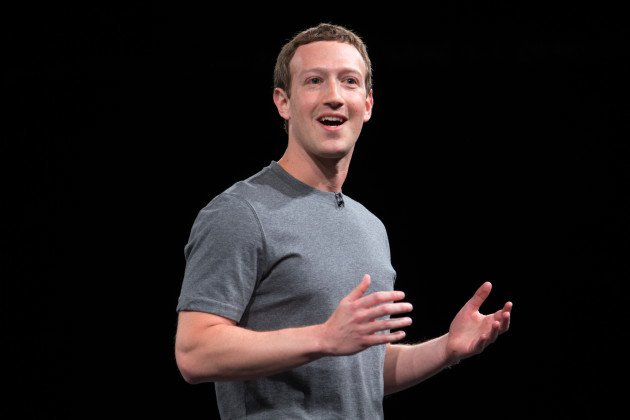 One area where Zuckerberg wrote that Facebook would do better would be suggesting "meaningful communities." Some 100 million users are members of groups that are "very meaningful" to them, he wrote, representing only about 5 percent of users.
Facebook is also using artificial intelligence more to flag photos and videos that need human review, Zuckerberg wrote. One-third of all reports to Facebook's review team are generated by artificial intelligence, he wrote.
He ended the letter quoting from a letter Lincoln wrote to Congress in the depths of the Civil War: "We can succeed only by concert. It is not 'can any of us imagine better?' but, 'can we all do better?' The dogmas of the quiet past, are inadequate to the stormy present. The occasion is piled high with difficulty, and we must rise with the occasion. As our case is new, so we must think anew, act anew."
If you want to read the full letter, you can find it on his Facebook page .