A powerful earthquake of magnitude 6.7 killed two people and injured scores when it struck near major Turkish and Greek tourist destinations in the Aegean Sea early on Friday, Turkish and Greek officials said.
The Guardian reported that nearly 200 people have been injured in Greek and Turkish coastal towns, with 120 on the Greek holiday island of Kos and 70 in Turkey.
Across a narrow Aegean Sea waterway in Turkey's Bodrum, around 70 people were admitted to hospital, injured in their attempts to flee the overnight temblor which struck at 1.31 a.m. local time (6:30 p.m. ET on Thursday).
The tremor is the second in the broader region exceeding a magnitude of 6.0 this year, a level which can cause considerable damage.
Greek authorities had dispatched helicopters to airlift the injured to the larger island of Rhodes for treatment, Yiorgos Hadjimarkou, the head of the South Aegean region said.
"Our primary concern right now is (safeguarding) human life," he told Greek state broadcaster ERT.
Police sources said the roof of a bar in Kos collapsed. The Greek coastguard said damage was reported to the port of Kos, which is near a tourist strip of cafes and bars. A passenger ferry was unable to dock because of extensive damage.
The European quake agency EMSC said a small tsunami could be caused by the quake, but Turkish broadcasters cited officials saying large waves were more likely.
Several stores were damaged in Bodrum's Gumbet district as a result of rising sea levels, store owners told broadcaster NTV.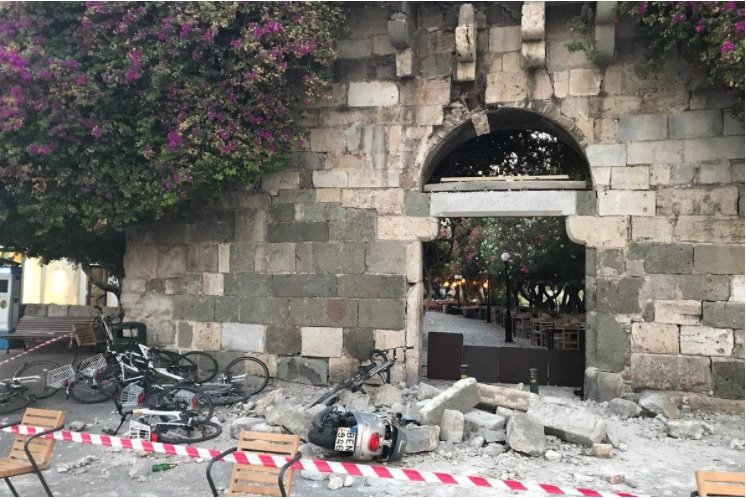 The temblor, initially reported as a magnitude 6.9, was very shallow, only 6.2 miles (10 km) below the seabed, the U.S. Geological Survey said.
Turkish and Greek authorities put its magnitude lower at 6.3 and 6.4. Local authorities said the quake was felt across the Aegean coast.
In Turkey, emergency authorities warned citizens about aftershocks, and added there were no casualties or major damage in Turkey.
"Our people should know that aftershocks are continuing, so they should refrain from entering damaged or vulnerable structures," Mehmet Halis Bilden, head of Turkey's Disaster and Emergency Management Presidency told broadcaster CNN Turk.
Television footage from the Mugla province showed hundreds of people abandoning buildings and waiting on the streets. It showed cars shaking and products falling off shelves at stores across the region.
Mugla Governor Esengul Civelek told a news conference that initial reports showed there was no major damage, though Mayor Osman Gurun said power outages hit parts of the province.
Turkey is prone to earthquakes because it is located between the Arabian plate and Eurasian plate.
(With inputs from Reuters)
Feature image source: Reuters