Prime Minister Narendra Modi on Thursday was to speak on the Motion of Thanks to the President's address in Parliament, and given Rahul Gandhi's speech on Wednesday, you knew fireworks were expected. And the PM didn't disappoint. 
Using the speeches of Jawaharlal Nehru, Indira Gandhi and Rajiv Gandhi, Modi targeted the Congress and its leaders with scathing criticism. He said Opposition is the biggest impediment in India's progress, and that it was their inferiority complex that caused them to act in this manner.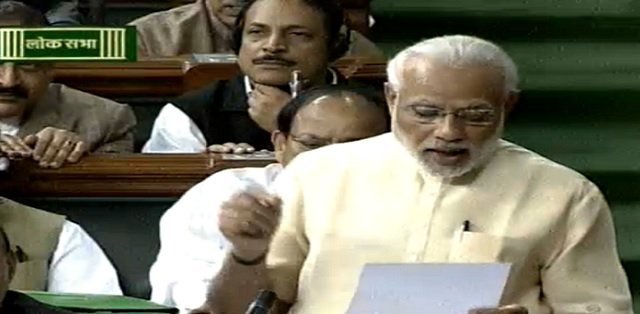 Here are the highlights of the speech:
The President has said that Parliament is for debate. We are seeing the nation is worried about what has happened in the last few days
The biggest blow is to the Opposition if Parliament doesn't function since they can't raise people's voices. Parliament is a forum where issues are placed, and answers are given. This is not a lecture from PM Modi but one from past PM Rajiv Gandhi. (Even Rahul Gandhi couldn't help smiling)
I seek the help of all parties in passing important bills. These bills are for the people. It is to remove the middlemen. These bills are to make the government more accountable.
This is also said by Rajiv Gandhi. And we should consider the words of our elders.
In the context of stopping Parliament, some issues seem crucial.
We have to fulfill the destiny for which we have come to Parliament. Whether we are fit for it or not is to be discovered. This high thought on MPs was stated by Jawaharlal Nehru in 1957. When none of us were here.
There are many bills passed in the Lok Sabha but haven't gone further. GST Bill, we have been hearing, that "this is ours". But it is being stalled. Consumer Protection Bill has been stalled.
(To a shouting MP) – I have received many citations in the past. I thank you for this one with a bowed head.
I would like to air my views. These are the views of a first time MP. Not a PM. You can consider them.
On Women's Day on March 8, can only women MPs be allowed to speak?
During a session, can we have one week in which we will only invite first time MPs to speak?
I am not saying because I am a first time MP but we need to bring in a breath of fresh air into Parliament
Why is Parliament not allowed to function? Because of your (Opposition's) inferiority complex.
You are mocking Make in India? It is for the country. We should discuss how to make it succeed.
Why do we make our nation's image like we have stepped out with a beggar's bowl? I am not saying this…Indira Gandhi did.
No matter what scheme we bring, some people take time to understand it. They take too much time. Some people don't understand only. They then oppose everything we do.
The nation's biggest challenge is the opposition to the nation's progress. It is such a true thing. Indira Gandhi had said it in 1968
The Bangladesh border issue: After decades the matter was resolved. You can say if we had done this what would you have done. Yeh sab toh aap hi ki den hai (All this is thanks to you)
If we provide power to 18,000 villages you can claim that it is thanks to you. This is the result of your rule for 60 years.
There is nothing that you haven't done. I cannot take credit for anything.
You can say 'You can't remove poverty' but that's because you have ensured the roots of poverty run very deep.
We are trying to sort out the problems with MNREGA. I agree 100% with you that there is corruption in MNREGA.
You love bringing up the issue of Gujarat. I know this is your bankruptcy.
There are four states that don't have Food Security Act. They are all Congress-administered.
We are answerable to all. But there are some that are above being answerable to people.
You will take some time to understand this. Koi badam kaam nahin aayegi (eating almonds won't help). You may understand but some may not.
I am facing more allegations than criticism from you. I have learnt to live with that.
But the nation can never forget 26 September 2013. PM Manmohan Singh was in the US. That Cabinet decided an ordinance that was torn in a press conference.
Every MP cannot be less than the PM for the government.
We have a challenge before us and we all have to take this up. We shouldn't worry about what will appear in the papers
There is no shortage of legislation. The bigger question is how do we bring accountability?
In a democracy like India we cannot leave people at the mercy of the bureaucracy. We will have to trust our people.
Even this government needs to reform. I need your suggestions as well. Let us work together to benefit the nation.
 We should all work together for the benefit of the nation.