On Tuesday, Smriti Irani bounced back into the limelight after she was given additional charges of the Information and Broadcasting ministry following the resignation of Union Minister Venkaiah Naidu. 
Irani, who is perhaps the most-trolled minister in PM Modi's cabinet, has a rich history of courting a number of controversies, specially during her stint as the HRD Minister. To top it all, her relationship with media also hasn't been that rosy. Her run-ins with journalists and reporters on various occasions have often become the talking points on Twitter. 
Here's a look at some of the instances:
Smriti Irani Vs Anubhuti Vishnoi
Smriti engaged in war of words on Twitter with journalist Anubhuti Vishnoi over a report in The Economic Times, alleging that Smriti had recommended over 5,000 admissions in the central government-run Kendriya Vidyalaya schools.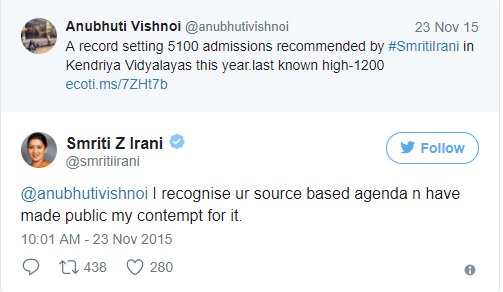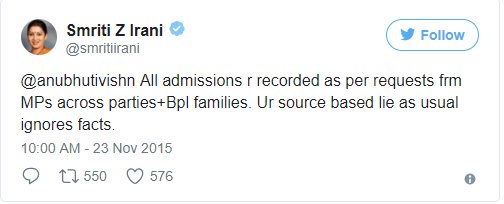 Vishnoi, responded that she had been requesting for the ministry's comments since Friday, but none had come. Irani charged back,
@anubhutivishnoi 2 line humari aur baaki ka version aapka. N by d way respect aap na bhi kare to koi farak nai padta.

— Smriti Z Irani (@smritiirani) November 23, 2015
@smritiirani Ma'am we would publish all that the ministry would say regardless of no of lines. We didn't get anything after several requests

— Anubhuti Vishnoi (@anubhutivishnoi) November 23, 2015
And then fired this insult
Another one with Barkha Dutt
In 2016, Smriti had a fiery exchange with Barkha Dutt when the latter tagged her in a tweet where she was promoting her latest column. She wrote "A Letter To PM Modi From Anti-National Sickular Presstitute"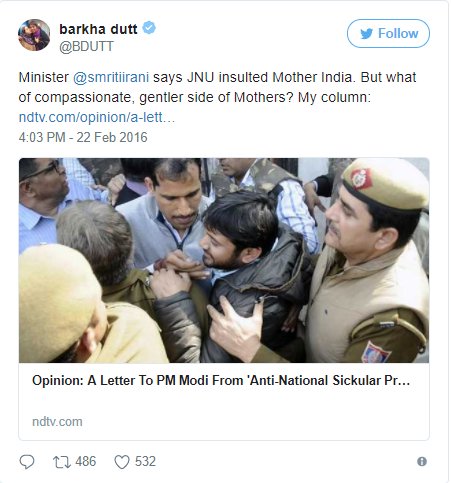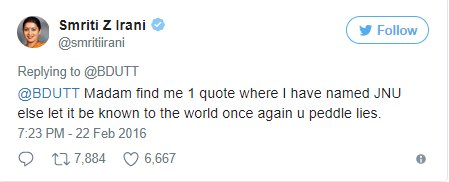 Smriti accused Barkha of selling lies, while the latter attempted to back all her claims by linking various newspaper reports. 
When she gave it back to Sagarika Ghosh 
In December 2015, Smriti Irani lashed out at journalist Sagarika Ghose after the later made fun of the minister's English.
In a chain of tweets, Irani dared the columnist on Twitter asking her to tag her directly and criticise instead of talking behind her back.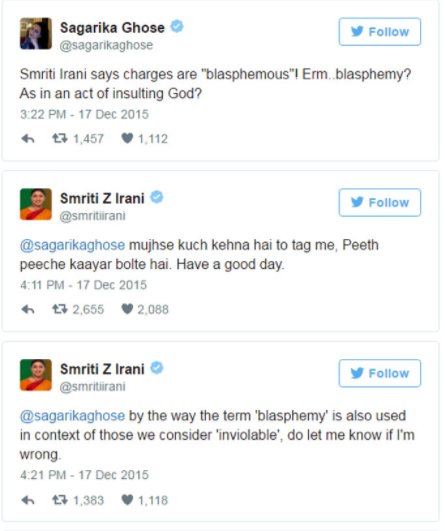 Rajdeep Sardesai too wasn't spared
In May 2015, Rajdeep Sardesai interviewed Smriti Irani on Amethi's food park, BJP's Land Bill, Rahul Gandhi and a number of other issues. In the 25-minute interview, Irani chewed him up and spat him out, one issue at a time.
Smriti Irani also clearly mentioned that she is not a 'Political Cinderella' and does not have a lineage like other politicians do but she deserves equal respect for the work she is doing.
The term "Slaughtering Sardesai" began trending on Twitter, with hundreds of people using the term to poke fun at the journalist.
BBC should do a worldwide telecast of the Slaughtering Sardesai interview video & just call it 'India's Son.'

— Prasanna Karthik R (@prasannakarthik) May 16, 2015
When she gave Ashok Singhal a public dressing down
The incident wasn't so much a politician-journalist face-off but a woman objecting to an allegedly sexist comment by a man. 
Aaj Tak's political editor Ashok Singhal, in a media event at the Delhi University campus, asked Smriti this: "Narendra Modi ne sabse kam umar ki mantri banaya apko-HRD jaise bada portfolio diya. Aur degree ka bhi vivaad hai- aap graduate ya under-graduate hai…Lekin kya khubi lagi aap mein? Kya vajay thi?" (Narendra Modi handed you the Human Resource Department Ministry-which is a big portfolio, despite you being the youngest minister and then's there's the dispute regarding your educational certificates as well. What was the reason of him appointing you as the HRD Minister? What did he like in you?).
An angry Smriti called out the journalist for the sexist jibe and asked him if he would have asked a similar question to a man, leaving a baffled Singhal desperately trying to wriggle out of the situation.
.