On a Thursday afternoon, hundreds of Delhi Police personnel along with a few CRPF troops stood guard outside the Uttar Pradesh Bhawan in Delhi's Chanakya Puri. The service road that connects the building from the adjacent Assam Bhawan was blocked for security reasons. 
The security arrangement was taken as a precautionary measure because hundreds of youths had gathered to protest against the mysterious death of a Manipur youth in Noida earlier this month. Pravish Chanam, the 22-year-old man who had come attend a music concert on 8th September in Noida went missing after the event. He was later found dead near a hospital where he had been reportedly hospitalised. Three days after his death, police cremated his body without even informing his family.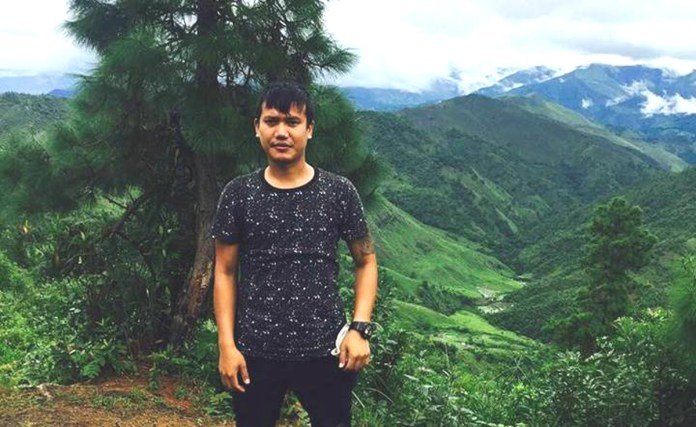 Mystery looms around his death
However, mystery looms around all the events that lead to his death, ranging from how he went missing to his subsequent hospitalisation and death. 
The post-mortem report dated 11/09/2017 mentions that the cause of the death was 'shock and hemorrhage due to head injury'. However the MLC report on 9th September stated an injury on the right leg caused "by hard and blunt object". The post mortem report of Bhim Rao Ambedkar hospital where he was admitted also mentions that there were multiple bruises on his body at the time of his death. But it is still unclear why and how he was murdered.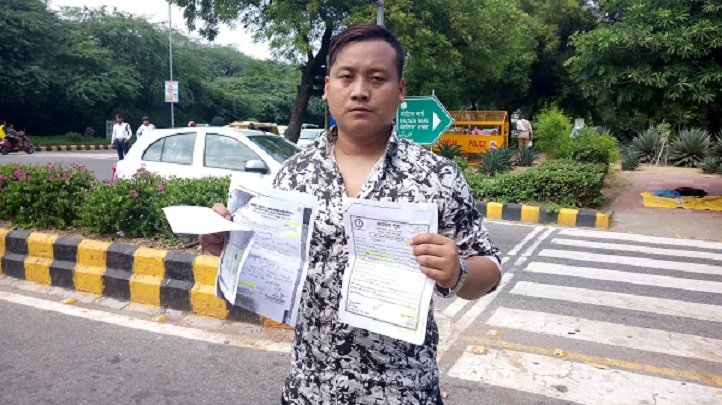 'Noida Police cooked up the story'
"Noida Police has cooked up the story. All these records have different information about the day of his death. How can we trust this?" Pravish's cousin Gobind said.
He backed his allegation with photocopies of the reports of his death. The crematorium's report says he died on 10th September while the district hospital's report says he died on 9th. 
Linthoi, his cousin who lives in Delhi explained how no action was taken by the police when they filed a missing complaint. She said that after they pressured the police, they got a video clip which showed that he was admitted in a hospital. When she went to the hospital, she found that he had gone missing again. It was only after a few days she realised that Pravish had died on 9th and the hospital had cremated his body without informing anyone from the family.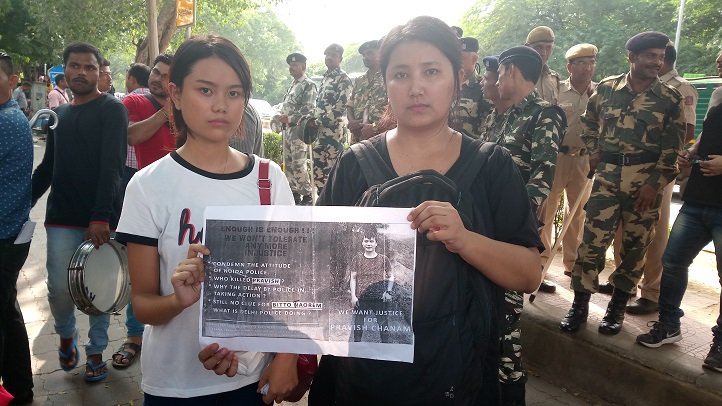 'Many questions which have no answers'
"There was no proper communication between the two police stations – one where the missing complaint was filed and the other where his death was reported. There are many lapses on the part of the hospital and the police. On what basis did they cremate the body? There are many questions which have no answers," she asked. 
Linthoi also said how the SHO of Knowlege Park police station in Noida made racist remarks against her when she first went to file the missing complaint.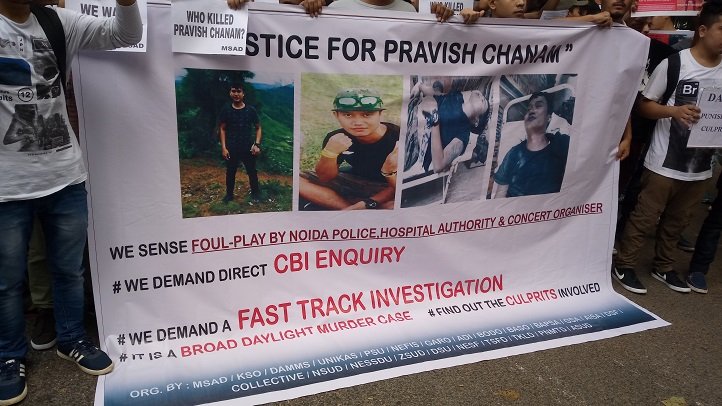 'Waise bhi north-east waale bohot peete hain'
"Arey Madam chinta mat karo, kahin peeke pada hoga, aa jaega wapas. Waise bhi north-east waale bohot peete hain. (Madam, don't worry, he might be lying somewhere after getting drunk. He'll come back. Anyway, north-easterners drink a lot)," she narrated what the SHO had told her.
Scores of protesters from 32 N-E students had participated in the agitation. Student activists from JNU's Birsa Ambedkar Phule Students' Association (BAPSA) were also present to show solidarity with the cause.
Miraj Shah Kori, former president of the Manipur Students Union, who was leading the protests with slogans of 'down with racism' and 'culprits must be held'.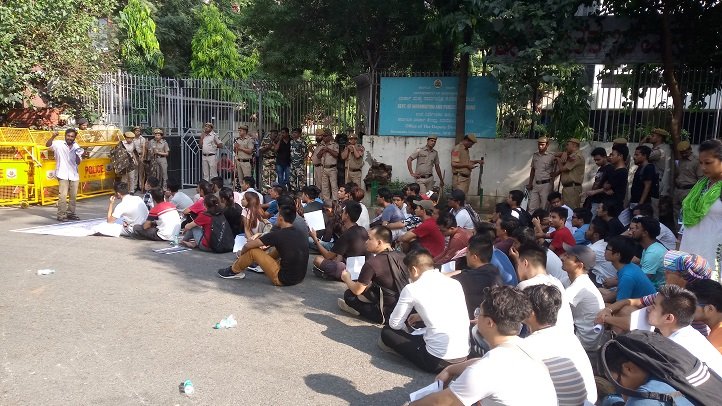 "Chain of such events"
He explained how people are often subject to racism. "This isn't the only incident. Last month, Manipur ex-minister's son Siddhant died in Hauz Khas Village. Police are yet clueless about it. A Manipuri man named Bitto Taorem is missing from Vasant Kunj but nothing is being done.  These are a chain of such incidents," he said.
He also said how there is a complete lack of awareness and understanding among people about racism. Delhi Police came up with this initiative to interact with N-E students. But what purpose will it serve? We are the victims, why educate us? Rather educate the culprits and change the attitude of the government machinery," he said.
(Feature image source: ScoopWhoop News | Sreeraj TK)