A cleanliness-focused advertisement showing Indian constitution's architect Dr B R Ambedkar at the end of a human evolution chain while picking up trash and throwing it in a dustbin, has triggered a controversy. 
Angry reactions from netizens including Dalit groups and activists started pouring on Twitter after the image was shared by some users. According to Ambedkarites, the advertisement was "shameful", "casteist" and "stereotypical" against Dalits – a social group which forms the lowest level of India's caste hierarchy.  
Even the Bahujan Samaj Party criticized the advertisement and asked Union Railway Minister to remove the advertisement.  
The reactions soon translated into a full-fledged police complaint against the signboard. 
Hours later, Antyodaya Group, the agency which designed the ad, said the signboard in question has been pulled down. 
Further clarifying the matter, the founder of Antyodaya Group Sourav Panda took to Twitter said the advertisement campaign had come from his post graduate research on behavior change. He also tendered an apology to those who felt "hurt" by the ad.   
An unnecessary controversy?
An unknown fact about the advertisement campaign was brought to notice by a Mumbai-based fake news-busting-website Social Media Hoax Slayer. The website revealed that prior to Ambedkar, some of the major icons of India's history like Mahatma Gandhi and Bhagat Singh had been shown picking up trash and throwing it in a dustbin. 
Even Mythological film lead 'Bahubali' had been a part of the ad series focusing on individual efforts to ensure cleanliness in the surroundings.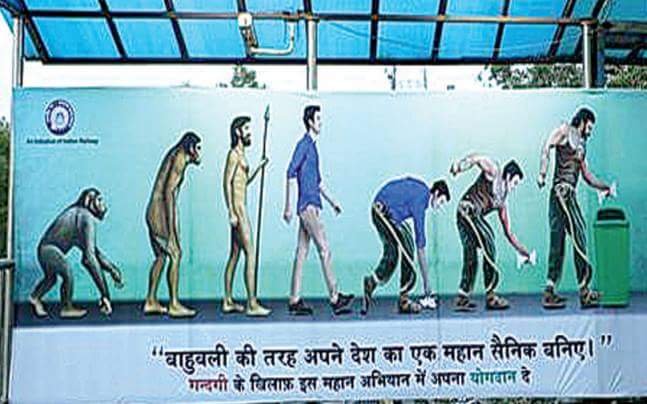 And also Mahatma Gandhi…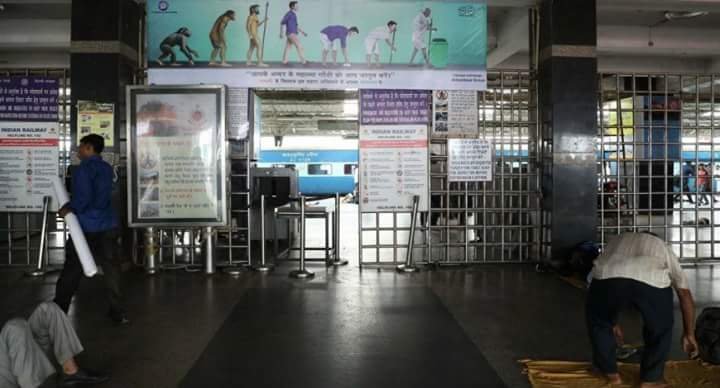 Why the controversy? 
Ambedkar, who was himself a Dalit and fought vigorously for social justice during the independence movement, enjoys a towering stature within India, however he's also considered an icon against "untouchability" and "caste system" by Dalits. A strong critic of manual scavenging and cleaning jobs thrust on Dalits, Ambedkar was a staunch supporter of equality and justice for the downtrodden. 
However, since the rise of BJP, there's a growing feeling among many Dalits that their icon has been somewhat "appropriated" by the ruling party for electoral gains. If viewed through this lens, the reaction against the advertisement becomes easy to comprehend. Even though many Dalits do support BJP, a larger chunk of them find a contradiction between BJP's so-called agenda of Hindutva and Dalit politics. 
That has a reason too. A man much ahead of his time, Ambedkar didn't enjoy a cordial relationship with RSS or Hindu Mahasabha throughout his life. In fact, his brainchild idea of a Hindu Code bill in 1951 – that sought reforms in Hindu law and customs – had drawn maximum opposition from RSS and Hindu Mahasabha. The Hindu right-wing groups also burnt his effigies for his attempt to "destroy the Hindu culture."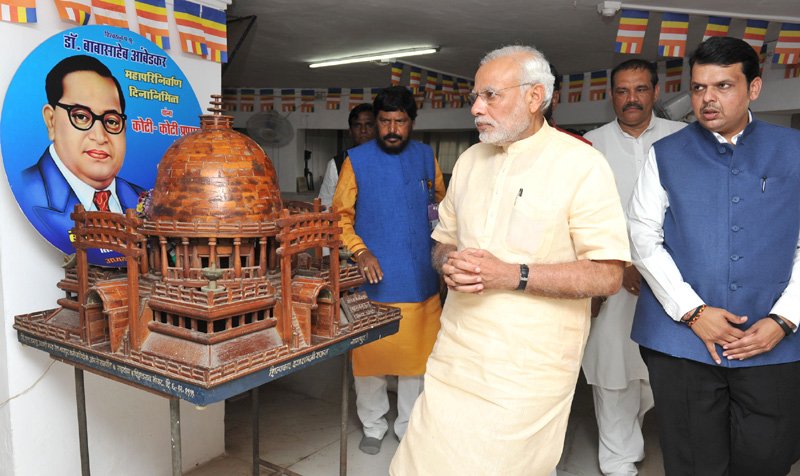 Same is the case with reservations for discriminated groups, which RSS has never supported. Just two years ago, RSS chief Mohan Bhagwat had called for a "social review" of reservation policy. Causing a wave of backlash from underprivileged social groups, RSS went in a damage control mood with BJP, aware of some crucial state elections, quickly stating that it "respected 100 per cent the reservation rights of the SCs, STs and other backward castes." 
Whatever the case, the message was not lost on Dalits. 
Significantly, there have been many instances of caste-based violence against Dalits by the upper-castes who enjoy good relationship with the power circles. There have also been incidents of desecration and vandalism of Ambedkar's statues. Which is why, each and every act of government's effort to include Ambedkar's image, is viewed with suspicion by the Dalit groups.  
Not only that. In the past as well, not everyone has acknowledged Ambedkar's role in the making of India's history. 
In April 2016, Ram Bahadur Rai, a former general secretary of the ABVP, was appointed as chairman of Indira Gandhi National Centre for Arts (IGNCA). During an interview with Outlook magazine, Rai said that the role of Ambedkar in drafting of the constitution of was a "myth" which is part of "identity politics." 
Back in late 90s, former journalist and ex-BJP politician Arun Shourie triggered a huge row through his book 'Worshipping False Gods' after he claimed that Ambedkar had no role in the freedom struggle of India and even accused him to be playing into the hands of the British. Much of it was based on Ambedkar's own writings. Many Dalit groups had demanded a ban on the book during that time. 
Precisely, why the BJP's love with Ambedkar draws suspicion than applause. 
Feature image source: Twitter/SMHS