On Sunday, Twitter witnessed a very personal side of prime minister Narendra Modi after he posted photographs of himself with his mother, Hiraba, when she visited him at 7, Race Course Road – the official residence of the Prime Minister of India – for the first time.
This picture was among the many that Modi tweeted: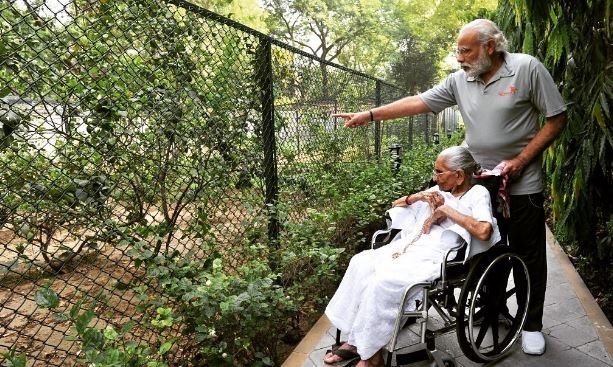 Here, Modi can be seen taking her mother around on a wheelchair and pointing at something specific in a garden.
A Twitter user decided to have some fun with this picture. And he used the image to troll Modi's opponents – everyone from Arvind Kejriwal to Rahul Gandhi to Mani Shankar Iyer.
This is the meme that started it all, not surprisingly directed at Arvind Kejriwal – who is clearly getting under Modi's skin like none else. 
AAP's Ashutosh was the next
Mani Shankar Iyer's 'chai' jab haunting him again
Robert Vadra the 'land-grabber'
"माताजी ये भारत के दामाद हैं"

वाड्रा: नमस्कार माताजी, मोदी को 7RCR खाली करने को बोलिए, ज़मीन के कागज़ मेरे पास हैं pic.twitter.com/bi13GSnQpN— PhD in Bakchodi !! (@Atheist_Krishna) May 16, 2016
'Coz Kejriwal deserves more than one meme
Rahul Gandhi's turn
माताजी, ये हैं राहुल गांधी

RaGa: माताजी प्रणाम, मम्मी ने बोला 3 साल बाद मुझे ये घर मिलेगा, इसलिए सब साफ कर रहा हूँ pic.twitter.com/SqUUlTSiqH— PhD in Bakchodi !! (@Atheist_Krishna) May 16, 2016
Beyond politics
And the user had a rather smart way to conclude his series, by trolling himself