Brazilian women's rugby player Isadora Cerullo melted hearts when she accepted a marriage proposal from her girlfriend at the medals ceremony for the first Olympic rugby sevens competition on Monday.
Television cameras and photographers captured the moment that Marjorie Enya, a manager at the Deodoro stadium in Rio where the competition was played, took the microphone to pop the question to her girlfriend of two years on the pitch.
A tearful Cerullo accepted and, with no ring, 28-year-old Enya tied a ribbon to her finger.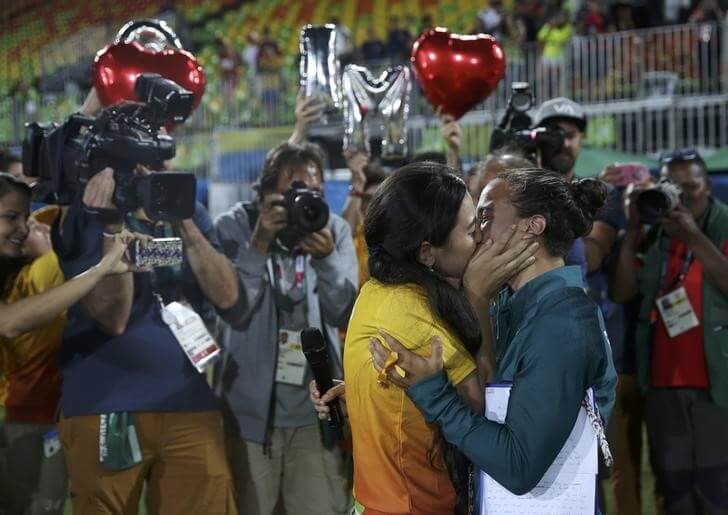 "As soon as I knew she was in the squad, I thought I have to make this special," Enya told BBC Sport shortly afterwards. "I know rugby people are amazing and they would embrace it."
Cerullo, 25, was a member of the Brazilian squad that narrowly missed out on reaching the knockout rounds of the competition, which was won by Australia. Many of the defeated players, however, watched the medals ceremony taking place.
The proposal came after complaints by some female soccer players of homophobic chanting during matches. Brazilian media have reported that fans have chanted 'bicha' – derogatory slang term for homosexuals.
Marks Adams, a spokesman for the International Olympic Committee, said the organization would not tolerate any discrimination on the grounds of sexuality.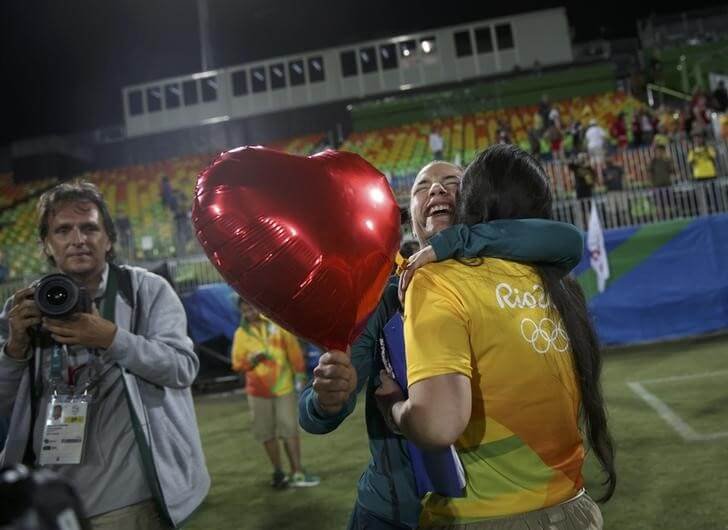 Asked if Enya's proposal set an example of toleration, he told a news conference: "This takes it even further. It's a celebration of that and it certainly made me feel good when I heard about the story this morning."
A record number of publicly out LGBT athletes are competing at this year's Olympics. An estimate by Outsports magazine says 44 are taking part, almost double the number at London in 2012.
Brazilian rugby sevens player Raquel Cristina Kochhann said the rest of the team were delighted by the unexpected proposal.
"It was something really cool for our team mate," she told a news conference. "It was a fun thing for the team and a very happy moment for her personally."
Feature image source: Reuters