The media war is out in the open now. And it's pretty brutal.
Ever since Times Now's editor-in-chief Arnab Goswami bagged an interview with Narendra Modi – his first to a private news channel after becoming prime minister – rival publications and news channels have been taking potshots at him.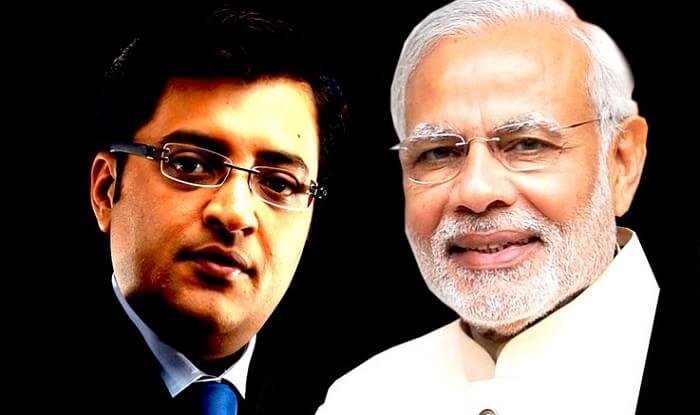 Soon after the 'exclusive' interview was aired, senior journalists such as Rajdeep Sardesai, Sagarika Ghose and Hartosh Singh Bal tweeted out their "disappointment" for Goswami's seemingly indulgent line of questioning and also called out Modi for his "media bias".
But last night, Aaj Tak took a new low – when it acted like a troll and called Goswami a 'chamcha' through a meme.
A twitter user noticed it on Aaj Tak's official, verified handle and immediately sent out a screenshot, calling the act shameful
The meme referred to a 2007 interview of Modi by journalist Karan Thapar, who then worked with CNN-IBN, but is now with India Today, Aaj Tak's parent group. Repeatedly asked questions about the post-Godhra riots in 2002, Modi cut the interview short.
He first asked for water, then removed the microphone from his shirt and told Thapar, "The friendship should continue. You came here. I am happy and thankful to you. These are your ideas, you go on expressing these. I can't do this interview. Three-four questions I have already enjoyed. No more please," he said, and walked out.
The meme aimed to establish that while Modi couldn't face a real "journalist", he was at ease when talking to a 'chamcha' like Arnab Goswami.
All hell broke loose on Twitter and #shameonAajtak and #blockAajtak started trending.
The channel deleted the tweet and offered the most obvious excuse – that it wasn't them!
@manichejain Our apologies. this was to go from someone's personal handle. Since we have humans behind the machines, please do omit

— आज तक (@aajtak) June 28, 2016
After the user retorted saying the channel to "tweet responsibly", Aaj Tak requested the user to delete the tweet
@manichejain Agree. Sorry for this. Could you be kind enough to delete your tweet if that is not too much to ask for.

— आज तक (@aajtak) June 28, 2016
Somebody butted in with an explanation, but the handle is no longer in use

Well, the pleas fell on deaf ears as the defiant user simply refused to delete it, and the Aaj Tak bashing on Twitter continues.
Human errors happen, and employees posting personal tweets on official handles by accident is a real possibility. But, at the end of the day, this episode once again reminds us of cricketer Suresh Raina.
In 2012, after Pakistan's exit from the World Twenty20, Suresh Raina's verified Twitter handle sent out an insulting, offensive to Pakistan post late in the night. After it went viral, Suresh declared the next morning that it wasn't him but his nephew who apparently got hold of his smartphone.
As you can expect, nobody bought it.