Veteran actor Om Puri's sudden death on January 6 this year left a gaping hole in Bollywood. 
But while India was mourning the death of its beloved star, Pakistan – a country equally shocked by Puri's demise given his association with the neighbouring country – began to conjure up conspiracy theories around his death.
Like really bizarre ones.
In a video which dates back to January 14, Aamir Liaquat, an anchor with Pakistan's Bol News, claimed that Puri's ghost has been spotted in front of his Mumbai home. 
Watch the crazy piece of "news" here: 
So, in the CCTV footage a man, wearing a white kurta is seen walking, which the channel claims is the ghost of Om Puri. The anchor claims Puri's ghost was spotted outside his Mumbai home seeking revenge against Ajit Doval. 
Yes, the actor's ghost is apparently seeking revenge against India's national security adviser – because the official is allegedly responsible for Puri's death! 
But why are we talking about it now? 
Though the 'ghost' video is over two months old, it has resurfaced and this time closer home. Home-grown news channel Aaj Tak decided to feature it over the weekend.
Though ScoopWhoop News could not find the original Aaj Tak video on its website, several social media users have shared the telecast:
Aaj Tak is doing a show on Om Puri's ghost roaming the corridors of his apartment building. And it was first shown on Pak TV! Sunday viewing

— Mohan Sinha (@Mohansinha) April 16, 2017
Aaj Tak is showing bhatakti hui Om Puri ki aatma.. Ye India TV ban rahe hain!

— Bored Womaniya (@sonalgh) April 15, 2017
Basically a piece of "news" best ignored and forgotten is getting an audience again. Well, now that it's being talked about again, let's delve into the details of the video (for a good laugh, at least).
Why Ajit Doval?
According to a previous report by Bol TV, PM Modi and Doval planned Puri's murder because he spoke in favour of Pakistani artistes when they were barred from entering the country in the aftermath of the Uri terror attack.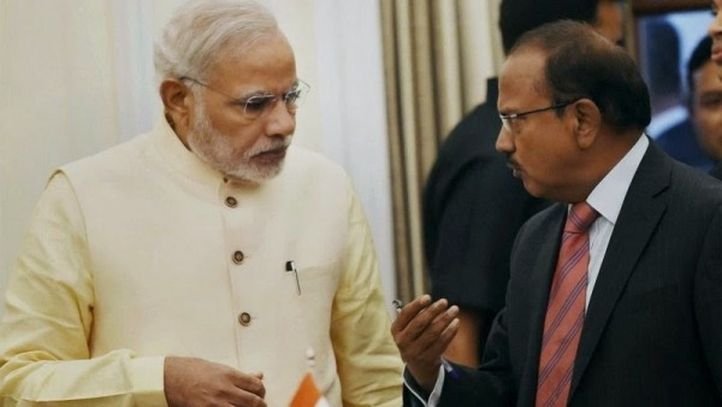 The actor, according to the news show, was summoned by Doval to his residence where he was brutally beaten up, stripped off his clothes, abused, and asked to go to Uri martyr Nitin Yadav's village to apologise for his remarks. 
Hence, Puri's soul is wandering for justice! 
Users on social media were left with their mouths open upon hearing such a laughable claim and trolled the Pakistani media. Aaj Tak also earned brickbats for broadcasting the report :
Om Puri ka bhoot???..what is Pakistan media weeding

— Ankit (@ankitnjoshi) April 15, 2017
@aajtak please notice the date on the video of the ghost of om puri ji.

— Utsav Agrawal (@luvutsav111) April 16, 2017
So many issues in our country, but aaj tak decided to tell us about the ghost of Om Puri.

— _Raaji (@Its_Raji) April 16, 2017
Pakistani news channel claims seeing Om Puri's ghost in Pakistan ) Indias best Hindi news channel @aajtak covers the same.

— Akansha (@Akanshat13) April 15, 2017
@aajtak You bloody nonsense showing video on Om Puri's which is already doctored by Pakistan.

— Ghanshyam Bhardwaj (@Ghanshyam_sb) April 15, 2017