The several-months long infighting in Aam Aadmi Party has finally culminated in the expulsion of senior party leaders Yogendra Yadav, Prashant Bhushan, Anand Kumar and Ajit Jha on Monday night for their alleged anti-party activities and working against the party in Delhi elections.
The decision has come days after the AAP's National Disciplinary Committee (NDC) issued show cause notices to Yadav, Bhushan, Kumar and Jha. While all but Jha had replied to the show cause notices, the disciplinary committee, which was once headed by Bhushan, expelled the leaders after "it was not satisfied with the response it got to the show-cause notice."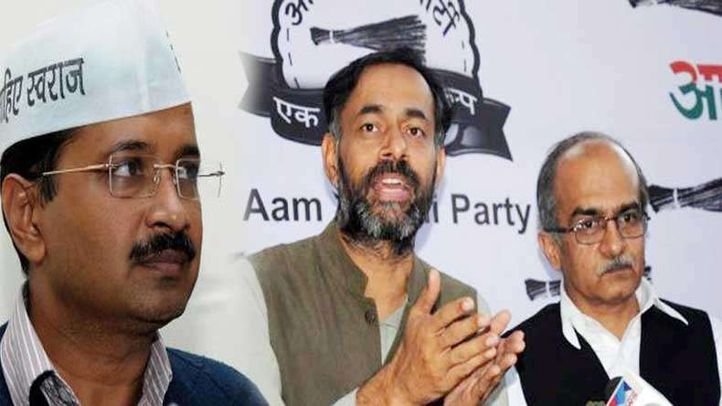 The expelled rebel leaders, however, have maintained that the party has moved away from its ideals and has turned into a party run solely by Delhi CM Arvind Kejriwal and "his coterie," an Indian Express report notes.
Hitting back at the party leadership on April 20 after the show-cause notice was issued to him, senior AAP leader Prashant Bhushan accused the two members of NDC, Pankaj Gupta of accepting donations from dubious companies and Ashish Khetan of doing a "paid news" story favoring a company. In his explanatory reply to the notice, Bhushan questioned the move saying both Gupta and Khetan had leveled allegations against him and in such a scenario, how can they be "judges" in this case.
The NDC committee, comprising Pankaj Gupta, Ashish Khetan and Dinesh Waghela, reached the unanimous conclusion that they had indulged in gross indiscipline and anti-party activities.
"They have violated the Code of Conduct detailed in the party's constitution," according to a statement issued by the party.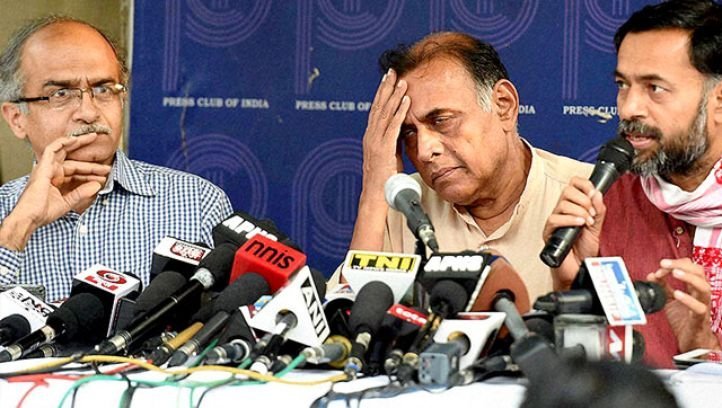 Pertinently, the expulsion order reflects the gradual ouster of the party rebels who were criticizing the "dictatorial" attitude of Delhi Chief Minister and AAP convener Arvind Kejriwal in the party.
Days after winning a landslide victory in Delhi elections, the fracas in the party resulted in the removal of Bhushan and Yadav from party's Political Action Committee in March. The same month also saw the expulsion of the rebel leaders from the party's top-decision making body National Executive.
In an open letter written by Bhushan after his removal from National Executive, the rebel leader had accused Kejriwal of betraying the trust of people.
However, the final jolt for the party squabble came in the form of 'Swaraj Samvad' floated by Bhushan and Yadav as a platform of criticism for all embittered with AAP and Kejriwal. It also mulled over on the possibility of forming a new party.
On April 17, the party's National Disciplinary Committee issued show-cause notices to the four leaders to explain the reason for organizing 'Swaraj Samvad.'
Meanwhile with AAP facing the heat after the expulsion row, former journalist and AAP leader Ashish Khetan, in an apparent reference to Prashant Bhushan's family, has vowed that he will not spare the Bhushans and will launch a probe into how the Bhushans accumulated their wealth and properties.
Read more: