It appears AAP has fallen down the rabbit hole, they've gotten a taste for power and now there's no turning back. At least that's what Congress is claiming.
On 5th April, Aam Aadmi Party (AAP) leader Arvind Kejrial was hosting an event at Talkatora stadium where he re-launched the anti corruption helpline "1031".
This news was overshadowed when Congress leader Ajay Maken tweeted pictures of the venue showing VIP and VVIP parking signs. He commented, "Just passed through Talkatora Stadium – look at the pictures – How in just 50 days AAP became a party of VIP & VVIP?" Social and traditional media outlets were up in arms, many commenting on the hypocrisy of the Aam Aadmi Party.
What is the real concern here?
VVIP parking boards are no crime, so what is everyone so upset about? It is more about what the boards symbolise and that is the loss of AAP's identity.
Given that Arvind Kejriwal and his party have been so outspoken about their distaste for VIP culture, it does come across as hypocritical for them to have designated areas as VVIP zones. This is hard to ignore given that AAP has in the past talked about shunning VVIP culture and its symbols like red beacons, security cover.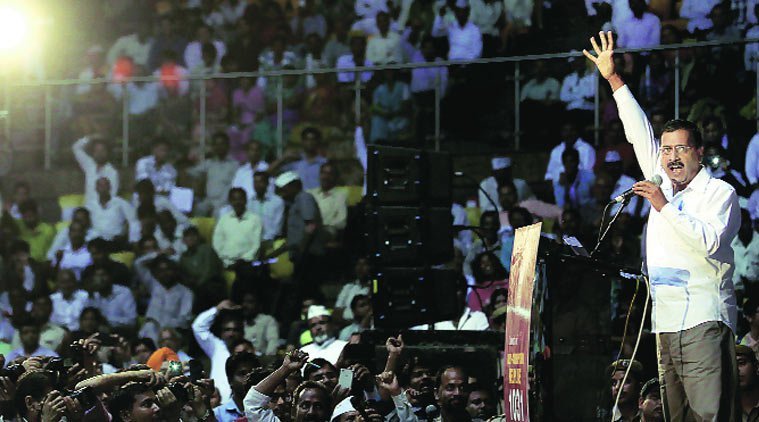 Of course, given that Kejriwal has built his entire persona on being an 'aam aadmi', he is held at a higher standard than the average politician.
In his first term, Kejriwal faced issues over housing. He apparently rejected the government's offer of two sprawling five-bedroom houses in Lutyens Delhi, settling for a modest four-bedroom home instead. It was later revealed in a letter discovered by Times Now that the chief minister had requested the houses himself.
More recently the expulsion of Yogendra Yadav and Prashant Bhushan from the Political Affairs Committee (PAC) in the second term has shown a more dictatorial side of Kejriwal.
Of course, let's not forget that AAP has only been in power for 50 days, they deserve a lot more time before we start claiming they've sold out.
Secondly a VIP board at a venue or accepting a government allotted bungalow is no where near as ridiculous as say Mayawati spending Rs 685 crore on a park or Azam Khan sending the UP police out to hunt for his missing buffaloes.
In contrast, it was reported that Kejriwal was happy to cut water supply to VIPs including his own home if Delhi faced a shortage this year.
While Congress leaders are quick to pass snide comments at VVIP-designated areas by AAP, to say that the party has given up on all its principles would be making a snap judgement and an unfair one too.