Royal Challengers Bangalore were chasing in IPL 2016. Virat Kohli was dismissed for a duck.
Believe it or not, these two incidents happened in the same match. Kohli actually failed in a chase in 2016 — a year where he averaged over 200 in successful chases before last night.
But when Batman failed, Superman stepped up.
AB de Villiers was the star as RCB, from tottering at 7th position in the table not so long back, are now in the final of IPL on the back of five consecutive wins. With his team staring at defeat, de Villiers played a blinder, the kind of innings that elevates an entire tournament.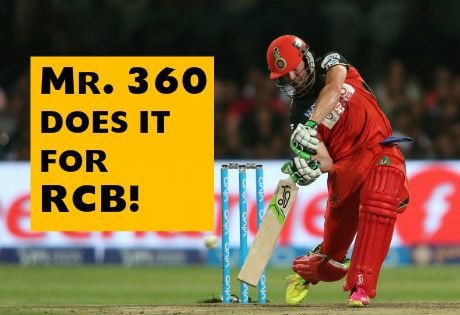 Despite being the greatest batsman of his generation, AB de Villiers, by his own admission, is not particularly good when it comes to chases. "I have failed many times to take my team past the finish line in pressure situations before." he said after the match.
That should put last night's innings in perspective. When it seemed like the rest of the batsmen could not buy a run at the supermarket if they wanted to — the RCB top order was wiped out for scores of 9, 0, 1, 0, 0 — de Villiers made 79 breath-taking runs off 47 balls.
The cover drives were elegant as ever. The sweep-shots to fast bowlers were still defying cricket logic. Even mishits carried well beyond the boundary line — although that's probably because he was playing at the Chinnaswamy Stadium.
As much a treat it was to see ABD play those shots, what was equally pleasing was the smile on the face with which he did it.
The Dwayne Smith over, 15th of the innings and the one which swung the match in RCB's favour decisively, was the perfect example. First, he danced down the track and smacked a short ball to the long on boundary — like he was playing tennis. He then broke in to a wide smile, so pleased for himself. The next ball, it was most definitely a miscue. He lofted an overpitched ball high into the sky and inches away from Aaron Finch's grasp at long-off. 
ABD just went 'Oooooooo' and the look on his face roughly translated to 'I'm a lucky son of a b***h!'
He was not just winning the match for RCB, he was putting on a show, enjoying every minute of it.
CUT TO VIRAT KOHLI
Just in time. Kohli was about to self-combust there.

— Prem Panicker (@prempanicker) May 24, 2016
While it was the ABD show on the pitch, a certain Virat Kohli was not far away from the action. As de Villiers and Iqbal Abdulla — what a knock by the young man as well! — hit the accelerator, Kohli was losing his mind in the dugout. The man was still wearing his pads on, treating every ball as he was facing them.
Well, actually that might not be entirely true. As composed as Kohli is during chases with a bat in his hand, he seems to completely lose it while watching from the sidelines. You could see on his face how much he hated being in the dugout.
And believe you me — his face was on the television screen almost as many times as ABD's was. When Stuart Binny was given out leg before wicket – one of the many poor umpiring decisions this IPL — Kohli's fuse was blown. He went up to the fourth official, and gave him an earful, without even thinking that the poor man is powerless to do anything!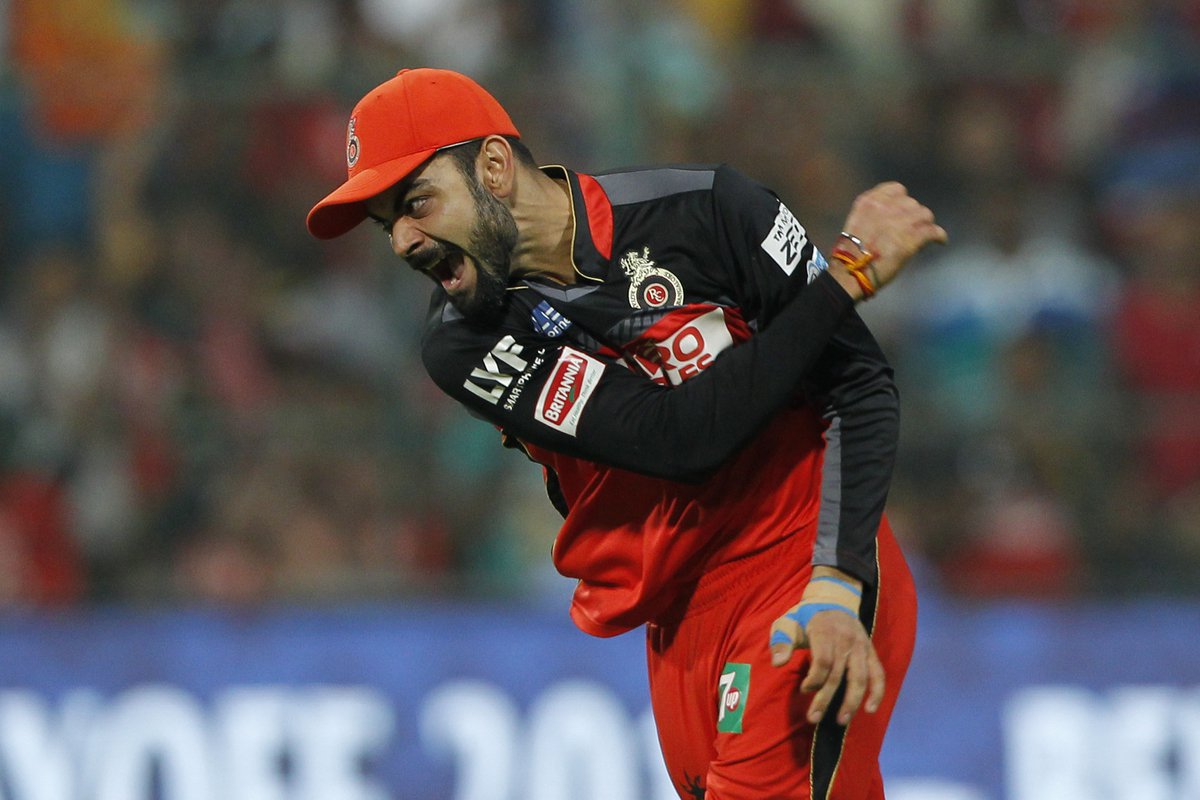 It was not much different when RCB were bowling as well. He was his own animated self — celebrating every wicket with a loud roar, cheering his fielders for every dive, and even occasionally berating his bowlers for feeding Dwayne Smith on the leg side. His captaincy was on the money most of the evening, lest his antics take anything away from that.
And after taking a stunning low catch to dismiss Eklavya Dwivedi, which was referred to the third umpire much to his irritation, Kohli mockingly doffed his (orange) cap as the crowd went wild.
As did he, when he rushed on to the field with his teammates after the final run was scored.
And after their individual acts on the night was done, they got together on the pitch in a heart-warming display of 'bromance' — the embraces, the smiles, the bear-hugs. Kohli, as he has repeatedly shown throughout this IPL, proved he has the highest of respects for ABD and vice versa.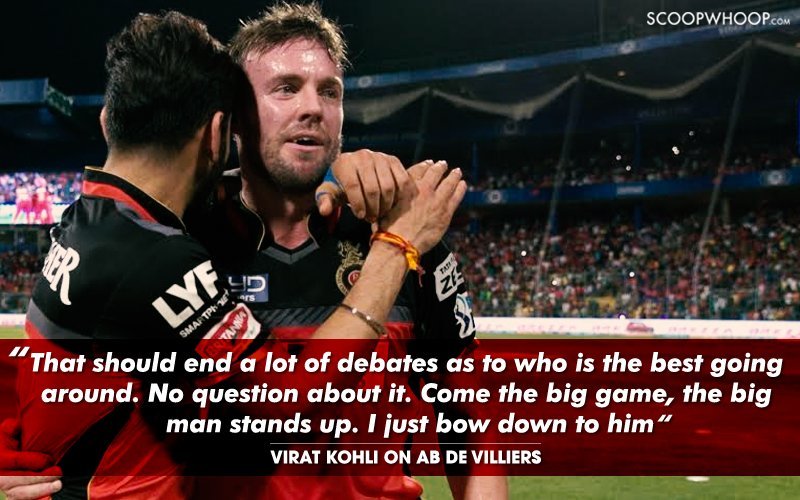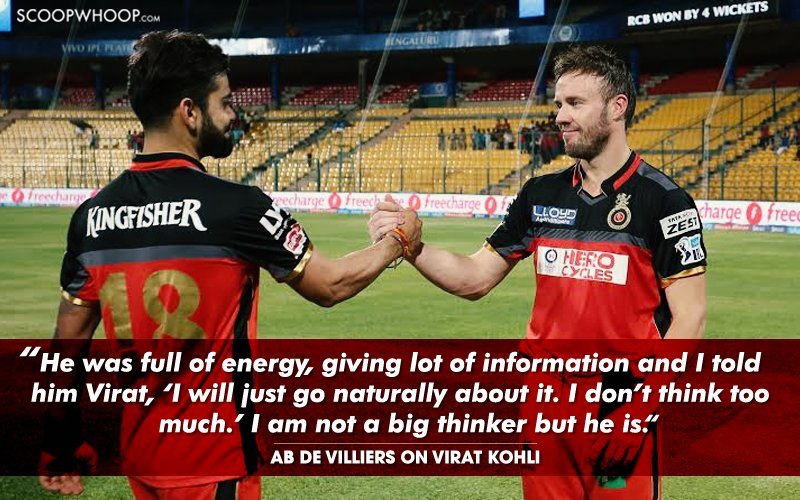 On a night when there were others who shone on the cricket field — Abdulla, Dhawal Kulkarni, Shane Watson et al — there were only two who deserved a center stage and for different reasons, de Villiers and Kohli made the limelight their own.