Bollywood star Salman Khan is a relieved man now, following the Bombay High Court's suspension of his five-year imprisonment. But two of his friends, and now much-hated Twitterati, have definitely landed in trouble and might go to the jail for some time.
A district Court in Bihar has ordered to register an FIR against Bollywood singer Abhijeet Bhattacharya and jewelry designer Farah Khan Ali over their remarks against the people sleeping on roads following conviction of actor Salman Khan in a 2002 hit-and-run case.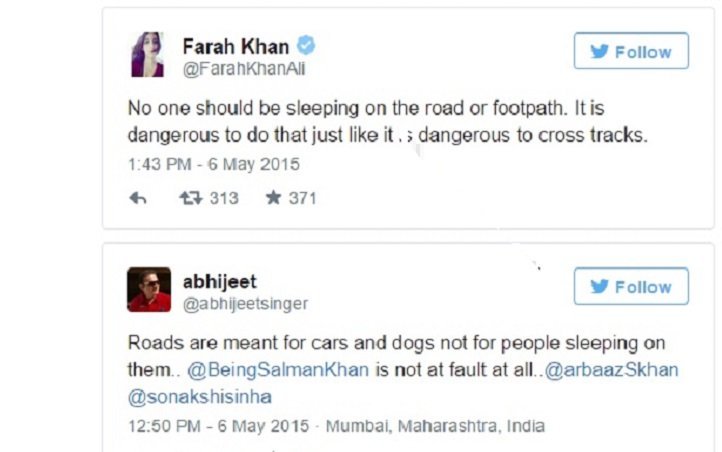 According to Firstpost , upon a complaint case filed by advocate Sudhir Kumar Ojha, Additional Chief Judicial Magistrate (ACJM) Ram Chandra Prasad has directed that an FIR be lodged against the two with Kazi Mohammadpur police station under various offences including provocation with intent to cause riot and promoting enmity between different groups.
"The court instructed that an FIR be filed under IPC sections 153 (wantonly giving provocation with intent to cause riot), 153-A (promoting enmity between different groups and doing acts prejudicial to maintenance of harmony), 504 (intentional insult with intent to provoke breach of the peace) and 506 (punishment for criminal intimidation)," it was reported.
Under IPC section 153, a person promoting enmity between different groups on grounds of religion, race, place of birth, residence, language, shall be punished with imprisonment which may extend to three years, or with fine, or with both.
Now, this is a serious twist in the tale.
On Wednesday, May 6 when Salman Khan was convicted for the 2002 hit-and-run case, a series of tweets by Abhijeet said "Come out fraternity, support @BeingSalmanKhan boldly not hypocriticly Roads footpath r not meant 4 sleeping, not driver's or alcohol's fault (sic)." "Roads are meant for cars and dogs not for people sleeping on them."
Similarly, jewelry designer and Salman's friend Farah Khan Ali had also sought to blame the homeless for the star's plight with comments like footpaths are not for sleeping.
Read more:
Feature image source: India.com