Ten years ago, a shocking case of sexual harassment had rattled the corridors of the reputed Delhi University. Because none less than the Vice-Principal of Ramjas College found himself in the eye of a storm with male students of the college accusing him of sexual harassment.
Finally, after a decade, BN Ray has been held guilty by an internal sexual harassment committee of the college for targeting male students.
Great news for Ramjas College. Prof. BN Ray found guilty for sexually abusing male students from the North East. Why not call him a rapist?

— Aditya Raj Kaul (@AdityaRajKaul) September 12, 2017
In the reports, not one but four charges (all complainants were from students from Assam) were proven against him that he repeatedly targeted young students from the Northeast and sexually abused them, reports Time 8. It further says, "The committee in its opinion feels that a person like Dr BN Ray was totally unsuited to be employed as teacher in any institution."
The committee has also recommended that Dr Ray be dismissed for service and his all post retirement benefits be blocked.
What had happened?
The case dates back to September 2007, when political science professor and vice-principal of Ramjas college BN Ray was accused by at least a dozen male students of sexual harassment. They had alleged that Ray sought sexual favours from them and blackmailed students if they refused to give in.
A faculty member of the college had told The Hindu "A lot of cases have been piling up against Mr Ray. It was alleged that he would call students to his residence, intellectually hypnotise them, and make sexual advances".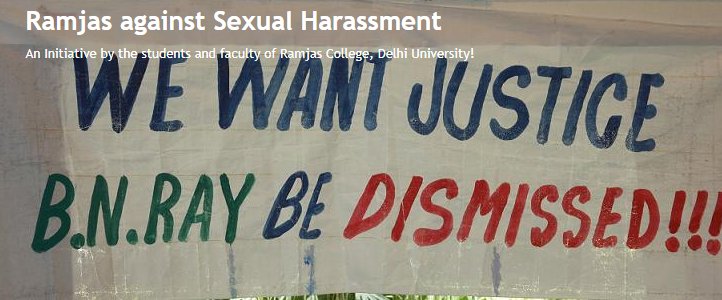 Demanding strict and immediate action, the agitated students shouted slogans and burnt his effigies inside the college premises. The students also submitted a collective complaint – in the form of a resolution – to the principal, Rajendra Prasad, who set up a central complaints committee (CCC) to look into the matter.
But even after a year, no concrete action was taken
In April 2008, the CCC submitted an enquiry report which said that the "charges against the accused" are valid and he should face termination from service. 
Following the report, he was removed from the post of vice-principal and was not allowed to continue teaching. However, he was enjoying the pay without any work and was still getting all the benefits.
In September 2008, around 500 students and faculty of Ramjas College went on a protest march and shouted slogans for failing to implement the CCC report. According to the College Complaints Committee, Ray should have been dismissed without any benefits.
The college then settled for a forced retirement 
In November 2008, the governing body of Ramjas College decided to give compulsory retirement to Ray with all the benefits, as per The Times Of India report.
Ray, however, approached the Delhi High Court and challenged the legality of the committee. In 2012, the court then asked the committee to conclude a fresh inquiry into the charges. And finally, after 10 years he has been proven guilty. 
However, the infamous case hardly seemed to have affected his life
After his retirement in 2008, he started worked as a senior professor at an institute in Bhubaneswar while enjoying all the post-retirement benefits. 
He continues to work at the same organisation till date. And the irony is that the recent report says he is not fit to be employed as a teacher. It remains to be seen whether this recommendation is followed or not.