PM Narendra Modi has just returned home after concluding his three-nation tour of Portugal, the US and the Netherlands.
This year marks 70 years of Indo-Dutch diplomatic relations. And on this occasion, on the final leg of his tour, Modi met his Dutch counterpart Mark Rutte.
More than the meeting, however, it was a tweet by the official Twitter handle of the Dutch PM , that got Indians talking. The tweet in Hindi had no space between words. 
Here's what he tweeted: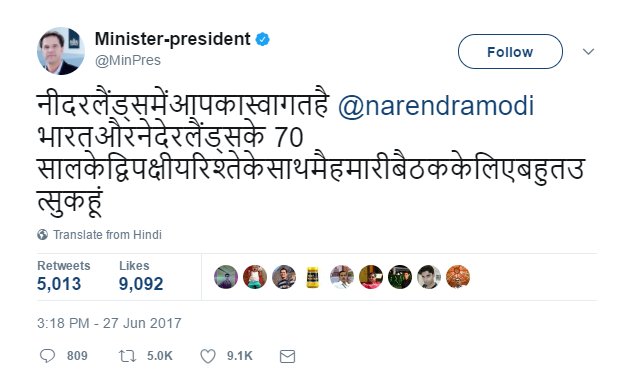 And here's how people reacted:
Soo overwhelmed Minister President, nice initiative to remove all space between the two countries. 😳❤

— Lazy Cat 'न' (@uPoliticat) June 27, 2017
The massive trolling that the tweet received perhaps didn't go unnoticed because the Dutch PM (or the Minister-President of Netherlands)'s official handle shortly posted another tweet, again in Hindi but this time with no space problem.
Many appreciated his efforts:
Yes, there is a space bar in Hindi. Makes sense with spaces added.

— Sankrant Sanu सानु (@sankrant) June 27, 2017
आपने हिन्दी में ट्वीट करके भारत को जो सम्मान दिया है उसके लिये आपका बहोत-बहोत घन्यवाद🙏🙏🙏

— Chandrakala Tiwari (@ChandrakalaTiw3) June 27, 2017
आप का दिल से आभार @MinPres जी , आप पुरे भारत वासियों के मातृभाषा को इतना सम्मान देने के लिए।। भारत माता की जय।। @PMOIndia

— 🇮🇳अजय कुशवाहा🇮🇳 (@AjayKushwaha_) June 27, 2017
(Feature image source: Twitter)