A 'frenzied' African national in Pune was brought under control by a mob who deemed it right to tie him to a pole in broad day light. 
According to Hindustan Times, the foreigner was allegedly under the influence of drugs and was found running naked near Nal Stop on Karve Road on Friday.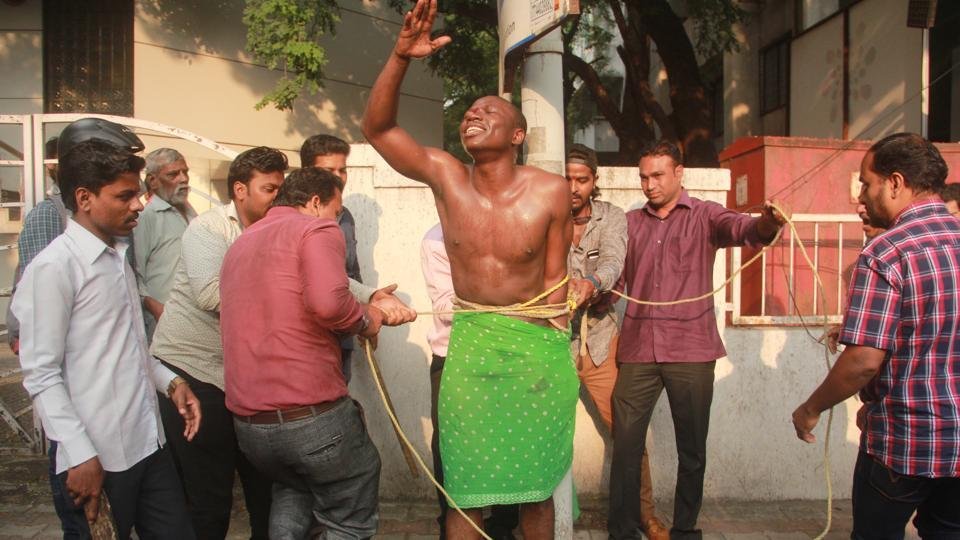 Passers-by claimed that he acted in a violent manner and also climbed over parked four wheelers, which spread panic. However, the mob decided to take matters in their own hands by first covering the 'disoriented' man with a cloth and then tying him to a nearby pole.   
"The foreigner had turned violent which scared people who contacted us for help. When we went to the spot we saw that people had tied him to a nearby pillar to bring him under control," PSI Nevase told Hindustan Times. 
Though he was later taken to Sassoon General Hospital, his identity continues to remain unknown as he did not possess a passport or any documents.
This incident in Pune comes in the wake of several other violent attacks on people of African descent in the recent past. 
(Also Read: Why Residents Of This Delhi Locality Feel The Nigerian Deserved To Be Thrashed)
In October, a Nigerian man was also tied to a pole and mercilessly beaten by locals in Delhi for an alleged theft.
The man, who was later identified as Ahmed was wounded and barely conscious when he was handed over to the police. People in the neighbourhood allegedly told the police that he had hurt himself when he fell down the stairs while trying to escape.
(Feature image source: AP)